When it comes to Casual Friday menus there are only three rules: quick, easy and delicious. Potato Jackets are all three. I had sort of forgotten about potato jackets. We often made them when we were first married for all the reasons above, plus they are very budget friendly, something most newlyweds appreciate! You know what reminded me that potato jackets are a thing? Our trip to Ireland. They are quite popular there.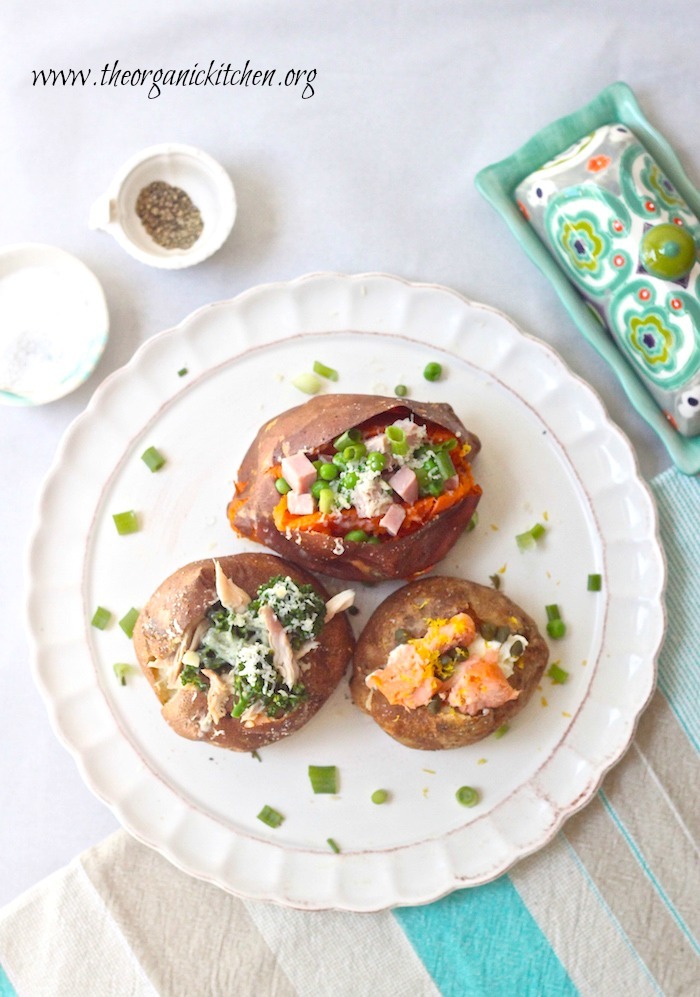 Get 3 Meals Free from Sun Basket! Fresh organic ingredients and easy recipes delivered, with Paleo, Gluten-free and Vegetarian options.

So how did we stumble upon the potato jacket on our trip? On one of our last few days in that gorgeous country my husband said "Today I am taking you to the beach!" I was so excited I put on my Irish bathing suit…
Yup. That's it. Covered from head to toe and I still froze. It was gorgeous, but cold and wet and when left the beach to find a warm cafe for lunch, Potato Jackets were on the menu and just what we needed, good old fashioned comfort food! Our potato jackets were served with a side of Irish Coleslaw (<- my recipe)
The key to the potato jacket is the re-bake. After baking, slice the potato not quite end to end, and then squish the ends towards each other so the potato opens right up! Then place a generous helping of pasture butter (I use Kerry Gold from those grass fed cows in Ireland!)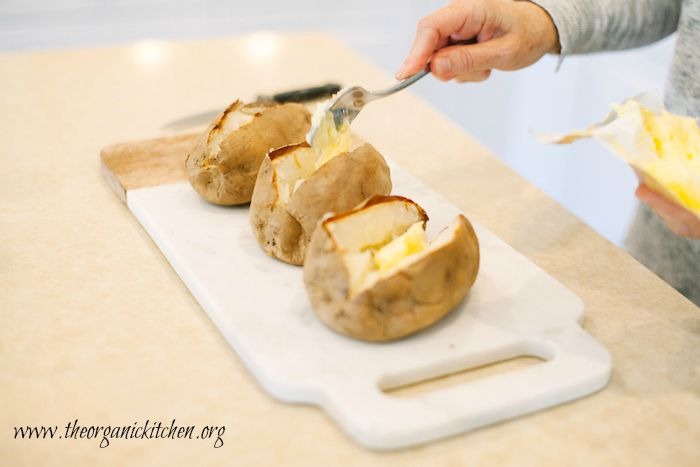 Next, top with whatever you have on hand, or use my suggestions… like fresh peas, ham, chives and raw cheddar…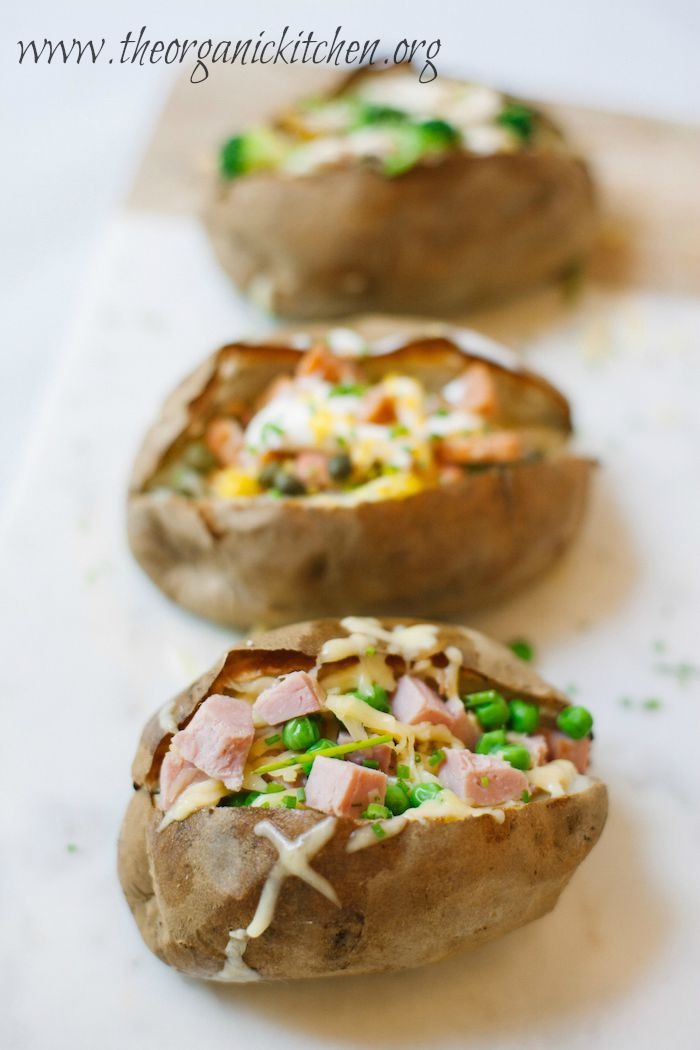 Or smoked salmon, lemon zest, capers, creme fraiche, and chives.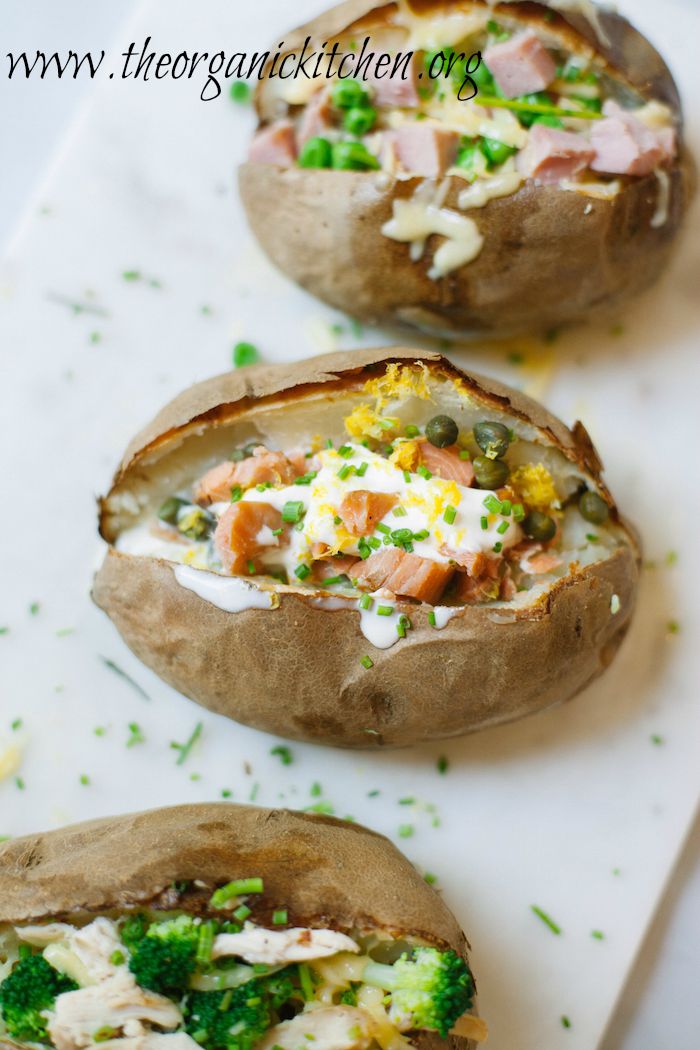 Or leftover roasted chicken, steamed broccoli, and pepper jack cheese for a bit of a kick! After filling, slide back into the oven to melt cheese, finish with a little sea salt and serve! I didn't use as much cheese on these as I usually do because I wanted you to see the fillings…but it's a-okay with me if you pile it on!
The Recipes: Irish Potato Jackets
Tips, serving suggestions and what you will need: (affiliate links) Bake potatoes till a fork goes in easily. If you prefer a soft skin, wrap in foil before baking. If you prefer a crispy skin (like me!)  lightly coat potato with butter or olive oil and sprinkle with sea salt and place directly on oven rack. I use Maldon Flaked Sea Salt to 'finish' food. I buy the tub to save money. If you are making the smoked salmon potato jacket you will need a microplane for zesting lemon. Serve with my Irish Coleslaw or a fabulous House Salad. You can find my marble and wood serving board here.
Enjoy friends…someday maybe it won't be 96 degrees in California and I can enjoy too! ~ Linda Spiker
 May I Please Ask A Favor?
We small bloggers need all the help we can get. Subscribing and sharing on social media is very appreciated! 
post tags: gluten free, grain free