Once upon a time (18months ago) I made one small decorating change that set off a cascade of unexpected changes.
I know at least some of you can relate. 
But alas, I am getting ahead of myself, let's start at the beginning. This tale, like so many begins with a dishwasher.
This was my kitchen. It was lovely. I had no intention of changing it. I had no problem with it at all. Except…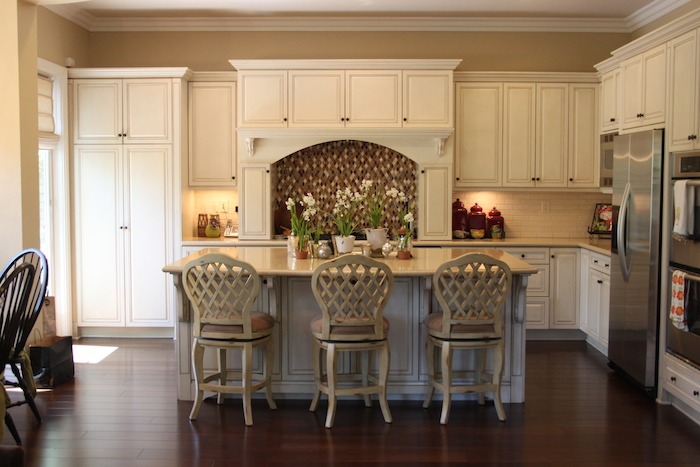 … the dishwasher. Two drawer dishwashers actually, one on each side of the sink. While they were very convenient (no bending over when loading) they had never worked well (ever) and we had spent way too much money to have repairmen try to fix them repeatedly, for seven years to no avail! I began washing my dishes by hand and had finally had enough! It was time for a new dishwasher.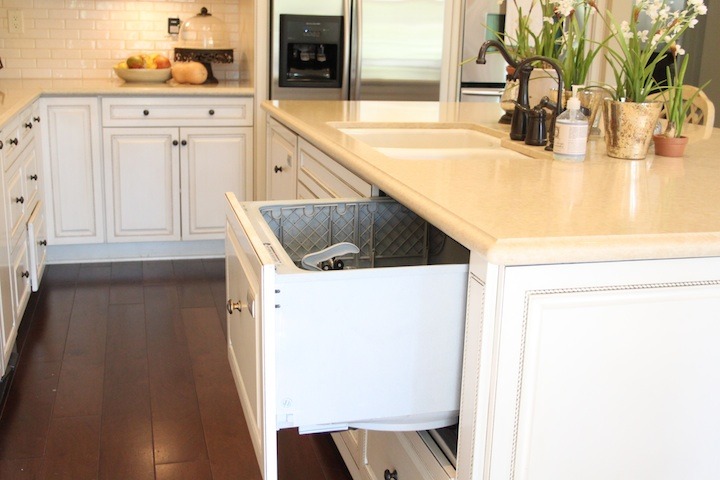 But here's the deal, my dishwasher drawer fronts match my cabinetry. So I called out a custom cabinet painter. "Nope" he said "I can't match it perfectly. The paint is over seven years old and it was a custom color with a glaze…not going to happen" It may have been June, and I may live in Southern California, and it may have been 90 degrees outside,  but I believe that is when it started to snow. 
If we only had one dishwasher I could have gone stainless steel and called it a day, but we had two small drawer dishwashers and I wanted one single fantastic full size dishwasher, which meant the second dishwasher had to be replaced with cabinetry, and that cabinetry had to match. If I couldn't match the paint I would need to pick a new color.  
I began to toy with the idea of painting my kitchen cabinetry white. After all, practically every 'pin' on my "Kitchens of my Sweet, Sweet, Delusional Dreams" Pinterest board has white cabinets. I loved the idea, so fresh and clean! So I presented this "mini makeover" notion to my husband. "No" he said "it will snowball".
To be fair, in the past many of my decorating ideas had a way of snowballing…just a small project that got bigger and gained speed as it careened down the hill and that snowball always seemed to crash right into our savings account. A force of nature I tell you!
But not this time. "It couldn't possibly snowball!" I assured him. "All the woodwork throughout our entire house is white already. What could possibly snowball?" White goes with everything!
"So it's just the cabinets?" he asked. "Well" I hesitated "and the counter stools". Eye roll, "You are going to paint the stools?!" Ummmm yeah, "they have to match the cabinets… and then of course they will need new fabric". Of course.
"Oh… and the hardware" I added "it's worn and chipped and we need something a little more contemporary, fresh and colorful. But that's it, I swear!" Just a teeny, tiny, minuscule snowball. My husband sighed….
…and then he accepted the inevitable  consented and we began the project. We chose a standard white paint that matched the existing white cabinetry throughout the house and emptied the cabinets so painting could begin. I have to wave a big "don't attempt this yourself" red flag here, we hired a custom cabinet painter. I would never recommend painting cabinets yourself. It's just too big a job and requires special equipment to get that perfectly smooth custom look. If you are a professional painter, have at it. If not, take my advice and hire someone.
So, back to what started this whole endeavor…the dishwasher! We decided on a Thermador! It has a third shelf just for knives and a built in water softener. That is very important if you live in southern California where the water is ridiculously hard. But the coolest part about it (besides that it works!) is the blue light beam that projects the cycle status on the floor in front of the dishwasher! Besides being really convenient it makes me feel like I am in a 70's disco every time I open the door. Not that I am old enough to have gone to discos in the 70's…I am simply guessing what that would have been like. 
Oh and notice where the second dishwasher used to be on the other side of the sink, I now have three additional drawers for storage and couldn't be happier about it.
The Results! Sort of…
So here is my kitchen after a three week paint job! It's light, bright and fresh. Just what I had imagined…except… (oh no here we go…) suddenly my really pretty backsplash looked very dark next to all that white cabinetry. It no longer had the right feel. The entire kitchen was light and airy but that 3X4 foot backsplash over the cooktop was dramatic and kind of 'heavy'. I know in the grand scheme of things this is entirely unimportant. But it ate at me, every time I walked in the room. I kept imagining what a light, 'barely there' backsplash with a little shine would look like. 
So I waited. A year. Hoping it wouldn't bother me anymore. But it did, so I broke the news to my husband. "We are switching out the backsplash and while we are at it, I think we should add pendant lights over the island." He didn't argue, this was not a surprise…he knew the avalanche had been triggered a year before and there was no stopping it. Resistance was futile. The snowball had a life of it's own. Have I mentioned we have been married 35 years? He knows me very well.
Luckily for me he agrees it was definitely the right choice.
I chose this particular backsplash for two reasons, I love it and it incorporates the warm tones that are present in my countertops and wall paint as well as cool tones that are so popular right now. Every decade or so the trend switches from warm to cool and back again, this way I am covered either way.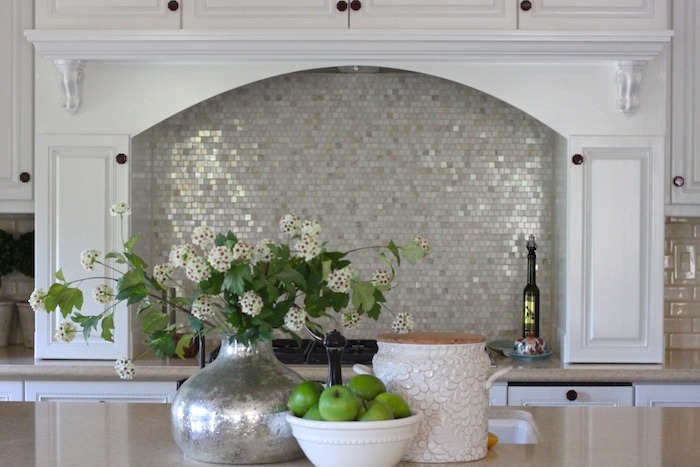 All accessories in my kitchen are from two of my favorite stores: Pottery Barn:  Pottery Barn Homepage
 and Anthropologie: Shop Anthropologie
The makeover is complete and I love it. No actual construction, no new countertops, or new appliances (except the dishwasher), just a fresh coat of paint, glass hardware, new lighting and a 12 sq ft backsplash change out. More than I anticipated but the results are just what I pictured in my (crazy, fickle) head.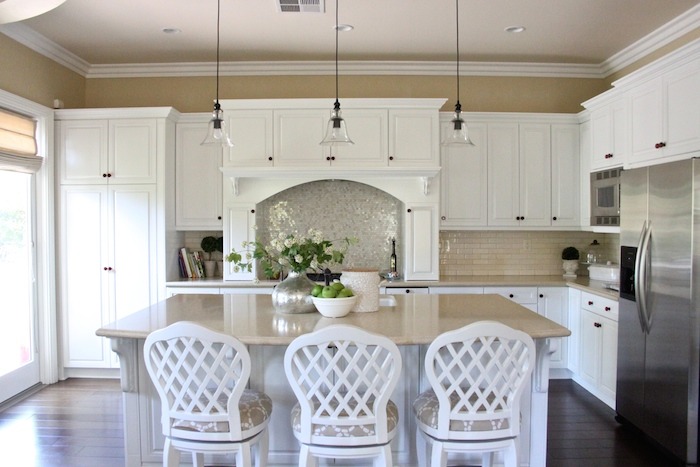 A little side by side: what do you think? Please tell me in the comments…but only if you love it. I don't take criticism very well. ~ The End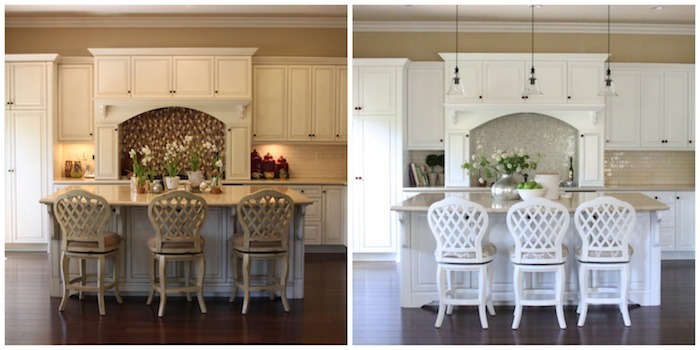 MAY I PLEASE ASK A LITTLE FAVOR?