My husband and I just got back from New York City where we went to some fabulous (and not so fabulous) plays and had some fantastic (and not so fantastic) food. One of my favorite meals was a breakfast I had in a cafe in Soho. Greek yogurt with seasonal dried fruit and jam. So of course I had to come home and put my own spin on it…
Figs are not only a delicious fall fruit but loaded with health promoting nutrients, they are also a great source of fiber (a cancer preventative) have lots of potassium (lowers blood pressure), are jam packed with manganese, vitamin B6 and calcium and are only 37 calories…but who's counting? Definitely not me. I use dried figs in this recipe, they add a little sweetness of course they bring 'the fall'. ( BTW that, down there, is my Wusthof Ikon Chef's Knife…we are practically dating)
Greek Yogurt has less liquid than regular style yogurt. If you are going to use store bought, I highly recommend Chobani. It is smooth and creamy and tastes like a real treat even though it's loaded with protein and contains no sugar. BUT if you want to make your own, it's easy to do and less expensive than store bought… and of course is better for you! Start with a whole milk yogurt full of belly pleasing probiotics. Then simply line a mesh colander with a paper towel and set over a bowl…
…then spoon in the yogurt (however much you want), cover and place in the fridge overnight. The next morning the bowl will be full of liquid and the yogurt left in the paper towel will be rich and creamy and…well…Greek! The homemade version will be tangier than the store bought, it might even make you pucker! If you prefer less tang (more bland shall we say?), use the Chobani. I prefer the stronger tangier homemade, my husband prefers the sweeter, more bland Chobani ….hmmmm I wonder if that says something about why we chose each other? Food for thought. Anyway… store homemade yogurt in a covered container and eat it  at your leisure.
The Recipe: Greek Yogurt with Seasonal Fruit
Homemade Greek Yogurt with Dried Seasonal Fruit and Jam
Figs are not only a delicious fall fruit but loaded with health promoting nutrients, they are also a great source of fiber (a cancer preventative) have lots of potassium (lowers blood pressure), are jam packed with manganese, vitamin B6 and calcium and are only 37 calories…but who's counting?
Keyword:
easy breakfast recipe, light recipe
Ingredients
6

oz

plain Greek yogurt

see directions above for making your own

1/4-1/3

cup

granola

chopped walnuts or a combination

1

T

of your favorite jam

I used organic low sugar raspberry

2-3

dried figs roughly chopped
Instructions
I used Udi's gluten free cranberry granola in this recipe...I figured the more seasonal dried fruit the better. But you can use what ever kind you prefer or skip the grains completely and use chopped nuts only (more protein and healthy fats!)

Place half the granola and/or nuts and half the dried figs into a small bowl. Spoon greek yogurt on top. Sprinkle with remaining nuts/granola/figs. Then place a dab of jam on top! That's it my friends. And you won't believe how good it is!
For another delicious homemade greek yogurt recipe visit my daughter and daughter in law's blog "Two Healthy Sisters".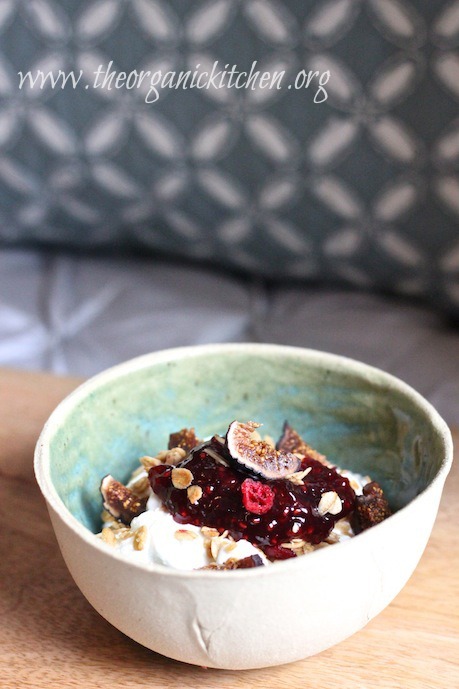 Post tags: gluten free, breakfast, healthy snack
 MAY I PLEASE ASK A FAVOR?
We small bloggers need all the help we can get. Subscribing and sharing on social media is very appreciated!