Garlic is one of those herbs that adds so much flavor and health benefits to food, but many people avoid using this incredible fresh herb because it's kind of  pain to peel. When I taught cooking classes I ran into a lot of people with very interesting ways of peeling garlic. The most popular was the 'smash with the knife' method. I was taught in cooking school that while this method works, it smashes the heck out of your clove making it difficult to mince or grate properly. So today I am going to share two ways that make peeling garlic a snap while keeping the clove intact!
(This post contains affiliate links. I may make a commission from sales but your price remains the same.)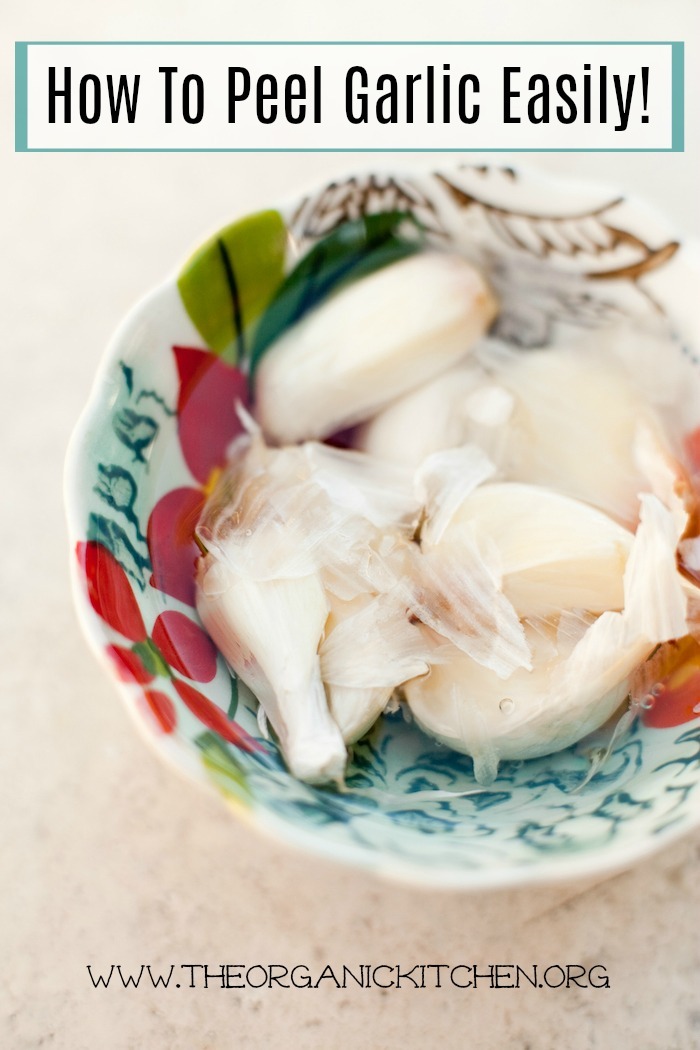 Two Ways to Peel Garlic: Plan A, No Special Tools Needed
The first method is for the person that thinks ahead…simply soak garlic cloves in warm water. Yep, that's the big secret. Soaking garlic cloves in a small bowl of warm water makes the peels swell and you can literally slide the skin right off with your knife, or even your fingers. Just plop the cloves into warm water 30 minutes or more before you plan to use them. the earlier the better actually. Easy peasy, but it does require forethought. If you are in a bit more of a hurry, move on to the next easy option.
By the way, my cute little bowl is from Anthropologie!
Shop House & Home Top Picks at Anthropologie.com.
Plan B: The Quick Method
If you are not the type of person that thinks ahead or you don't have time to soak, my next go to is this handy dandy rubber tube that instantly peels garlic! No mess, no fuss and it works every time. It only costs a few bucks and lasts forever. I am not big on kitchen gadgets because I use my knife (an 8″ Wusthof Ikon Chef's knife) for just about everything, but I LOVE this thing! All you do is place the clove in the center of the tube, press down and roll. The peel comes right off. And it's easy to clean, just rinse and put away for the next time.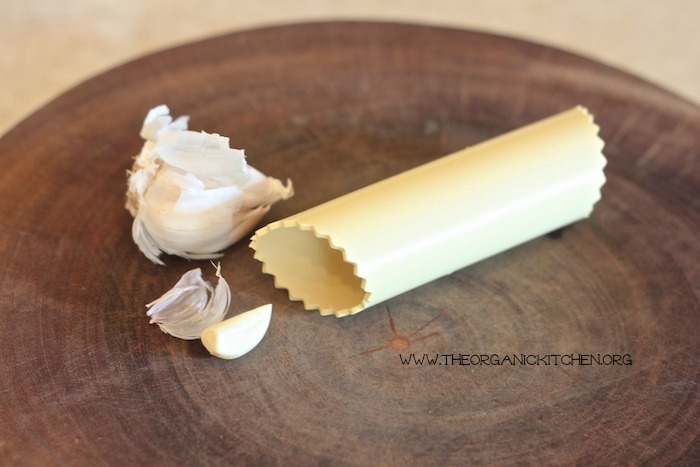 So there you have it, no more struggling to peel garlic. I hope I just made your life in the kitchen a little easier. After all, the easier and more convenient something is to do, the more likely you are to do it. Enjoy your new found skill!
MAY I PLEASE ASK A FAVOR?
We small bloggers need all the help we can get. Subscribing and sharing on social media is very appreciated!