Charcuterie is the culinary art of preparing meat products such as bacon, salami, ham, and sausage, and it's suddenly all the rage. Why?
Well as the saying goes, "Everything old is new again". Like many traditional foods that are making a comeback, charcuterie is a culinary art developed from necessity; it is the way meats were preserved long before the days of refrigeration. And just like pickles, fermented vegetables, home drafted beer, broth and kombucha, charcuterie has been revived and brought front and center by the traditional food movement. And in my humble opinion front and center is exactly where it deserves to be. That said, arranging a platter is intimidating to some people. So here are my tips on How to Make a Holiday Charcuterie Platter!
This post is sponsored by Back to Nature Foods!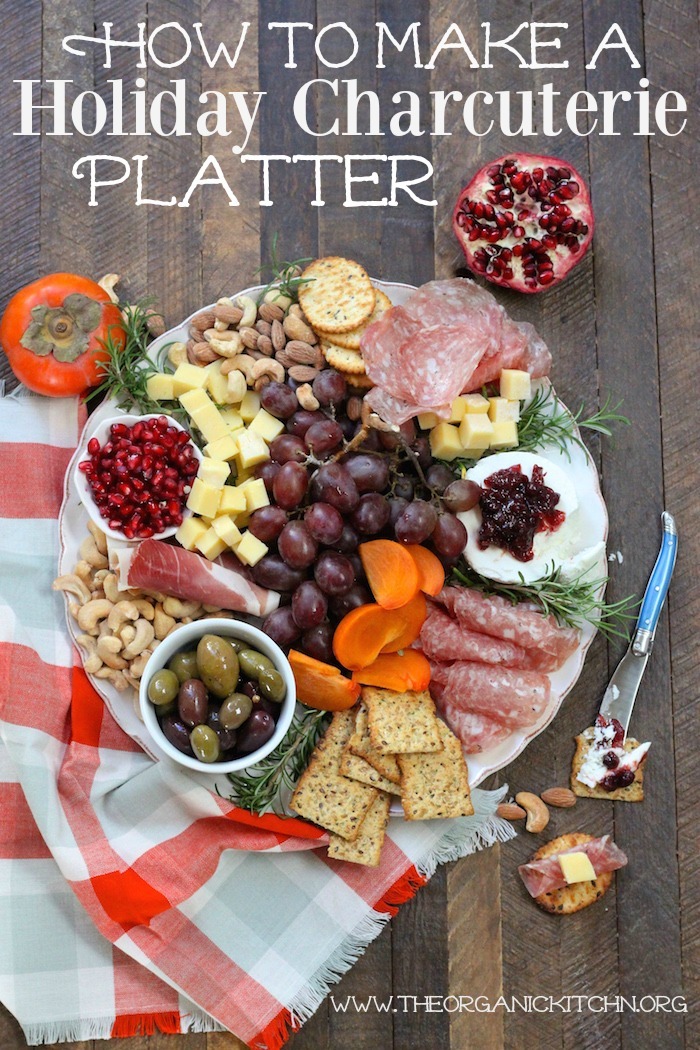 Choosing Ingredients: Sweet, Salty, Savory and Spicy!
Every charcuterie platter should have a wonderful combination of flavors. When shopping keep on mind you need a sweet, salty, savory and spicy component to have a well rounded board. The 'sweet' on this platter is provided by seasonal fruit. The cured meats, kalamata olives and lightly salted crackers and nuts from Back to Nature provide the 'salty' and of course the cheeses provide the savory! So what did I do for spicy? I added a spicy cranberry jam on top of a round of soft goat cheese. Yum!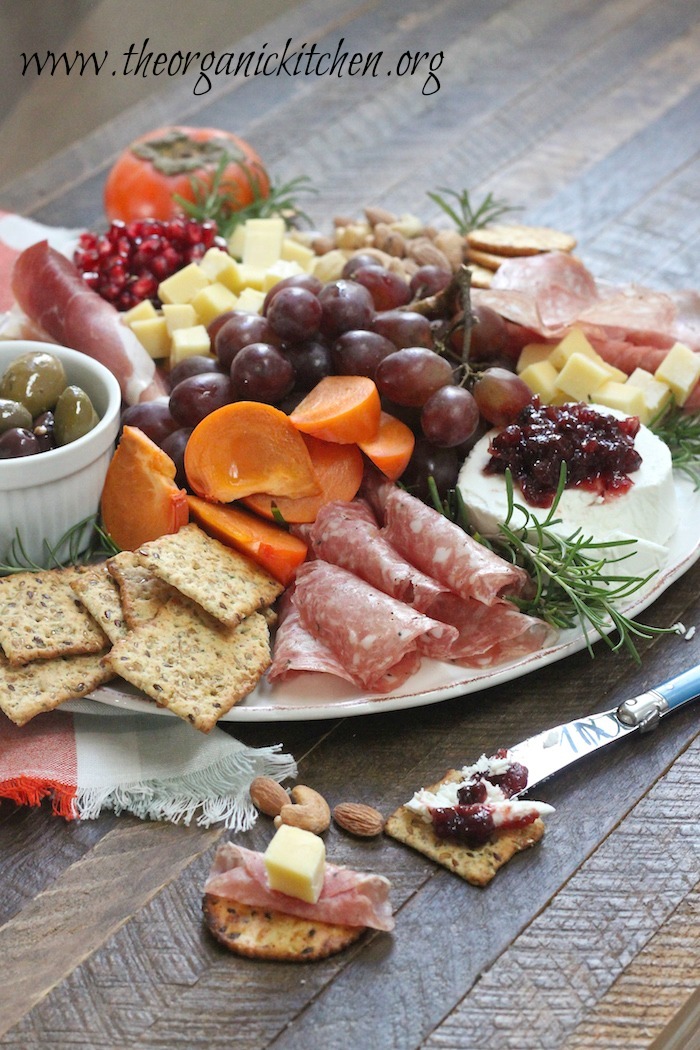 Start with The Trimmings and Arrange Asymmetrically
When assembling a charcuterie platter I begin with some kind of greenery, most often lettuce, but during the holidays I like to use sprigs of rosemary. Not only does rosemary look like pine needles but it smells great too. If you arrange a platter too symmetrically I think it loses a little of it's charm, so I like to use an odd number of whatever greenery I choose and arrange them a little haphazardly. If you picture my platter like the face of a clock, I placed the rosemary springs at 12:00. 2:00, 3:30, 7:00 and 10:00.
Layer and Overfill!
After placing the greenery, choose something to place in the center of the platter. I usually go with the the biggest food item. For this platter I chose purple grapes. Then I placed plenty of rolled up cured meats like salami and prosciutto around the centerpiece. The key to a beautiful charcuterie display is to overfill the platter so it looks plentiful and opulent. Letting some of the ingredients 'spill over' is a nice touch too. Notice the Back to Nature Cashew Almond Pistachio Mix toppling onto the table!
Use Small Bowls To Create Interest:
To add interest I like to place a few small round bowls filled with items like olives, nuts or seeds on the platter and then I fill in any empty gaps on the platter with lots of cheeses, seasonal fruits and finally nuts and crackers! I always like to work in odd numbers, but for this platter I used two round bowls because the round of goat cheese provided the third 'round' visual feature. (see photo two up)
The Nuts and Crackers:
If you want your charcuterie board to be top notch you need to use the best ingredients. I use Back To Nature Stoneground Wheat and Multigrain Flax Crackers and roasted salted Cashew Almond Pistachio Mix and Jumbo Cashews because they are certified organic and Non GMO,soy free, and delicious! Back to Nature also makes gluten free products and cookies that taste like girl scout cookies with none of the artificial ingredients! Where to buy Back to Nature Products.
The Seasonal Fruits:
No matter what time of year you make a charcuterie platter, select seasonal fruits to add color and flavor! For the holidays I chose persimmons and pomegranate seeds. Both are in season for such a short time, I love to use them while I can. Other great choices for a holiday board would be tangerine sections, kumquats and pears.
Let The Lucky Guests Serve Themselves!
The great thing about a charcuterie platter is once you assemble it, the work is done. Your lucky guests serve themselves and they will be quite content waiting for the holiday meal as they snack on organic crackers topped with charcuterie, gourmet cheeses and fruit!
The Recipes: How to Make a Holiday Charcuterie Platter
How to Make a Holiday Charcuterie Platter!
An easy to assemble charcuterie platter that incorporates seasonal fruits!
Keyword:
easy appetizer recipe, holiday recipe, party recipe
Ingredients
Amounts are up to you! For this platter I used:
5

sprigs of rosemary

grapes

an assortment of prosciutto, salami, pepperoni, ham, or sausage

sliced or diced cheeses (preferably from grass fed cows) I LOVE aged hard cheeses like gouda, cheddar and Manchego, but I also love soft cheeses like chevre and brie. The beauty of the board is you can mix it up to fit everyone's taste! And if you're unsure, ask the people behind the cheese counter at your local store!

organic crackers

roasted salted cashews and mixed nuts

4

oz

round of goat cheese

spicy cranberry jam

kalamata olives

pomegranate seeds

persimmons, sliced (or use tangerine sections kumquats or pears)
Instructions
If you picture your platter like a clock face, place the rosemary springs at 12:00. 2:00, 3:30, 7:00 and 10:00.

Add grapes to center of platter

Layer rolled prosciutto and salami in three bunches randomly around platter

Add small bowls filled with pomegranate seeds and kalamata olives and a round of goat cheese topped with cranberry jam (or other seasonal jam)

Fill in the gaps with persimmons and plenty of crackers, cheeses and nuts!

Serve.
MAY I PLEASE ASK A FAVOR?
We small bloggers need all the help we can get. Subscribing and sharing on social media is very appreciated!