Recently on my Facebook Page I posted an article about the dangers of non stick cookware coated in toxic chemicals and received several requests for alternatives that are safe, don't cost an arm and a leg and cook evenly. I did some research and came up with my top picks. I will give you the pros, the cons and my tips for Finding Safe Cookware.
This post contains affiliate links. I may make a commission from sales but your price remains the same.)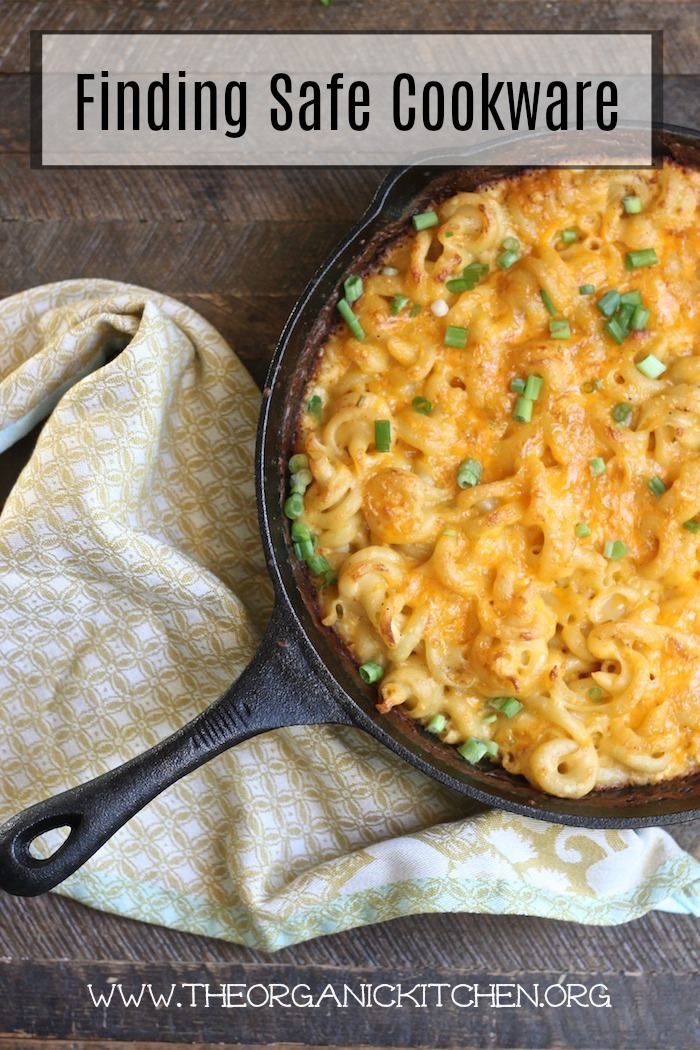 I Mix It Up!
Confession time! I don't have a complete set of cookware. I know, crazy right?! I have a variety of cookware that I use for certain jobs from frying eggs to finishing pasta. Don't be afraid to mix it up. Now let's get to it….
Good Old Cast Iron Cookware!
When it comes to browning and roasting, nothing beats cast iron. In my humble opinion everyone needs one or two pieces of cast iron cookware.
The Pros: decently priced, oven safe, non toxic, lasts FOREVER, adds iron to the diet and when used with safe cooking oils becomes "seasoned" and virtually non-stick over time. THAT SAID you can now buy 'pre-seasoned' pans that are already non stick!
The Cons: cast iron can be heavy so it's not practical for everyone or everything, and you shouldn't cook tomatoes in it because the flavor can be a bit odd. Other than that, it's pretty darned perfect.
What you really need: This can be tricky as everyone's cooking needs can be different but I find I use my 12″ cast iron skillet for browning, roasting a small chickens, making this skillet chocolate chip cookie, breakfast hash (below), and even baking that gorgeous macaroni and cheese you see above. I also use a small cast iron pan for smaller jobs.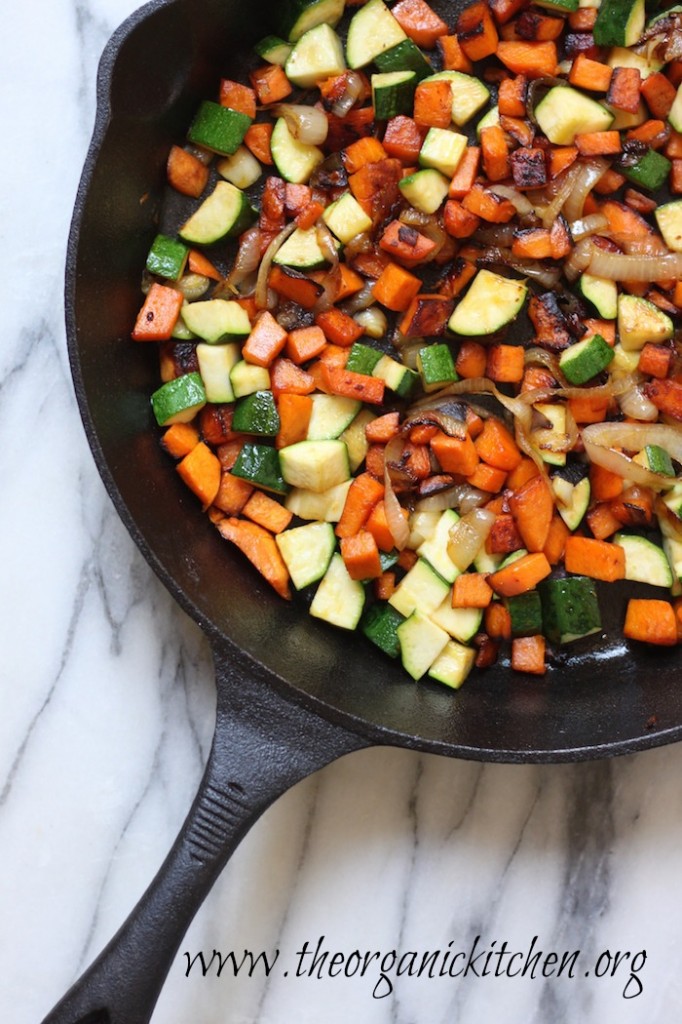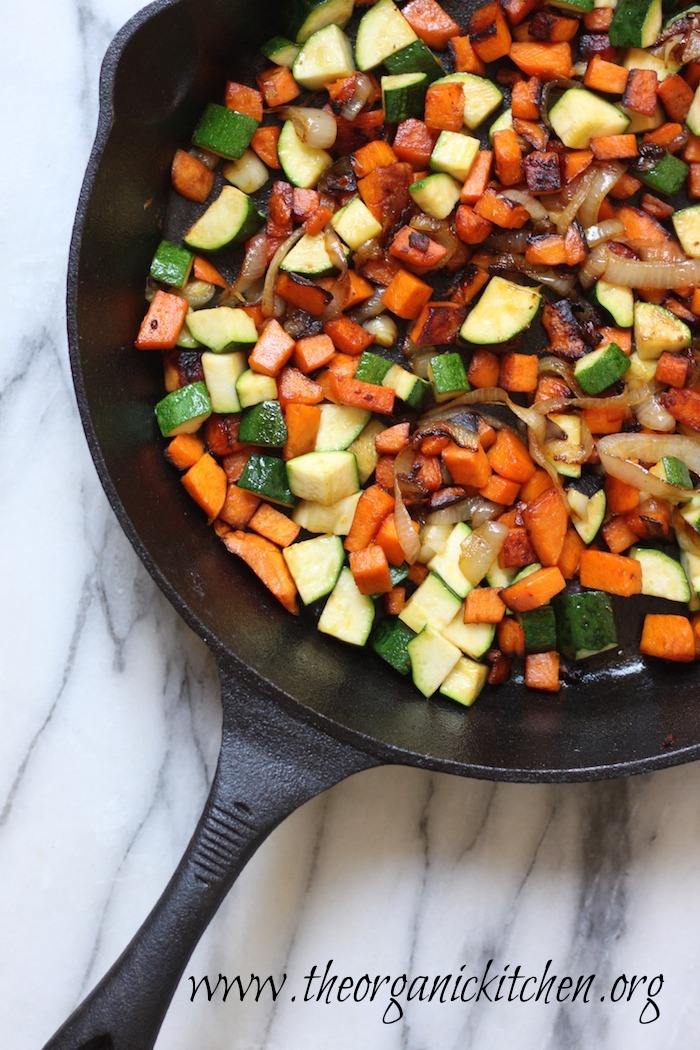 Carbon Steel:
Preferred by many chefs and a perfectly safe option, carbon steel heats incredibly evenly making searing, caramelizing and glazing a dream.
The Pros: mid range price, lasts forever, lightweight, develops a patina over time, oven safe, can cook anything including acidic sauces etc…
The Cons: None really
What you need: I love all All-Clad and use these two pans all the time! I also love their smaller pots with double handles.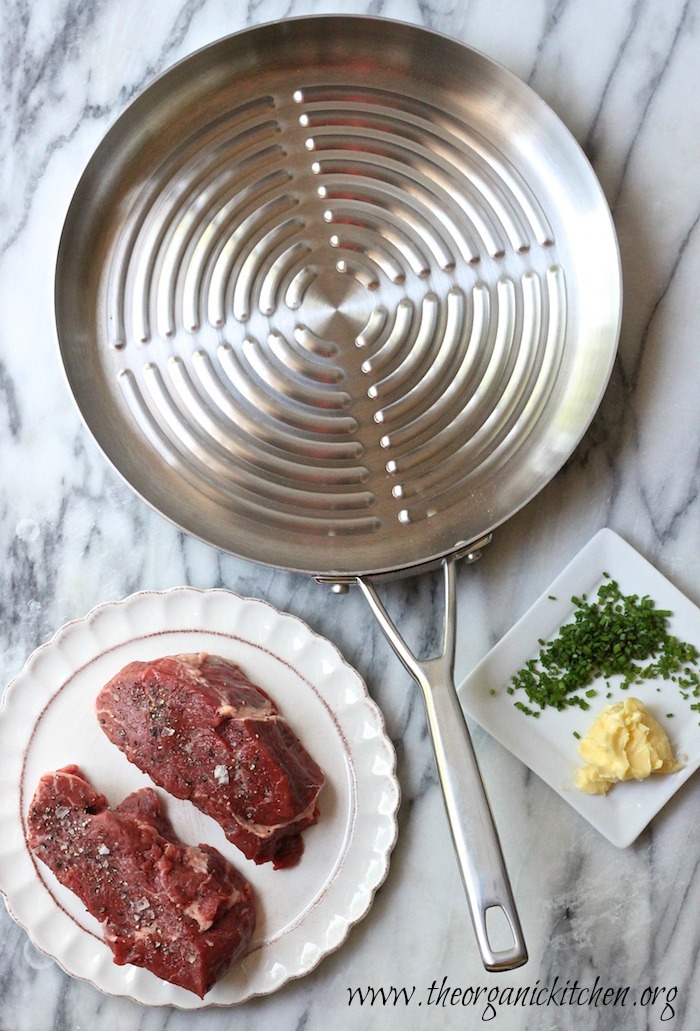 Ceramic Cookware!
Ceramic cookware is a great choice but not all ceramic cookware is created equal. Many cheaper brands on the market are covered with a very thin coating of ceramic that scratches and chips very quickly losing it's non stick properties. I learned the hard way that in the case of ceramic cookware, you get what you pay for. I love this beautiful white set of pots and pans as well as this set of Calphalon.
The Pros: safe, naturally non toxic, naturally non stick and super easy to clean! Not as heavy as cast iron. Can be used on the cooktop and in the oven.
The Cons: real ceramic cookware can break if you drop it. (I broke a lid once waaahhhh!) A little higher priced than cast iron and carbon steel.
Things to Know: because good quality ceramic pans are one piece, handles get hot. You will need the silicon sleeve shown below.
What You Need: I find the 10″ pan ( a dream for cooking eggs!) and small pot the most useful.
Le Creuset:
Okay I have to include Le Creuset because I'd be a jerk not to. It is truly dream cookware, but the price does reflect that fact. Totally worth every penny. So if you are ready to invest, here we go.
The Pros: everything! And they come in lots of amazing colors!
The Cons: nothing but price.
What you need: In a perfect world I'd have every single piece, the cast iron pan, the stock pot, the pots and pan set, and the Dutch oven, this casserole dish! (<—this piece is totally affordable by the way!)
Welp, that's it! I know choosing cookware can be confusing enough without worrying about chemicals leaching into your food. I hope I was able to help and ease your mind. There are many easily accessible safe options out there!
MAY I PLEASE ASK A FAVOR?
We small bloggers need all the help we can get. Subscribing and sharing on social media is very appreciated!
View The Organic Kitchen's Privacy Policy.