It is recommended that we eat about six cups of vegetables a day. But most of us don't even come close! The only way I can achieve that ideal is if I add vegetables to my breakfast. Sometimes I juice or make a smoothie, other times I cook a veggie patty or two. But if I have a little extra time in the morning I will make this breakfast hash…
(This post contains affiliate links. I may make a commission from sales but your price remains the same.)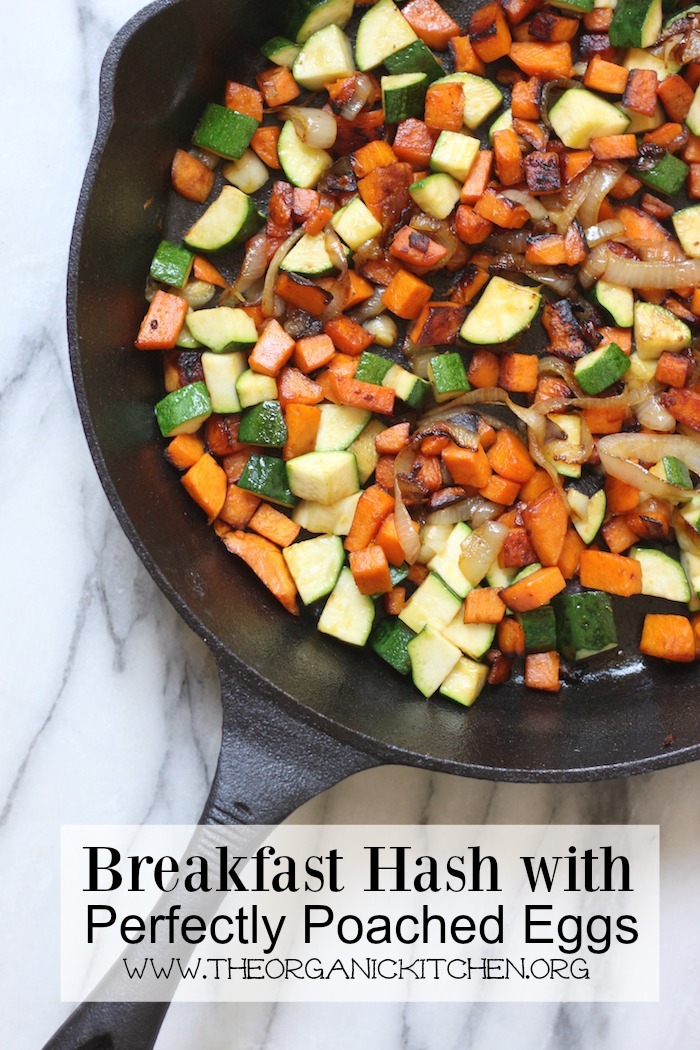 Breakfast Hash with Poached Eggs:
Loaded with veggies this hash isn't just for breakfast! It works well for dinner too. Notice the caramelized shallots in with those sweet potatoes, and zucchini!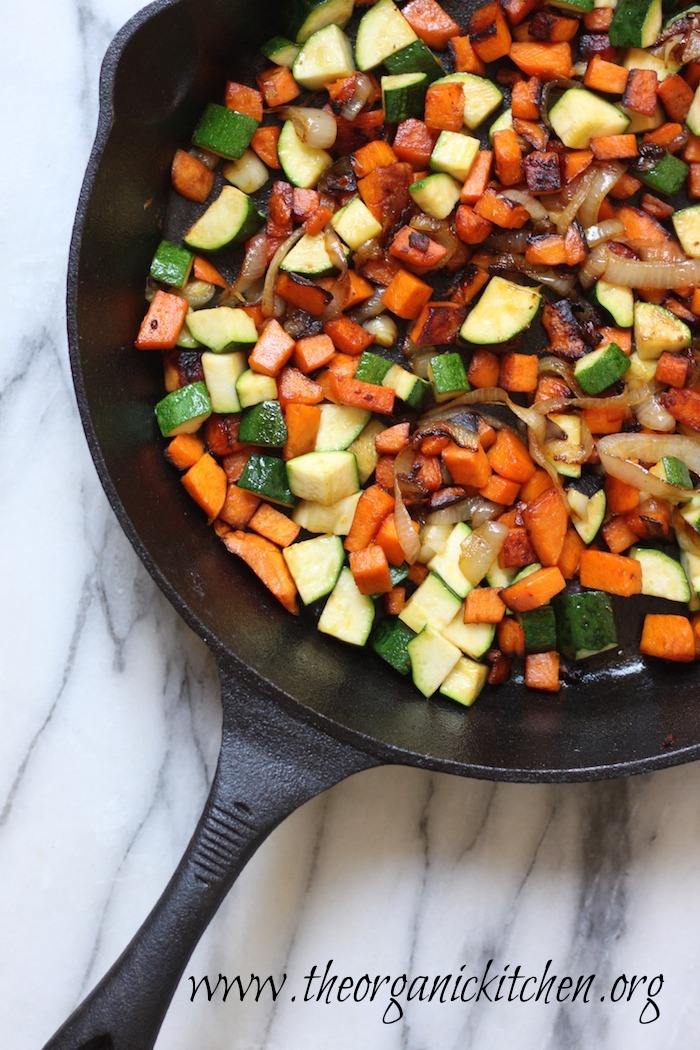 Adding vegetables to your breakfast is a great way to start the day and get more antioxidants and fiber. And when combined with perfectly poached eggs this breakfast keeps you full till lunch!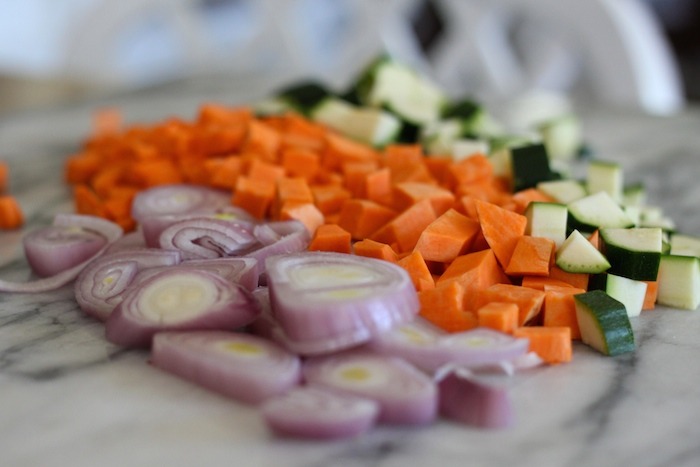 How To Poach The Perfect Egg:
Learning to poach an egg perfectly may take a few tries but I am going to make it super easy for you! I made a video tutorial so you can see exactly how it's done. To see how to poach the perfect egg click here. Now, notice a few things I did in the video that make a big difference in how your eggs come out; I used a really fresh egg. Fresh eggs poach better, old eggs boil better, that is a fact. I used a small pot and only filled it with a few of inches of water. This keeps the egg whites from spreading out. Make sure you stir the water until you have a very good vortex going (if you haven't watched the video…watch:) then GENTLY pour the eggs right in the center of the vortex. Use 1 T distilled white vinegar in the water so your eggs aren't shiny (aka slimy). Poach eggs 2-3 minutes for runny, 3 1/2 minutes for slightly runny, 4-5 minutes for cooked through (but why would anyone do that?)

The Recipe: Breakfast Hash with Poached Eggs
You will need a good pan (cast iron is best for hash), a small pot, a slotted spoon or fish spatula, sea salt, and freshly ground pepper, I like this grinder. (affiliate links) If you need to poach more than two eggs, just add more eggs to pot after removing the first two.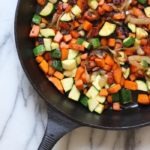 Breakfast Hash with Poached Eggs
A delicious and healthy breakfast hash with poached eggs
Keyword:
easy breakfast recipe, healthy recipe
Ingredients
2

sweet potatoes, peeled and diced

6

shallots, thinly sliced

2

zucchini, diced

sea salt

freshly ground pepper

olive oil, butter, coconut oil or ghee

chives, chopped, for garnish

4

poached eggs, see link above to learn how to perfectly poach eggs.
Instructions
Place cast iron pan on medium heat. Heat enough butter, ghee, coconut oil or olive to generously cover the bottom of the pan. When hot, add shallots and sweet potatoes. Cook, stirring frequently for about 12 minutes, till sweet potatoes are soft and shallots are browned. Turn heat up to med/high and add zucchini. Cook for five minutes stirring frequently, till zucchini browns. Sprinkle with salt and pepper. Serve with poached eggs and garnish with chives.
MAY I PLEASE ASK A FAVOR?
We small bloggers need all the help we can get. Subscribing and sharing on social media is very appreciated!
Post tags: gluten free, dairy free, grain free, breakfast