Let's just get this out of the way, we don't drink alcohol. As in ever. But we do like to enjoy holidays and parties with a little something special and festive in our glasses. That's where this Lemon Basil Spritzer~Non Alcoholic "Mocktail" comes into play!
(This post contains affiliate links. I may make a commission from sales but your price remains the same.)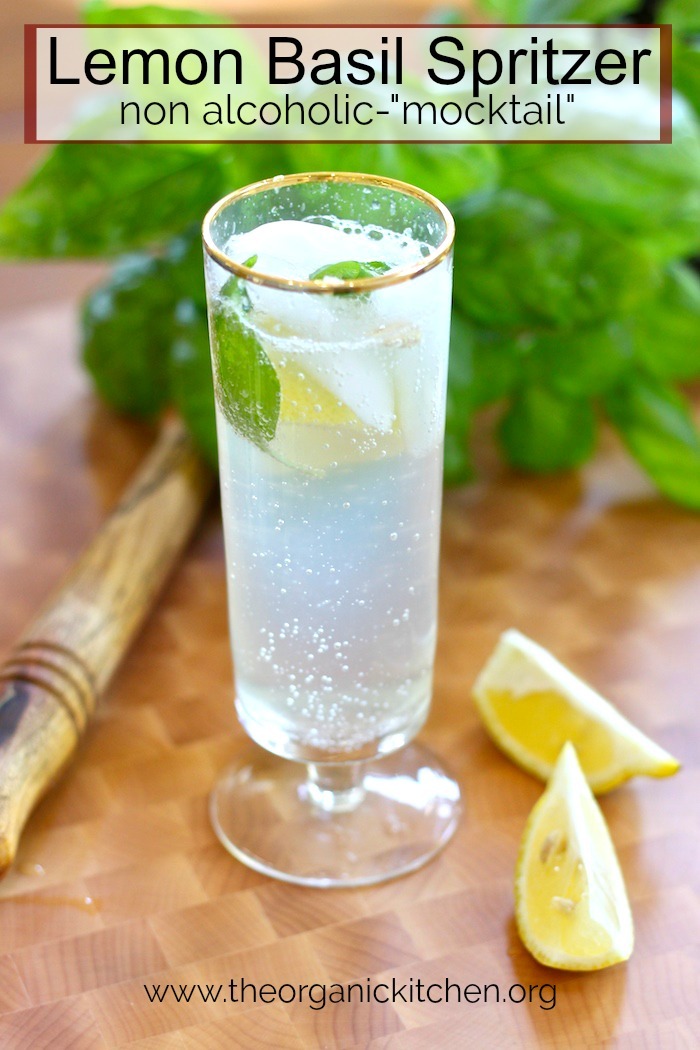 The Lemon Basil Spritzer~ Non Alcoholic "Mocktail"-Bubbly, Delicious and So Easy!
This drink is a favorite anytime we want something a little more celebratory than plain old water. It's made with muddled basil and lemon, a simple syrup or sugar free Stevia option, and sparkling water.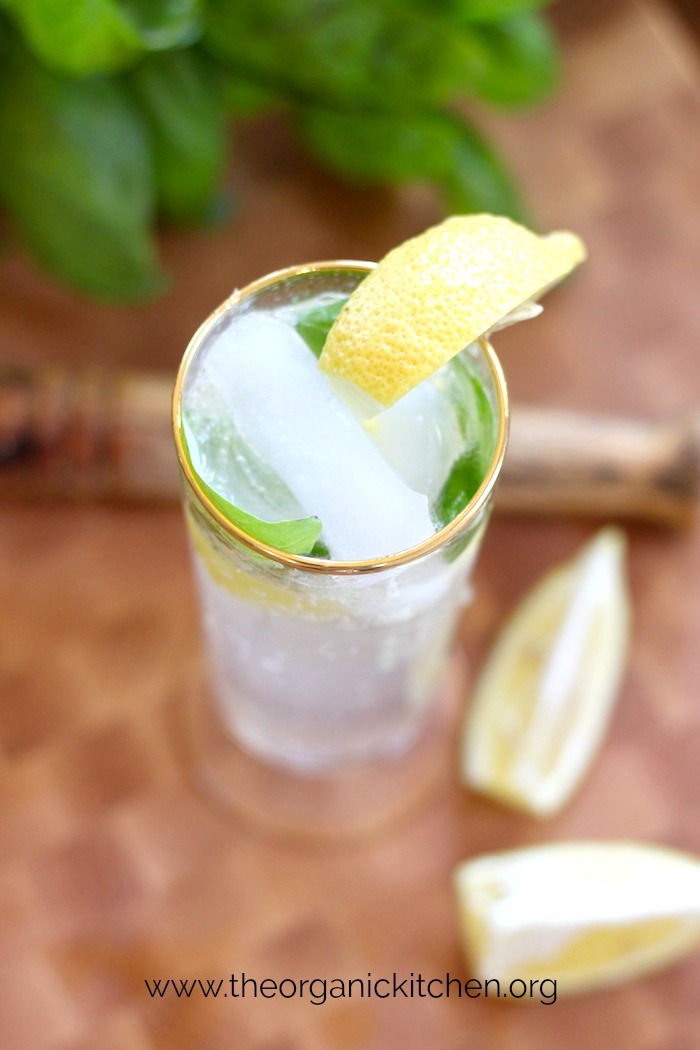 How to Muddle a Lemon or Lime…
A muddle is a bartenders tool used to crush ingredients so flavors release and blend, in this case lemon and basil. You will need a muddling tool, but in a pinch you could use the flat end of a wooden spoon…awkward and not as convenient and your friends might make fun of you…so, on second thought get the muddler.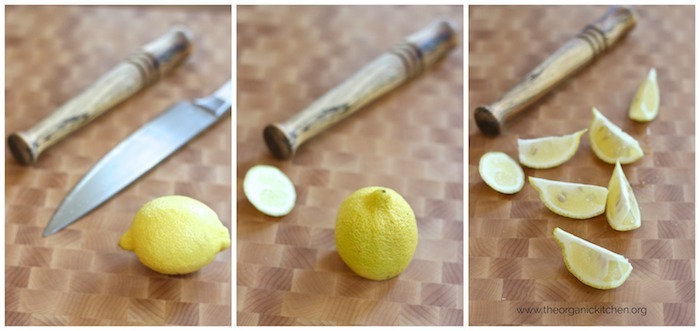 You start by rolling your citrus on a hard surface to soften. Then you cut the end off your lemon, set it on the flat side, and cut lemon into six equal wedges. Drop two lemon wedges and a few leaves of basil into the glass and smash with the muddler. You have now muddled. Good for you. … by the way my gorgeous cutting board is from Small Axe Woodshop and it's like buttah! It would also make a great holiday gift, hint, hint… honey I want the dark walnut board in my stocking…now back to our spritzer…
Simple Syrup or Naturally Sugar Free Stevia Option:
After muddling, you add some fresh squeezed lemon juice and sparkling water for a fizzy, liver friendly drink! You can sweeten this drink with a simple syrup made ahead of time, or with liquid Stevia drops. It's fantastically delicious both ways!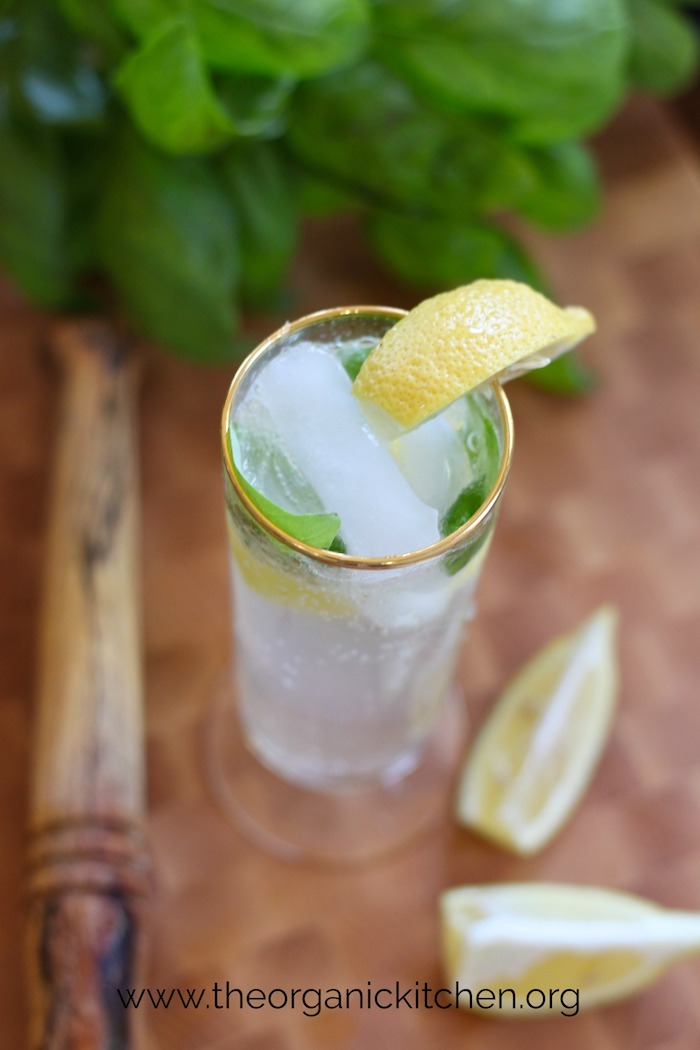 The Recipe: Lemon Basil Spritzer~ Non Alcoholic "Mocktail"
Tips and what you need: if using simple syrup, make ahead of time so it is cooled and ready to use. If you prefer Stevia drops,<—we use these. You will need a muddling tool and a hand held juicer for squeezing lemon juice.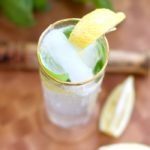 Lemon Basil Spritzer
A light bubbly Lemon Basil Spritzer~ Non Alcoholic "Mocktail" with a simple syrup or low carb, keto friendly, naturally sugar free option. The amount of simple syrup included in the recipe will make 6-8 drinks. And just a reminder, all ingredients can be adjusted to taste!
Ingredients
If using Stevia instead of simple syrup skip the first two ingredients
1/2

cup

water

1/2

cup

granulated sugar
Spritzer recipe:
3

leaves

fresh basil

2

lemon wedges

2

tablespoons

freshly squeezed lemon juice

2

tablespoons

simple syrup or 4-5 drops liquid stevia

3/4

cup

cold sparkling water

basil leaves or lemon wedges for garnish
Instructions
If using simple syrup, place water and sugar in a pot and bring to a boil, lower and simmer for 6 minutes. Allow to cool. If using liquid stevia, skip this step

To make drink: place a few basil leaves and 2 lemon wedges in bottom of glass, muddle, crushing the lemon wedges and basil together

Add lemon juice and either simple syrup or stevia drops, and muddle more. Then pour tonic water into glass.

Add a few ice cubes, and garnish with additional basil and lemon wedges if desired.
MAY I PLEASE ASK A FAVOR?
We small bloggers need all the help we can get. Subscribing and sharing on social media is very appreciated!