When I hear the word "carbonara" I think rich creamy goodness with lovely subtle flavor. I also think "super easy dinner that takes about 25 minutes to make!" And just look how beautiful this Pasta Carbonara with Baby Kale is!
(This post contains affiliate links. I may make a commission from sales but your price remains the same.)
The Sauce:
Carbonara sauce is simply a mixture of cream, egg yolks, garlic and parmesan whisked together. No need for cooking, you just place the piping hot pasta into the mixture and toss! It doesn't get easier than that. And I am sure you have noticed that platter by now, it is lovingly handmade by Nikki at HappyClay.com . Swoon right? You can check out her Etsy Shop here.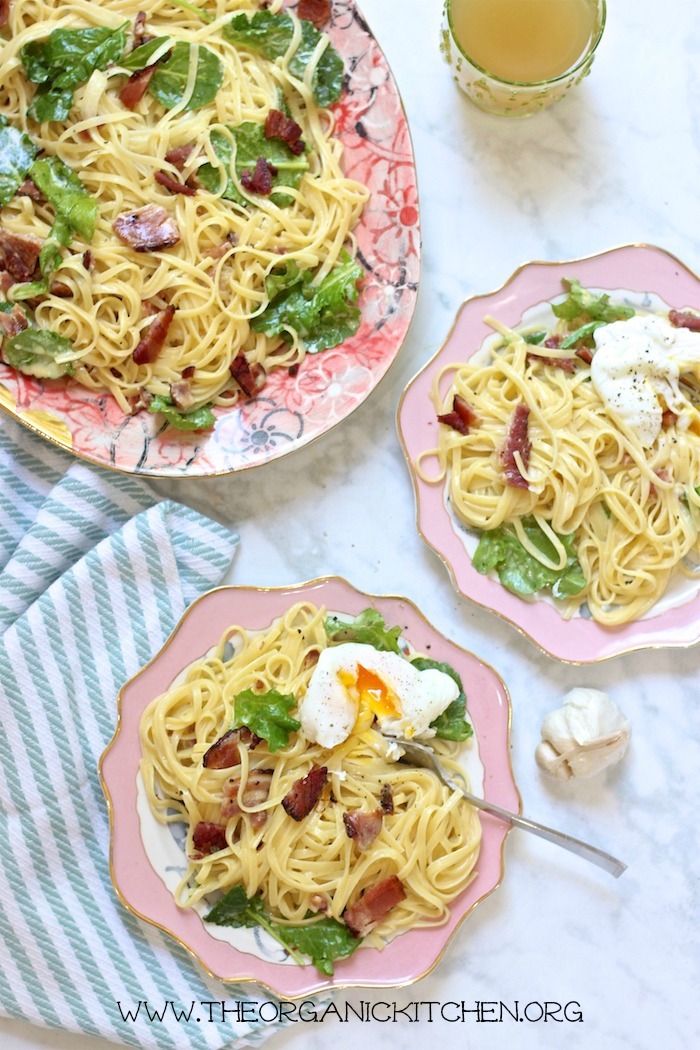 COOKING PASTA:
When cooking pasta there are only a few things to remember:
1. Follow pasta box cooking instructions, they usually are right on.
2. Salt the water for flavor.
3. To keep pasta from sticking be sure to have lots of water in your pot, at least several inches above the pasta to allow room for expansion, and
4. Stir frequently.
Making This Meal Gluten Free and Just as Good!
If you live without gluten you don't have to miss out on exceptional pasta! Jovial Foods makes the best gluten free pasta around. I am lucky enough to live by a store that carries it, but if you aren't you can order it here!
The Recipe and What You Will Need…
…a stock pot to cook pasta, a microplane for the lemon zest, grating the cheese and the garlic. Gluten free friends use your favorite GF pasta! Note: Carbonara doesn't reheat as well as most pastas. If you won't be eating it all, I recommend making a half batch.
Pasta Carbonara with Baby Kale!
An easy dinner made in less than 30 minutes! Note: Carbonara doesn't reheat as well as most pastas. If you won't be eating it all, I recommend making a half batch.
Keyword:
easy dinner recipe, easy pasta recipe
Ingredients
16

ounces

spaghetti or linguini prepared to package instructions

1/2

pound

thickly sliced pancetta, cooked and then chopped

2

Tablespoons

Extra Virgin Olive Oil

2

cloves

garlic, finely minced or grated with a microplane

5

large

egg yolks

3/4

cup

heavy cream

½

cup

freshly grated Parmesan

Freshly ground black pepper and sea salt to taste

Zest of one medium lemon

½

cup

pasta water reserved for thinning sauce, you may need a little, or none

Large handful baby kale, or if preferred use arugula
Instructions
Place a large stock pot of salted water to boil.

While waiting for pasta water, place pancetta in pan on medium/high heat. Cook for several minutes until both sides are crispy and browned. Remove from pan, place on paper towels and allow to cool, then chop.

While pancetta is cooking, prepare sauce.

When ready add pasta to boiling water, stir frequently.  While pasta cooks, prepare sauce
Sauce prep:
Place olive oil, garlic, egg yolks, cream, lemon zest, cheese, a generous pinch of sea salt and a few turns of fresh pepper in a large bowl (large enough to accommodate pasta) and whisk well. Set aside.
Put It Together!
When pasta is al dente, reserve 1/2 cup pasta water in a small cup and strain pasta in colander (do not rinse). Place pasta in the bowl with cream/egg mixture. Toss well. If sauce is too thick add a little pasta water to thin. (You may need a little, you may need a lot, you may need none at all)

Add pancetta and a handful baby kale to pasta and toss. Place pasta on plates and sprinkle with salt and pepper, serve immediately.
MAY I PLEASE ASK A FAVOR?
We small bloggers need all the help we can get. Subscribing and sharing on social media is very appreciated!