Food. I love it. Not just because of the way it tastes, or looks, or because of the aroma that wafts through the house as it cooks. I adore food because it enhances our social experience. Whether you are gathering around the family table to feast and share stories from the day, settling in at a small table for two in an intimate cafe, or inviting friends over for the big game, food makes it all more enjoyable! And speaking of the big game, these Apricot Sesame Crock Pot Chicken Wings are the perfect game day appetizer.
(This post contains affiliate links. I may make a commission from sales but your price remains the same.)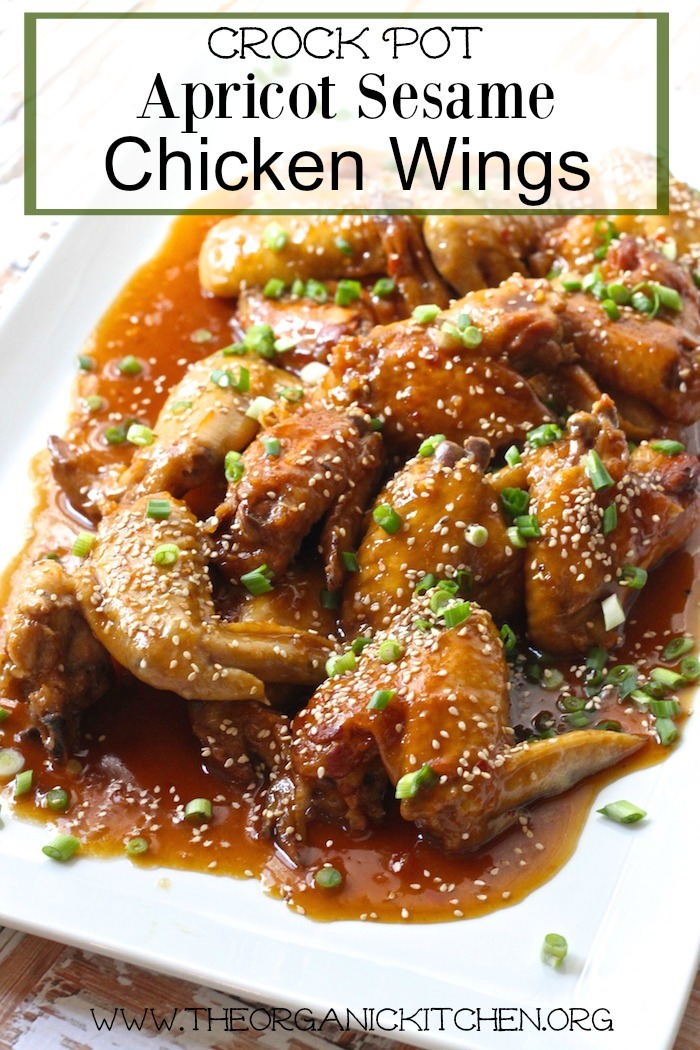 Apricot Sesame Crock Pot Chicken Wings~ Get The Party Started!
When it comes to social gatherings the conundrum is that sometimes when you are the host/hostess, the stress of making the menu and entertaining guests can diminish your ability to enjoy your own party. So today I am going to share one of my favorite casual, stress free party dishes, beginning with an almost effortless appetizer, "Apricot Sesame Crock Pot Chicken Wings". These are so tender and flavorful and honestly, almost no work at all! Simply whisk together a few ingredients and pour over chicken wings in a crock pot, a few hours later you have 'fall off the bone' perfection! I use the Cuisinart Multicooker for all my slow cooking.
Confession time. I ate half of these as soon as I was done taking pictures…and I ate the other half the next day. They are that good.
The Recipe: Apricot Sesame Crock Pot Chicken Wings
You will need: a crock pot (I use Cuisinart Multicooker because it can brown and sauté too), high quality teriyaki sauce (I use Bone Suckin' Yaki) Affiliate links.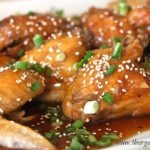 Apricot Sesame Crock Pot Chicken Wings
Whisk a few ingredients together, place in the crock pot and voila! Four hours later you have a healthy and delicious appetizer. Instructions for regular crock pot and multicooker.
Keyword:
easy appetizer recipe, game day recipe, slow cooker recipe
Ingredients
3

pounds

chicken wings

2

medium shallot, peeled and minced

4

tablespoons

toasted Sesame oil

1

teaspoon

each sea salt and ground pepper

1

cup

teriyaki sauce

6

cloves

garlic, peeled and minced

3/4

cups

apricot preserves

1/2

cup

freshly squeezed orange juice

1/2

teaspoon

dried ground ginger

1 - 2

teaspoons

red pepper flakes 1 tsp for mild, 1 1/2 for med, 2 for hot

1

tablespoon

sesame seeds, for garnish

3

green onions sliced, for garnish

2

tablespoons

water

2

tablespoons

corn starch or arrow root powder to thicken)
Instructions
Whisk together shallots, sesame oil, salt, pepper, teriyaki, garlic, apricot preserves, orange juice, red pepper flakes and ginger.

Place chicken wings in crock pot, meaty side down. Pour sauce over chicken wings.

If you have a regular crock pot, cook on low heat 2 hours. Whisk together water with corn starch (or arrow root powder) and add to crock pot. Stir. Turn crock pot to 'high' and cook for one more hour.

If you have a crock pot like mine that has a sauté/browning feature you can cook for 3 1/2 hours on low, add corn starch mixture and press brown/sauté, adjust the temperature 425. Cook for 15 more minutes till sauce is thick.

Garnish with sesame seeds and green onions and serve!
MAY I PLEASE ASK A LITTLE FAVOR?
We small bloggers need all the help we can get. Subscribing and sharing on social media is very appreciated!