I am not going to lie. I have made this cake every weekend for the last three weeks. The weather has been so perfect here in Southern California that we have hosted backyard dinner parties with friends all month, and this Blueberry Lime Cake with Lime Buttercream Frosting was a hit at each event. This cake is as lovely as it is delicious! Blueberry and lime. Such a classic combination.
(This post contains affiliate links. I may make a commission off sales but your price remains the same.)
The Cake and the Frosting:
The base of this cake is a classic vanilla buttermilk cake. I added freshly grated lime zest and plenty of ripe blueberries to make this version the quintessential dessert for spring and summer. The frosting is a stunning buttercream made with fresh lime juice and zest…notice the green specks?
To Decorate:
When it comes to decorating, I like to keep my cakes simple. I usually top them with fresh flowers or berries. To decorate this beauty I used lime slices, blueberries and a few random greens from my garden. As long as whatever you use for decoration is safe to be eaten you can place right on top of the cake. If you use something inedible I recommend placing a small circle of parchment paper under the decorations so they can be easily removed before serving.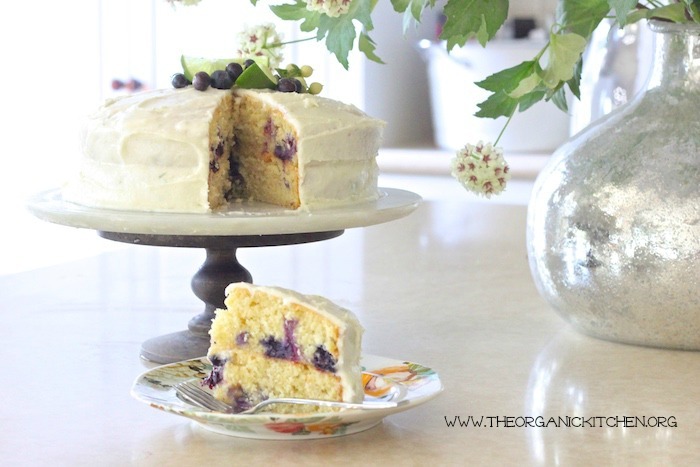 The Recipe: Blueberry Lime Cake with Lime Buttercream Frosting
Tips and what you will need: I use two 9 inch cake pans for this recipe. Always line with parchment paper for easy removal from pans. I love my Kitchen Aid Mixer and vanilla paste!  You will need a microplane to zest the lime.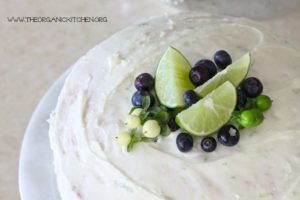 Print
Blueberry Lime Cake with Lime Buttercream Frosting
Yield 12
Ingredients
The Cake:
2½ cups all purpose flour
3 teaspoons baking powder
1 teaspoon sea salt
1 cup butter (2 sticks) room temp (plus 1 tablespoon for preparing pans)
¼ cup coconut oil (or baking oil of your choice)
1⅓ cup granulated sugar
2 teaspoons vanilla paste or 1 teaspoon extract
6 eggs, room temp
1⅓ cup cultured buttermilk
1 1/4 cups fresh blueberries, rinsed, dried and stems removed (plus more for decorating if desired)
zest of two limes
The Frosting:
1/2 cup butter, room temp
zest of one lime
3 tablespoons fresh lime juice
tiny pinch of sea salt
4-5 cups powdered sugar
Instructions
Cake Prep:
Preheat oven to 350 degrees and place oven rack in center position
Prep pans:
Fold a large piece of parchment and use 9" cake pan bottom to trace a circle onto parchment. Cut circles and place in the bottom of pans. Use a paper towel to wipe sides of pan and parchment with butter. Lightly coat with flour. Set aside.
The Cake:
Combine flour, baking powder and salt, set aside
Place butter, coconut oil, sugar and vanilla in mixer and mix until well combined
Add eggs one at a time
Alternate adding flour mixture with buttermilk until well combined, mix for one more minute
Add lime zest and mix until incorporated
Add blueberries and gently mix in by hand
Pour equal amounts of batter into prepared pans, tap pans firmly on counter to take out any bubbles
Bake for 25-30 minutes or until an inserted toothpick comes out clean
Allow cakes to cool, gently remove from pans discarding parchment and then frost
The Frosting:
Place softened butter, lime juice, zest, sea salt and 4 cups powdered sugar into a bowl and mix. If frosting is not quite thick enough add more sugar (up to a cup, I usually end up using almost 5 cups). If it's too thick add just a little more lime juice. When frosting is desired consistency, frost cooled cake.
Top with your choice of decoration and serve
MAY I PLEASE ASK A FAVOR?
We small bloggers need all the help we can get. Subscribing and sharing on social media is very appreciated!