Living in Los Angeles sure has it's perks! It feels like spring time in the winter, the beaches are a stones throw away (or an hour in traffic, but let's not nit pick), we are completely spoiled by the year round availability of fresh produce, and I would certainly be remiss if I didn't mention the plethora of amazing dining opportunities seemingly on every corner. Today I am more than thrilled to feature a Crispy Chicken Salad with Plum Vinaigrette recipe from one of LA's finest eateries, my favorite Japanese restaurant, Katsuya by Starck.
(This post contains affiliate links off which I may make a commission. Your price remains the same.)
Don't Live in LA? You Can make It Yourself!
Los Angeleans are lucky to be able to enjoy four Katsuya locations: Brentwood, LA Live, Hollywood and Glendale. But no matter where you live you can experience a taste of Katsuya because today they are generously sharing their recipe for "Crispy Chicken Salad with Plum Viniagrette" with The Organic Kitchen!
A completely unique dining experience:
The food philosophy at Katsuya is a truly unique marriage of inventive Japanese classics and fresh California cuisine, always beautifully presented and melt in your mouth delicious! Award winning cocktails and one of a kind desserts have won Katsuya fans the world over. Each venue is sleekly styled by design icon Phillipe Starck creating a stunning backdrop for your dining experience.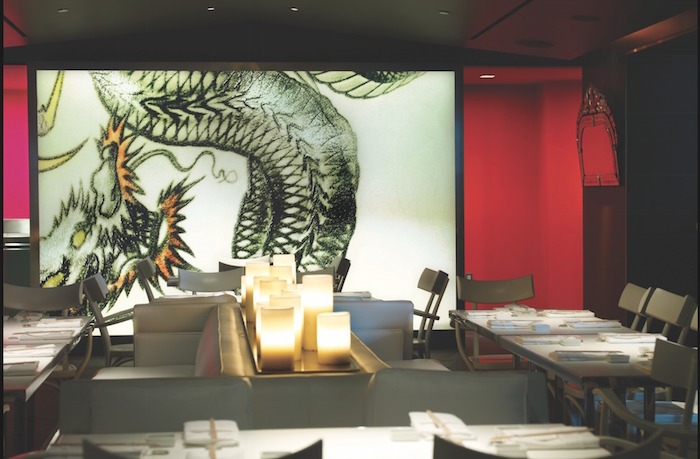 Chef Spotlight
Of course, every one of Katsuya's venues has very talented chefs, none more so than Chef David Lespron. Some people are just born to do what they do and Chef Lespron is one of those people. Early on David discovered his passion and skill for cooking, winning many culinary competitions throughout high school landing him a scholarship at The Art Institute of Los Angeles where he began his culinary career. He cooked his way through some of LA's best kitchens before landing as Chef de Cuisine Katsuya's Hollywood location. And we are so glad he did! When talent and passion combine it's a beautiful thing.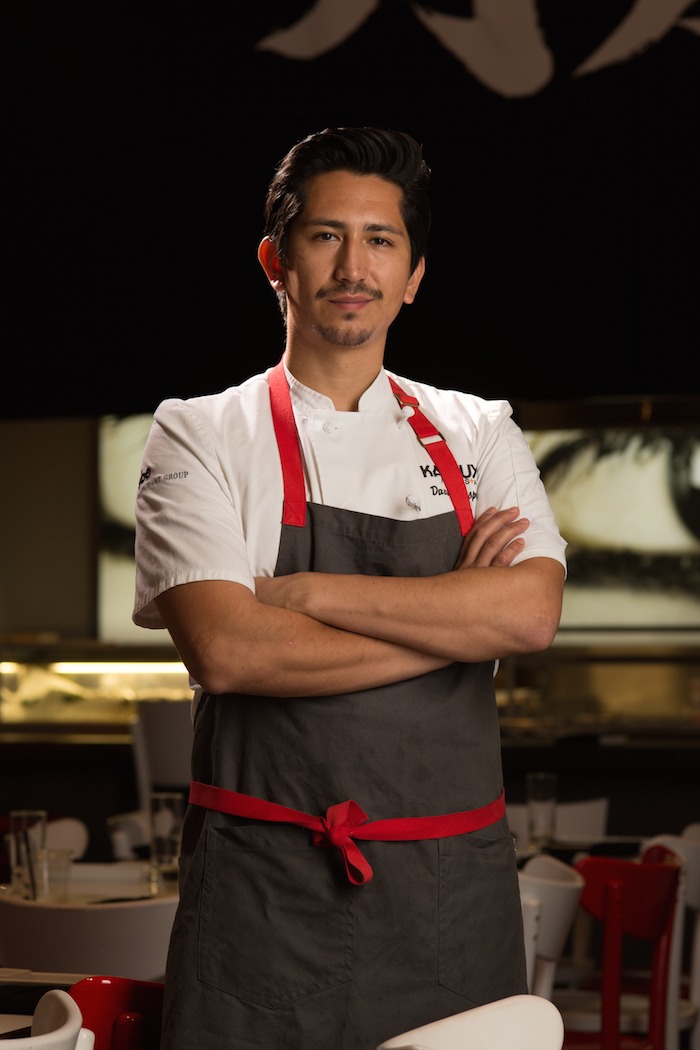 Speaking of beautiful things, here are just some of the tantalizing creations you can expect to find on the Katsuya menu…and just a little  heads up for you Sake lovers, on the last Monday of every month Katsuya hosts complimentary Sake tastings and every Monday is "Sake Monday" meaning customers receive 50% off all Sake!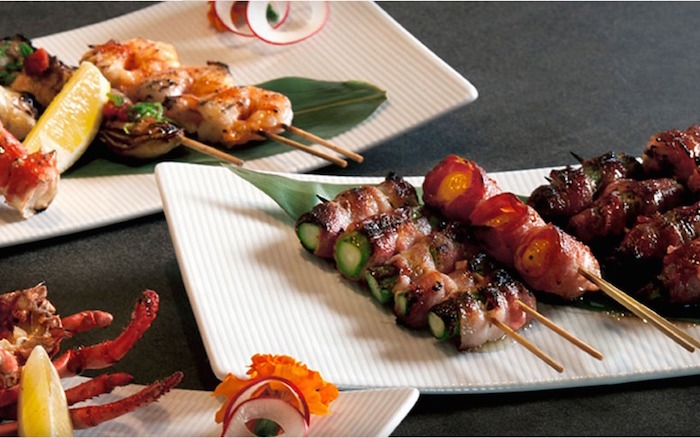 And now for the recipe you have been waiting for! The Crispy Chicken Salad with Plum Vinaigrette.
The Recipe: Crispy Chicken Salad from Katsuya Restaurant
Tips and must haves: this recipe calls for cellophane noodles, fried wontons, plum sauce (affiliate links) and Suehiro vinegar, a distilled grain vinegar common in Asian cooking that is usually found on the Asian aisle of the grocery store. If you can't find it, sub with rice vinegar.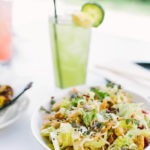 Crispy Chicken Salad with Plum Vinaigrette
When prepared in the restaurant the Chef uses a sous vide machine to create the most tender chicken. Knowing that most of us do not own one of these machines they have graciously offered preparation for chicken breast in this recipe. You may also use shredded rotisserie chicken or left over roasted chicken.
Keyword:
easy lunch recipe, light recipe
Ingredients
Ingredients for salad:
2

cups

mixed greens

napa cabbage, raddichio, romaine hearts

1

cup

fried wontons

1

cup

cellophane noodles

1

cooked half chicken breast

chopped

1

teaspoon

butter

2

tablespoons

soy sauce

2

tablespoon

plum vinaigrette

recipe below

1

tablespoons

microgreens

garnish

1

tablespoon

chives

finely chopped (garnish)

1

tablespoon

sesame seeds

garnish*garnish to taste
Ingredients for Plum Vinaigrette:
2

tablespoons

Suehiro Vinegar

2

tablespoons

olive oil

2

tablespoons

Honey

1

tablespoon

Soy Sauce

1/2

tablespoon

sesame oil

1/2

tablespoon

plum sauce

1

teaspoon

grated ginger

1

teaspoon

grated garlic

salt & black pepper to taste
Instructions
Start by lightly seasoning the chicken with salt and black pepper, then sear it on a grill or in a hot pan until it's golden brown on both sides.

Next, top the chicken breast with a teaspoon of butter and two tablespoons of soy sauce, and bake in the oven at 350 degrees for about 7 minutes.

In the meantime, make the plum vinaigrette. In a mixing bowl add 2 tablespoons of Red Wine Vinegar, 1/2 tablespoon plum sauce, 1 tablespoon soy sauce, 1/2 tablespoon sesame oil, 2 tablespoons of honey, 1 teaspoon of grated garlic, and one teaspoon of grated ginger and whisk until blended. Then, add 2 tablespoons of Canola oil and whisk again.

Now assemble the salad. When the chicken cools, slice it and place it in a bowl. On top of the chicken, add the chopped romaine lettuce and other mixed greens, Wonton and Cellophane Noodles. Season with Kosher salt and pepper to taste.

Next, pour the Plum Vinaigrette directly over the lettuce. (don't put it on the won-ton or noodles or it will get soggy) Mix it all up by hand.

To Plate: Garnish salad with chives, sesame seeds, edible orchids and microgreens to taste.
If you would like to see my other "Favorite Restaurant" posts, just click!
Kale Salad with Citrus Vinaigrette from 370 Common
The Secrets to Making the Best Burger Ever from The Rustic Burger
Pasta with Pea Sauce from The Foundry Grill
Citrus Stuffed Roasted Chicken from The Communal
Enjoy! And if you would like to receive my free weekly recipe newsletter, please subscribe just under my picture on the right sidebar ~ Linda Spiker
MAY I PLEASE ASK A LITTLE FAVOR?
We small bloggers need all the help we can get. Subscribing and sharing on social media is very appreciated!