One of my husband's best qualities is that he is a man that gets things done. I love that about him. I had a trip to Europe on my bucket list (yes, I had never been). He asked me specifically where in Europe I wanted to go and the answer came easy, Italy! Six months later on my 52nd birthday I could officially check that one off the ol' bucket list.
After three days in Rome (see my Rome post and recipe here) we took a train to Naples and then drove to the ruins of Pompeii. Pompeii is a must do, completely fascinating! Then it was on to the colorful, charming beach town of Positano. Positano is a little fishing village nestled between the hillside and beach along the Amalfi Coast in Southern Italy. Nothing could have prepared me for what I was about to see! It honestly seemed like a dream….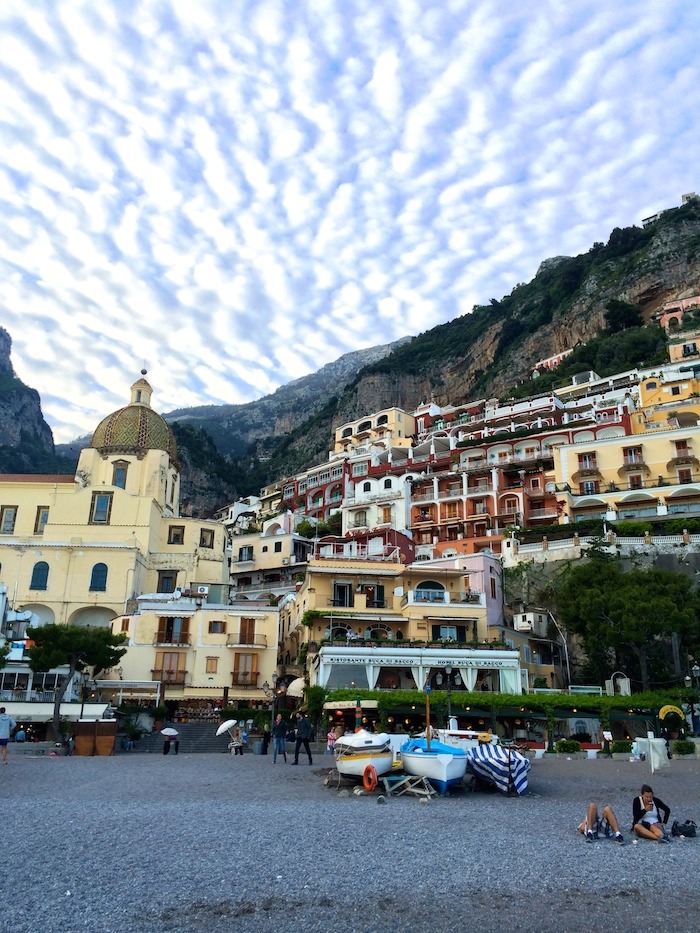 The colorfully painted homes and hotels are stacked one on top of the other on the lush, green hillsides, each with a beautiful ocean view. The vibe in this quaint village is laid back and friendly.
This region of Italy is known for it's lemons, some grow as large as footballs. They are eaten like grapefruits, sprinkled with sugar. The locals have the most amazing terraced gardens that grow on the steep hillsides behind their homes and the landscape is dotted with gorgeous domed churches. We stayed at
Le Sirenuse
, a gorgeous historic hotel in the heart of Positano.
We mostly spent our days at the beach but one day took a guided boat tour up the Amalfi Coast, stopping in small towns, shopping, eating and just enjoying the boat ride and amazing sites including some pretty spectacular caves!
To see a 30 second video of the sights we visited just click—> here.
On our last morning in Positano we (and a few British friends) took a cooking class from Chef Salvatore at Max Restaurant. We made Focaccia Bread, Eggplant Parmesan, Stuffed Zuchinni Flowers, Pizza, and Tiramisu. Delicious! Today I will be sharing a favorite focaccia bread recipe with you!
To see a 30 second video of our cooking class at Max restaurant click—> here.
Now, on to the focaccia bread! Focaccia bread is a flat bread (about an 1 1/2″ – 2″ thick) usually topped with olive oil and herbs and is served at the beginning of the meal. This recipe makes quite a bit of bread.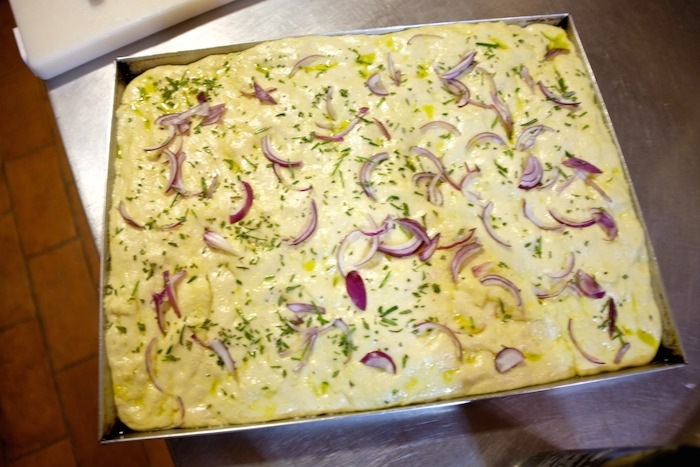 You can make one large cookie sheet... (affiliate link) or you can divide it into smaller portions and bake in 12 inch pizza pans…once dough is pressed into baking sheet, drizzle the top with quality olive oil and sprinkle with your choice of sliced red onions, rosemary and my favorite sea salt! (affiliate links)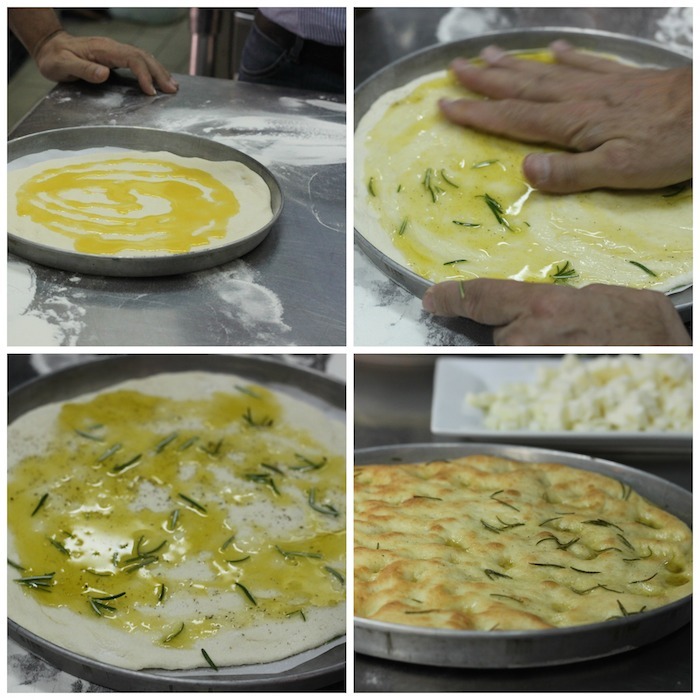 If you would like to make less bread, simply cut the recipe in half. Helpful hint: Using your fingertips to spread the dough leaves it 'dimpled' as pictured above.
The Recipe: Focaccia Bread
Focaccia Bread from Positano Italy!
This bread is easy to make but a little time consuming because the bread needs time to rise. This recipe makes one large rimmed cookie sheet but you can split it into smaller pans like we did for this class or simply cut the recipe in half if you are feeding less people. Because all ingredients are weighed in Italy, which is much more accurate, I will provide the original recipe and an American conversion.
Keyword:
classic recipe, easy side dish recipe
Ingredients
800

Grams

Bread Flour

6 1/2 cups

10

grams

dry yeast

1 1/2 T

1

tsp

sea salt

plus more for topping

3

T

Olive Oil

plus more for pan and topping

380

grams

warm water

3 cups plus 2 T

For the top: thinly sliced red onions, sea salt, fresh rosemary
Instructions
Place bread flour in a large bowl and make a well in the center of flour with your fist. Set aside.

Pour yeast, salt and olive oil into a bowl with warm water and whisk.

Pour into the well you made in the flour.

Use your hands to knead until well combined.

Turn out on a well floured surface and knead till smooth and elastic (about 5-6 minutes). Add flour to the counter surface as needed for sticky dough. As soon as dough stops sticking, stop adding flour or your dough will be dry.

Cover bowl with a dish towel and set aside in a warm corner for an hour to allow bread to rise.

Prepare a rimmed baking dish by drizzling generously with olive oil.

Use your hands to spread the olive oil on cookie sheet. Then use your oil covered hands to place dough in the center of the cookie sheet. Use fingertips to spread the dough as evenly as you can from side to side on the cookie sheet. When dough is spread from side to side and top to bottom, drizzle with olive oil, sprinkle with sea salt, onions and freshly chopped rosemary. Set aside again for one hour. Bake at 350 for 20-25 minutes or until golden brown. Allow to cool a bit, cut and serve.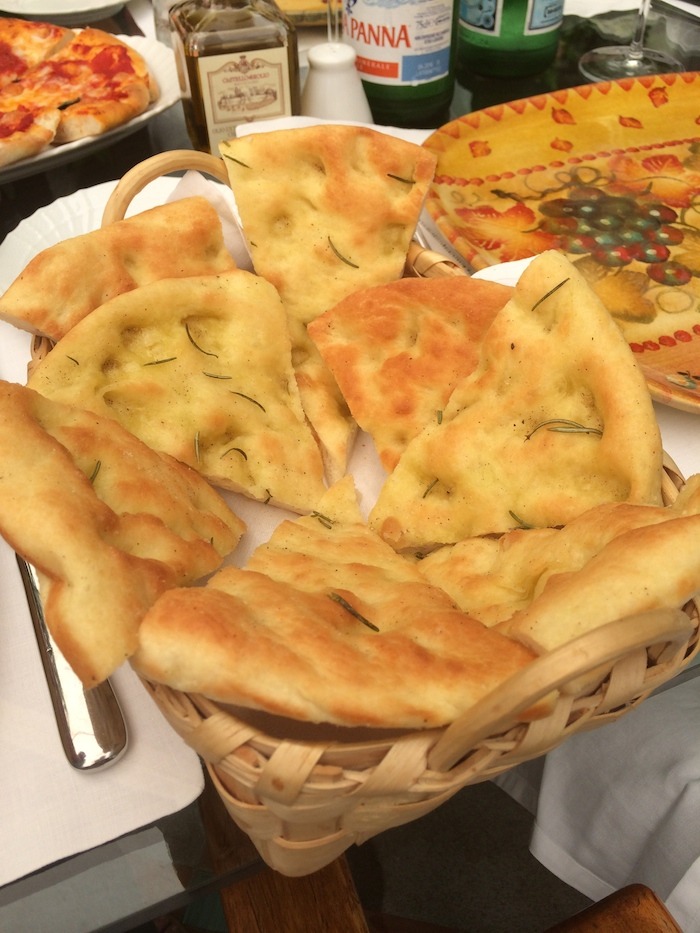 Beautiful! I hope you are enjoying my posts from Italy…I kind of feel like you are all traveling right along with me. And best of all I get to relive my amazing trip! Next week we will be visiting Florence and making Ricotta Cheese Cake….for my birthdayl! To see our all our stops in Italy, click! Rome, Florence, Tuscan Countryside, Venice and Burano!
MAY I PLEASE ASK A FAVOR?
We small bloggers need all the help we can get. Subscribing and sharing on social media is very appreciated!