School is back in session! (Did I sound a little too excited?) After My Last Back to School Lunch Post  I had several requests for lunches that were 'younger child friendly', so I came up with some ideas the littles will love! BUT truth be told the bigger kids will love these too. Heck I would happily eat any of these for lunch myself! But before we get to the lunches, here are some tips for getting younger kids to eat what you pack…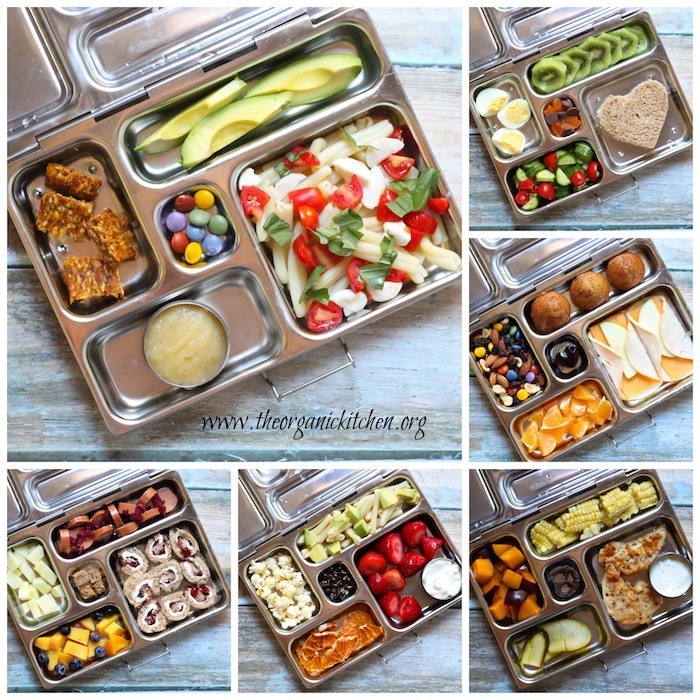 These lunches are all packed in a stainless steel Planet Box that keeps food separate without the need to use plastic bags, so no waste!
Make food 'finger friendly' to avoid frustration:
Chubby little fingers have a hard time using utensils so pack things that can be eaten with little hands instead of a fork and spoon.
Increase interest with color, texture and shape:
Younger children love colorful food. Feeding your child the rainbow is the best way to ensure he/she is getting a wide array of nutrients! Expose your child to a variety of textures as well. Be sure not to fill their lunch box with too many crispy items or that's all they will want to eat. Using shapes is another way to increase interest in eating, roll bread into pinwheels or use a cookie cutter to create sandwiches in a fun shape. Get creative!
Flavor:
Did you know your baby's palate develops while in the womb! It's true, the flavors eaten by mom during pregnancy can determine the flavors a baby is inclined to eat later in life. Likewise, the flavors you expose them to the first few years of life will make them more open to trying new things as they get older. So be sure to add a variety of flavors to their lunch without going overboard: add small amounts of vanilla to yogurt, basil to pasta, cinnamon to applesauce, or give them sour pickles or fermented vegetables, whatever floats your boat!
Keep it real!
Small children need nutrients to feed their bodies and brains! Feed them real food; fruits, vegetables, healthy sources of protein and grains. All the foods listed below are real foods with no artificial colors, flavors or chemicals.
The Sweetheart: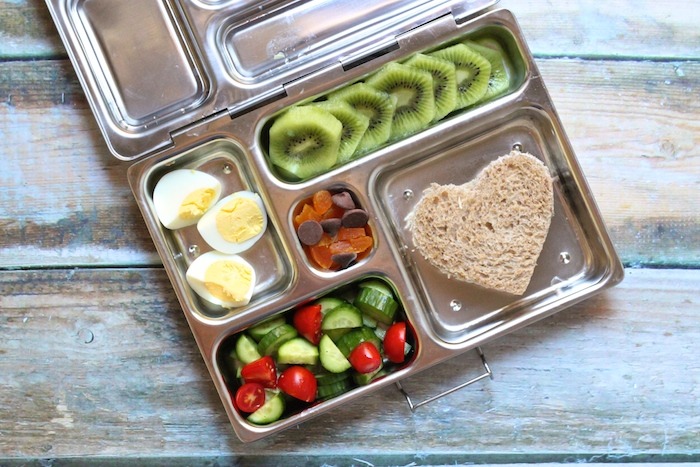 The lunch: a heart shaped almond butter and honey sandwich, hard boiled eggs, Persian cucumbers and cherry tomatoes, kiwi fruit and dried apricots with chocolate chips.
That's a Wrap:
The lunch: Chicken, apple and cheese wrap, mini muffins (my banana nut muffin recipe or cheddar biscuit recipe), tangerine sections, trail mix (not for toddlers) and a homemade elderberry gummy I made using this recipe from Real Food RN.
Let's do Lunch:
The Lunch: Pasta with avocados, dried sumo tangerines, popcorn, berries with dip (recipe below), chocolate covered pomegranate seeds. For pasta: cook the night before and drizzle with olive oil. The next morning add avocado and sprinkle lightly with sea salt (optional). For berry dip: add a little vanilla paste to plain yogurt. For popcorn recipes click here.
Little Italy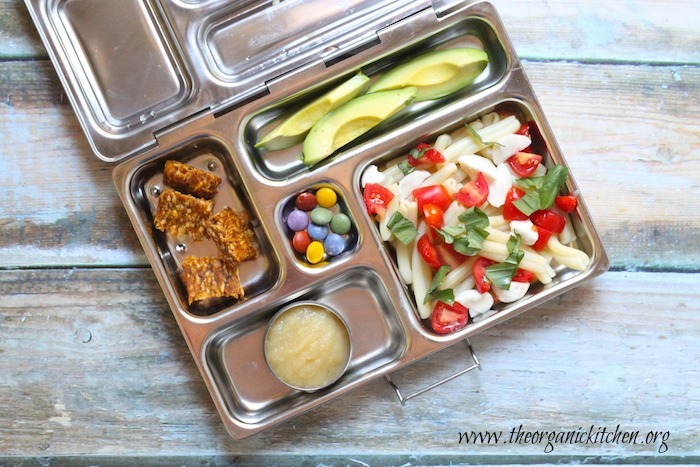 The Lunch: Pasta with fresh mozzarella, cherry tomatoes and basil, sliced avocado, 100% fruit "That's It" bar, apple sauce with cinnamon, naturally colored m &m's (Whole Foods market). For pasta: cook pasta the night before and drizzle with olive oil, the next morning add mozzarella, basil and tomatoes.
The Planet Box comes with lidded containers for wet items like apple sauce and yogurt!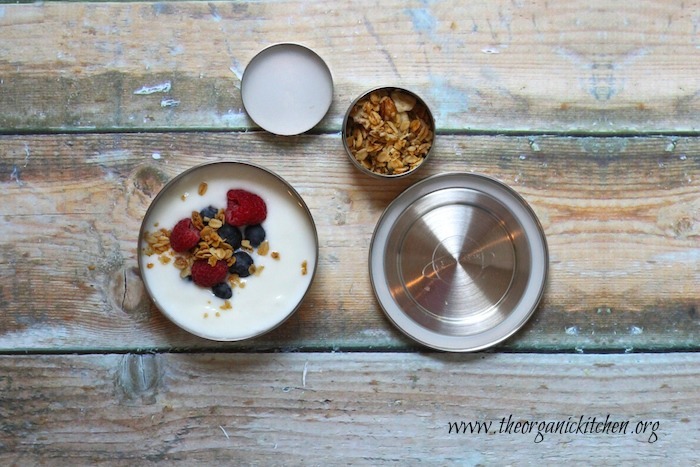 The Pinwheel:
The Lunch: Cream cheese and no sugar jam on whole grain bread, 100% grass fed beef hot dog with chopped fermented veggies (read about the health benefits here), mango and blueberries, diced apple and pears, and a fruit cookie. For sandwich: roll a slice of bread with a rolling pin, cut off crust, spread with cream cheese and jam, roll and slice into pin wheels.
The Little Dipper
The Lunch: My Easy Chicken Tenders with my Creamy Herb Dressing because little kids love to dip, a sour pickle, diced plums, corn off the cob with butter and sea salt and a chocolate covered pretzel.
 More Lunch Inspiration Here!
Six Healthy Back to School Lunch Ideas Parents and Kids Will Love
Six Healthy Lunch Menus for Back to School
A Naturally Green St. Patrick's Day Lunch!
The Charcuterie Lunch!
And if you would like to get my free newsletter please subscribe! ~ Linda Spiker