Saint Patrick's Day lunches don't have to be laden with artificial 'green' food coloring and chemicals, but unfortunately they often are. Luckily there are plenty of nutritious 'real' green foods to choose from that kids will love! Parents will love this lunch too because everything in it is 'assembly only' (no cooking required).
This lunch is green in more ways than one. It is packed in an eco friendly, dishwasher safe PlanetBox which completely eliminates the need for plastic bags.
Recipes: The Saint Paddy's Day Lunch!
This simple lunch only takes minutes to assemble: Simply roll turkey/chicken, lettuce, sun dried tomatoes and mayo in a spinach tortilla for the main course. Of course you can roll anything your child loves in a green tortilla. Our sides are kiwi and fresh mozzarella balls on skewers, sliced cucumbers and ranch dressing, green apples (drizzle with lemon juice to prevent browning) served with sprouted almond butter. And for dessert, white chocolate chips with salted dried pistachios! The combination of salty and sweet is amazing. 
And How about a Green Drink? Homemade Limeaid or Green Smoothie!
The PlanetBox now makes a thermos that fits right into the pocket of the PlanetBox carrying case. This little thermos has a leakproof flip top, keeps everything cold and is completely BPA, lead and phthalates free, it is also dishwasher safe. For St. Patrick's Day I have two green drink suggestions: you can fill the thermos with my recipe for Homemade Limeaid (I offer five versions of limeaid,  the traditional recipe is my favorite) or for a sugar free drink option serve The Morning Star Smoothie. Both are naturally green and delicious! The drink will stay ice cold till your child is ready to drink it!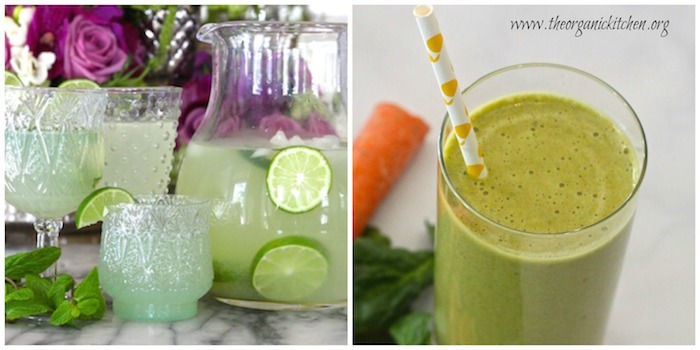 I ate this for lunch after photographing it. It was delicious and plenty of food, even for an adult.
Of course I have plenty of other lunch ideas!
Check out 18 more healthy lunch menu ideas for days food doesn't need to be green!
Healthy School Lunches Parents and Kids will Love
Preschool Friendly Lunch Ideas for Kids
Real Food Lunches Part 3
The Charcuterie 'Board' Lunch!
Happy Saint Patrick's Day! ~ Linda Spiker
MAY I PLEASE ASK A LITTLE FAVOR?
We small bloggers need all the help we can get. Subscribing and sharing on social media is very appreciated!