I get it. At the beginning of the school year you are all fired up to pack healthy lunches, but somehow four months later you are handing your kid a paper bag with a piece of bread and and a half eaten apple…
…and he/she should be grateful.
For me it wasn't the actual time it took to pack the lunch in the morning that became exhausting, it was coming up with ideas and prepping the food. So I have a few tips for you that I learned from years as a lunch packing mom. I have also highlighted recipes for you to use!
(This post contains affiliate links. I may make a commission from sales but your price remains the same.)
Rule #1 Make Extra: Leftover Dinners Make Great Lunches!
You are cooking dinner anyway so ALWAYS ALWAYS ALWAYS make extra and use it for lunches the next day! It's a total timesaver! If you are roasting chicken, roast two, if you are making my lime chicken, make extra. If you are cooking pasta, cook more. You get it.
If you buy prepared food make it good food!
It's fine to buy prepared food as long as you read labels. Buying prepared hummus, coleslaw, fruit treats or veggie dips is fine, just check for questionable ingredients. If you see something on the ingredient list you wouldn't use if you were making it home, don't buy it.
Always pack veggies
Train your children early to eat their veggies. The earlier you introduce vegetables and the more consistent you are, the more likely the littles are to like them. Children's palates develop in the first few years of life, so get on it!
Keep it simple!
I know, I know these lunches are going to look like a lot of work but they aren't! If you use leftovers, fresh fruit, nuts, etc…it's simply a matter of putting it in the lunch box, bag or in this case, a Planet Box!
Variety, variety variety!
Nothing makes your child want to trade his/her lunch for his friend's hostess cupcake faster than opening their lunchbox to the same ol' same ol' every darn day. Change it up…and if you need ideas, well I have them!
The Traditional Lunch: Even the pickiest eater will eat this one!
The Lunch: Your child's favorite sandwich, raspberries and blueberries, (gotta get those antioxidants) apples, celery and carrots with honey almond butter for dipping! (I like Justin's Nut Butters) And for "dessert", raisins and semi sweet chocolate chips. All this is packed in a Planet Box which keeps the food separated and comes with a cold pack to keep everything cool. And you don't have to use baggies so no waste!
15% off for my followers only
Use the promotional code OrganicKitchen15 at checkout and get 15% off your purchase November 16th and 17th 2015.
The Taco Tuesday Lunch!
If you follow rule number one (did you already forget?…Hint: use leftovers) you can have this amazing and healthy lunch packed in three minutes and your child will love building their own taco! Corn tortillas (heat before rolling so they won't break) lettuce, cheese, salsa and pepitas!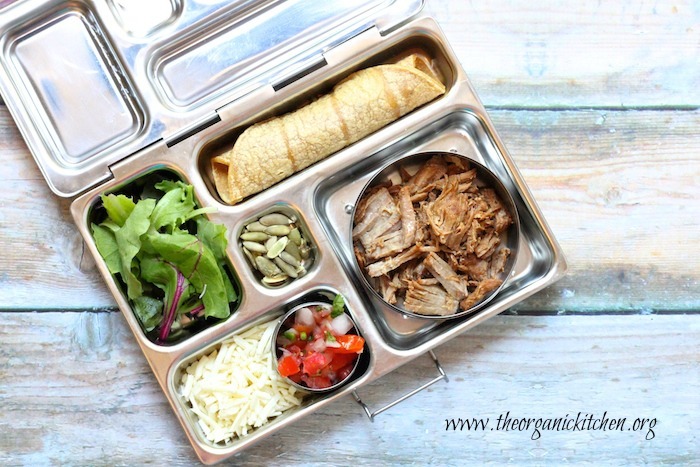 Notice the two round little containers that fit into the compartments, those come with your Planet Box to keep wet items from leaking onto other food items. So you can pack apple sauce, yogurt etc…you get the picture, but just in case, here's a picture.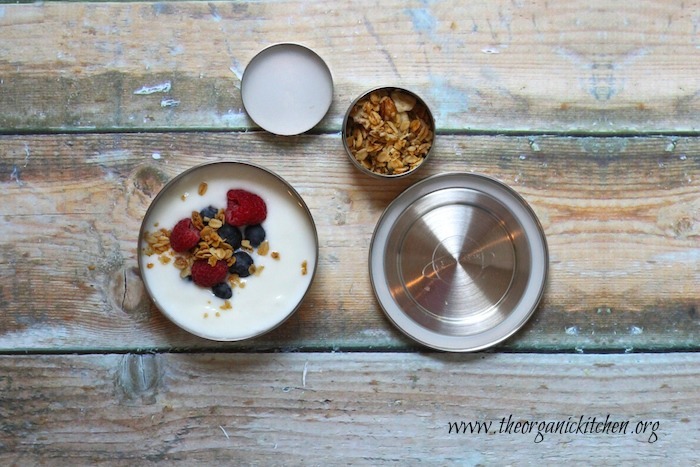 Winner, winner (leftover) chicken dinner!
The Lunch: Left over chicken dinners make the perfect next day lunch! My roasted chicken recipes that would work well for lunches can be found here, here, and here or use my Easy Chicken Tender Recipe! It's perfect for leftovers and only takes ten minutes to make! Grapes, kale chips and mozzarella balls round out the meal. For dessert, little all fruit gummies.
The Big Mac…and Cheese that is!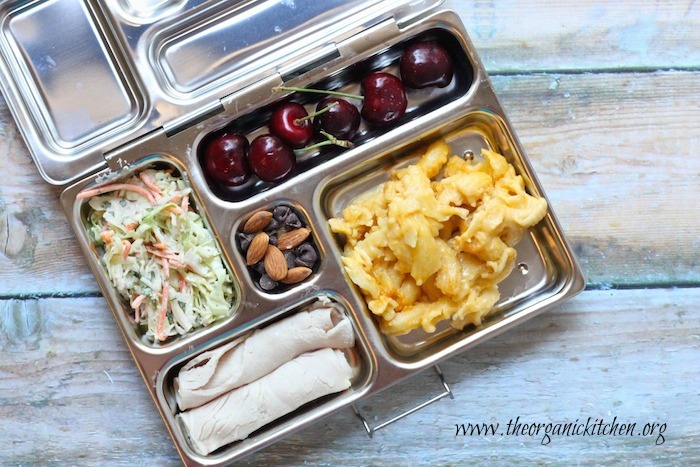 The Lunch: Mac and cheese, cole slaw, rolled organic turkey, cherries, and for dessert, chocolate chips and raw almonds.
The Go Big or Go Home: But not without a note from your mom
The Lunch: If you make a chicken salad use it for lunches all week! This one has walnuts, grapes and avocado, but I would leave the avocado out because it will turn brown . Melons make a tasty treat especially when served with string cheese wrapped in prosciutto (takes 3 seconds!). We have some freeze dried peas to satisfy the need for green, and for dessert organic cinnamon graham cracker's and chocolate squares…I love Lake Champlain Chocolate.
The Mediterranean: For the little vegetarian!
The Lunch: I love this one! In fact I had it for lunch right after I took the picture. Hummus is high in protein and healthy fats (my recipe here) so it makes a perfect meat substitute! Your child can dip the pita and sweet bell peppers in it instead of having the traditional sandwich. Olives are filling and also high healthy fats, and for dessert, dried cranberries!
When it comes to packing lunches you are only limited by your imagination. There are literally hundreds of possible combinations. In fact I will be featuring more ideas next month!
More Lunch Ideas!
The Charcuterie 'Board' Lunch!
Six Pre-K Lunch Ideas and Tips On Getting Your Children to Eat What You Pack!
Six Healthy Lunch Menus for Back to School
A Naturally Green St. Patrick's Day Lunch!

The Planet Box comes with an insulated fabric case, or a backpack that has compartments for utensils, napkins and a small drink bottle. So convenient I actually bought one for myself.