Are you ready for the easiest BBQ menu ever? These Healthy Grilled Naan Salad Wraps with Herbed Chevre (goat cheese) were inspired by our recent took trip to New York City and Newport Rhode Island. They are simple, delicious, and you can serve them vegetarian or add chicken. I just love to give you options!
(This post contains affiliate links. I may make a commission from sales but your price remains the same.)
New York in Spring is a Dream!
Our oldest son and his family live in Manhattan, so we visit several times a year. If you haven't been to NYC in the spring, I hope you get the chance. The weather is amazing and the cherry blossoms in Central Park are exquisite!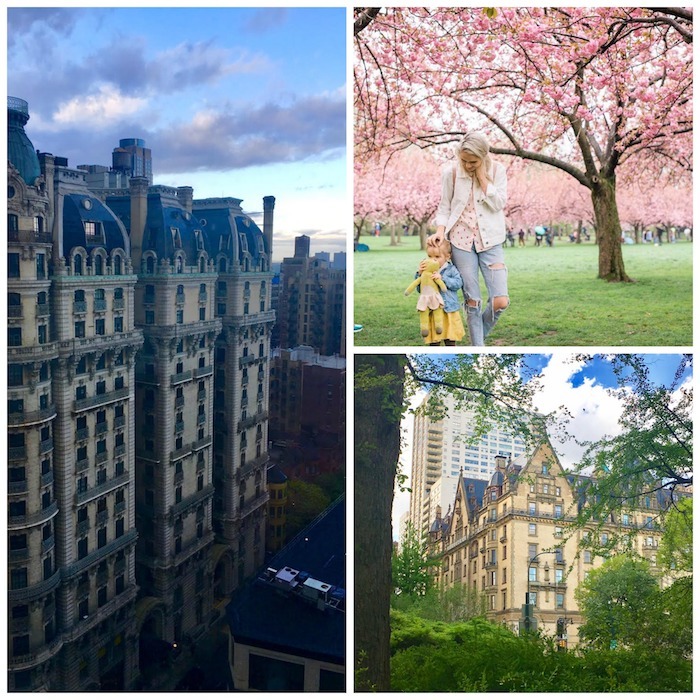 Rhode Island: Add It To Your Bucket List!
We took a road trip to Newport Rhode Island for the weekend. It was our first time visiting this beautiful state. Gorgeous doesn't begin to describe it! The first day was moody and windy, but the beaches were still breathtaking.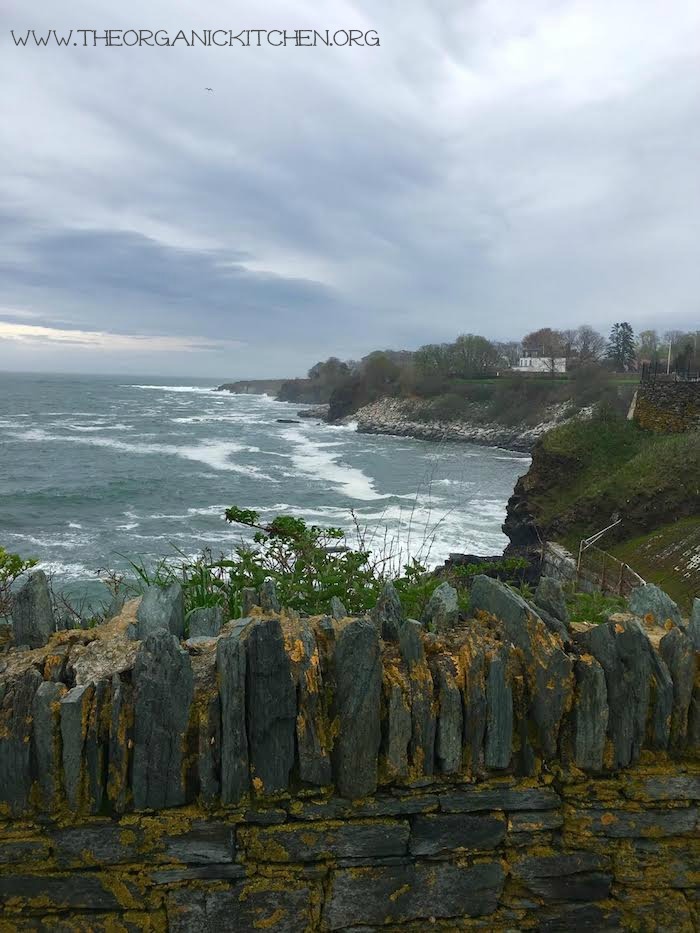 We didn't just enjoy the beautiful scenery. When the sun came out we also buzzed around the quaint town of Newport on these two seater scooters, stopping to look at gorgeous beach houses, walk the cliffs, shop and eat. (photo above taken by my son, Christopher Spiker)
But the best part of the trip was hanging out with these two. This is Will and Nora. Being a grandparent is the best part of life in my humble opinion!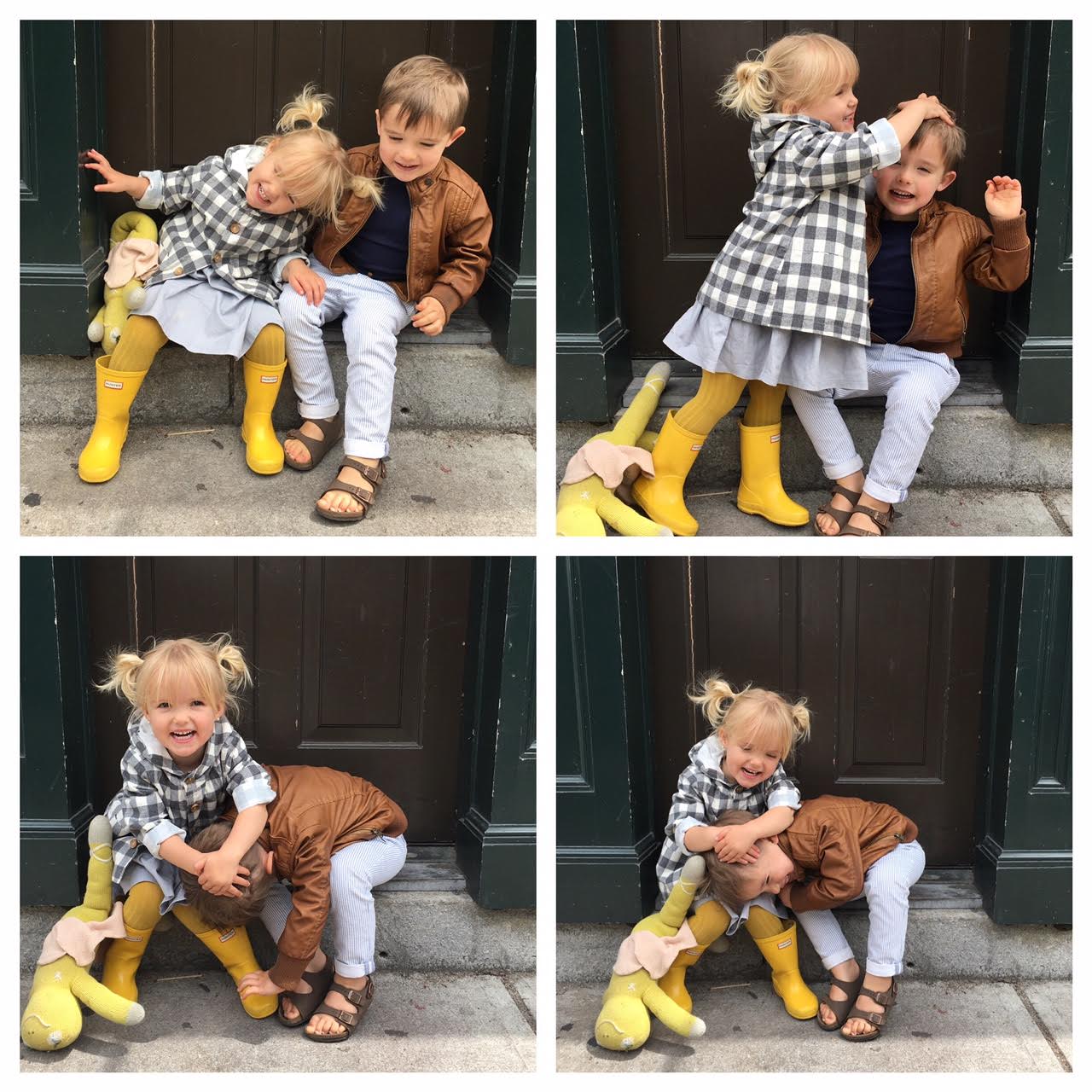 Let's Talk About Food Baby:
While strolling through Newport, we stopped in at a little cafe called Rosemary and Thyme. They sell soups, sandwiches, freshly baked pastries and salads. If you visit, I highly recommend stopping by. I ordered a grilled naan salad wrap with herbed chevre and loved it so much that when I came home to California I made my own version! So simple and delicious, these Mediterranean wraps have it all: greens, veggies, soft flavorful herbed goat cheese, a balsamic vinaigrette and if desired you can add chicken.
The Process:
To keep this meal as time efficient as possible, I chop the herbs, stir them into soft goat cheese, make the salad and then grill the naan. Grilling takes all of five minutes. Then I generously spread the herbed goat cheese onto that warm naan, fill with dressed salad and eat! If you want a more substantial meal add organic rotisserie or leftover roasted chicken. The easiest BBQ menu ever!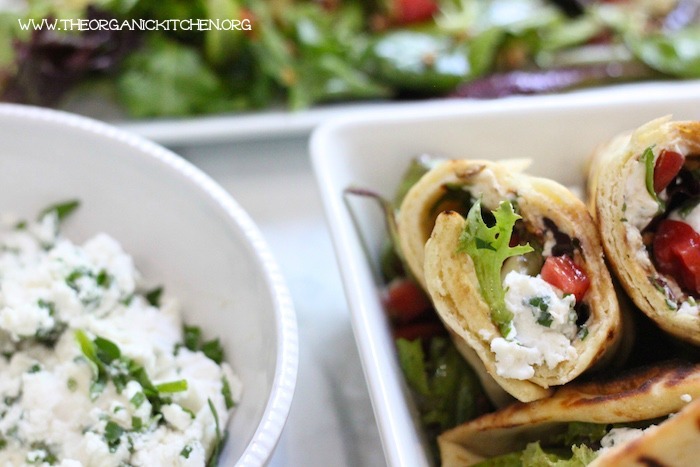 The Recipe: Healthy Grilled Naan Salad Wrap with Herbed Chevre
Tips and what you will need: Not all goat cheese is created equal. Be sure to use the best quality you can find. You can grill naan on the BBQ or use a grill pan on the cooktop. My gluten free friends, there are some delicious GF naan available in the grocery stores!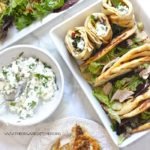 Healthy Grilled Naan Salad Wrap with Herbed Chevre
A healthy, delicious, quick BBQ menu!
Keyword:
easy dinner recipe, grilling recipe, summer recipe
Ingredients
8

oz

good quality chevre (soft goat cheese)

2

Tablespoon

parsley, chopped

2

Tablespoon

chives, finely sliced

3

tablespoons

basil, chopped

4

oz

baby greens (sometimes called spring mix)

2

roma tomatoes, diced

1

smallish cucumber. peeled and diced

1/3

cup

roasted salted sunflower seeds

2-3

cups

rotisserie or leftover roasted chicken (if using) diced

1/3

cup

extra virgin olive oil

3

Tablespoons

good quality balsamic vinegar

1

teaspoon

mustard

Sea salt and freshly ground black pepper

6

naan wraps, grilled
Instructions
Allow cheese to come to room temp if possible

Prepare herbs and use a fork to mix with goat cheese, set aside

Place greens on a platter and add prepped tomatoes, cucumber, sunflower seeds (and chicken if using)

Make dressing by whisking together olive oil, balsamic and mustard, add a pinch of sea salt and pepper

To Grill Naan: wipe clean grill with coconut oil or spray with an organic grill spray

Preheat grill to 400 degrees (or use a grill pan on the cooktop)

Grill naan just long enough that grill marks form on each side

Dress salad, toss (I dress this salad more heavily than usual. With all the goat cheese and naan the dressing can get lost)

Spread goat cheese onto the center on naan, top with salad, fold naan and enjoy!
MAY I PLEASE ASK A FAVOR?
We small bloggers need all the help we can get. Subscribing and sharing on social media is very appreciated!