As you know, I am a big fan of the benefits of bone broth. But I have noticed from the comments on my last bone broth tutorial that people were making and having great success with chicken broth, but no one was talking about having made the beef broth. Perhaps people might have found it a little intimidating, so today I am sharing How to Make Beef Broth: Step By Step Tutorial
(This post contains affiliate links. I may make a commission from sales but your price remains the same.)
Why Drink Bone Broth in The First Place?
Bone broth is nutrient dense. It contains vitamins and minerals that are easily absorbed by the body including calcium, magnesium, phosphorus, silicon, sulfur chondroitin, glucosamine, and a variety of trace minerals. Bone broth is rich in collagen/gelatin which supports healthy digestion and does amazing things for skin, hair and joints. Broth has natural anti-inflammatory properties and inhibits infections…hence it is commonly referred to as "Jewish Penicillin". Support skin, joint, and gut health with bone broth & soups.
If you want the digestive and immune boosting benefits of bone broth, you have to be drinking bone broth made from a healthy animal (i.e. grass-fed, pasture raised or wild caught).
It is important to use bones that contain high levels of protein called collagen. Collagen is jam packed with many beneficial amino acids. Cooking the bones, breaks down the collagen into a softer more digestible form called gelatin.
Gelatin contains glycine and glutamine- both amino acids found in large quantities in bone broth- this maintains the integrity of the intestinal wall and helps with leaky gut syndrome
What If You Don't Have Time to Make it Yourself?
I am about to rock your world. There is finally a bone broth made from pastured, grass fed cows that can be delivered straight to your door! I know not everyone has the time or inclination to make their own broth, but now you can reap the benefits without having to do the work! Kettle & Fire makes delicious bone broth and soups including these:
Kettle & Fire Tomato Soup with Bone Broth
Kettle & Fire Miso Soup with Bone Broth
NEW! Kettle & Fire Grass-Fed Beef Chili with Bone Broth
Kettle & Fire Thai Curry Soup with Bone Broth
Kettle & Fire Mushroom Chicken Bone Broth
Kettle & Fire Beef Bone Broth
Kettle & Fire Chicken Bone Broth
How to Make Beef Broth: Step By Step Tutorial
It all starts with the bones…
Drizzle with olive oil…

Roast in the oven…
Place the veggies, bones, water and apple cider vinegar into the crock pot…
Cook for 12-48 hours while you live your life…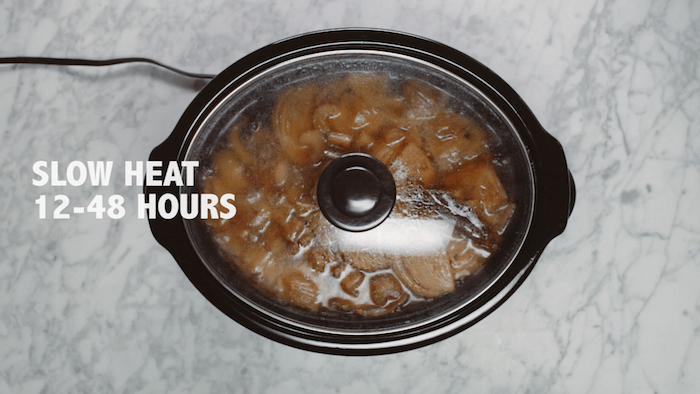 Remove the bones and veggies…
Strain…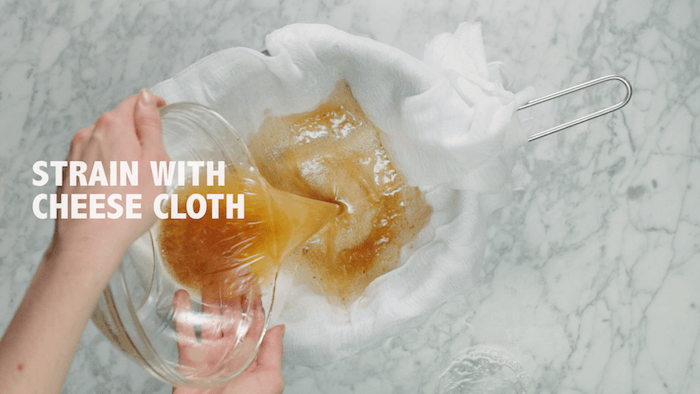 And voila! Nutrient dense bone broth for making soups, sipping or cooking!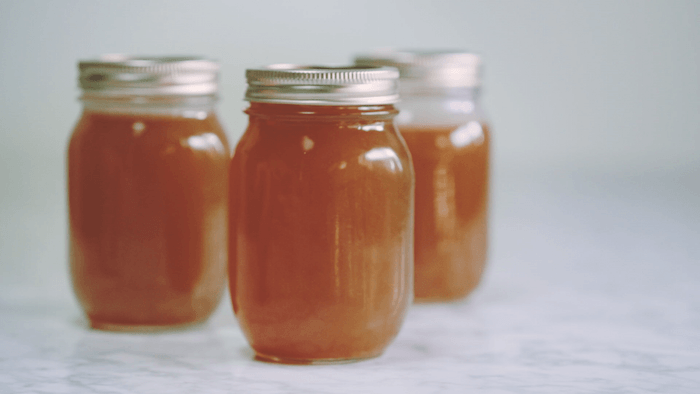 Storage:
To store you can pour into glass jars and keep in the fridge. If you are going to freeze bone broth for later use, be sure to use freezer safe jars, leaving at least two inches at the top for expansion (if you fill to the top your jars will crack!) and leave the lids loose until frozen, then tighten. You can also store in freezer trays for smaller jobs!
The Recipe~ How to Make Beef Broth: Step By Step Tutorial
Tips and what you will need: you will need a crock pot and cheese cloth or a mesh colander. If you would rather not make your own there is finally a bone broth, made from pastured, grass-fed cows that can be delivered straight to your door! To see how to make chicken broth on the cooktop click! To see how to make broth in the Instant Pot, click!
How to Make Beef Broth: Step By Step Tutorial
Bone broth and crock pot instructions
Keyword:
easy dinner recipe, how to
Ingredients
3 to 4

pounds

of mixed beef bones, short ribs, oxtails, knuckles, and neck bones

1

tablespoon

olive oil

2

medium carrots

3

celery stalks

2

medium yellow onions

2

tablespoons

cider vinegar

1

bay leaf
Instructions
Prepare the bones: Heat the oven to 400 degrees. Place the bones on a baking tray and drizzle with olive oil.

Roast the bones: Place the tray in the oven, roasting for 30 minutes. Turn the bones, then roast for another 30 minutes.

Prepare the vegetables: Chop the carrots, celery, and onions roughly. You'll discard these later, so you don't need to be precise

Combine broth ingredients: Place the roasted bones, chopped vegetables, bay leaf, and cider vinegar in a large stock pot or crock pot. Cover with water so that the ingredients are under at least 2 inches of liquid. At this point, you can also add in any other flavoring ingredients that you want in the broth.

To Cook the broth on cooktop: Heat the broth over high heat until it comes to a rapid simmer, then reduce the heat to low. Cover the broth and let it simmer on low for 12 to 24 hours. Skim off the foam on top periodically. You may have to add water occasionally to make sure the ingredients stay covered.

To Cook Broth in Crock Pot: Cover and heat on low for 12-48 hours. I usually do 24 hours

Strain and cool the broth: After the broth has darkened to a rich brown color, remove it from the heat and strain through a fine-mesh sieve. Place the broth in a large container and let it cool to room temperature. Once cooled, place it in the fridge to chill. Scrape off any solidified fat that rises to the top before using.

Reheating bone broth: Reheat your bone broth for a steaming cup you can sip on its own, or use it as a powerful ingredient in your favorite recipes.
MAY I PLEASE ASK A FAVOR?
We small bloggers need all the help we can get. Subscribing and sharing on social media is very appreciated!
STANDARD FTC DISCLOSURE and Privacy Policy: In order for me to support my blogging activities, I may receive monetary compensation or other types of remuneration for my endorsement, recommendation, testimonial and/or link to any products or services from this blog. Please note that I only endorse products that are in alignment with The Organic Kitchen's ideals and that I believe would be of value to my readers.The Organic Kitchen is a participant in the Amazon Services LLC Associates Program, an affiliate advertising program designed to provide a means for sites to earn advertising fees by advertising and linking to Amazon.com. View The Organic Kitchen's Privacy Policy