Ok ya'll. I am trying my hardest not to open the fridge and finish off this amazing pasta before dinner! I made it at three o'clock because the sun sets early these days and I need the light. So I took the photos, then a few bites of this heavenly goodness, resisted the temptation to stuff it all in my face and promptly put it away for dinner. It's now four o'clock and I don't think I'll make it until six. This Pasta with Chicken, Caramelized Onions and Balsamic is one delicious meal. So.Gosh.Dang.Good!
(This post contains affiliate links. I may make a commission off sales while your price remains the same)
 What's in It?
Gluten free spaghetti, caramelized onions, chicken breasts, walnuts, garlic, balsamic and baby arugula! Then it's finished with parsley and parmesan. Excuse me while I get a fork, head back to the fridge and swirl it in that pasta…OK I am back, we shall proceed…
Those Caramelized Onions Though…
Look right in front of the chicken breast, those are caramelized onions and along with the balsamic vinegar they bring the 'sweet' to this recipe! The chicken breasts and parmesan bring the savory and when you toss in sea salt and red pepper flakes, it's a downright magical combination of flavors! Ok that's it, I can't take it anymore, I am pulling the pasta out of the fridge and eating my portion. My husband can eat his when he gets home.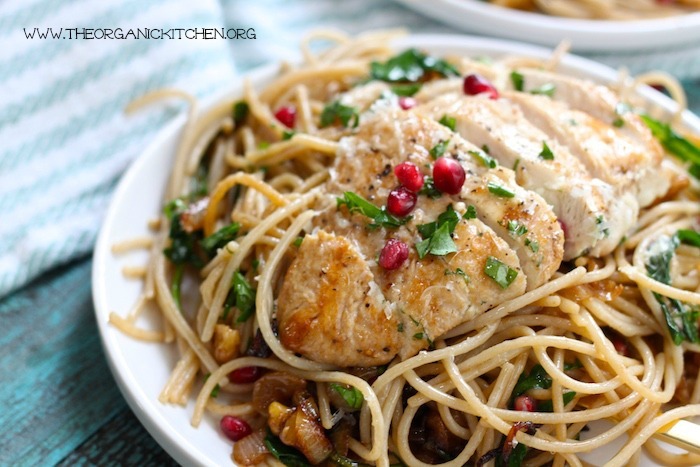 How to Prep Chicken Breasts
For this meal a whole chicken breast per person is just a bit too much, so I cut them in half. They cook quicker this way too. I am including pictures because while it sounds simple, there are several different ways to cut a chicken breast in half. Think about it. Now that you have envisioned all the ways you can cut a chicken breast in half, take a look at the photos below so you know how to do it correctly while I finish my husband's portion of this meal. Hey, he's a big boy and he knows how to make PB&J!
MAKING THIS MEAL GLUTEN FREE AND JUST AS GOOD!
If you live without gluten you don't have to miss out on exceptional pasta! Jovial Foods makes the best gluten free pasta around. I am lucky enough to live by a store that carries it, but if you aren't you can order it here!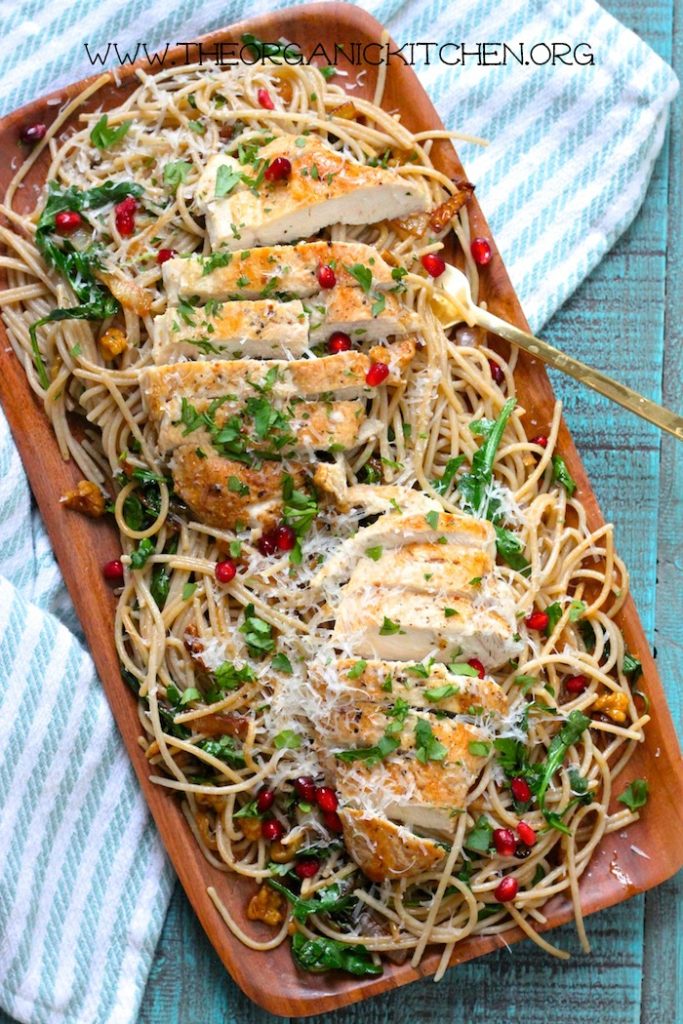 The Recipe: Pasta with Chicken, Balsamic and Arugula!
Tips and what you need:  If you have a helper around put them in charge of the pasta so you can focus on everything else. If not, you'll multi task!! You will need a stock pot, a good knife and a quality balsamic vinegar.