Ok ya'll. I am trying my hardest not to open the fridge and finish off this amazing pasta before dinner! I made it at three o'clock because the sun sets early these days and I need the light. So I took the photos, then a few bites of this heavenly goodness, resisted the temptation to stuff it all in my face and promptly put it away for dinner. It's now four o'clock and I don't think I'll make it until six. This Pasta with Chicken, Caramelized Onions and Balsamic is one delicious meal. So.Gosh.Dang.Good!
(This post contains affiliate links. I may make a commission from sales while your price remains the same)
What's in Pasta with Chicken, Caramelized Onions and Balsamic?
Well, from the title I bet you can guess that this recipe calls for pasta, chicken, caramelized onions, chicken and balsamic. But there are also some surprises, walnuts, pomegranate seeds and baby arugula! Then it's finished with parsley and parmesan. Excuse me while I get a fork, head back to the fridge and swirl it in that pasta…OK I am back, we shall proceed…
Those Caramelized Onions Though…
Look right in front of the chicken breast, those are caramelized onions and along with the balsamic vinegar they bring the 'sweet' to this recipe! The chicken breasts and parmesan bring the savory and when you toss in sea salt and red pepper flakes, it's a downright magical combination of flavors! Ok that's it, I can't take it anymore, I am pulling the pasta out of the fridge and eating my portion. My husband can eat his when he gets home.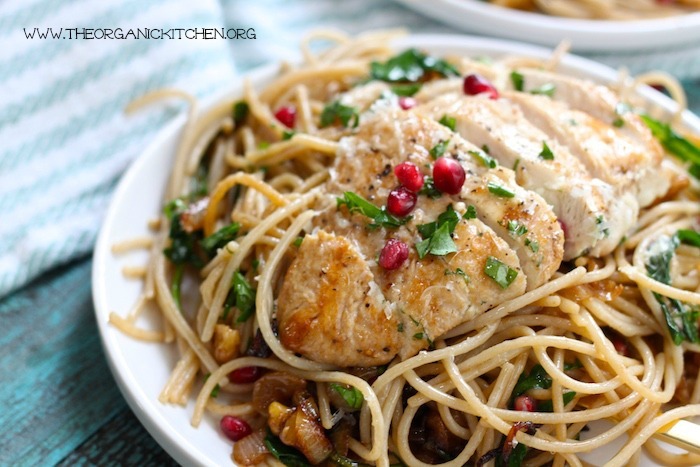 How to Prep Chicken Breasts
For this meal a whole chicken breast per person is just a bit too much, so I cut them in half. They cook quicker this way too. I am including pictures because while it sounds simple, there are several different ways to cut a chicken breast in half. Think about it. Now that you have envisioned all the ways you can cut a chicken breast in half, take a look at the photos below so you know how it needs to be done for this recipe while I finish my husband's portion of this meal. Hey, he's a big boy and he knows how to make PB&J!
MAKING THIS MEAL GLUTEN FREE AND JUST AS GOOD!
If you live without gluten you don't have to miss out on exceptional pasta! Jovial Foods makes the best gluten free pasta around. I am lucky enough to live by a store that carries it, but if you aren't you can order it here!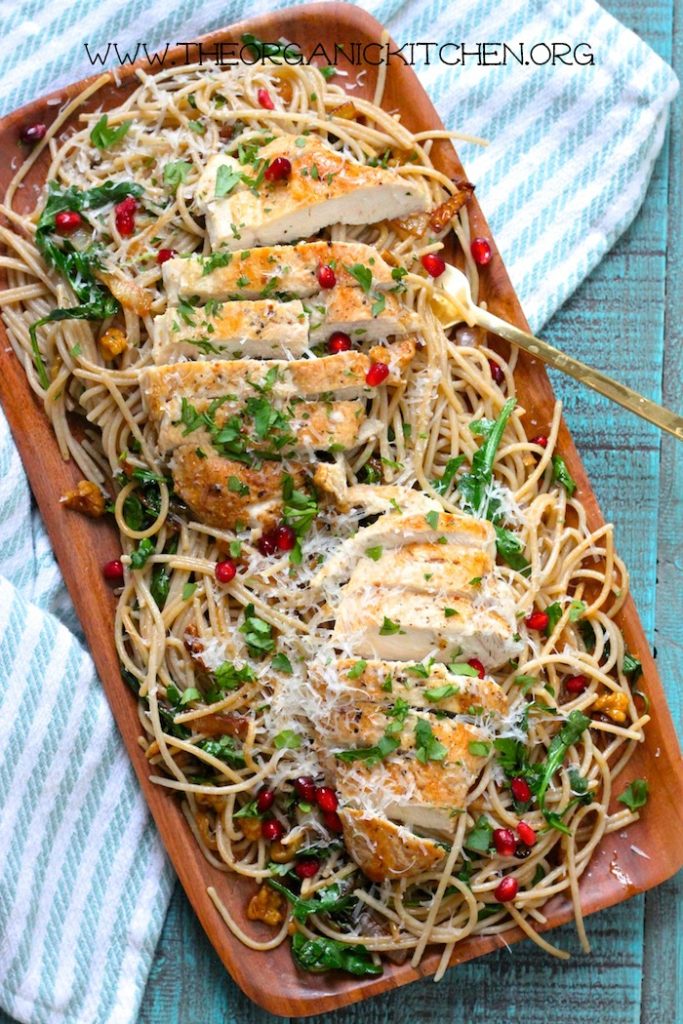 The Recipe: Pasta with Chicken, Balsamic and Arugula!
Tips and what you need: If you have a helper around put them in charge of the pasta so you can focus on everything else. If not, you'll multi task!! You will need a stock pot, a good knife and a quality balsamic vinegar.
Pasta with Chicken, Balsamic, and Arugula
A complete meal pasta made in about 30 minutes start to finish. I use gluten-free spaghetti, you can use whatever pasta you prefer!
Keyword:
easy dinner recipe, easy pasta recipe, gluten-free recipe
Ingredients
Tips: this recipe has a few things going on at the same time. Have all ingredients out on the counter before starting. Then just follow the directions!
1

small yellow onion, peeled and thinly sliced

2

Tablespoons

chopped parsley

1/2

cup

grated parmesan

1-2

cloves

garlic, peeled and minced

4

Tablespoons

extra virgin olive oil, separated

2

medium sized chicken breasts, cut in half (see photos)

Sea salt and freshly ground black pepper

16

ounces

spaghetti

1/3

cup

chopped raw walnuts

2

Tablespoons

balsamic vinegar

1/2

teaspoon

red pepper flakes

3

cups

baby arugula (baby spinach and baby kale work too)

1/4

cup

pomegranate seeds
Instructions
Place a large pot filled with salted water on high heat, cover and bring to a boil (cook pasta to package instructions and save a 1/4 cup of pasta water before straining)
While waiting for water to boil prep everything else:
Peel and slice onion, chop parsley, grate cheese, chop garlic , chop walnuts and set aside

When water is almost boiling, place a large pan on high heat, add olive oil (pan needs to be large enough to accommodate all the cooked pasta)

When oil is hot add onions. Turn heat to medium heat, and stir occasionally for about  6 minutes (the key to caramelized onions is patience, keep the heat at medium and resist the temptation to cook them faster)
While onions cook, prep chicken:
Cut the chicken breasts in half so they remain the same length but are half as thick as they used to be (see photos)

Salt and pepper both sides of chicken breasts

When onions have been in the pan for about 6 minutes, move them to the sides of pan, add a little more olive oil if necessary and add breasts to pan, cook first side 6 minutes, still frequently stirring onions, then turn chicken and cook six more minutes (do not overcook, there is nothing worse than dry chicken!)

While second side of chicken cooks, add pasta to boiling water, stirring pasta frequently to prevent sticking

When chicken has cooked for 6 minutes on the second side, check to make sure it is cooked through and remove from pan and allow to 'rest' on a plate (do not turn off heat) . To same pan add nuts, garlic, red pepper flakes, balsamic vinegar and 1/4 cup of pasta water, simmer and stir for one minute scraping any chicken bits from pan

Add two large handfuls of baby arugula (about 3 cups) to pan and stir for a minute or two

Strain pasta (do not rinse) and place in pan, add 1-2 tablespoons olive oil, toss with herbs, nuts and arugula. Season with sea salt and pepper, toss again

To plate: divide pasta onto four plates. Slice chicken breasts on the diagonal and place on top of pasta

Sprinkle with parsley, parmesan and pomegranate seeds.. Serve.