Halibut is one of my favorite fish to eat. I love it prepared almost any way, but crusted in pistachios and topped with a spicy red pepper salsa ranks way up there!
(This post contains affiliate links, I may a commission off sales. Your price remains the same)

Traditional-Paleo-Whole 30 Options!
To make this delicious meal friendly for those with food restrictions I am offering two versions. The first is traditional with the fish being crusted in bread crumbs and pistachio nuts and served on a bed of rice. The second is a Paleo/Whole 30 option with the fish dusted in almond flour and served on cauliflower rice. Both are delicious!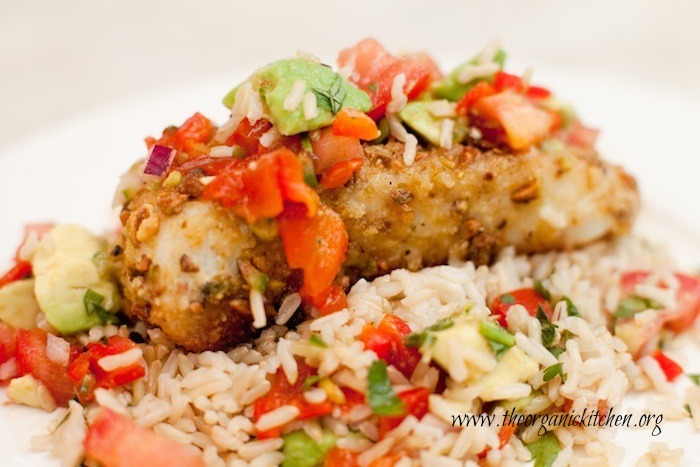 TIPS FOR BUYING FISH:
1. It's best not to buy fish wrapped in plastic. You should be able to smell the fish you are buying. I always buy mine from a fishmonger I trust. If he is handling it, cutting it etc… he will know if it's not fresh.
2. Always buy fish the day you plan on making it.
3. When selecting fish always point to the piece you want. In stores the freshest fish is placed in the front of the window, closest to you, and the fish from the day before is placed in the back, closest to the fishmonger. So when you are looking at the fish closest to you and ask for it, he pulls it from the back. It doesn't mean there is anything wrong with that fish from the day before, it's just not the freshest…and you want the freshest.
Halibut is in season from mid April to October. When it is out of season I use wild caught thawed frozen filets.
The Roasted Red Bell Pepper Salsa:
This salsa is incredibly flavorful and is perfection on top of this nut crusted fish! It has the usual salsa ingredients: tomatoes, onions, cilantro, lime…but it also has a roasted red pepper! You can buy the jarred peppers, but it's cheaper to buy one pepper and roast your own. Learn how to roast a red pepper here:
This salsa gets it's heat from a little Serrano chili. Learn how to handle hot chili peppers here:

The Recipe: Pistachio Nut Crusted Halibut with Roasted Red Pepper Salsa
Variations~ Gluten and Grain Free Option: I offer two options here, original and Paleo/Whole 30 (grain and dairy free). If you are eating grain free, use almond flour/meal instead of bread crumbs and serve on top of Cauliflower Rice instead.
You will need: a heavy pan, a fish spatula, a food processor or blender and a good knife. I love my Wusthof! (affiliate links)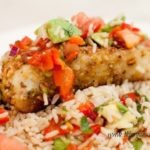 Pistachio Nut Crusted Halibut with Roasted Red Pepper Salsa
I love this dish! Colorful, spicy and so good for you! The salsa is loaded with fiber, antioxidants and good fats and the fish is high in protein. Fresh halibut is in season form April to October. In the off season I use frozen individually sized portions .Whole 30 and paleo options offered.
Keyword:
Paleo recipes, summer recipe, Whole30 recipe
Ingredients
For Salsa:
1

large roasted red pepper

diced (see instructions)

1

large ripe avocado

diced

1

large tomato

diced

¼

of a red onion

finely diced

Serrano chili

finely minced, ½ tsp mild, ¾ tsp medium, 1 tsp hot

2

tsp

cilantro

chopped

juice of half a lime

sea salt

to taste
For Fish:
4-5

6 oz

Halibut filets

fresh or frozen and thawed

1/2

cup

panko bread crumbs or almond flour for my Paleo/Whole 30 friends

1/2

cup

roasted salted pistachio nuts

sea salt

freshly ground pepper

1

egg

1

T

water

olive or coconut oil

Rice or cauliflower rice if desired
Instructions
If using rice, start cooking it now. If using cauliflower rice, cook at the end.

If roasting your own red bell pepper: wash and dry red pepper. Turn cook top burner on med heat and place red pepper right on the burner. Allow pepper to sit on burner till skin turns black, use tongs to rotate the pepper. Keep cooking the pepper till all sides are blackened, turning as each side is charred. Remove pepper, place in bowl and cover with lid or plastic wrap. Let sit for ten minutes while you prepare your other ingredients.

Dice tomato, avocado and onion. Mince Serrano chili, be sure to wash your hands well after and avoid rubbing your eyes for several hours. Chop cilantro. Place all prepared ingredients except chili in a bowl, stir and set aside. Remove red pepper from bowl and peel the blackened skin off pepper. This can be a little messy. Once blackened skin is removed, dice pepper and add to bowl with other vegetables, stir. Add Serrano chili. Sprinkle with sea salt and squeeze with lime, stir. Set aside.
Halibut Prep: Preheat oven to 350 degrees and place oven rack in center position
Whisk egg and water in a shallow dish and set aside.

Place bread crumbs (or almond flour) and pistachio nuts in food processor and give it a whirl. It's ok to have some larger pieces of nuts and some smaller. Place nut/crumb mixture on a plate and set aside.

Pat fish dry with a paper towel, lightly sprinkle with sea salt and pepper, dip in egg mixture and then dredge in nut/bread mixture. Make sure fish is completely covered with nut misture, set on a plate.

Place an oven safe pan on medium/high heat for 3 minutes. Add enough olive or coconut oil to hot pan so that when it melts it coats the entire bottom of pan. Gently place fish in pan and lower heat to medium. When golden brown (about 3 minutes) gently turn fish to second side. Cook second side till golden brown then place pan in preheated oven and bake for 5-6 minutes. Cooking time will depend on how thick fish filet is.

If making cauliflower rice: while fish is in the oven, heat pan on medium heat. Add olive oil. When olive oil is hot, add desired amount of cauliflower rice to pan and cook 5-6 minutes stirring frequently. Season with salt and pepper.

Top rice or cauliflower rice with fish  Roasted Red Pepper Salsa. Enjoy!
You can serve this dish with a salad or on top of rice, either way it is delicious! ~ Linda Spiker
MAY I PLEASE ASK A FAVOR?
We small bloggers need all the help we can get. Subscribing and sharing on social media is very appreciated!