I love this fall salad! Healthy greens, antioxidant rich root vegetables, Marcona almonds and a delicious dressing made with heart healthy extra virgin olive oil make it the perfect healthful salad for blustery autumn days.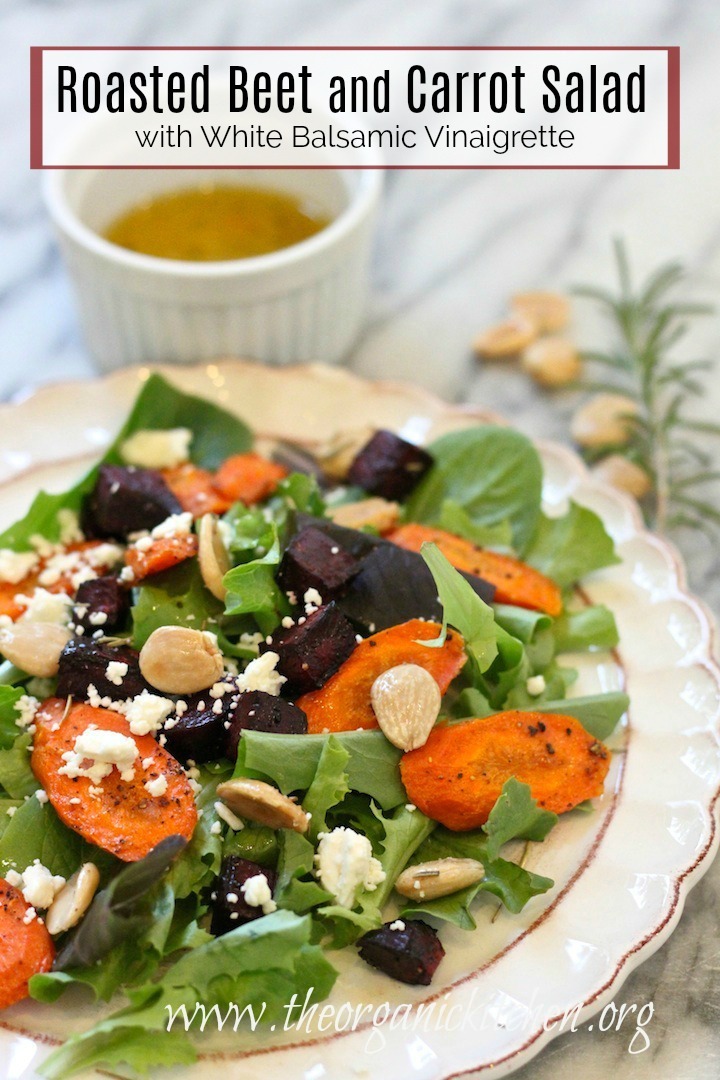 Roasted Beet and Carrot Salad with Lemon White Balsamic Vinaigrette:
This salad is fairly straight forward, tender baby greens, sweet roasted carrots and beets, savory feta, and herby Marcona almonds all drizzled in a tangy lemon white balsamic vinaigrette!
How to Roast The Veggies:
Prepare veggies by washing and peeling Then cut 'em up! A good sharp knife (like this) is a must!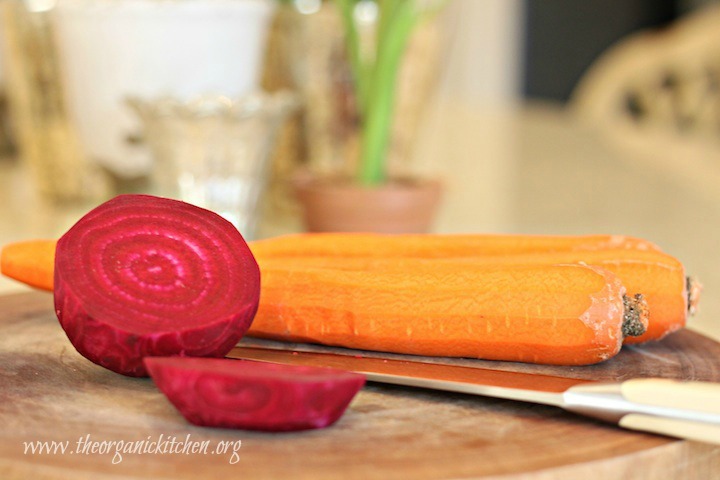 Always drizzle with just enough olive oil so that vegetables are glistening but not saturated. Then sprinkle them generously with freshly ground pepper and Maldon's Chef Salt. It's my favorite! Allow veggies to roast till edges are a smidge golden brown.
The Dressing:
I dress this salad with a tasty lemon-white balsamic vinaigrette. This is one of my favorite dressings, largely because of the Prelibato white balsamic we use, it's so smooth and delicious you could drink it right out of the bottle. That said I also really love this one)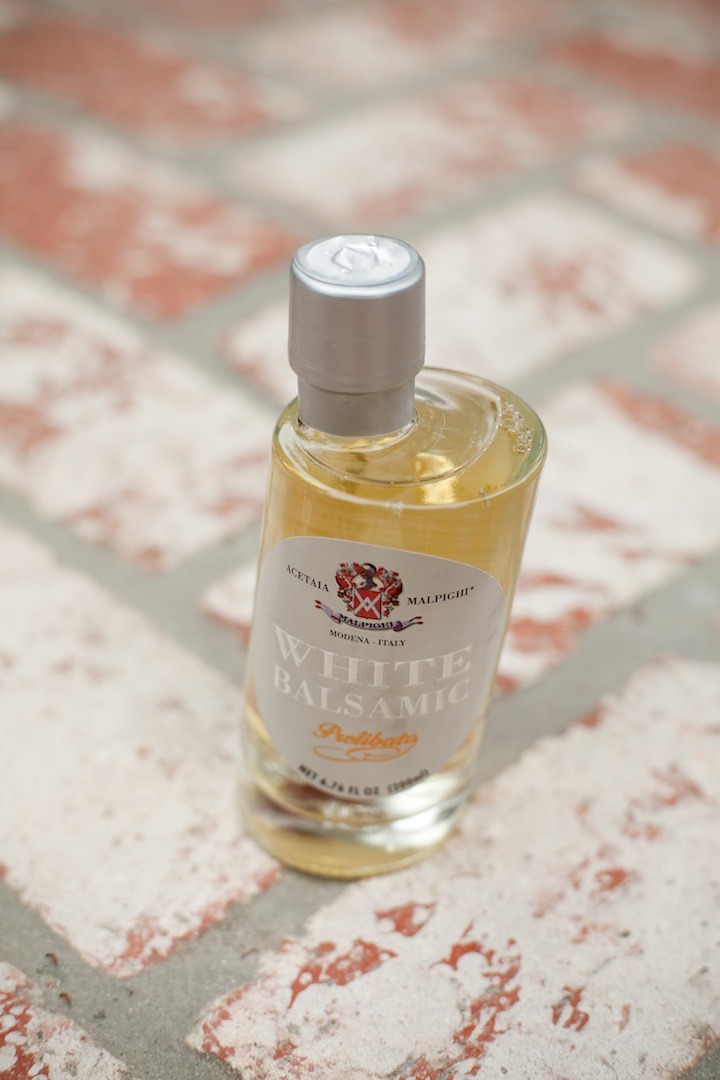 The Nuts!
Marcona almonds are blanched almonds with rosemary and sea salt. They add flavor and texture to this salad.
Healthy and Delicious!
I hope you enjoy this veggie centric salad. It pairs well with steak or roasted chicken.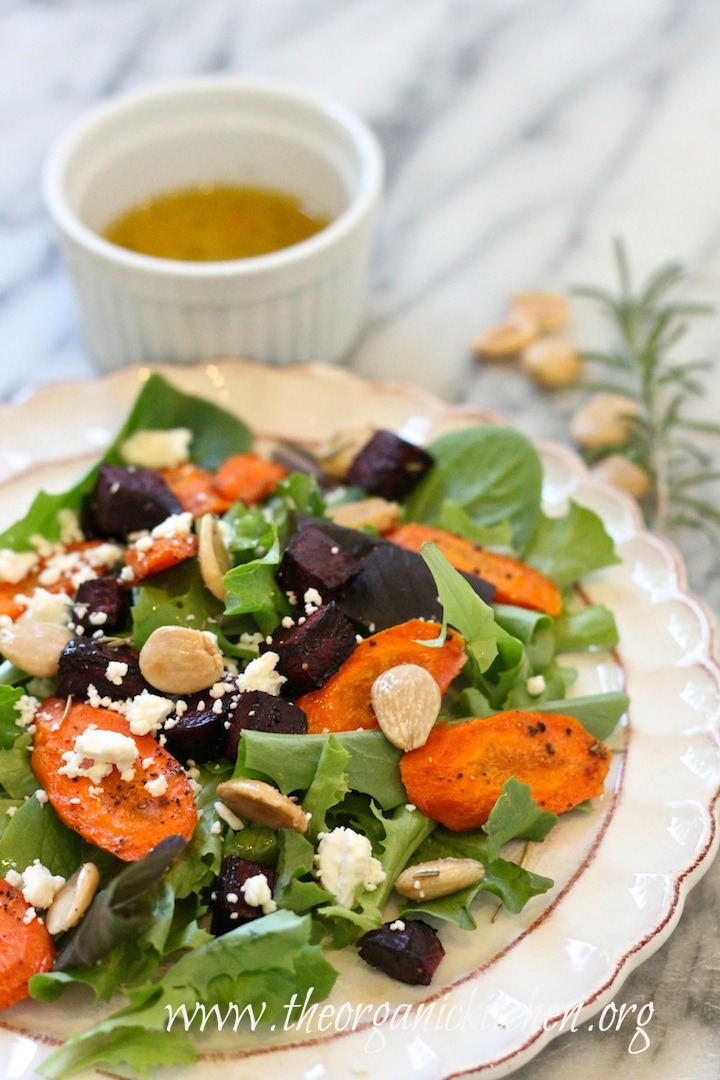 The Recipe: Roasted Beet and Carrot Salad with Lemon White Balsamic
What you need:  a good knife, a great sea salt, and parchment paper (to cover cookie sheet). You will also need white balsamic vinegar. My first pick is always Prelibato White Balsamic vinegar from Italy. You may get lucky and find it in a store, but I almost always have to buy online. Second choice, O California White Balsamic.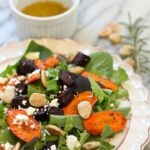 Roasted Beet and Carrot Salad with Lemon White Balsamic Vinaigrette
A veggie centric salad that pairs well with steak or roast chicken
Keyword:
beet and carrot salad, roasted vegetables
Ingredients
For Salad:
1

medium sized beet, peeled and cut into 1" cubes

6

carrots, peeled and cut on the diagonal, 1/4 " thick

4

cups

baby greens

2

cups

baby spinach

1/4

cup

red onion, thinly sliced

1/3

cup

 Marcona almonds

1/3 cup

Crumbled Feta
Instructions
Preheat over to 400 degrees and place rack in upper third of oven.

Place prepared carrots and beets on a rimmed cookie sheet covered with unbleached parchment paper. Drizzle vegetables with olive oil and toss all veggies should be lightly coated in oil. Sprinkle with sea salt and pepper. Toss. Bake in oven for 40-45 minutes. Remove, allow to cool. Place greens on a platter. Top with roasted beets and carrots, Marcona almonds and feta. Dress lightly and toss.
For Dressing:
Combine ingredients in glass jar with lid and shake! Lightly dress salad. Dressing can be used for up to a week if refrigerated.
 MAY I PLEASE ASK A FAVOR?
We small bloggers need all the help we can get. Subscribing and sharing on social media is very appreciated! 
Post tags: salad, beets, carrots, luncheon, the luncheon, white balsamic, sea salt, lemon, salads, feta, roasted beet salad, gluten free