I do love a good fall/winter salad. This Roasted Carrot and Romanesco Salad with Beet Hummus has a wonderful combination of flavors and makes the perfect meatless Monday meal, that said, it would be delicious served alongside any protein main course.
(This post contains affiliate links. I may make a commission off sales but your price remains the same.)
What Is Romanesco?
Romanesco belongs to the same family as cauliflower, broccoli and Brussels Sprouts. In fact, Romanesco looks and tastes like a hybrid of cauliflower and broccoli and it's quite a beautiful vegetable. You can steam it, eat it raw, or as in the case for this recipe, roast it! Simply break into florets, drizzle in olive oil, sprinkle with sea salt and pepper and roast right alongside the carrots. When it's out of season you can use regular broccoli for this recipe.
The Salad:
This salad has a little bit of everything: peppery arugula greens tossed with sweet roasted carrots and Romanesco, Israeli couscous (pearl pasta), salty pistachios and is served with a side of bright pink roasted beet hummus and pita! Such a healthful, colorful, vegetarian meal.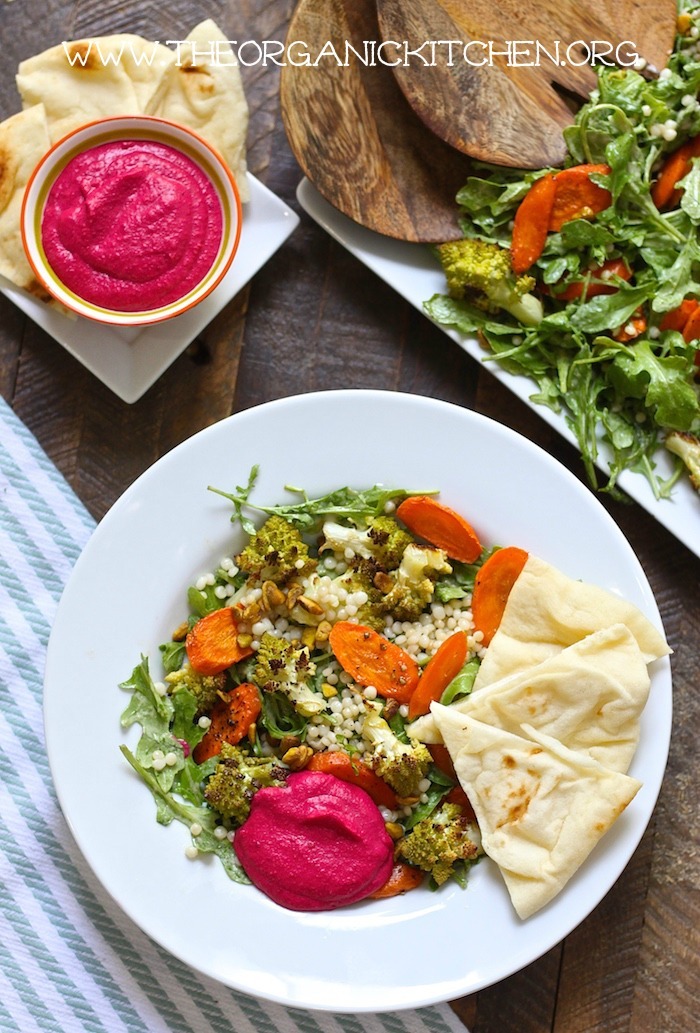 The Dressing:
This salad needs a simple dressing that doesn't fight with the other flavored filled ingredients but enhances the flavor of each. So I chose a fresh, simple Lemon and olive oil dressing. So healthy and literally takes 2 minutes to make.
THE HUMMUS:
If you have ever made my traditional or roasted red bell pepper hummus, you know it's quick/easy to make your own, and it's so much better than store bought. This beautiful fuchsia hummus takes minutes to process as well, but first you have to pop a beet in the oven for a little roasting. Of course if you are pressed for time you can skip the beet!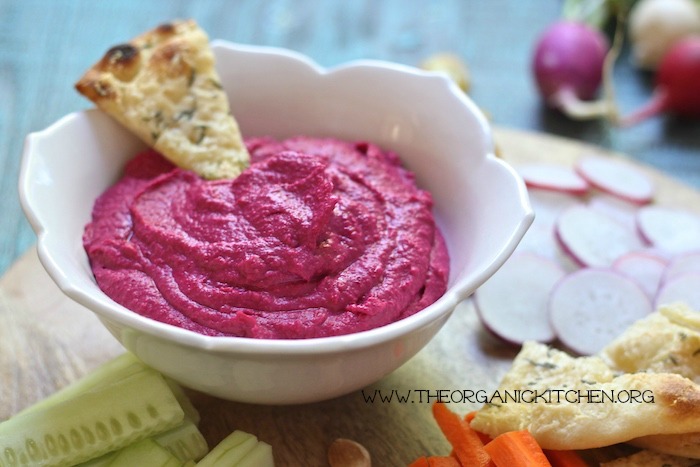 The Recipe: Roasted Carrot and Romanesco Salad with Beet Hummus!
What you need: Click to learn to make beet hummus. Of course you could also use traditional or roasted red bell pepper hummus. You will need a food processor, a rimmed cookie sheet, parchment paper and a good knife!
MAY I PLEASE ASK A FAVOR?
We small bloggers need all the help we can get. Subscribing and sharing on social media is very appreciated!