A picture is worth a thousand words…but in this case perhaps more. This is The Organic Kitchen's "Berries in a Pastry Basket"! It's one of the most popular desserts I teach in my cooking classes here at The Organic Kitchen. It looks like a lot of work, but it isn't because we use pre-made organic phyllo dough to make our baskets.
(This post contains affiliate links. I may make a commission from sales but your price remains the same.)
This dessert is gorgeous. I serve it at summer parties, baby and wedding showers and during the holidays, or any time at all!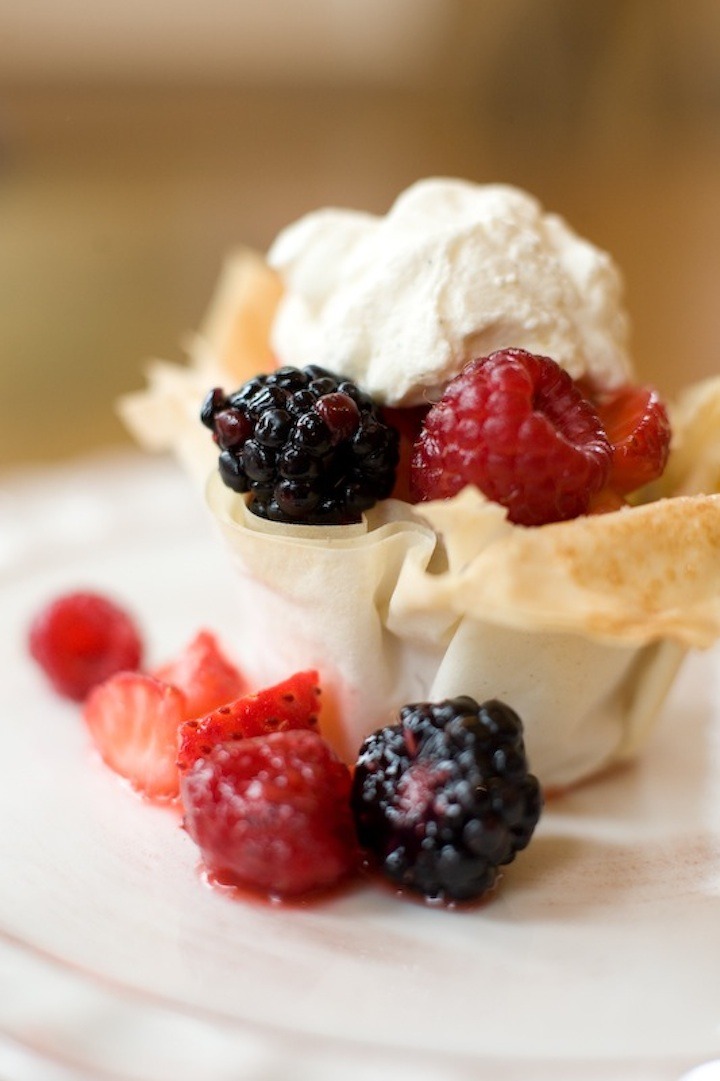 The Process: Start with The Dough
1. Place a few sheets of thawed Phyllo dough on counter and brush with melted butter, then sprinkle with sugar. Phyllo can usually be found in the frozen section of most super markets.I buy an organic brand at Whole Food's Market called "Fillo". This dough is very thin, like sheets of paper. Traditionally you layer one sheet of phyllo dough at a time, then brush (affiliate link) with butter, repeating many times. But here at the OK we make it easy by using three sheets at a time, repeating the steps only once. I really slather on that butter!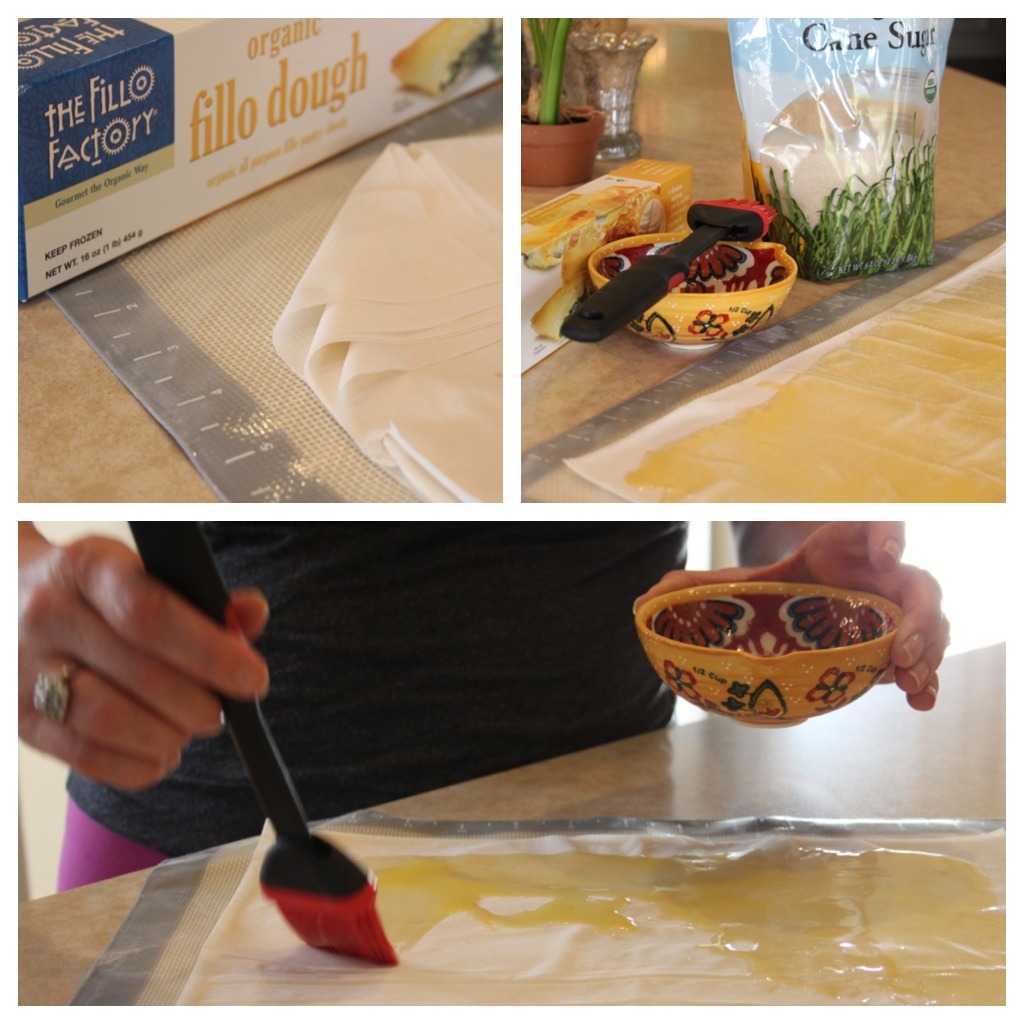 Cut the Baskets
2. Cut pastry baskets and tuck them into a cupcake tin (affiliate link). The beauty of these delicate little baskets is that they don't have to be perfect!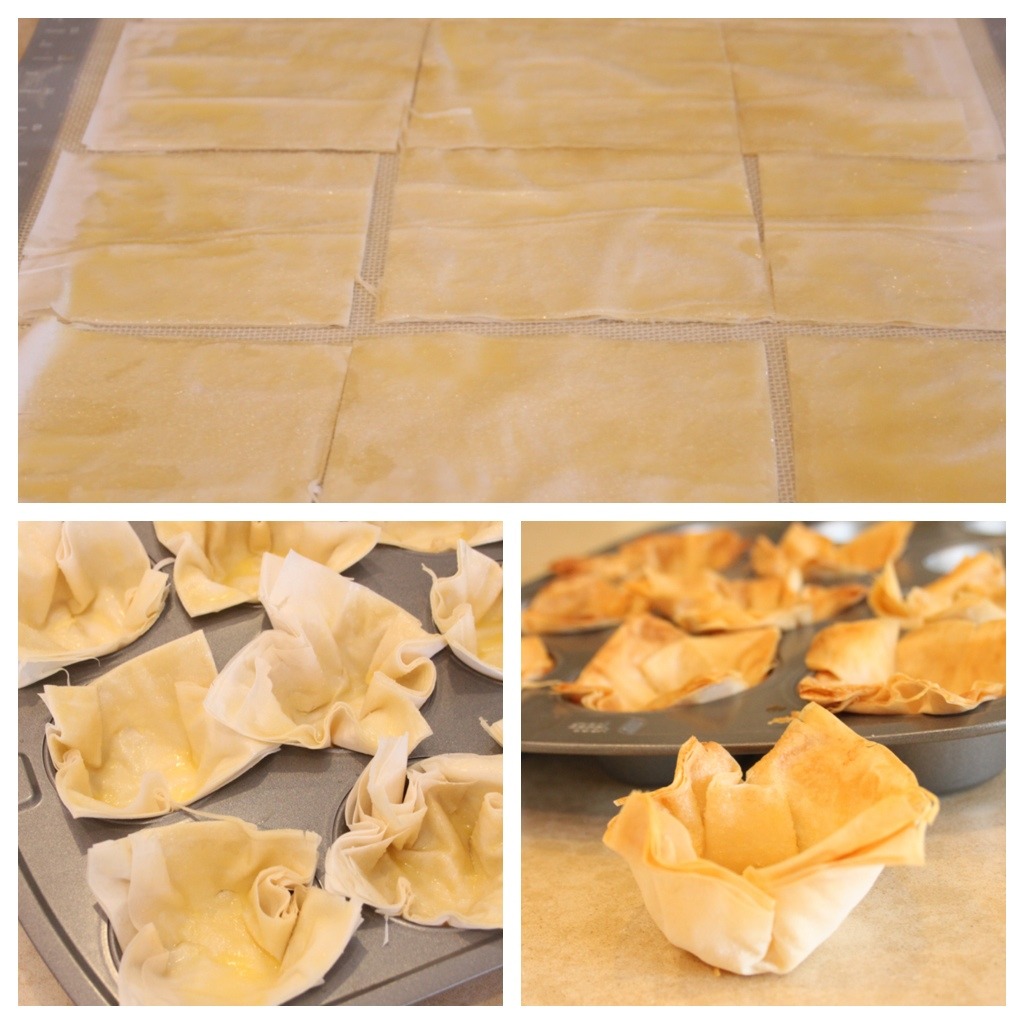 Prepare the Berries
3. Prep berries, drizzle with lemon juice and powdered sugar and sprinkle with zest.
The tool pictured above (affiliate link) squeezes the juice while retaining the seeds. The tool below is called a microplane and is fabulous for zesting citrus and grating parmesan and spices.
Make vanilla paste whipped cream…. yum
4. We make our whipped cream using Nielsen Massey Vanilla Paste (affiliate link)  It is a paste instead of an extract, so it doesn't have that alcohol aftertaste and tastes great straight out of the bottle! The paste also has vanilla bean flecks that make the cream even more beautiful.
See those lovely little flecks of vanilla bean?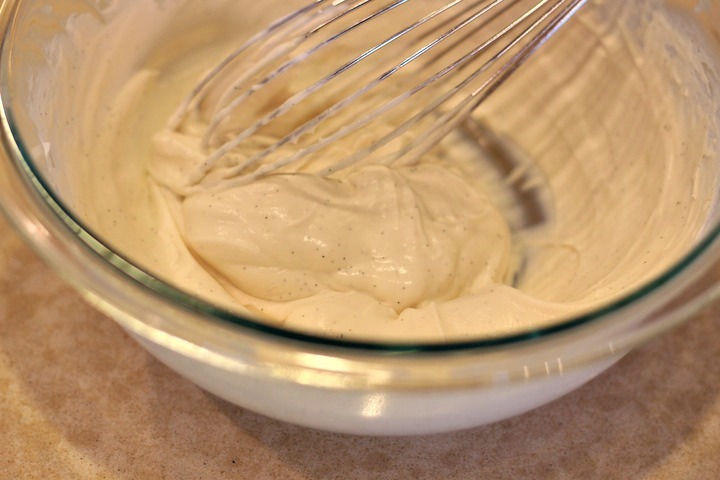 Pretty simple isn't it?
The Recipe: Berries in a Pastry Basket
What you'll need: a cupcake tin, a pastry brush, and a microplane to zest citrus. You can use vanilla extract or paste. I prefer Nielsen Massey Vanilla Paste . I love making whipped cream by hand using a whisk, but if your arms get too tired you can certainly use a hand mixer, or stand mixer. 
Berries in a Pastry Basket!
This dessert looks like a big deal but is actually very easy. Serve with whipped cream, recipe below. You can find fillo dough (sometimes spelled phyllo)in the frozen sections of most markets.
Keyword:
berries in a pastry basket, phyllo dough baskets, whipped cream
Ingredients
Pastry Baskets:
1

package

frozen phyllo dough (I use the fillo brand) thawed to package instructions

1/2

cup

melted butter

1/3

cup

granulated organic sugar
Berries with Zest
3

cups

fresh berries, in any combination you wish

1/4

cup

confectioners (powdered) sugar

1-2

teaspoons

freshly grated orange zest
Whipped Cream:
1/2

pint

heavy whipping cream

1/4

cup

powdered sugar

1

teaspoon

vanilla paste or extract
Instructions
Pastry Baskets:
Make sure dough is thawed, preheat oven to 350 degrees and place oven rack in lower third of oven

Unroll thawed dough. Gently peel 3 sheets dough off the stack and set on counter or larger cutting board

Brush the top sheet with melted butter from edge to edge, and sprinkle with sugar, place 3 more sheets of dough on top of the sheets you just prepared, brush with butter sprinkle with sugar

Use a knife to cut the dough into six - four inch squares (you may have leftovers, depending on the size of your dough) Tuck each dough square into a cupcake tin and bake until slightly golden (about ten minutes)
While Baskets Bake: Prep Fruit
If using strawberries, thinly slice them. Pour all berries into a big bowl. Drizzle with fresh lemon juice, sprinkle with sugar and stir. Add orange zest, mix again, set aside
Prep Whipped Cream:
Place all ingredients in a bowl and use either a whisk or hand mixer to beat until desired consistency is achieved.

Right before serving place pastry baskets on tray, fill with berries, top with whipped cream
MAY I PLEASE ASK A FAVOR?
We small bloggers need all the help we can get. Subscribing and sharing on social media is very appreciated!