Bonjour! When we were in Paris we ate some delicious and healthful foods. One of the things I immediately noticed was the difference between French desserts and those generally served in the US. Pastries in France are made from scratch with real ingredients, like butter and cream, not substitutes made in a laboratory. (I am talking about you margarine and …dare I even say it…Crisco and Kool Whip gah!) So what I am saying is this, the French make desserts the way I make desserts, so they get my stamp of approval. I am sure the people of France are very relieved. One of the desserts we just couldn't get enough of while in Paris was the galette, so when we got home I came up with this beautiful Blackberry Walnut Galette!
(This post contains affiliate links. I make a commission off sales which allows me to keep my site up and running. Thanks for your support!)
What is A Galette?
A galette is simply a flat pastry, sort of like a pie but not as deep. When we returned home from Paris I was excited to master the galette, but honestly there is nothing to master, they are quite easy to make! Galettes are not just for dessert either. Many galettes are savory and filled with tomatoes, vegetables and cheeses and served as a meal. That will be next… for now I am sticking with a dessert galette, and because blackberries peak in the late summer and early fall I decided it was an appropriate time to make a Blackberry Walnut Galette!
I serve mine warm with 'sour' whipped cream. 'Sour' whipped cream is whipped cream with a hint of Crème Fraiche that gives it a bit tang. But you could also serve this scrumptious dessert with my homemade No Churn Ice Cream.
 Let's Talk Dough:
I am going to give you an out here…YOU CAN USE PRE-MADE PIE CRUST! I won't judge you, I promise, I do it on occasion myself! In fact I love the Whole Food's Market "All Butter Pie Crust" and Gluten Free All Butter Crust.. I really do! That said I have to rave about this buttery pie crust from scratch. Whichever you choose, your galette will be delicious. When dough is chilled, simply roll it out and sprinkle with walnuts, fill with berries, fold edges and bake. If you are using store bought dough, try to remove the thawed dough from tin in one piece and then roll. If it sticks to the tin, no worries, just form into a ball and roll like fresh dough.
Et voila! The Galette…vive la France!
Serve warm or make a day ahead and serve room temp. Either way you will have a have a very happy mouth!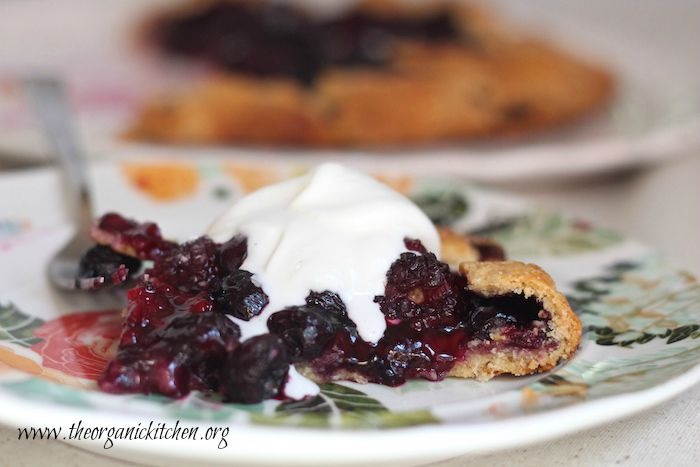 Love Blackberries and need more recipes?
Try my Pear and Blackberry Salad, Low Carb Aged Cheese and Blackberry Skewers, or Lemon Cake with Blackberries!
The Recipe: Blackberry Walnut Galette with "Sour" Whipped Cream
What you will need:  a rolling pin, parchment and a cookie sheet. Gluten free crust  option: if you need a good GF crust option I recommend the All Butter Gluten Free Crust found in the frozen section at Whole Food's Market. If you are making your crust from scratch I recommend this buttery pie crust from scratch.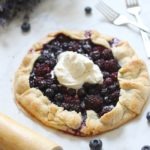 Blackberry Walnut Galette with "Sour Whipped Cream"
A galette filled with blackberries and blueberries and topped with 'sour' whipped cream. In early summer sub blackberries with boysenberries. You can use a pre-made pie crust if desired, or use the fabulous buttery crust linked above in blog post. If you only have raw walnuts, bake nuts on metal cookie sheet at 350 for 10 minutes to roast. 
Keyword:
blackberry galette, cheese and fruit, dessert, galette, pie
Ingredients
Crust: You can use
the homemade buttery crust linked above in blog post, or use a 9" frozen pie crust, thawed
1

9-10" pie crust. You can use the homemade recipe linked above in blog post, or use a frozen crust from the store.

1/2

cup

toasted walnut halves, chopped finely (if you only have raw, see instruction for roasting in summary above)

2

tablespoons

cream or milk

2

tablespoons

organic granulated sugar (for dusting)
Filling:
1

cup

blackberries, rinsed and dried (remove any stems or leaves)

1

cup

blueberries, rinsed, dried and checked for stems

juice of half a small lemon

1/4

cup

granulated sugar, plus more for dusting I prefer the organic for this, it has a courser texture

2

Tablespoons

heavy cream (for brushing crust before baking) and you can use the rest for making "sour whipped cream" recipe below.
Sour Whipped Cream:
1

cup

heavy whipping cream

1/3

cup

1/3 cup Crème Fraiche (or sour cream)

1/3

cup

1/3 cup powdered sugar (also known as confectioner's sugar)

1

teaspoon

vanilla paste or extract
Instructions
Crust and filling prep:
Preheat oven to 350 degrees.

Dust counter and rolling pin generously with flour. (Note: If you are using store bought dough, try to remove the thawed dough from tin in one piece and then roll. If it sticks to the tin, no worries, just form into a ball and roll like fresh dough.)

Use rolling pin to roll dough into a 9-10″ round. Edges do not have to be perfect! Sprinkle the crust evenly with chopped walnuts and use the rolling pin to gently press the nuts into the dough

Carefully transfer dough from counter to parchment covered cookie sheet. If dough breaks, it's no biggie, just press edges back together.

In a large bowl mix berries, lemon juice and sugar.

Pour berry mixture into center of crust leaving two inches around the edge.

Fold edges over so the pie crust makes a shallow basket for the berries. If edges break, just pinch back together so juices remain inside the crust.

Brush folded edges of crust with cream (or milk) and sprinkle with course sugar.

When cooled, slice and serve with sour whipped cream or vanilla ice cream. If you are transferring to a pretty serving dish, wait until completely cooled, then place in the fridge for an hour so pie is firm. If you do it while warm it will fall apart (not that I did that and made a huge mess or anything….)

Sour Whipped Cream:
Add all ingredients to a bowl and use a whisk or hand mixer to whip till desired consistency.
 May I Please Ask A Favor?
We small bloggers need all the help we can get. Subscribing and sharing on social media is very appreciated! 
STANDARD FTC DISCLOSURE: In order for me to support my blogging activities, I may receive monetary compensation or other types of remuneration for my endorsement, recommendation, testimonial and/or link to any products or services from this blog. Please note that I only endorse products that are in alignment with The Organic Kitchen's ideals and that I believe would be of value to my readers. The Organic Kitchen is a participant in the Amazon Services LLC Associates Program, an affiliate advertising program designed to provide a means for sites to earn advertising fees by advertising and linking to Amazon.com.
Post tags: Gluten free option, pie, holiday dessert