There is just something fun about an upside down cake. Maybe it's the unexpected pop of color, or that anticipation of sliding that top layer out of the cake pan, wondering if it actually worked (it always does btw). Whatever it is there is nothing more fun than eating it! This Triple Layer Orange Upside Down Cake is mini but it sure packs a visual as well as a flavorful citrus punch.
(This post contains affiliate links off which I may make a commission. Your price remains the same)
The Cake:
Three mini layers separated by orange cream cheese frosting and topped with exquisite thinly sliced oranges sparkling with organic sugar! We used blood oranges for that deep, lovely color, but you can use small juice oranges if preferred or if blood oranges are out of season.
Honestly, This Little Cake is Almost Too Pretty to Eat!
But somehow I am sure you will manage. I know we did. But what we love most about this little cake is that you can indulge and then it's gone. So the indulgence doesn't turn into a four day cake binge. Don't act like that's never happened in your life.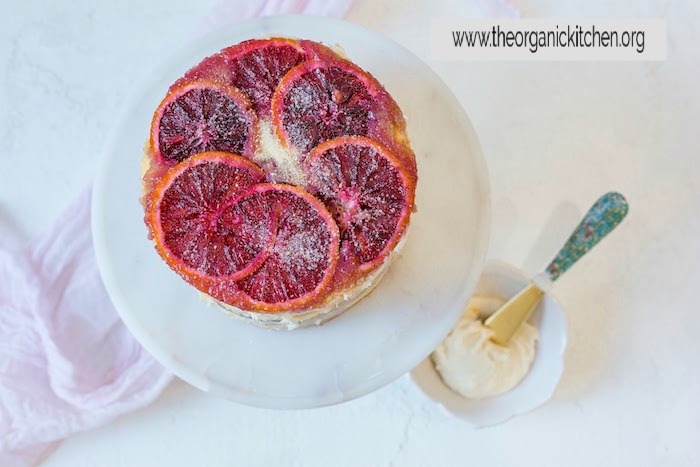 How To "Zest" and Orange:
The lovely orange flavor in our icing comes from orange zest! I use a  microplane to grate off the fragrant skin, just exposing the white and then moving on to a new area.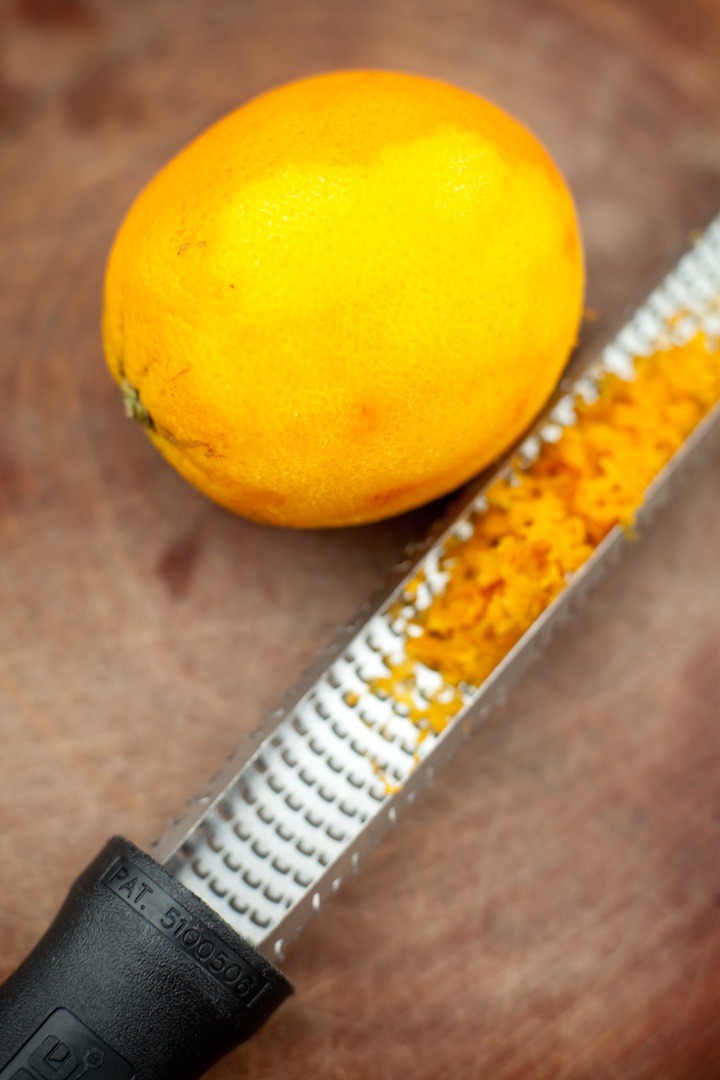 Making It Gluten Free and Just As Good!
If you are fine eating gluten, have at it! But if you are one of my gluten free followers, I have two wonderful suggestions to make this cake gluten free but just as good: King Arthur's Measure for Measure Gluten Free Flour is fabulous and found in most grocery stores. Jovial Gluten Free Pastry Flour is also wonderful and the grains in this flour are soaked for easy digestion!
Love Little Cakes?
Try my Triple Layer Vanilla Cake with Berries too!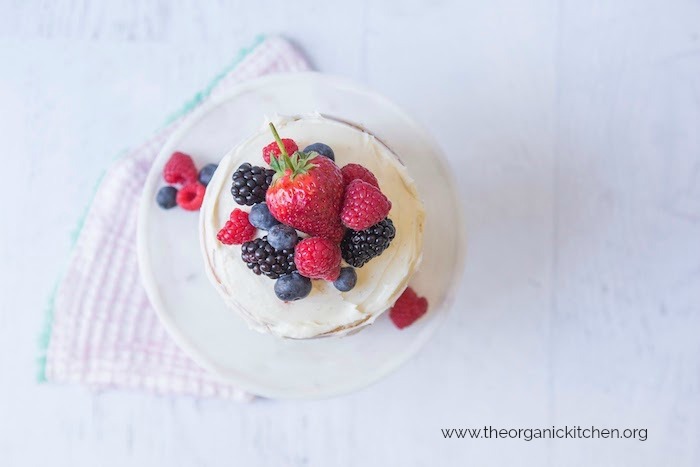 The Recipe: Triple Layer Orange Upside Down Cake
What you need: a microplane to zest citrus, 3-5″ cake pans, unbleached parchment paper, and vanilla paste (or extract, I just prefer paste!) If you want to make this cake gluten free, I recommend Jovial Gluten Free Pastry Flour.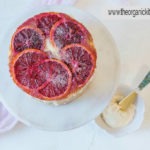 Triple Layer Orange Upside Down Cake
A beautiful mini cake that is perfect for any day or celebrations!
Keyword:
#blood organges, #layer cake, #orange cake, dessert, gluten free
Ingredients
The Cake:
1 1/4

cups

all-purpose flour or see my recommendation for gluten free flour above

1 1/2

teaspoons

baking powder

1/2

teaspoon

sea salt

1/2

cup

butter (1 stick) room temperature

3

tablespoons

coconut oil (or baking oil of your choice)

2/3

cup plus 2 tablespoons

organic granulated sugar (I love the course texture for this cake)

1

teaspoon

vanilla paste or extract

3

eggs, room temp

2

small blood or juice oranges (one zested, one thinly sliced)

2/3

cups

buttermilk, room temp
For Frosting:
3

tablespoons

cream cheese, room temp

3

tablespoons

butter, room temp

2

cups

powdered sugar (confectioners sugar)

orange zest, from one small orange
Instructions
Pan prep:

Preheat oven to 350, place oven rack in center position. To prevent the cake from sticking you can use non stick pans, then use a paper towel to wipe sides and bottom of pans with soft butter. Dust with flour. OR fold a large piece of parchment paper in half twice. Use bottom of cake pan and pencil to trace a circle on parchment, then cut paper so you end up with three circles. Place parchment circles into the bottom of pans and spray with organic non stick spray. This is my favorite method. Sprinkle bottom of one pan with 1 tablespoon of course granulated sugar (this will be the pan you place orange slices in)

Cake Prep:

Place flour, baking powder and salt into a bowl, whisk and set aside

zest 1 orange, scraping until white is exposed and then moving on to a new area, set aside, slice second orange as thinly as you can

Use a mixer to beat together butter, 2/3 cup sugar, and coconut oil

Add vanilla paste or extract, eggs (one at a time) mixing until incorporated

Add buttermilk and flour alternately and mix until smooth

Add half of the orange zest, mix well

place very thinly sliced orange slices into bottom of pan with sugar, slightly overlapping the slices (you may have leftover slices) then sprinkle the oranges with one more tablespoon sugar

Pour batter as evenly as you can into the three prepared pans

Tap pans on counter to take out any bubbles

Bake for 20-25 minutes or until an inserted toothpick comes out clean

Allow to cool then remove cakes from pans before frosting

Frosting Prep:

Place butter, cream cheese, vanilla paste or extract, remaining half of orange zest into a bowl and mix on medium speed for 30 seconds. Add powdered sugar and mix until well incorporated. If needed, thin with a little buttermilk (don't make the icing too thin or layers will slide around)

To get the "semi naked" look, frost the first layer generously , adding a little more frosting around the edges of cake. Then place the second cake layer and repeat. Last place the top layer (with orange slices) on. Hopefully some frosting is being pushed out between the layers, use a spatula to spread icing around the sides of cake, adding more if desired
MAY I PLEASE ASK A FAVOR?
We small bloggers need all the help we can get. Subscribing and sharing on social media is very appreciated!