Nothing says "Be Mine" like a romantic dinner for two. Why fight the crowds in restaurants, spend too much money, wait… twiddle your thumbs… and wait some more…even with a reservation, when you can make something like this yourself? This is The Organic Kitchen's 'Spinach and Goat Cheese Stuffed Chicken' served atop roasted asparagus and drizzled with an herbed cream sauce.
(This post contains affiliate links. I may make a commission off sales but your price remains the same.)
The Meal:
This is such a simple meal, but it looks, tastes and feels extravagant! And just to make sure you don't feel at all intimidated I will walk you through the process step by step!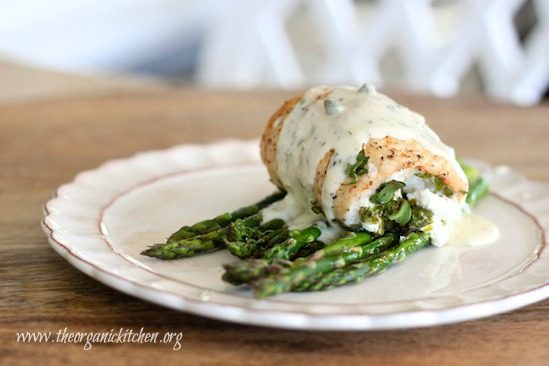 Step 1: Make the Cutlets:
Simply cut chicken breasts in half, place between plastic or parchment and pound until about 1/4″ thick. Then season one side with salt and pepper.
The Stuffing:
Spread the cutlets with soft creamy goat cheese and freshly chopped spinach.
…then roll, place seam side down and pop in the oven! That's all there is to it!
While the chicken is baking, prepare the asparagus by brushing with olive oil and seasoning, then place next to the chicken the last ten minutes of baking.
The Cream Sauce:
The cream sauce is easy too! Just cream,  a little flour, lemon zest and fresh dill! Just decadent enough to be satisfying while light enough so you still feel like doing…other things…wink, wink.
To Serve:
You can either serve the whole breast atop the grilled asparagus or slice into pin wheels.
The Recipe: Stuffed Chicken Breast and Grilled Asparagus

You will need: a rimmed baking sheet (like this) unbleached parchment paper (like this) and a pastry brush (like this). Use a microplane to zest lemon. I love my battery operated pepper mill! It allows me to prep with one hand and leaves the other free to touch chicken without worrying about cross contamination. Affiliate links
And for Dessert:
How about some Lemon Mascarpone Berry Tarts! (<–recipe)
 MAY I PLEASE ASK A FAVOR?
We small bloggers need all the help we can get. Subscribing and sharing on social media is very appreciated!