My crock pot is 20 years old so I decided to give it to my daughter and head over to Williams Sonoma to hunt for a new one. I know, I know…it's summer, who uses a slow cooker in the summer? Actually slow cookers are perfect for summer because they solve two summertime problems. Crock pots don't heat up the kitchen like an oven and they help with time management, especially if you work or have children. When all my kids were home, afternoons were the busiest so prepping and cooking dinner became such a burden. Not to mention I was always exhausted by dinner time!
I figured crock pots had to have changed a little since I last bought one. Well I had no idea! The new ones are amazing and luckily they were on sale because it's summer. Score! This is the first meal I made with my Cuisinart Multicooker…

This is Slow Cooker Lemon Chicken with Rosemary. Gorgeous, delicious and light and lemony! So how do new slow cookers differ from the older models? Well, the Cuisinart Multicooker (affiliate link) not only slow cooks, it also browns/sautés, steams and roasts! So instead of having to brown the chicken and sauté the veggies in a separate pan and transfer to the crock pot, I browned the chicken, sautéed the veggies, and slow cooked it all in the crock pot! Only one dish to clean!
I followed one of the recipes in the Cuisinart Multicooker  cookbook…and by 'follow' I mean I changed it…because that's how I roll. I added carrots and instead of using all thigh meat I added one chicken breast because my husband is a breast man (yep, I said that). I spent 45 minutes prepping in the morning and six hours later I had a healthy dinner! When time is up, instead of just turning off, the  Cuisinart Multicooker
 switches to warming mode so dinner stays warm till you are ready to eat!
The finished product: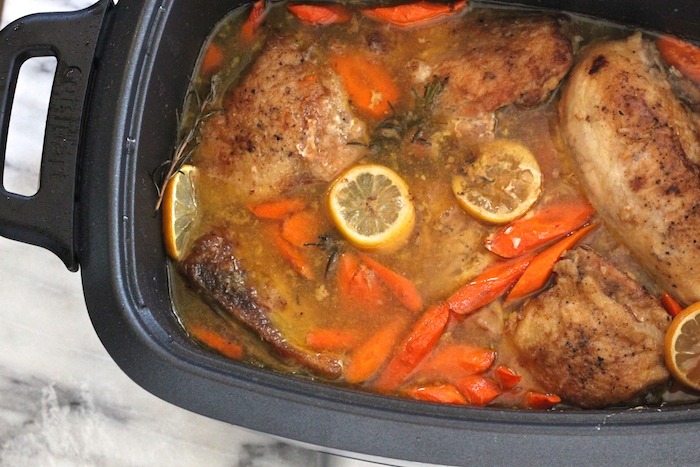 The Recipe: Slow Cooker Chicken with Rosemary and Carrots
You will need a Cuisinart Multicooker
 (or regular crock pan and a good quality pan, preferably cast iron for good browning) sea salt, freshly turned pepper and chicken broth (<---my recipe)
I felt like fairies came in and cooked for me while I went about my busy day! I hope you will try using your slow cooker this summer. It really does make life easier and more tasty!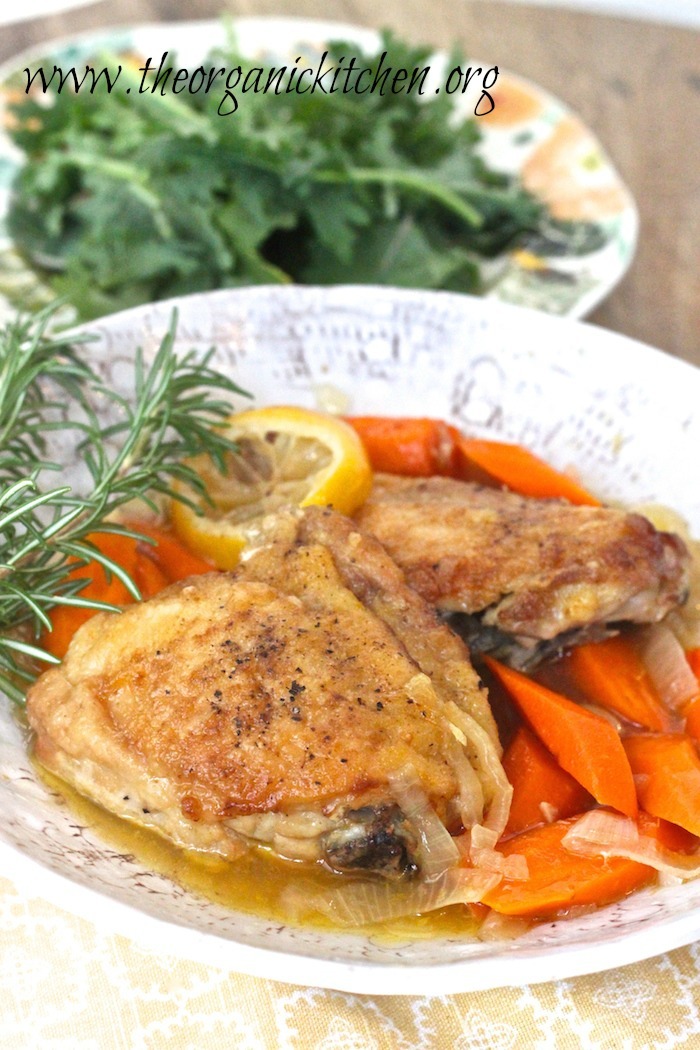 MAY I PLEASE ASK A FAVOR?
We small bloggers need all the help we can get. Subscribing and sharing on social media is very appreciated!