Get out the pizza stone, the rolling pin and the corn meal, it's time to make Homemade BBQ Chicken Pizza! And don't worry, I will walk you through it step by step.
(This post contains affiliate links through my association with Amazon.com. I may make a commission from sales, your price remains the same))
Before We Talk Pizza, Let's Talk Dough:
For this recipe you can use my home made dough. I highly recommend it. But you may also use store bought fresh dough. Whole Foods market and Trader Joe's both sell fresh dough, so feel free to take the short cut if you wish!
THE TOOLS:
There are a few items that make pizza making a whole lot easier: a rolling pin, a ceramic pizza stone, a pizza paddle, corn meal and a pizza slicer. (affiliate links)
WHY A STONE?
I prefer using a pizza stone rather than a metal pan. It cooks more evenly and creates that crispy crust! Always put the stone into a cold oven on the bottom rack and then preheat at 450 degrees for at least a half hour before placing dough on stone. If you add a cold stone to a hot oven it could crack. Notice how well season my stone is. Obviously, I use it a lot!
Why corn meal?
Good question! Once your dough is rolled you sprinkle cornmeal on top of the paddle for easy transfer of dough onto the pizza stone. Placing a layer of corn meal on the paddle allows your pizza to slide right onto the stone with a little back and forth motion.. If you forget this step you will be very sorry!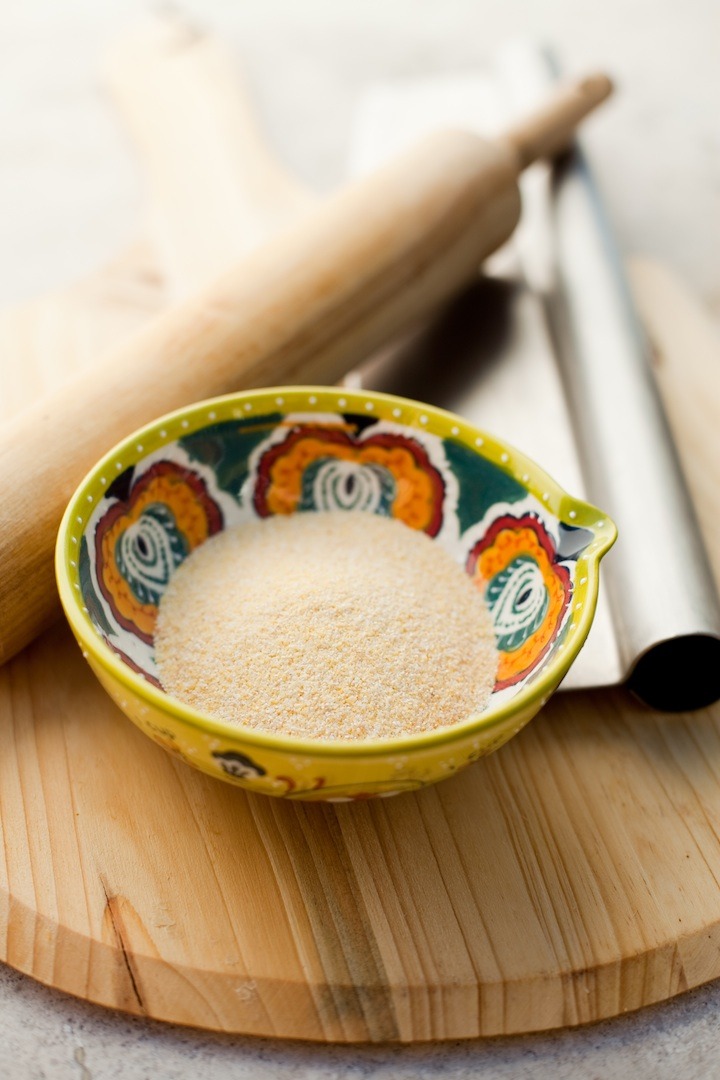 Now the fun begins! Pizza Making:
First we roll out that beautiful dough!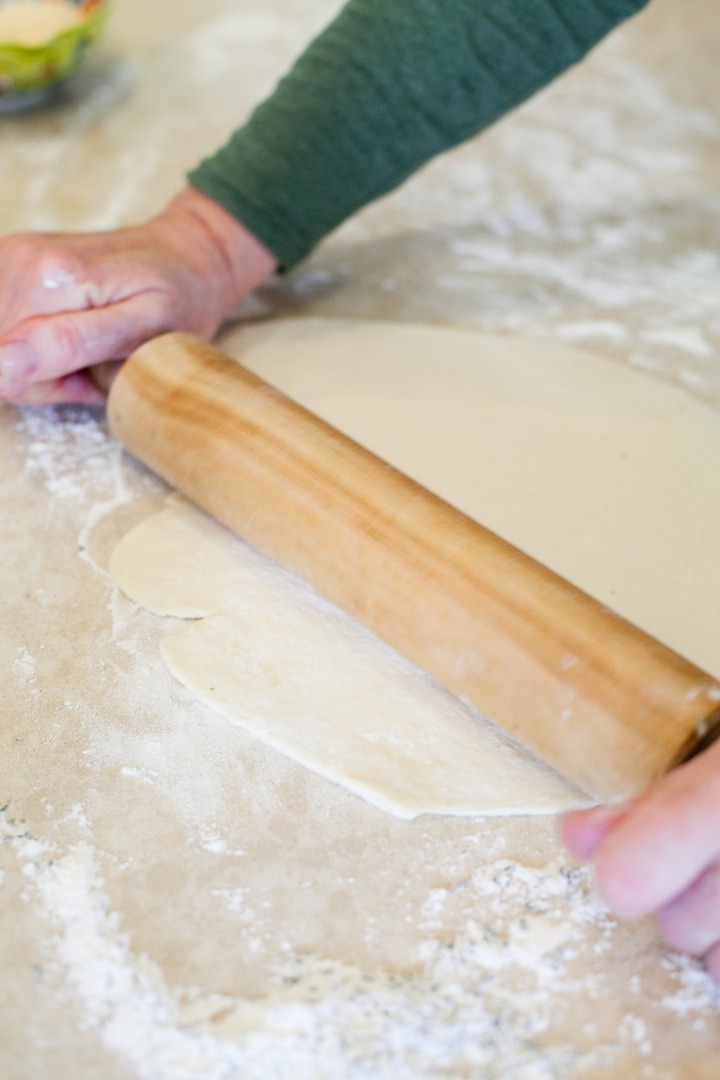 Then Add The Toppings:
After rolling, place on a pizza paddle coated with corn meal. Brush the dough with your favorite BBQ sauce, cheeses, herbs, vegetables and chicken. You can use rotisserie or leftover roasted chicken.
Then Pop in the oven and bake to crispy perfection!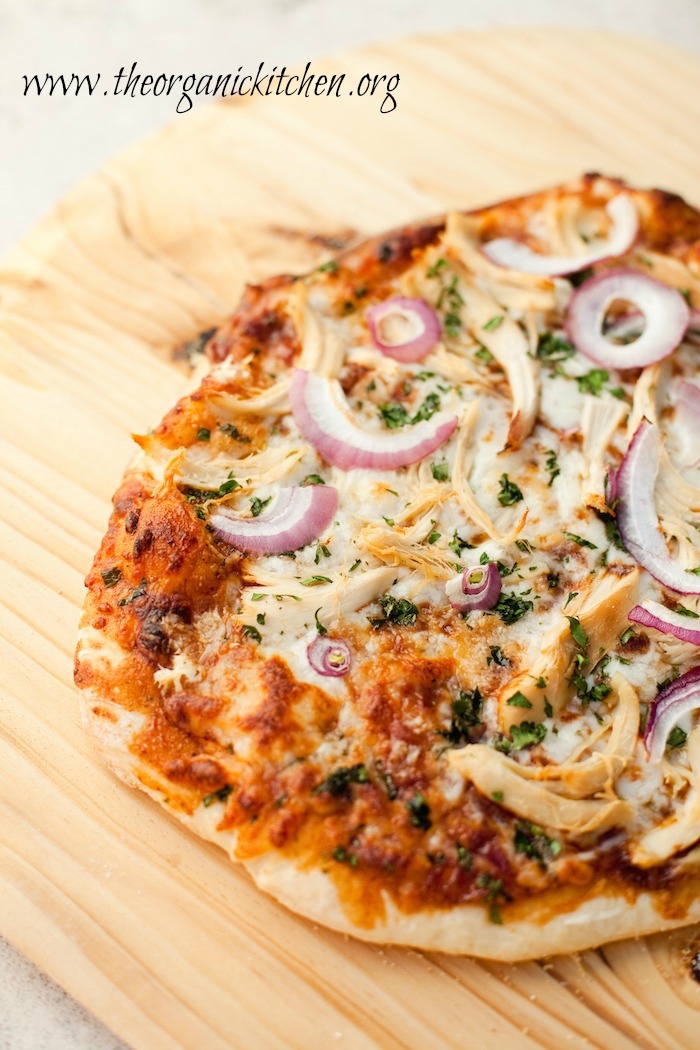 The BBQ Chicken Pizza!
Tips and what you will need: See my step by step dough tutorial here. There are a few things you need for really great pizza, a rolling pin, a ceramic pizza stone, a pizza paddle, corn meal and a pizza slicer. (affiliate links)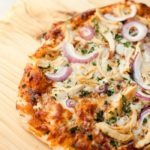 Homemade BBQ Chicken Pizza!
This recipe makes two small thin crust pizzas.. Remember topping ingredients for this are estimated, use as much or as little as you like. Bon appétit!
Keyword:
easy dinner recipe, kid-friendly recipes, party recipe
Ingredients
Enough pizza dough for 2 nine inch pizzas (see recipe linked above for homemade dough)

1 to 1 1/2

cups

BBQ sauce (we use Annie's original organic)

1

cup

freshly shredded Parmesan Cheese

1

cup

good quality grated Mozzarella cheese or fresh packed in water and sliced thinly

1

cup

shredded rotisserie chicken

3

teaspoons

chopped cilantro

1/4

small red onion thinly sliced
Instructions
Remove dough from refrigerator and allow to rest on counter for 30 minutes. Place pizza stone on oven rack in the lowest position. Preheat oven to 450 degrees allowing stone to heat for at least 30 minutes before place pizza on stone.

On floured surface use rolling pin to roll out one dough ball into a 9" circle (does not have to perfect!)

Spread a thin layer of corn meal on pizza paddle. Transfer dough onto paddle.

Remember you will be making two pizzas so use 1/2 the ingredients on each pizza.

Spread BBQ a thin layer of bbq sauce on dough.

Sprinkle with Parmesan cheese. Top with a layer of mozzarella and add chicken. Sprinkle with red onions and cilantro.

To transfer pizza from paddle to stone: Place tip of paddle toward the back of the pizza stone. Then use sort of a jerky back and forth motion to slide the pizza off paddle and onto the stone. This can take a little finesse, but you'll get it.

Bake on preheated pizza stone for about 9 minutes.

Slide paddle under pizza to remove from oven.

Allow to cool for one minute before slicing. Serve.

Repeat with second dough ball
May I Please Ask a Favor?
We small bloggers need all the help we can get. Subscribing and sharing on social media is very appreciated!