I don't know what's up. Usually I don't consider myself much of a dessert maker. I am definitely a better cook than a baker. But lately I am rocking the desserts, especially cakes. And this Vanilla Chocolate Chip Cake with Whipped Ganache is top notch if I do say so myself. And I do.
(This post contains affiliate links. I may make a commission from sales but your price remains the same.)
The Cake:
This cake is a pretty straight forward vanilla cake with semi sweet mini chocolate chips added, giving it just the right ratio of vanilla and chocolate. As always I am going to recommend my favorite vanilla paste instead of extract to get that perfect vanilla bean flavor!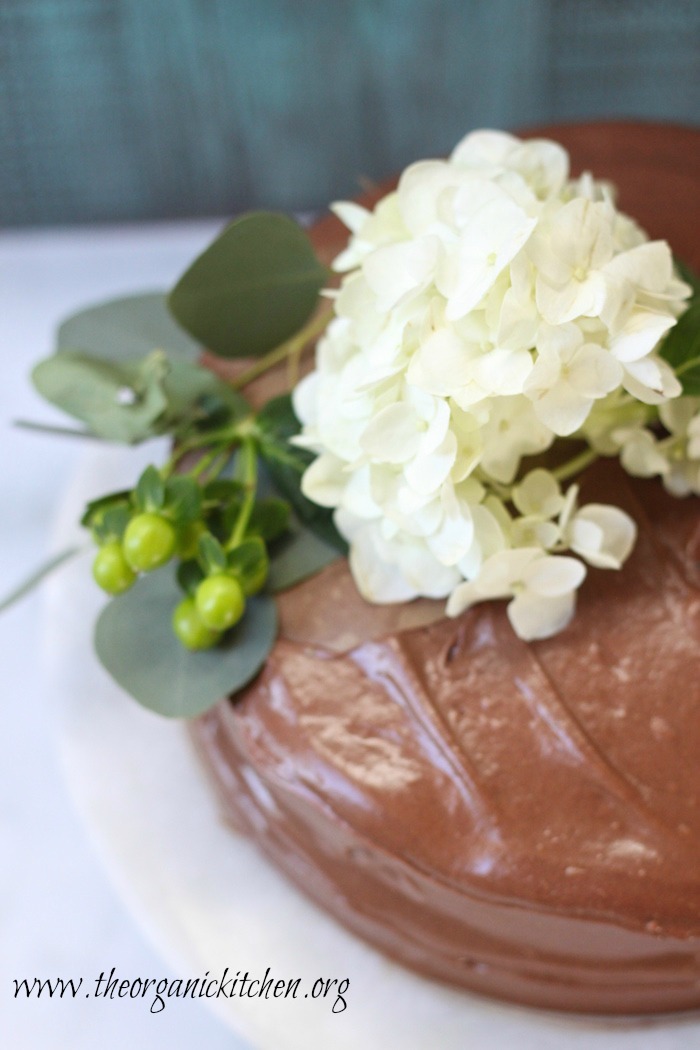 But Let's Talk About This Whipped Ganache!
Basic ganache can be made two ways, simply by melting dark chocolate into hot cream and letting it cool off enough to be pourable, or adding a little powdered sugar, whipping, and then letting the ganache cool off longer so it is spreadable. That is what we are doing with this cake. I cool my whipped ganache in the fridge so I don't have to wait so long…I am working on patience…but when a cake is this beautiful who wants to wait to eat!?
Decorating:
Of course decorating is optional, but if I am serving this cake at a party I love to add fresh flowers. I place a piece of parchment paper on the frosting after it has firmed a bit and then place flowers, leaves, berries etc..on top of the paper. I always add the flowers right before displaying the cake and I make sure they don't touch the frosting. I learned the hard way to never use super fragrant flowers. Once I had a batch of cookies that tasted just like Easter lilies…not good.
TO MAKE THIS CAKE GLUTEN FREE BUT JUST AS GOOD:
Gluten free followers, I have a wonderful suggestion to make this cake gluten free but just as good: Jovial Gluten Free Pastry Flour is fantastic and the grains in this flour are soaked for easy digestion! Many stores carry Jovial Baking Flours now, but you can also order online. 
The Recipe: Vanilla Chocolate Chip Cake with Whipped Ganache!
Tips and what you will need: use two 9 inch cake pans for this recipe. Always line with parchment paper for easy removal from pans. I love my Kitchen Aid Mixer and vanilla paste! (optional but I LOVE it!)
Vanilla Chocolate Chip Cake with Whipped Ganache!
Make sure you allow time for ganache to cool. If cooling on the counter it can take 2-3 hours. I pop it in the fridge to speed things up.
Keyword:
easy dessert recipe, holiday recipe
Ingredients
The Cake:
2½

cups

all purpose flour

3

teaspoons

baking powder

1

teaspoon

sea salt

1

cup

butter

2 sticks room temp (plus 1 tablespoon for preparing pans)

¼

cup

coconut oil

1⅓

cup

granulated sugar

2

teaspoons

vanilla paste or extract

6

eggs

room temp

1⅓

cup

buttermilk

3/4

cup

semi sweet mini chocolate chips
The Ganache:
1 1/4

cup

heavy whipping cream

1 1/4

cup

semi sweet mini chocolate chips

1/4

cup

powdered sugar
Instructions
Preheat oven to 350 degrees and place oven rack in center position

Prep pans: Fold a large piece of parchment and use 9" cake pan bottom to trace a circle onto parchment. Cut circles and place in the bottom of pans. Use a paper towel to wipe sides of pan and parchment with butter. Lightly coat with flour. Set aside.
The Cake:
Combine flour, baking powder and salt, set aside

Place butter, coconut oil, sugar and vanilla in mixer and mix until well combined

Add eggs one at a time

Alternate adding flour mixture with buttermilk until well combined, mix for one more minute

Add mini chocolate chips and mix by hand

Pour equal amounts of batter into prepared pans, tap pans firmly on counter to take out any bubbles

Bake for 35-40 minutes or until an inserted toothpick comes out clean

Allow cakes to cool and then gently remove from pans and then frost
Ganache:
Place chocolate chips in bowl. Heat cream on stove top until simmering, when cream is very hot, pour over chocolate chips.

Allow to sit untouched for ten minutes. Whisk.

Allow to cool for another 20 minutes. Add powdered sugar and whip with a hand mixer for 4-5 minutes. Allow to sit on counter for 2-3 hours stirring occasionally until the ganache thickens up and becomes spreadable. To hurry this process along you can place in the fridge, stirring every ten minutes or so. After about an hour in the refrigerator frosting should be ready.
MAY I PLEASE ASK A FAVOR?
We small bloggers need all the help we can get. Subscribing and sharing on social media is very appreciated!