Any goat cheese fans out there? How about prosciutto fans? Caramelized onions? I am a crazy about all three which is why I love this Caramelized Onion and Goat Cheese Pizza!
(This post contains affiliate links from which I may make a commission. Your price remains the same)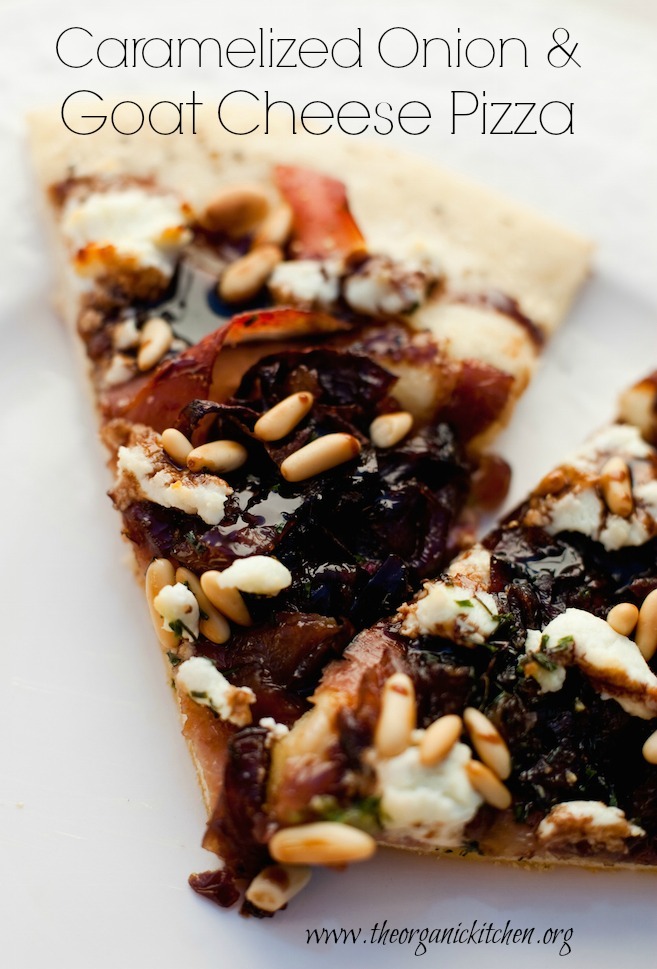 Before We Talk Pizza, Let's Talk Dough:
For this recipe you can use my home made dough. I highly recommend it. But you may also use store bought fresh dough. Whole Foods market and Trader Joe's both sell fresh dough, so feel free to take the short cut if you wish!
THE TOOLS:
There are a few items that make pizza making a whole lot easier: a rolling pin, a ceramic pizza stone, a pizza paddle, corn meal and a pizza slicer. (affiliate links)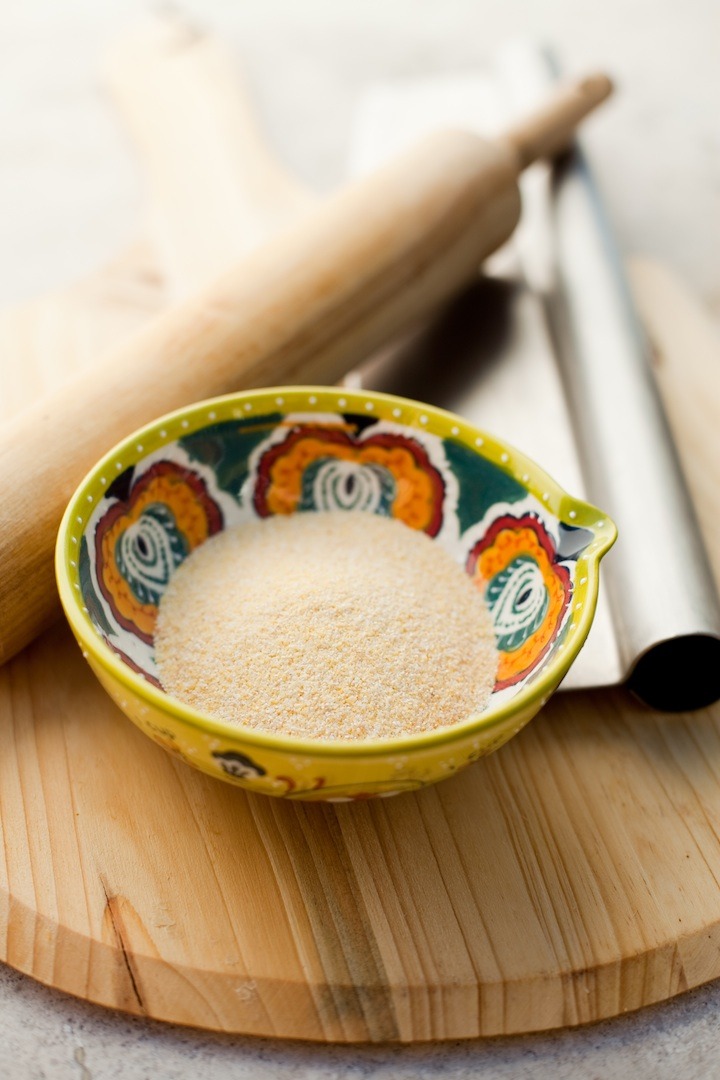 Why corn meal you ask?
Good question! Once your dough is rolled you sprinkle cornmeal on top of the paddle for easy transfer of dough onto the pizza stone. Placing a layer of corn meal on the paddle allows your pizza to slide right onto the stone with a little back and forth motion.. If you forget this step you will be very sorry!
Now the fun begins! Pizza Making:
First we roll out the dough…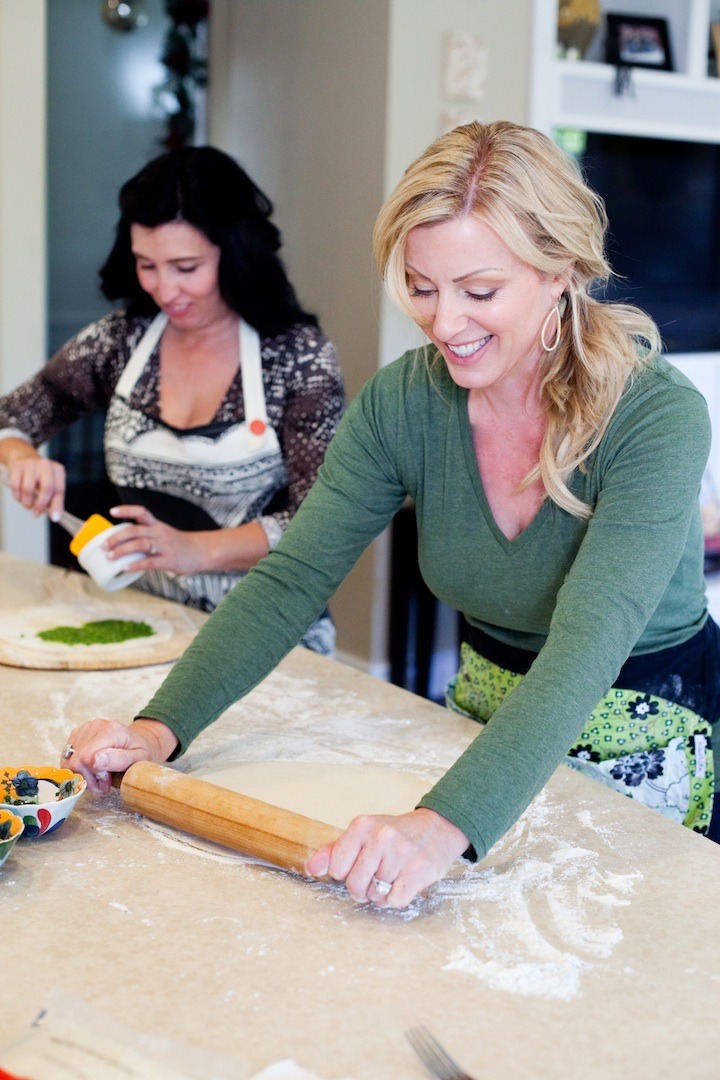 The Toppings:
After rolling out the the dough we top this pizza with salty prosciutto, sweet caramelized onions, creamy goat cheese and pine nuts! The key to caramelizing onions is patience. Cook them slowly until they are browned, this can take about 25-30 minutes…but it's so worth the wait! As the liquid in the onions evaporates the natural sugars condense and the onions become sweeter and sweeter! These toppings are the perfect combinations of salty, sweet and savory!
Why a Stone?
I prefer using a pizza stone rather than a metal pan. It cooks more evenly and creates that crispy crust! Always put the stone into a cold oven on the bottom rack and then preheat at 450 degrees for at least a half hour before placing dough on stone. If you add a cold stone to a hot oven it could crack. Notice how well season my stone is. Obviously, I use it a lot!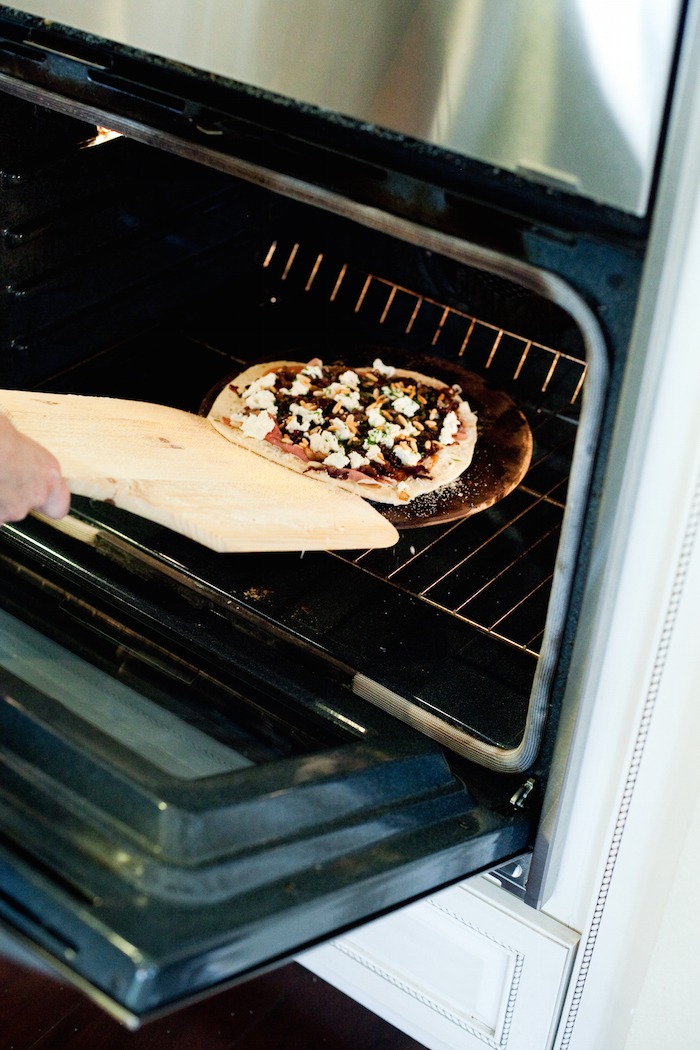 The Final Touch!
After removing from the oven, drizzle with balsamic reduction, sometimes called balsamic glaze. (affiliate links). Oh my, this is making me hungry!
Yowza!
Slice, serve and listen to the raves!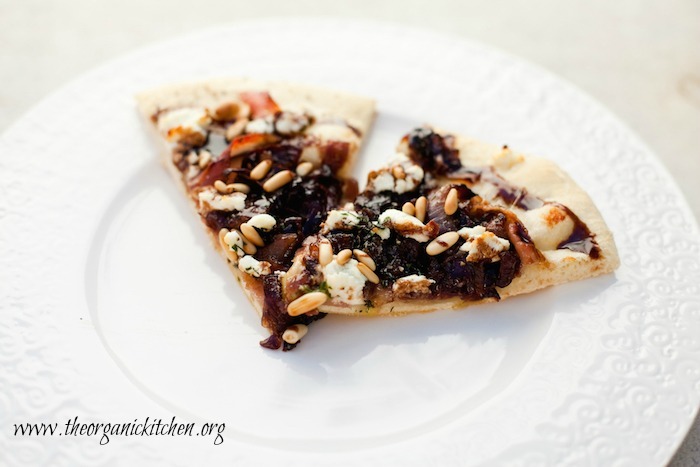 The Recipe: Caramelized Onion and Goat Cheese Pizza!
Tips and what you need: If you would like to see a more in depth tutorial on dough making click here. You will need: a rolling pin, a ceramic pizza stone, a pizza paddle, corn meal and a pizza slicer. (affiliate links)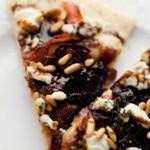 Caramelized Onion and Goat Cheese Pizza!
Hands down my personal favorite! Use dough you have prepared in advance (see pizza dough recipe on page…) and feel free to improvise with amounts. Be sure to be generous with the balsamic glaze. The glaze is thicker and sweeter than regular balsamic vinegar and puts this already delish pizza over the top!
Keyword:
easy dinner recipe, kid-friendly recipes
Ingredients
Enough prepared pizza dough for two thin crust pizzas. You can use store bought or my recipe linked above.

(recipe above)

3

medium red onions

caramelized

olive oil

10-12

slices

prosciutto

5-6 per pizza

1

cup

freshly grated Parmesan cheese

8

oz

soft goat cheese

roasted pine nuts

to taste

sea salt

Balsamic glaze

2

Tablespoons

chives

minced

corn meal (for sliding pizza off paddle and onto stone)
Instructions
Remove prepared pizza dough from the refrigerator and place on counter for 30 minutes before using. Place pizza stone in cold oven with oven rack in bottom position. Turn heat to 450 degrees and allow stone to heat for at least a half hour before placing dough on stone.

Place a large pan on medium/high heat. Add 1-2 tablespoons olive oil to pan. When hot, add onions. Cook, stirring frequently until the onions are really going, then turn heat to medium and keep it there as onions reduce. When onions lose at least half their volume sprinkle with sea salt and pepper to taste. When onions are done (usually 25-30 minutes) turn off heat

Pizza prep: Cover pizza paddle with a thin layer of corn meal. Rollout one dough ball to make a 8-9 inch pie. Place rolled out dough on paddle. Brush dough lightly with olive oil and sprinkle with a layer of Parmesan cheese. Place 4-6 slices of prosciutto on top of cheese. Place half of caramelized onions on top of prosciutto and sprinkle with desired amount of goat cheese. Toss a handful of pine nuts on top. Then sprinkle with chives.

Use the paddle to place dough on preheated pizza stone and bake for 8-9 minutes. (To transfer dough onto stone: place tip of paddle an ich or so from the back edge of pizza stone, then use a slightly jerky back and forth motion with the paddle, the dough should slide right onto stone)

Remove pizza from oven, allow to rest for one minute then drizzle with desired amount of balsamic glaze (I suggest lots!). Slice and serve. Repeat on second pizza.
MAY I PLEASE ASK A FAVOR?
We small bloggers need all the help we can get. Subscribing and sharing on social media is very appreciated!
STANDARD FTC DISCLOSURE and Privacy Policy: In order for me to support my blogging activities, I may receive monetary compensation or other types of remuneration for my endorsement, recommendation, testimonial and/or link to any products or services from this blog. Please note that I only endorse products that are in alignment withThe Organic Kitchen''s ideals and that I believe would be of value to my readers.The Organic Kitchen is a participant in the Amazon Services LLC Associates Program, an affiliate advertising program designed to provide a means for sites to earn advertising fees by advertising and linking to Amazon.com. View The Organic Kitchen's Privacy Policy