If you are just joining this discussion you may want to visit this page first. When you are up to speed please come back! (This post contains affiliate links, see details at bottom of page)
What I Love About Whole30
Besides the entire program, one of the things I love most about the Whole30 books is that the authors basically tell you to pull up your big boy/girl pants and grow a pair. They tell you "Whole 30 is not hard. Cancer is hard. Losing a parent is hard. Drinking your coffee black. Is. Not. Hard". And while I understand their point, I am here to tell you…
Whole30 Can Be Kind of Hard
Don't get me wrong. It's so worth it! And I have faith in you and know you can do it. But I also know that the first few days (or weeks) you might be cranky, have some cravings, get bored, or decide "that crazy food blogger can take her Whole30 and shove…" well I won't go there. I have done three Whole 30's and know it can get rough, but along the way I acquired some knowledge that can make it go much more smoothly for you! Yes, learn from my wisdom and experience grasshoppers. Here are my tips for "How to Do a Whole30 Without Losing Your Mind"!
Commit, Commit, Commit
You have to commit. Don't be half in. Don't say "I'll try". Be all in. Swear to do 30 days, no cheating and then keep your promise to yourself. Why? Well, how many times this year did you promise yourself "today will be the day I start eating better" only to find yourself eating a Justin's peanut butter cup before noon…ok that may just be me, but you know what I am talking about right? Every time you promise yourself you will do better and fail to keep that promise it sends a message to your soul that you just aren't important enough, that you are weak, that you fail. None of that is true. When you succeed on a Whole 30 you realize you are stronger, more capable, and in control than you ever realized! So commit. Read the book. Know the rules. Do everything the book says to prepare. Commit. Commit. Commit.
Attitude is Everything!
When it comes to Whole30 or any healthy eating program, attitude is everything! Don't look at Whole30 as a diet. Look at it as an opportunity to learn a whole lot about your relationship with food. From what foods are your 'go to's' (you know, those things you eat way too much of) to what foods cause you physical, mental or emotional issues. You may just be surprised at what you find. During my first Whole30 I learned that onions were not my friend. I would never have guessed! Instead of focusing on what you 'can't have' look at all the delicious, nutrient dense foods you can have! Paradigm shift!
Make a List and Check it Twice…a Week!
Make a list of your mental and physical complaints, even if you do not believe they are related to food. It could look like this: Red patches on backs of arms, bloodshot eyes, nasal congestion, frequent headaches, achey joints, muscle stiffness, itchy skin, afternoon fatigue, weight gain, digestion problems, bloating, constipation, mood swings, lack of motivation, anxiety (wow are you a mess!). Then go back and check this list a couple of times a week while you are on the Whole30 program. Make note of the issues that have improved. It's a great way to see progress that may have otherwise gone unnoticed. I's also a wonderful source of motivation when things get tough!
Plan Your Meal Times Carefully:
Make sure your meals are not planned too far apart or too close together. You want to be hungry by your next meal but not starving. Sometimes this takes manipulating your schedule. Work it out.
When The Going Gets Tough Use Your Resources and Get Support!
When cravings strike, and they will, use your resources. Reread chapters of the book on dealing with cravings. Remind yourself that cravings and hunger are NOT THE SAME THING. When you have questions visit the Whole 30 Website. When you need motivation, recipes, support, and cheerleaders visit The Organic Kitchen's Whole 30 Facebook page. And when you need recipes visit my Pinterest Recipe board! The support is there, but you have to use it to benefit!
Don't Stuff Your Face with All the Off Limit Foods the Week Before Starting
Really, just don't.
In fact I would encourage you to eliminate at least two 'off plan' food items you love most the week before we start. That way you have a head start. A week without your two favorites means you will already be ahead of the game and your cravings will be less intense on days 1-10 of Whole 30. Make a little preemptive strike so to speak. I always give up snacking and chocolate a week before starting. That way I am used to waiting until meals to eat and my main vice has already been eliminated. After that going sugar, dairy, and grain free doesn't seem so overwhelming.
Take Advantage of The Carbs That Are Allowed:
Eat the two servings of fruit allowed with meals every day, especially in the beginning. Eat the potatoes (sweet and otherwise) and load the plate with veggies. This will really help with cravings and energy levels. I will be posting recipes on the blog, the Whole 30 Facebook page and Pinterest Recipe board every day so you will have a wide variety of delicious healthy foods to choose from so you will never be bored! And remember that on this plan you will be eating food that many can only dream of eating. Fresh, healthy, seasonal food everyday. Food like this…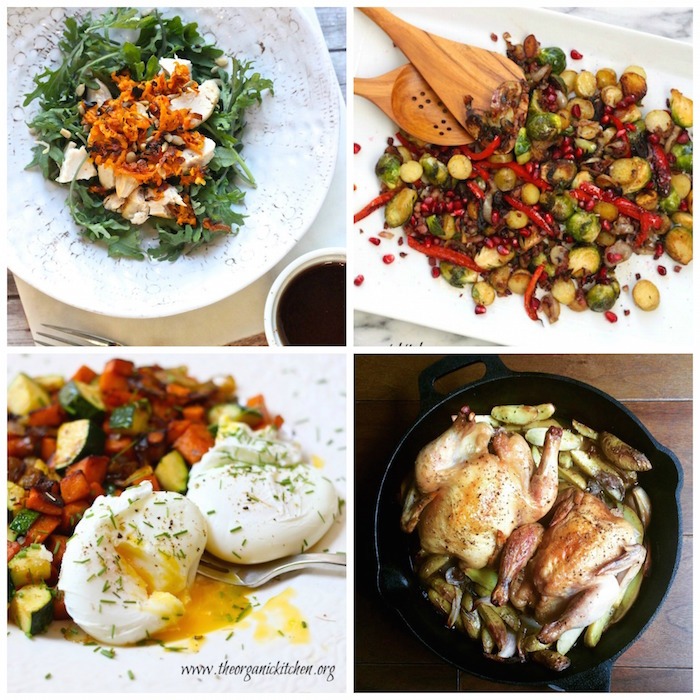 Prepare!
You cannot begin a Whole 30 unprepared. Whole 30 requires planning and cooking. Yes, cooking. So….
Read the book. Study it. Know the rules and the science behind what and why you are doing what you are doing.
Clean out the pantry of all off plan foods. No, don't eat it all! Just toss it, give it to a friend or a food bank. If it's in the house you will cave in a weak moment and we don't want that.
Restock the pantry/fridge with plenty of Whole 30 legal foods.
Batch cooking! This saves me on Whole 30. Set a few hours aside on whatever day works for you each week to prep food in advance. Make soups, salad dressings-dips-sauces, ready to go crock pot meals, Marinades and roast a chicken. If food is easy and accessible you are far more likely to succeed!
Search out restaurants in your area that are most likely to have Whole30 friendly menu items so when you are asked to lunch or dinner you can suggest a place!
Have a list of distractions so when cravings hit, you pick up the list and have an immediate idea of how to distract yourself until the cravings pass. (ex: walk the dog, call best friend, get on treadmill, work on hobby, clean out a drawer, I am sure you can think of more interesting things than me.I have one more useful tool to share!
If meal planning isn't your bag consider using meal delivery! There are so many meal delivery options out there that offer Whole30 compliant recipes. The meals come to your door, all you have to do is cook them, or in some cases simply reheat!
MAY I PLEASE ASK A LITTLE FAVOR?
We small bloggers need all the help we can get. Subscribing and sharing on social media is very appreciated!
All photos and recipes are copyrighted by Linda Spiker.
Post tags: Gluten free, grain free, dairy free