If you are a big fan of 20 minute meals with big flavor, you'll be a fan of this Pesto Salmon (Whole30-Keto-Low Carb)! It's got everything: protein, healthy fats, fresh herbs, lots of flavor, and it's pretty!
(This post contains affiliate links. I may make a commission from sales but your price remains the same.)
Let's Talk Salmon:
Salmon, especially wild caught, is high in those Omega 3 fats that support brain brain function. It's also high in protein. Both of these nutrients are vital for good health. Now let's talk about how to make sure you get the freshest fish in the window!
1. It's best not to buy fish wrapped in plastic. You should be able to smell the fish you are buying. I always buy mine from a fishmonger I trust. If he is handling it, cutting it etc… he will know if it's not fresh.
2. Always buy fish the day you plan on making it, that way if your meal gets pushed back a day or two you can still use it.
3. When selecting fish always point to the piece you want. In stores the freshest fish is placed in the front of the window, closest to you, and the fish from the day before is placed in the back, closest to the fishmonger. So when you are looking at the fish closest to you and ask for it, he pulls it from the back. It doesn't mean there is anything wrong with that fish from the day before, it's just not the freshest…and you want the freshest.
4. I always recommend eating wild caught salmon. It's just plain better for you, the fish and the environment!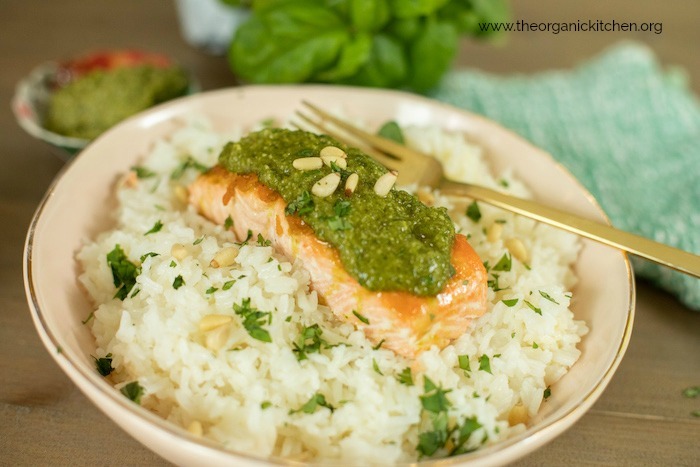 The Dairy Free Pesto:
I am all about fresh basil pesto. It makes just about everything taste better, the color is exquisite and the smell is heavenly!  Traditional homemade pesto is made with Parmesan cheese, so how do we get that creamy texture and cheesy savory flavor without the Parm? We use nutritional yeast. Nutritional yeast will make your pesto just as creamy and just as flavorful (if not more) than Parmesan. Nutritional yeast  packs more than flavor, in fact it is loaded with B vitamins, trace minerals, and all nine amino acids making it high in protein!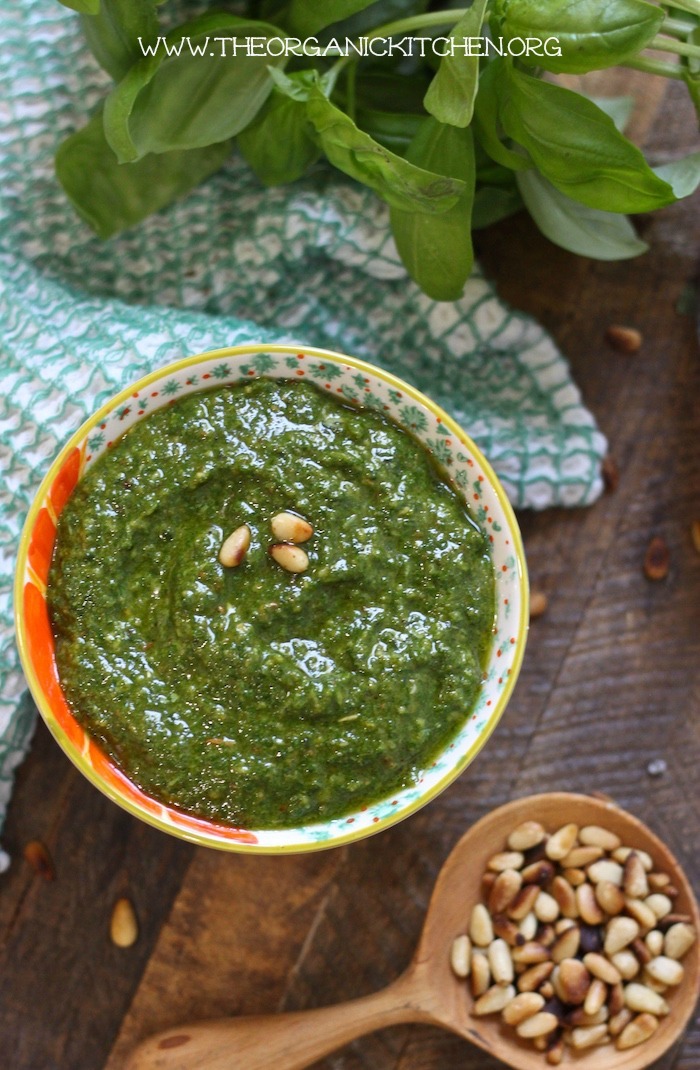 Serving Suggestions:
Because the pesto in this recipe is quite strongly flavored, I recommend serving it with simple side dishes. This salmon works great served on cauliflower rice. (If you aren't carb conscious or on Whole30 you can also serve over white or brown rice) I think simple blanched green beans (without the garlic) would be a great idea!
The Recipe: Pesto Salmon (Whole30-Keto-Low Carb)
Tips and what you need: I like to buy a small basil plant at the grocery store to make pesto because it saves money and you can keep using it. Plus the plant leaves are much fresher that cut leaves. You will need nutritional yeast, and a food processor or blender. (<—I love my Blendtec!)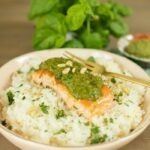 Pesto Salmon (Whole30 - Keto - Low Carb!)
A delicious quick and easy low carb salmon topped with dairy free fresh basil pesto
Ingredients
For Pesto:
2-3

medium sized garlic cloves

2

cups

fresh basil leaves, packed

1/3

cup

roasted pine nuts (or roasted walnuts)

3

Tablespoons

nutritional yeast (a dairy free cheese substitute)

1/3

cup

extra virgin olive oil

Sea salt and freshly ground ,pepper to taste
For Salmon:
4

6 0z

salmon filets, skin on

sea salt, to taste

freshly ground pepper, to taste

1-2

tablespoons

olive oil, enough to generously coat the pan
Instructions
Preheat oven to 350 degrees and place rack in center of oven.
For Pesto:
Pulse garlic in food processor till minced. Add basil leaves, brewers yeast and nuts. Puree in processor, slowly adding olive oil till desired consistency. Salt and pepper to taste. Place a nice spoonful of pesto on top of each salmon filet and enjoy!
For Salmon:
Lightly sprinkle salmon with salt and pepper. Heat an oven safe pan on cooktop med/high for three minutes. Add enough olive oil to lightly coat the bottom of pan and allow oil to get hot but not smoking.

Carefully place salmon skin side up on pan…you should hear the "pshhhh" sound. Cook for 3-4 minutes or until salmon is golden and crispy. Gently turn skin side down and sear for one more minute.

Now transfer pan to preheated oven and cook for 8-10 minutes depending on how thick the salmon is. When done, remove from oven. To serve, remove salmon from skin by sliding your spatula between the skin and meat of the salmon (see page…) This should be very easy, the skin will stay in the pan. Place salmon on a plate and top with pesto.
MAY I PLEASE ASK A FAVOR?
We small bloggers need all the help we can get. Subscribing and sharing on social media is very appreciated!
STANDARD FTC DISCLOSURE and Privacy Policy: In order for me to support my blogging activities, I may receive monetary compensation or other types of remuneration for my endorsement, recommendation, testimonial and/or link to any products or services from this blog. Please note that I only endorse products that are in alignment with The Organic Kitchen's ideals and that I believe would be of value to my readers.The Organic Kitchen is a participant in the Amazon Services LLC Associates Program, an affiliate advertising program designed to provide a means for sites to earn advertising fees by advertising and linking to Amazon.com. View The Organic Kitchen's Privacy Policy