Can you keep a secret? I am going to tell you something but you can't say anything to anyone, promise? Robert Redford is my neighbor! Keep it under your hat. To be honest, Mr. Redford and I have never met, but he lives very nearby our little cabin at The Sundance Mountain Resort. I am sure one day we will meet and he will ask me for my autograph and a selfie, but until then he will just have to dream about it. And you can dream about this Pasta with Mint Pea Sauce and Heirloom Tomatoes from the Sundance Foundry Grill!
About Sundance:
In 1969 Robert (yes we are on a first name basis now) bought the land now known as Sundance and named it after the character he played in the movie Butch Cassidy and the Sundance Kid. Of course Sundance is a ski resort but it's also an arts community, home to the Sundance Film Festival and host to plays and a summer concert series in the outdoor amphitheater. You can read more about the history of the Sundance community here.
My husband and I love the time we spend on this mountain. As you may or may not know we are empty nesters now. After 30 years of raising a slew of kids we can actually do what we want when we want. So what do we do now that we are finally kid free? We go visit the kids of course! Luckily several of our children (and grandchildren) live in the beautiful state of Utah. So we travel up from California about once a month to spend a few days at The Sundance Resort riding bikes along the Provo river, hiking to waterfalls and just relaxing and enjoying the beautiful mountains.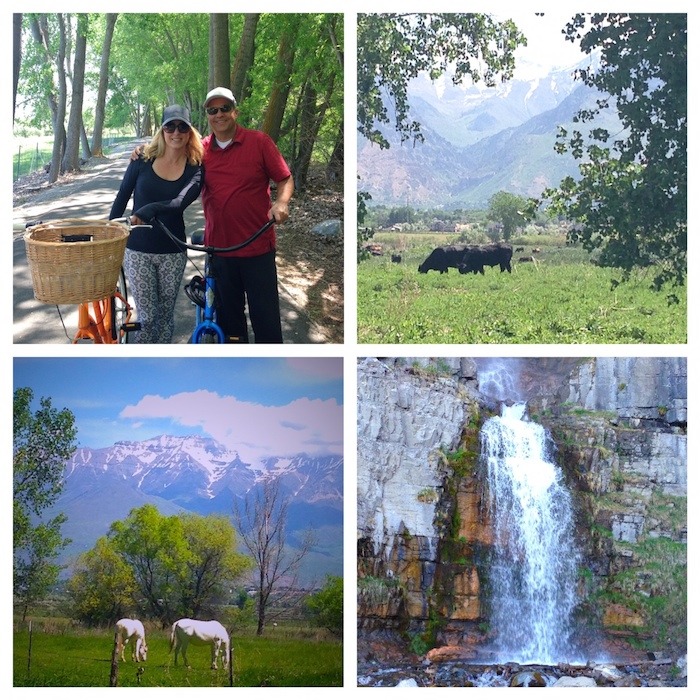 The Foundry Grill:
Of course when we travel we like to eat out and of two of our favorite dining spots are found right on the mountain, The Foundry Grill and The Tree Room. At Sundance Mountain Resort, dining is considered an art form. Executive Chef David Mullen uses fresh ingredients and locally sourced organic produce because he believes it simply tastes better. This philosophy is integrated into all the Sundance Mountain Resort dining venues. My husband and I love the ambiance and the welcoming staff as much as we enjoy the incredible seasonal food.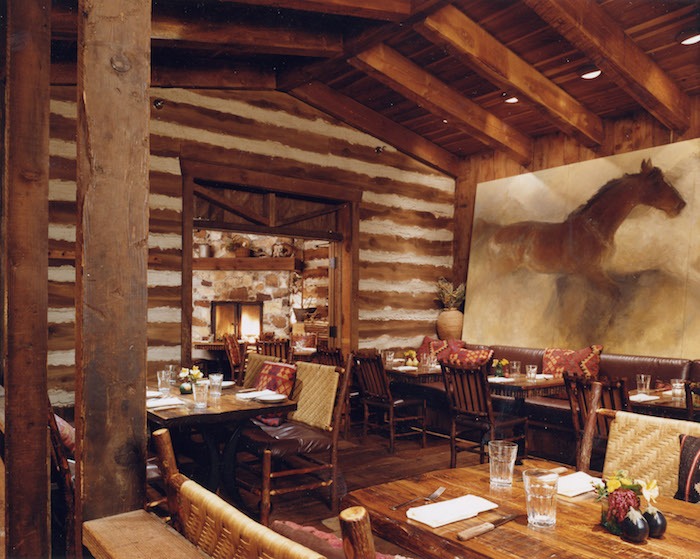 And speaking of incredible seasonal food, The Foundry Grill is sharing one of their mouthwatering dishes with The Organic Kitchen today! This is The Foundry Grill Garganelli Pasta with Mint Pea Sauce. (Photo courtesy of The Sundance Resort)
When you see a Garganelli pasta you may think it looks a lot like a Penne Rigate but there are differences, subtle though they may be. A Garganelli pasta is made from a pasta square rolled into a tube with a visible seam, and the ridges of the pasta run perpendicular to the sides of the noodle rather than the length of the noodle like the penne rigate.
Unfortunately when I recreated the dish I could not find a Garganelli pasta! So I used penne rigate in my version. But really no matter what pasta you use, with fresh colorful ingredients like this you know it's going to be amazing…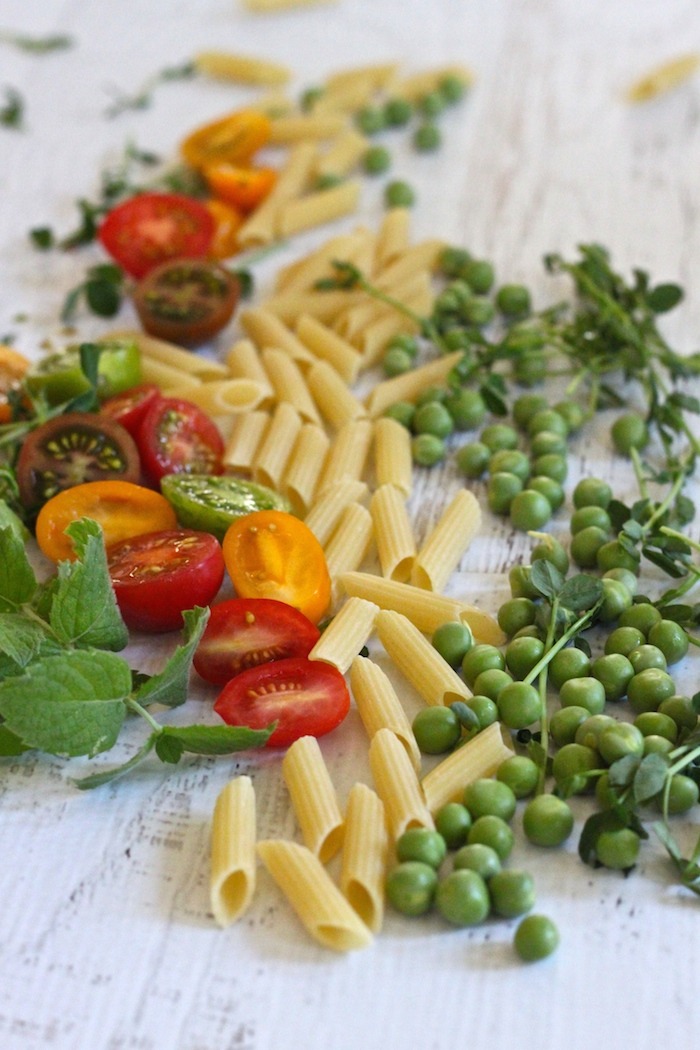 The Pasta:
This chilled pasta only takes minutes to prepare. I spent 15 minutes making it, a half an hour photographing it and about 30 seconds eating it. Have I mentioned I love my job?
Three simple ingredients are used in the fresh mint pea sauce: blanched peas, mint leaves and broth. Just toss with pasta, top with more blanched peas, parmesan cheese, heirloom tomatoes and peas shoots…that's it! A fresh, light pasta dish with just a hint of mint! I picked this mint straight from my herb garden.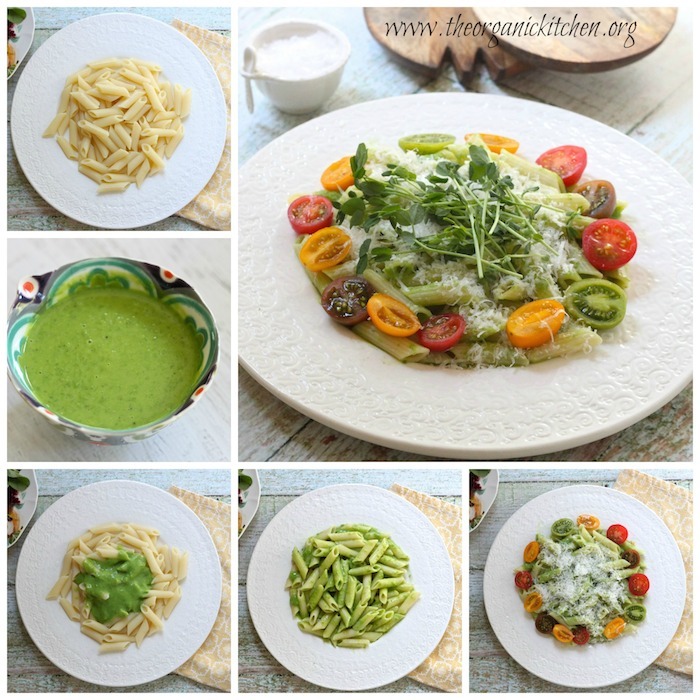 The Recipe: Garganelli Pasta with Mint Pea Sauce and Heirloom Tomatoes
You will need: pea shoots (if you can't find them see if your market carries microgreens, they make a fine substitute), a microplane for grating Parmesan, broth (preferably homemade, my recipe here) and a good quality blender. I use Blentec. If you want to make this pasta gluten free I recommend Jovial gluten free pasta!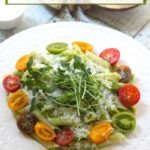 Pasta with Mint Pea Sauce ~ My Favorite Restaurants Series Part 3
This light and refreshing pasta is truly unique, takes minutes to make and is a real eye pleaser! The original pasta calls for Garganelli pasta but I could not find it, so I subbed with penne.
Keyword:
easy dinner recipe, easy pasta recipe
Ingredients
4

cups

Garganelli Pasta

cooked to package instructions, do not overcook!

3

cups

fresh peas

divided and blanched (if out of season use frozen)

1

cup

vegetable broth

I used my chicken broth and it was delicious too

6

mint leaves

2

cups

heirloom cherry tomatoes

halved

2

cups

parmesan cheese freshly grated

1/2

cup

pea shoots

Sea Salt and Pepper to taste
Instructions
Place a small pot with a few inches of water on high heat, bring to boil.

Pour fresh peas into pot and allow peas to boil for 3-4 minutes.

Pour peas into colander and rinse with cold water.

Place 2 cups peas (reserve the rest for later) 1 cup broth, a generous pinch of sea salt, a few turns fresh pepper and mint leaves in blender.

Blend till smooth. Pour into a small bowl, cover and place in fridge to chill.

Cook pasta according to package instructions.

When al dente (to the tooth!) strain in colander and rinse well with cold water.

Toss pasta with chilled pea sauce, you may not need all of it.

Place 1 cup pasta on each plate,.

Sprinkle with a bit of sea salt and pepper.

Add a 1/4 cup blanched peas to each plate, sprinkle with Parmesan cheese.

Place heirloom tomatoes around the edges of pasta and top with pea shoots!

Serve cold. Enjoy.
I hope you love this recipe as much as I do! I also hope you have a chance to visit the spectacular Sundance Resort! You can hang out with me and Bobby, yes we are on a nickname basis now 🙂 ~ Linda Spiker
The dishes and accessories in this post are from my favorite store Anthropologie
MAY I PLEASE ASK A FAVOR?
We small bloggers need all the help we can get. Subscribing and sharing on social media is very appreciated!