When I taught my cooking classes I had a class called "When the Moon Hit's Your Eye"…yes, it was a pizza making class. We made all kinds of pizza and one flatbread, a Rosemary Flatbread with Dipping Oil and Tomatoes. It was one of my most popular classes and to this day people tell me they still make my homemade pizza and flatbread recipes.
(This post contains affiliate links from which I may make a commission. Your price remains the same.)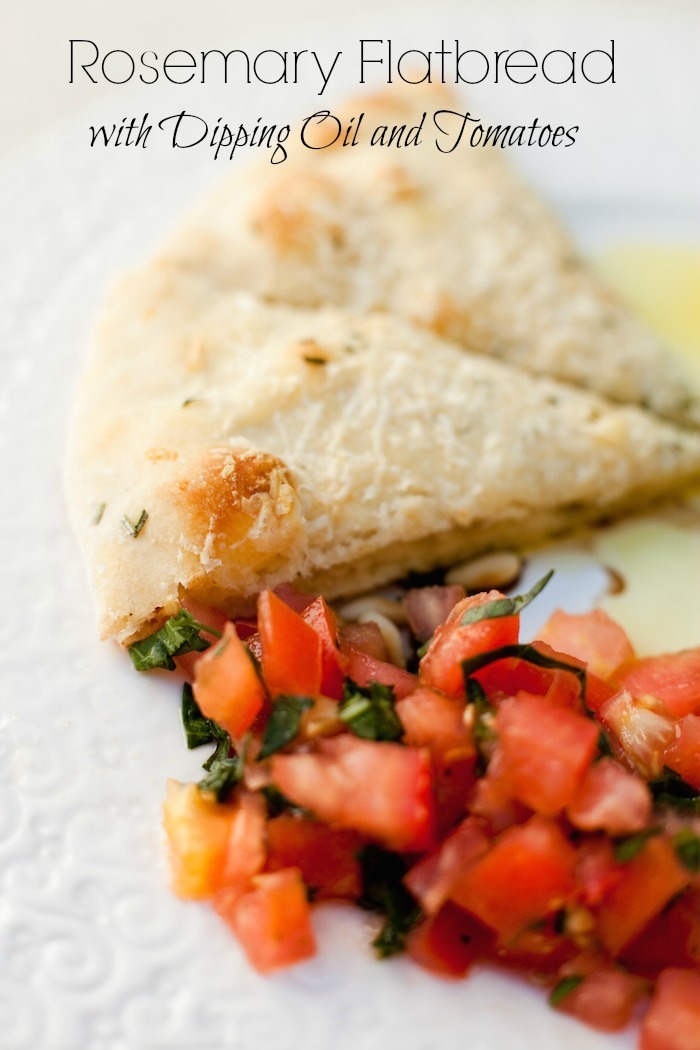 The Dough:
For this recipe you can use my home made dough. I highly recommend it. But you may also use store bought fresh dough. Whole Foods market and Trader Joe's both sell fresh dough, so feel free to take the short cut if you wish!
I love picturing my students with their families or friends rolling out dough and anticipating the delicious outcome of their work. I hope this tutorial makes you feel confident enough to try this recipe at home. Making flatbread is really fun.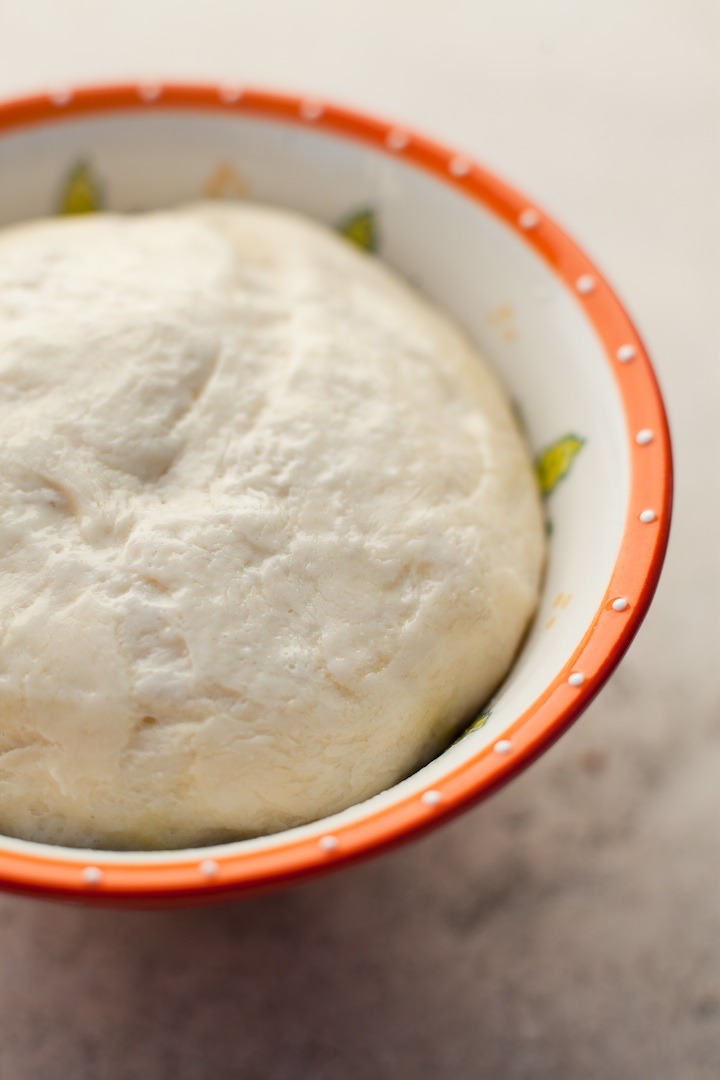 THE TOOLS:
There are a few items that make pizza making a whole lot easier:  a rolling pin, a ceramic pizza stone, a pizza paddle, corn meal and a pizza slicer. (affiliate links)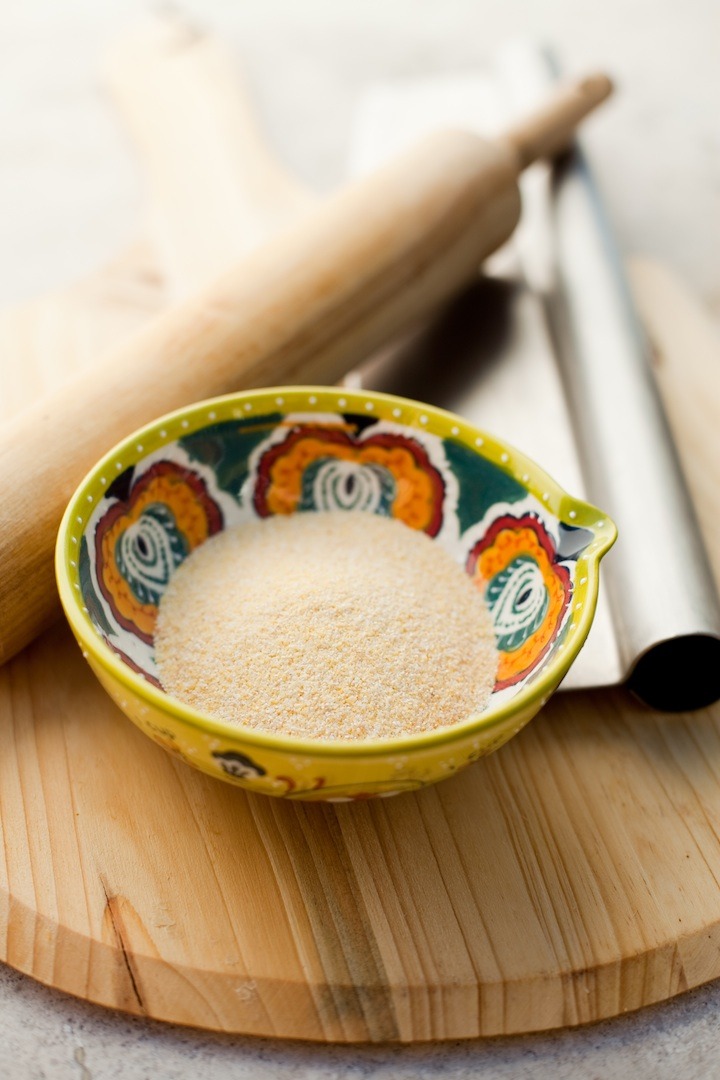 WHY A STONE?
I prefer using a pizza stone rather than a metal pan. It cooks more evenly and creates that crispy crust! Always put the stone into a cold oven on the bottom rack and then preheat at 450 degrees for at least a half hour before placing dough on stone. If you add a cold stone to a hot oven it could crack. Notice how well season my stone is. Obviously, I use it a lot!
Why corn meal you ask?
Good question! Once your dough is rolled you sprinkle cornmeal on top of the paddle for easy transfer of dough onto the pizza stone. Placing a layer of corn meal on the paddle allows your pizza to slide right onto the stone with a little back and forth motion.. If you forget this step you will be very sorry! 
Now For The Fun! Making the Flatbread!
First, we roll out that beautiful dough!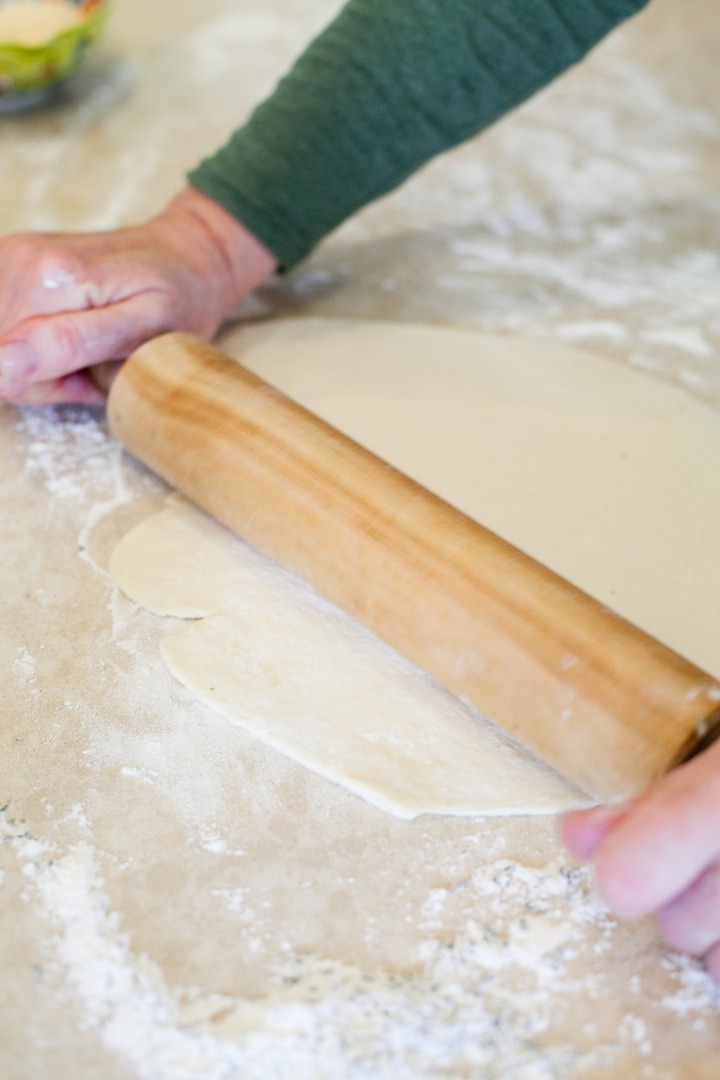 Then we brush dough with olive oil and sprinkle with freshly grated Parmesan and rosemary, bake and voila! A gorgeous flatbread!
Slice…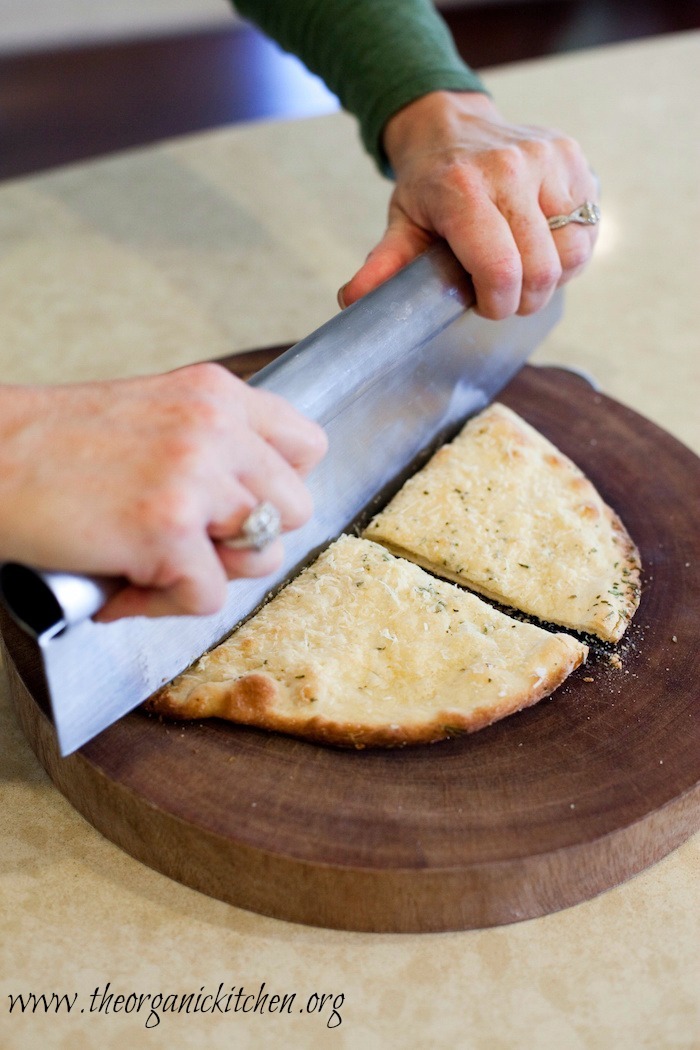 …and serve with dipping oil and balsamic and tomatoes!
Honestly, so good!
The Recipe: Rosemary Flatbread with Dipping Oil and Tomatoes
Tips and what you will need:  See my step by step dough tutorial here. There are a few things you need for really great pizza, a rolling pin, a ceramic pizza stone, a pizza paddle, corn meal and a pizza slicer. (affiliate links)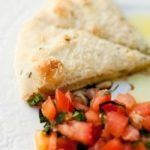 Rosemary Flatbread with Dipping Oil and Tomatoes
You can make this flatbread with fresh store bought dough or use my homemade recipe linked above.
Keyword:
easy appetizer recipe, kid-friendly recipes, party recipe
Ingredients
Flatbread:
Enough pizza dough for 2 nine inch flatbreads (see recipe linked above for homemade dough)

3

T

freshly chopped rosemary

Olive oil

1-1 ½

cups

freshly grated Parmesan cheese

Flour

Sea Salt

Corn meal
Tomato Topping
2

cloves

garlic

finely chopped

1

T

olive oil

4

Tomatoes

diced

1

T

Balsamic vinegar

¼

Cup

Parmesan cheese

finely grated

Pepper

Sea salt

Roasted Pine Nuts

optional
Instructions
Remove dough from refrigerator and allow to rest on counter for 30 minutes. Place pizza stone on oven rack in the lowest position. Preheat oven to 450 degrees allowing stone to heat for at least 30 minutes before place pizza on stone.
Flatbread:
Roll dough with rolling pin on a floured surface till you have an 8-9 inch pie. Cover pizza paddle with a thin layer of corn meal and place dough on paddle. Pierce dough with fork several times over entire surface to prevent bubbling. Brush with olive oil and sprinkle with ½ -3/4 cup Parmesan cheese. Then sprinkle with 1 ½ T rosemary. Place a couple of pinches of flaked sea salt between thumb and forefinger and sprinkle over dough. Use paddle to place dough on preheated pizza stone and bake for 7-9 minutes (or until crispy and slightly golden). Remove from oven; allow to rest for one minute. Slice and serve with olive oil and balsamic or tomato topping.
Tip! How to transfer dough from pizza paddle to pizza stone:
Place tip of paddle toward the back of the pizza stone. Then use sort of a jerky back and forth motion to slide the pizza off paddle and onto the stone. This can take a little finesse, but you'll get it.
Tomato topping:
Cut your tomatoes in half and scoop out seeds. Dice tomatoes. Place tomatoes in bowl and sprinkle with garlic, salt, pepper, and roasted pine nuts. Drizzle with olive oil and a little balsamic, stir a little. Add Parmesan just before serving. Place on top of flatbread and prepare to be happy.
Enjoy my friends! ~ Linda Spiker
MAY I PLEASE ASK A LITTLE FAVOR?
We small bloggers need all the help we can get. Subscribing and sharing on social media is very appreciated!