If you're ready for something new and different for a holiday main course, I am thrilled to suggest this beautiful and easy to make Holiday Pork Roast with Cranberry Sauce, It's my new favorite!
(This post contains affiliate links. I may make a commission from sales but your price remains the same.)

What is Pork Shoulder?
Cut from various areas of the shoulder, pork shoulder is often called pork butt or Boston butt. These cuts are quite similar and may be used interchangeably. Pork shoulder is sold both boneless and with the bone in, usually weighing between five and 10 pounds, but your butcher is usually happy to cut smaller portions for you. This recipe calls for 3 pounds, which feeds about six people, but if you need a bigger roast for the holidays, simply double the maple spice rub and cook the same way. Pork shoulder is a fatty cut of meat, which is great because that is where the flavor is! I actually resist the urge to trim the fat until after cooking.
The Holiday Pork Roast with Cranberry Sauce:
This holiday roast looks pretty fancy, but I promise it's very easy to make and once it's in the oven there is no work involved at all. Here's the process: smother roast in a maple spice rub and place in the fridge overnight. The next morning wrap in foil and place it in the oven to slow roast for 10 hours. Seriously, that's it. Rub, wrap, cook! Once cooked, you simply slice and drench in cranberry sauce!
The Maple Spice Rub:
This rub is actually a paste rather than a dry spice rub. I use Dijon mustard and maple syrup as the base and then add paprika, garlic, onion, chili, cayenne pepper and sea salt, then whisk it all up to form a thick paste, then I just slather that pork roast in all that flavor! As the pork roast all that flavor permeates that tender meat…and wow, wow, wow!

The Cranberry Sauce:
Again….so easy! This cranberry sauce is made in about 5-6 minutes and only has four ingredients: cranberries, orange zest, orange juice and brown sugar. It's the perfect sweet, tart, tangy compliment to this spicy pork roast.
Use Your Leftovers in These Recipes:
Got leftovers? Use your pork in my Carnitas Tacos, Easy Huevos Rancheros, or my Pulled Pork over Sweet Potato Rice.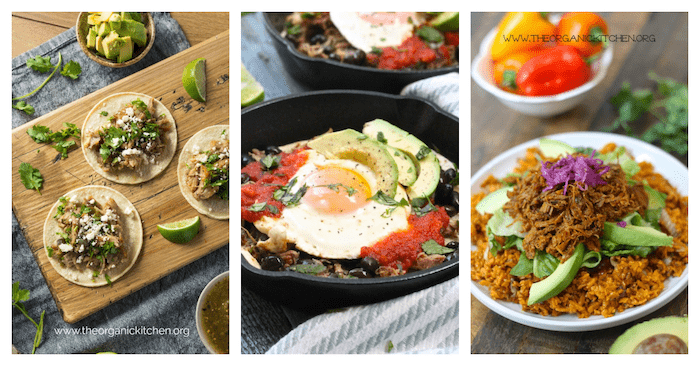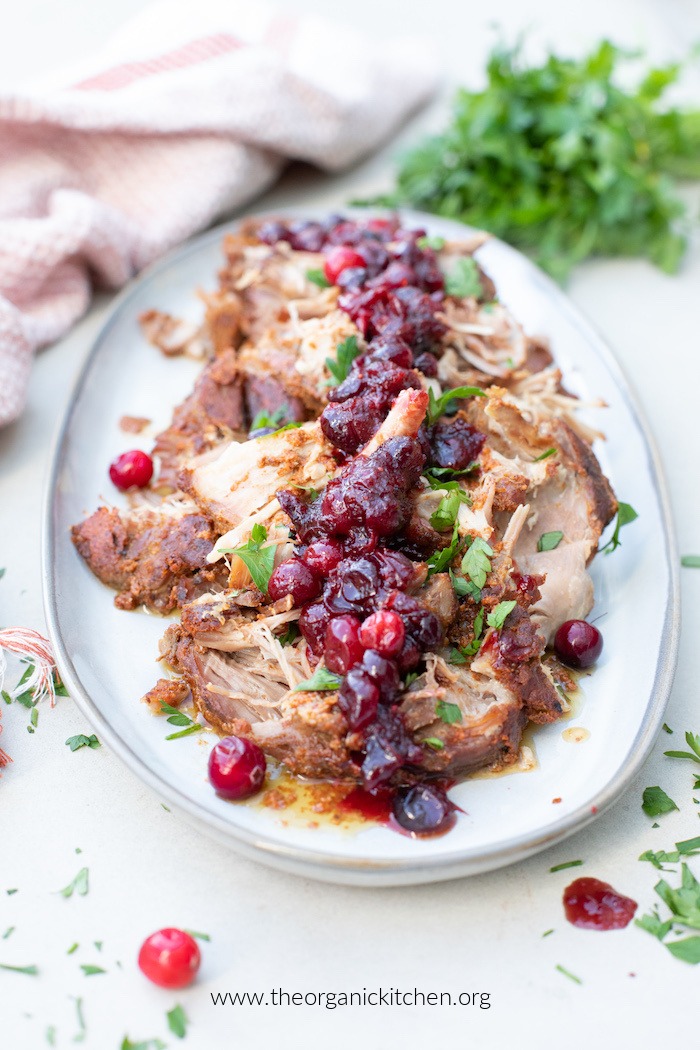 The Recipe- Holiday Pork Roast with Cranberry Sauce
What you need: heavy foil, a microplane (for zesting oranges) and hand juicer..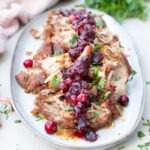 Maple Spice Rubbed Pork Roast
A tender, delicious slow roasted pork shoulder smothered in a maple spice rub! This recipe requires the roast resting in the fridge overnight and cooking for 10 hours. Plan for that! If you double the size of the roast, make sure to double the spice rub as well.
Course:
dinner, Main Course
Keyword:
holiday roast, pork butt, pork roast
Ingredients
For Pork:
3-3 1/2

pounds

pork shoulder (also called pork butt)

2

tablespoons

mustard (any kind, I used Dijon)

2

tablespoons

maple syrup

2

tablespoons

sweet paprika

1

tablespoon

sea salt or kosher salt

1

tablespoon

chili powder

1

tablespoon

dry mustard

1

tablespoon

garlic powder

1

tablespoon

onion powder

1

teaspoon

black pepper

1/4

teaspoon

cayenne pepper

2

tablespoons

chopped parsley or chives for garnish if desired
For Cranberry Sauce:
juice and zest of three juice oranges

3

cups

fresh cranberries

3/4

cup

brown sugar
Instructions
For Pork:
Trim fat roast only if absolutely necessary (more than 1/2" on the bottom of roast) Personally I love all the flavor fat provides and trim it after cooking.

Mix all other ingredients in a small dish until it forms a paste. Rub roast on all sides with paste. Wrap back up and leave in the fridge overnight.

Preheat oven to 350 degrees. Wrap roast tightly in heavy foil, making sure the foil is folded tight with the seam on top of the roast so juices remain inside. (If you lose some juices, no worries) Place wrapped roast on a rimmed cookie sheet or pan and place in oven for 10 minutes. Turn heat down to 225 degrees. Slow roast for 10 hours. Allow to rest for 15 minutes before unwrapping.

Slice meat (it will literally fall apart) and remove the fat layer from the bottom of meat. Arrange on a platter, spoon juices over pork then spoon on cranberry sauce. Garnish with parsley or chives if desired
For Cranberry Sauce:
Place juice, zest, sugar (apple if using) and cranberries into a pan and bring to a simmer. Stir frequently. When cranberries begin to 'pop' simmer just a couple more minutes, turn off heat. Sauce will thicken even more after it cools.
MAY I PLEASE ASK A FAVOR?
We small bloggers need all the help we can get. Subscribing and sharing on social media is very appreciated!