Hello and happy new year! To start the new year off right Sun Basket and I are teaming up once again to bring you a delicious Paleo/Whole 30 compliant meal: Steaks with Chimichurri and Roasted Harissa Sweet Potatoes.
(This post contains affiliate links. I may make a commission off sales but your price remains the same.)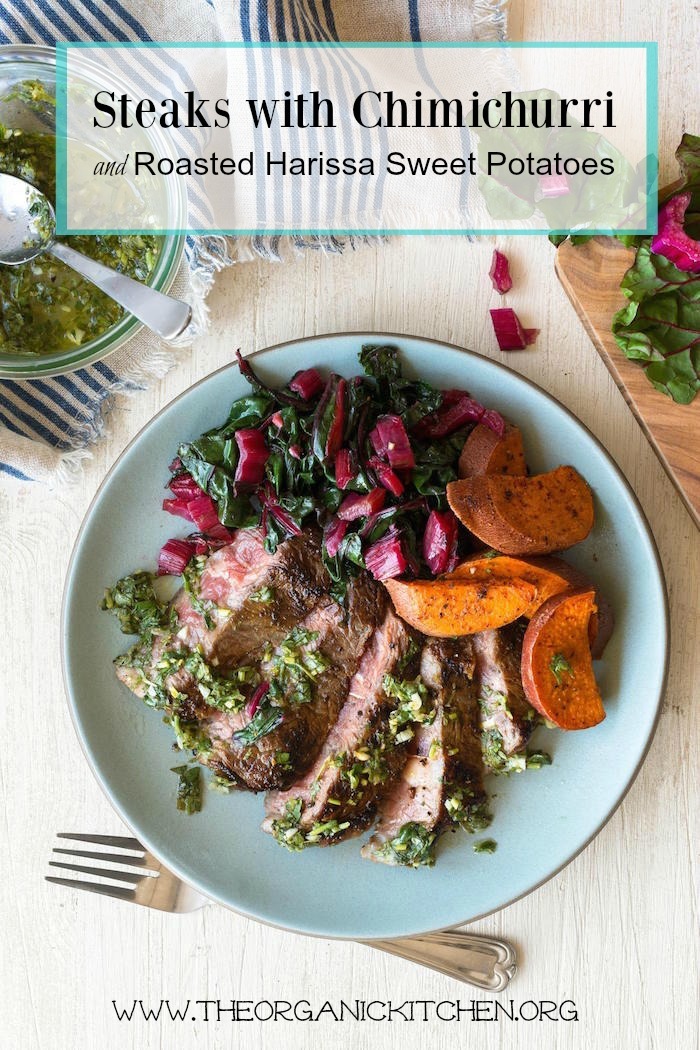 Sun Basket will be kicking off 2017 with their new "Healthy New Year" Campaign:
The new year is a time to refocus on goals and resolutions, whether they be cooking more, following a healthier diet, or spending more time with friends and family! Sun Basket has all of your resolutions in one delicious delivery.
Get 3 Meals Free from Sun Basket! Fresh organic ingredients and easy recipes delivered, with Paleo, Gluten-free and Vegetarian options.

And Sun Basket meals are so easy to prep and cook. Just pull a Sun Basket bag out of your fridge, do a little dicing and slicing, a little sautéing or baking and voila! You have an incredible, delicious, healthy meal in about 30 minutes.
The Meal:
Argentina is famous for its beef, so it makes sense that they have a great steak sauce. This Chimichurri is a garlicky blend of parsley, oregano and cilantro seasoned with lime juice instead of the more traditional vinegar. Its tangy flavor is absolute magic with these grilled steaks. The sweet potatoes are tossed in olive oil and harissa powder, then roasted in the oven while you prepare the chimichurri and cook the steaks and chard in the same pan. So easy!