(This post contains affiliate links. I may make a commission off sales but your price remains the same.)
I may not be a witch (well, I guess that depends on who you ask) but I am about to cast a spell on all who dare to enter my web(site) today. These wickedly delicious caramel apples are made the old fashioned way…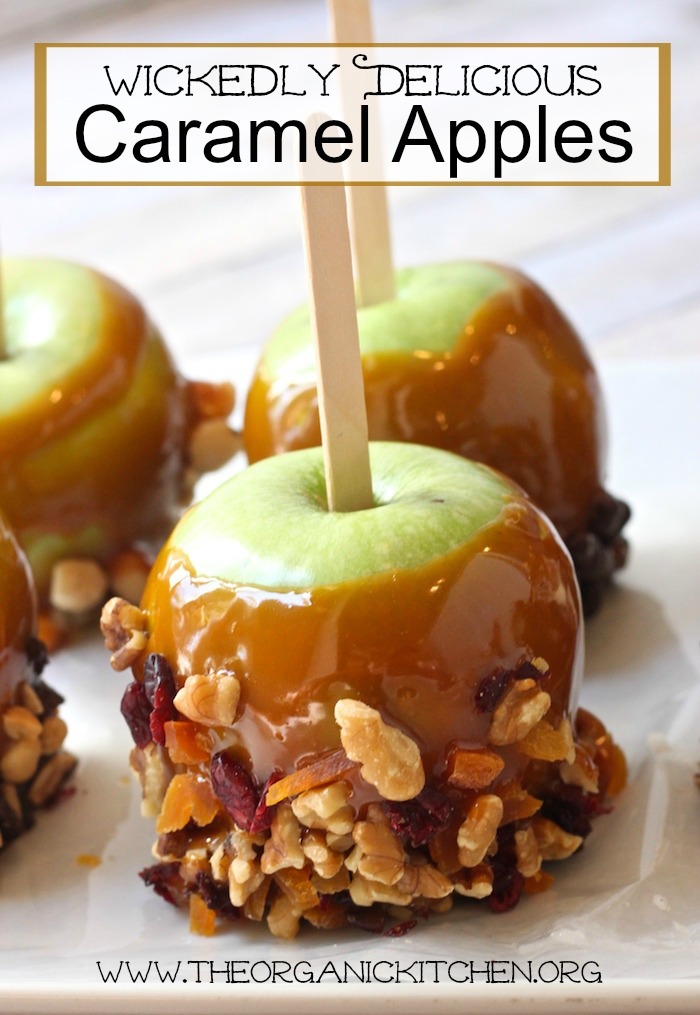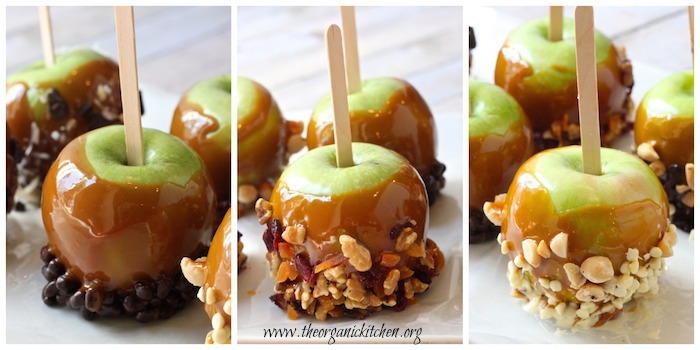 …with apples fit to poison a princess…
… dipped in caramel boiled in a cauldron. Ok, so maybe it's a Calphalon pot…(cackle, cackle)
And while the caramel is still warm the apples are rolled in eye of newt, wool of bat or witchever (see what I did there) wickedly delicious topping you choose.
Not sure you can do it you say? DON'T MAKE ME RELEASE THE FLYING MONKEYS!
I kept this bewitching recipe simple by choosing toppings you can easily sweep together with your broom! The only boil, boil, toil and trouble required is making the caramel.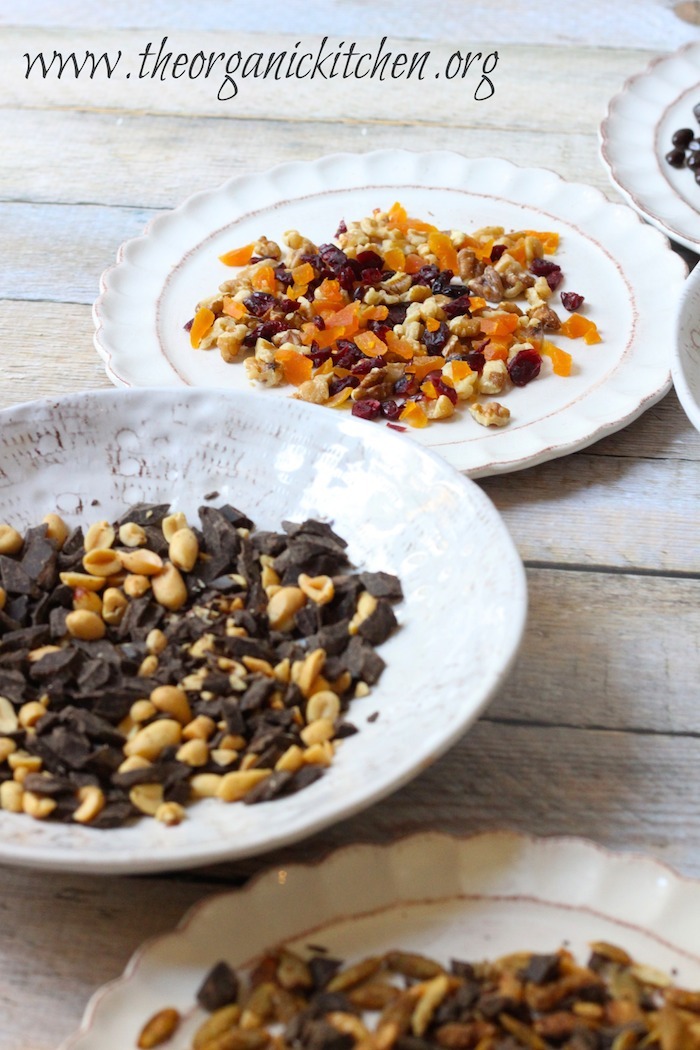 Of course you could just make plain caramel apples….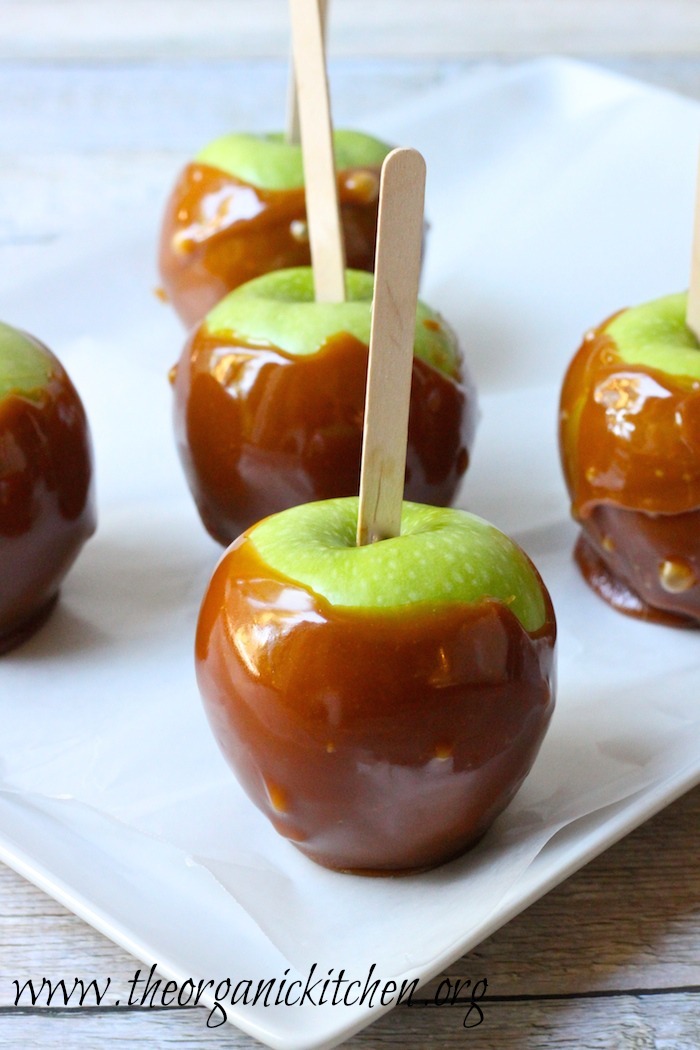 But why would you when you could make something more attractive to the eye, and soothing to the smell….like poppies, poppies….(Wizard of Oz Fans will get it)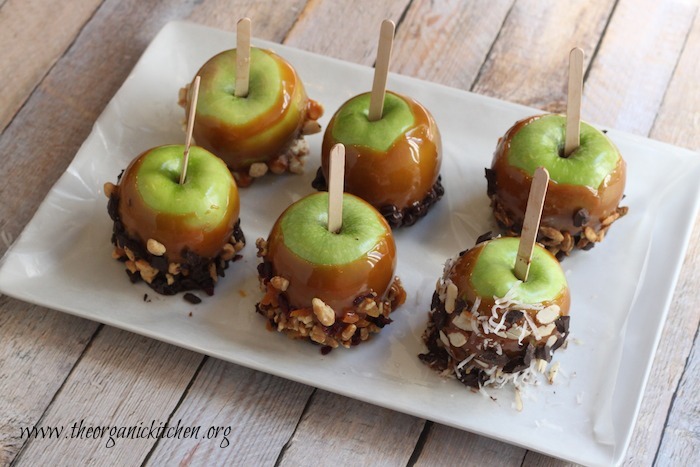 The Recipe: Wickedly Delicious Caramel Apples
You will need: A good cauldron (preferably with a rounded bottom), a silicon spatula or wooden spoon, popsicle sticks, sea salt (if making salted caramel) vanilla paste (if making vanilla caramel) and wax paper. Watch this video! It will really help when it comes to making the caramel and give you tips on staying safe! The recipe on the video is for caramel sauce, use the recipe below for apples.
Wickedly Delicious Caramel Apples
Amazing and easy to make caramel apples . You can choose your toppings, use my variations listed below, leave them plain or even make salted caramel! Be sure to watch my video tutorial before making caramel! Link above. Caramel is very hot. Make sure all ingredients are measured before starting and keep kids away from hot caramel. The kids can help with the toppings:) Do NOT use a rubber spatula, it will melt.
Keyword:
Halloween, kid-friendly recipes, no-bake dessert recipe
Ingredients
6-8

green apples

1

T

coconut oil or butter

to grease wax paper

1 1/2

cups

sugar

half stick butter

1/2

cup

heavy whipping cream

1 tsp sea salt if making salted caramel, 2 tsp vanilla paste if making vanilla caramel
My Topping Combinations:
Trader Joe's Spiced Pumpkin Seeds and Dark Chocolate Chunks

Peanuts and dark chocolate chunks

Chopped dried cranberries

apricots and walnuts

Shredded coconut

almonds and chocolate chunks,

Mini white chocolate chips and chopped macadamia nuts

Dark chocolate covered pomegranate seeds
Instructions
Before making caramel, combine all your toppings and set out in shallow dishes. Wash apples well and dry. Twist off stem and push popsicle sticks into the top of the apple. Use a paper towel to wipe wax paper with coconut oil or butter. If you place the caramel apples directly on to wax paper you will have a sticky mess.
For caramel:
Place sugar in a heavy bottomed fairly deep pan on med/high heat.

Use a wooden spoon or silicon spatula to push sugar around.

As it melts, it will first start to clump, then crystallize and finally become liquid. This takes about five minutes.

When sugar is completely melted and the color of caramel, carefully add butter (watch video for tips).

The butter will bubble up…hence the fairly deep pan. Stir till butter is melted.

When butter is completely melted, turn off heat.

Carefully add cream in a slow and consistent drizzle while stirring.

When caramel is smooth add sea salt (optional), stir. Let caramel rest for three minutes before dipping apples.
To Dip Apples:
Carefully bring pot of caramel near apples and toppings.

Tilt the pot with one hand while dipping an swirling apple with the other.

Lift apple out of caramel and continue to turn the apple (being very careful apple doesn't fall of stick and splatter hot caramel) for 30 seconds until caramel begins to harden. if the caramel is too hot it will melt toppings and run off apple when set down.

Roll in your choice of topping and sprinkle too if necessary.

Set apple on greased wax paper, set in fridge to cool, and repeat with next apple. When completely cool, remove from fridge, slice and serve.
You could serve the apples on the stick, but it's not my first choice because pointy green noses tend to get in the way. What a world! What a world!
If you serve them sliced, everyone can have a taste of each of the toppings…you, your friends and your mangey dog too!
Now be gone! You have no power here! Cackle, cackle, I'm melting…insert other stereotypical witch stuff…etc..
MAY I PLEASE ASK A FAVOR?
We small bloggers need all the help we can get. Subscribing and sharing on social media is very appreciated!