Have I mentioned that we are moving from Southern California to Gig Harbor Washington? As a lifelong Californian I truly have no idea what to expect. And in the last few months we have been making the most of the sunny Cali weather by taking weekend trips to many of our favorite local destinations, Ojai being one of them. Our favorite Ojai eatery, Azu, serves the most amazing Farmhouse Eggs Benedict on Zucchini Fritters. I came up with my own version so we can enjoy a favorite breakfast after the move!
(This post contains affiliate links. I may make a commission from sales but your price remains the same.)
Ojai: Go If You Can!
We just love Ojai. It's nestled in the mountains, just 20 minutes from the beaches of Santa Barbara and has a small town charm that is a mix of cowboy country and yoga retreats. The main street has the most charming shops, a gorgeous park, and truly fabulous food! We also love to visit Frog Creek Farm every summer for lavender cutting and the fresh produce.
This Breakfast: Options, Options, Options!
My version of Azu's Farmhouse Eggs Benedict can be made with regular or gluten free flour, or can be made grain free by using cassava flour. Cassava flour is a miracle! It allows this recipe to fit the Paleo/Whole30 lifestyle while not compromising on taste or texture! And to make this recipe Keto friendly, use almond flour, just know it won't bind quite as well as other flours.
Let's Talk About Poached Eggs…
Poached eggs are very easy to make, but a few tips can really help. First, use really fresh pastured eggs (NOT pasteurized eggs…very different!) Second, use a small pot and add a little white vinegar to the water, this prevents your egg from getting slimy. Third, use the vortex method! Wait what??? The vortex? Don't sweat it, I have a video tutorial that shows you step by step how to do it.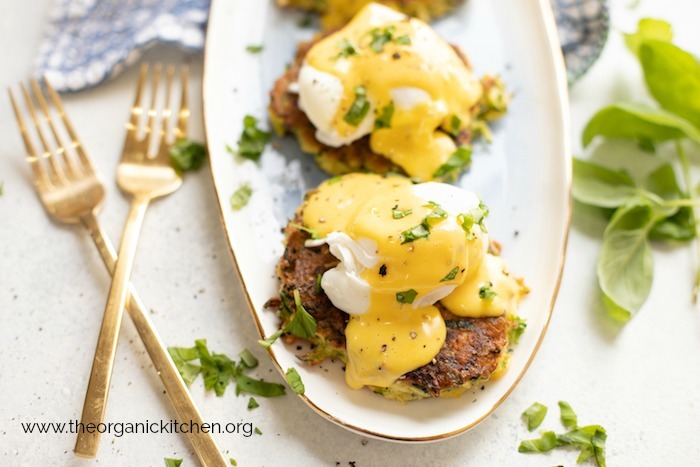 The 90 Second Blender Hollandaise Sauce:
Hollandaise sauce is usually made with butter, and you are certainly welcome to use a lovely grass fed butter in this recipe if you aren't on Whole 30, but my W30 peeps will be happy to know my sauce is made with ghee, so it's completely compliant, and honestly I think it's just as delicious as when butter us used!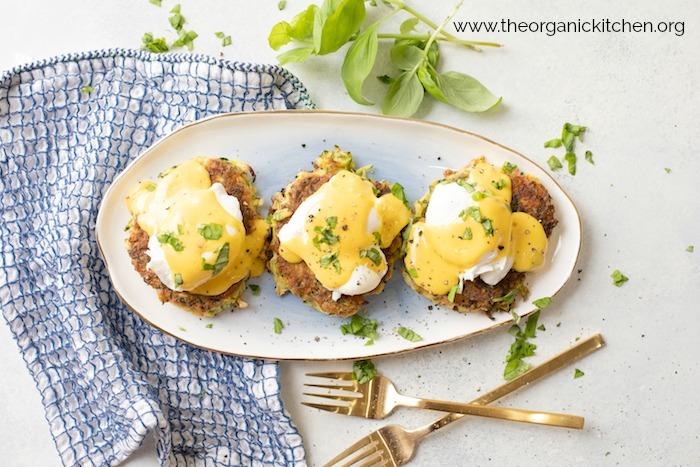 The Recipe: Farmhouse Eggs Benedict on Zucchini Fritters! (Paleo-Whole30 option)
Tips and what you need: I recommend a cast iron pan for this job. You will also need a food processor or box grater for grating zucchini. I use arrowroot powder for thickening to keep this recipe Paleo/W30. If you have no dietary restrictions you can use corn starch) Flour options include gluten free flour or to make this recipe Whole30/ Paleo I use cassava flour.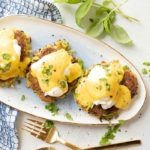 Farmhouse Eggs Benedict on Zucchini Fritters! (Paleo-Whole30 option)
A fun, fresh take on traditional Eggs Benny this Farmhouse Eggs Benedict is served on Zucchini Fritters, has a touch of basil and offers Paleo-Whole30 and keto options!
Keyword:
breakfast, eggs benedict, gluten free, keto, Paleo, whole30
Ingredients
For Fritters:
2

medium zucchini, grated (makes about 2 1/2 cups)

1

teaspoon

sea salt

1

egg

2

tablespoons

your favorite flour, I use cassava to keep this recipe W30 and Paleo (keto use almond flour)

2

teaspoons

arrowroot powder (or cornstarch if you aren't Paleo/w30)

1/2

teaspoon

freshly ground pepper

6

basil leaves, chopped

2-3

tablespoons

olive oil
For Hollandaise Sauce:
3

large egg yolks

1

tablespoon

lemon juice

pinch

of red pepper flakes

1/2

teaspoon

Dijon mustard

1/2

cup

warm melted butter or ghee (use ghee if w30)
For Poached Eggs:
3

eggs

1

tablespoon

white vinegar
Instructions
Preheat oven to 200 degrees (to keep fritters warm)
For fritters:
Grate zucchini, place in colander. Sprinkle with sea salt and toss well. Place colander in sink and allow to sit for 10 minutes.


While zucchini rests, chop basil and measure out other ingredients

After zucchini rests, place between paper towels and squeeze out excess moisture (or wring out in a clean dish towel) The more moisture you eliminate the crispier your fritter will be, you may need to do this several times with fresh paper towels.

Place zucchini in a large bowl.

Add egg, your choice of flour, arrowroot or cornstarch, pepper, and half the basil (reserving the rest for garnish). Mix well.

Heat an oven safe pan on high heat. Add olive oil, coat pan evenly . When oil is very hot turn heat to medium. Use a measuring cup to add 1/3 cup zucchini mixture to the pan. Use the bottom of the cup to press the mixture into a patty about a 3/4 inch thick

Cook until golden brown (about 3-4 minutes) gently turn patties over, and cook the second side until golden brown (another 3 minutes or so) place pan in oven to keep warm while you poach eggs and make sauce
For Eggs and Sauce:
I recommend watching the video linked above for a quick egg poaching tutorial.


Set a small pot of water with 1 tablspoon white vinegar to boil. Crack three eggs into three small dishes

When water in pot is boiling, use one hand to hold the egg dish and use a spoon in the other hand to stir water quickly, forming a 'vortex'. While water is vigorously spinning drop egg gently right into the center of the vortex, then very quickly add the next two eggs. (I usually recommend poaching no more than two eggs at a time, but since we are doing three I say go for it:)

Cook eggs 2 1/2 -5 minutes: 2 1/2 minutes makes for a runny yolk, five minutes cooks them all the way through. I recommend runny of course

While eggs cook, make 90 second Hollandaise sauce:

Melt ghee (or butter) in a small pan until very warm but not simmering and set aside. While ghee melts add add yolks, lemon juice, dijon and spices to blender

Blend for 30 seconds, then slowly drizzle in melted ghee (or butter) and blend for 30-60 more seconds. It should thicken immediately

When eggs are done to your liking use a slotted spoon or fish spatula to remove them from water and set on a paper towel.

Place eggs on zucchini fritters, pour Hollandaise sauce over eggs, sprinkle with sea salt and pepper, garnish with remaining basil. Serve!
MAY I PLEASE ASK A FAVOR?
We small bloggers need all the help we can get. Subscribing and sharing on social media is very appreciated!