When I was a little girl, I hated green beans. I used my fork to slide them off my plate into my napkin when my mom was distracted. Then I wrapped them up, said I needed to use the bathroom and flushed them down the toilet. Leave no evidence. Yes, I was a brat. That said, when I grew up green beans became delicious to me, especially Grandma Julia's Green Beans!
(This post contains affiliate links. I may make a commission from sales but your price remains the same.)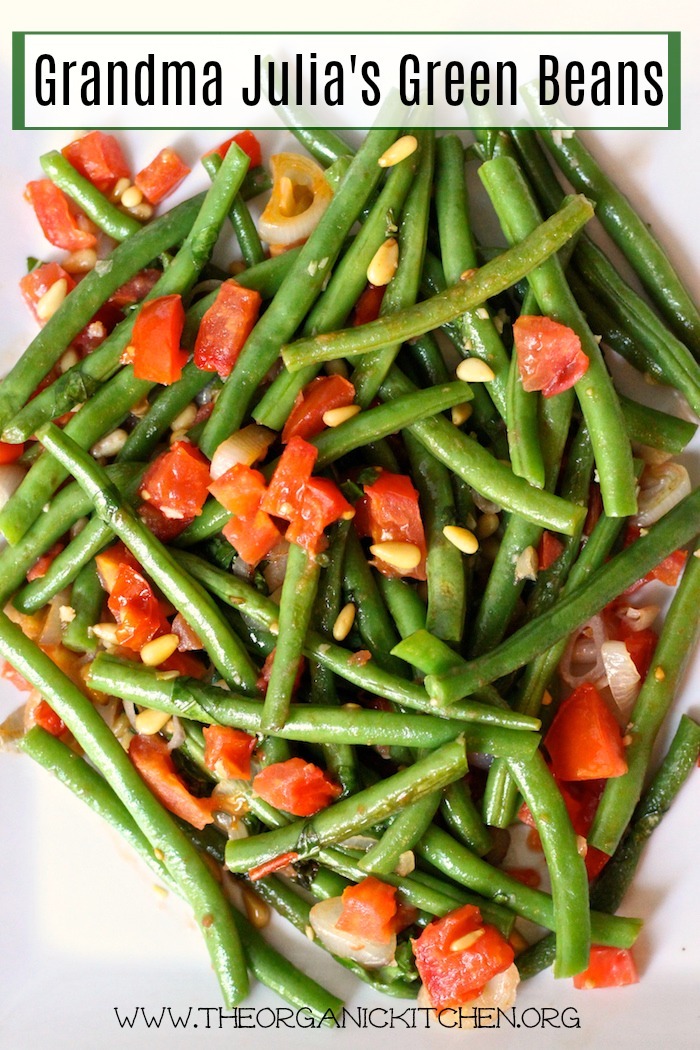 Grandma Julia's Green Beans:
I don't flush green beans down the toilet anymore, unless they come from a can. I just can't eat canned green beans…because of childhood trauma and all. But I can eat fresh green beans, sautéed with shallots, tossed with tomatoes and basil, and sprinkled with a little sea salt. Thanks to my Grandma Julia we have a wonderful fresh green bean recipe that we make almost every Thanksgiving, and a few times in between! It has morphed a little over the years, we've added the shallots and the pine nuts but the essence is still the same.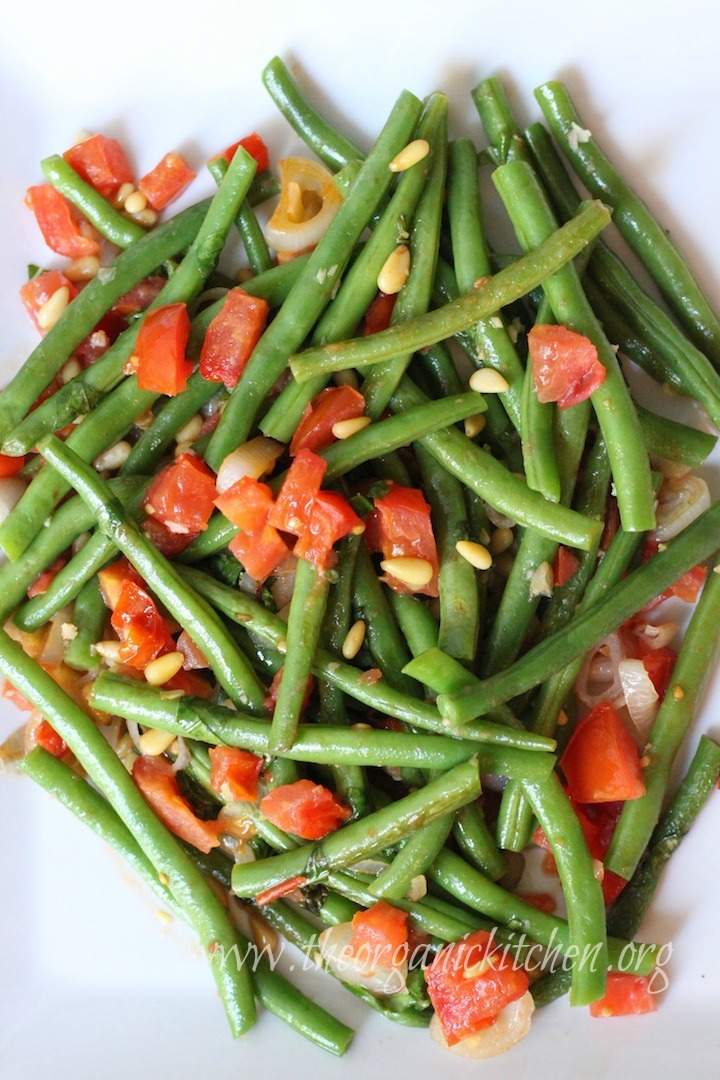 How to Chiffonade:
This recipe calls for a "rustic pesto", meaning we use some or all the ingredients of pesto but don't blend it into a paste. In this case we use olive oil, pine nuts and fresh, fragrant basil. When making these delicious green beans (that no one would ever flush) we use a technique called a chiffonade for the basil. Simply stack your basil leaves, roll as tightly as you can and slice. You end up with thin ribbons of basil.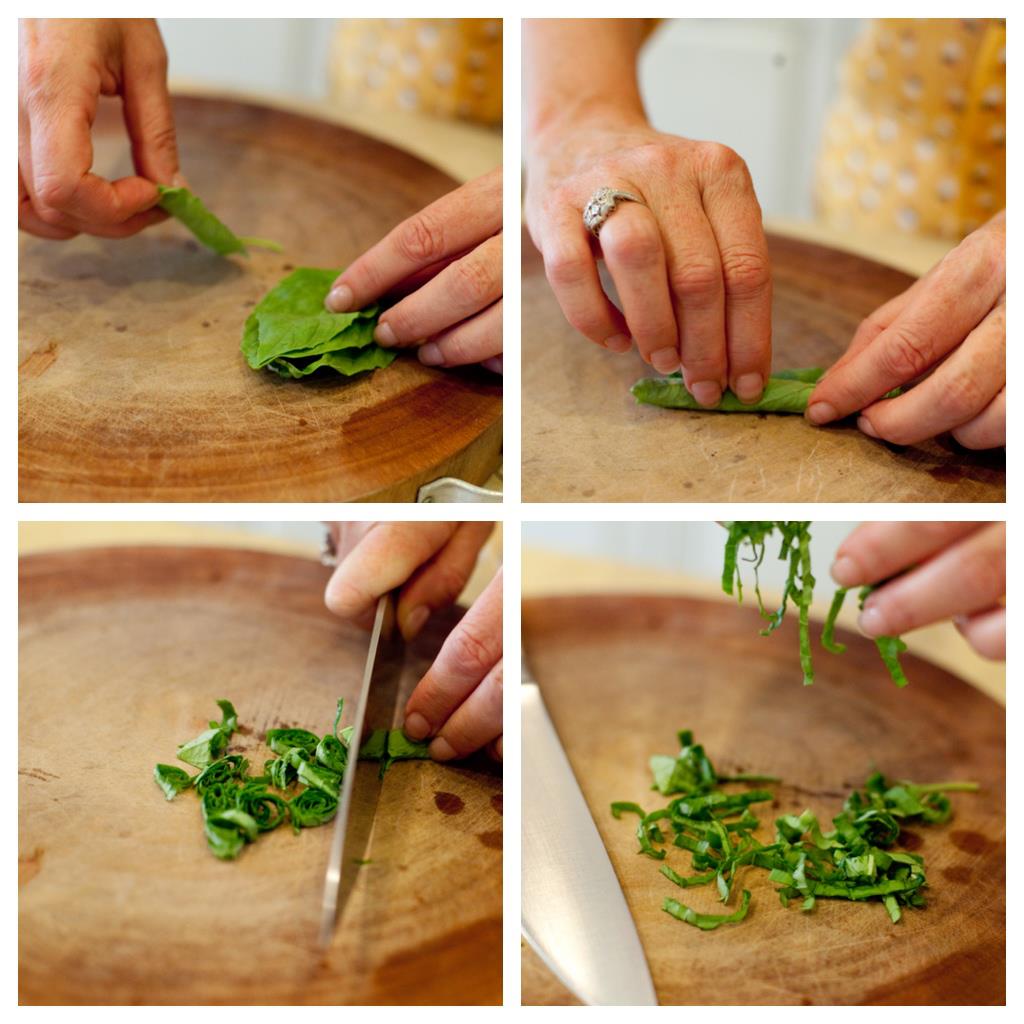 When it All Comes Together:
So beautiful! And all the colors of the holidays. But you don't have to wait for the holidays, these green beans are great served alongside almost any protein and are especially good served as a side to most Italian main courses.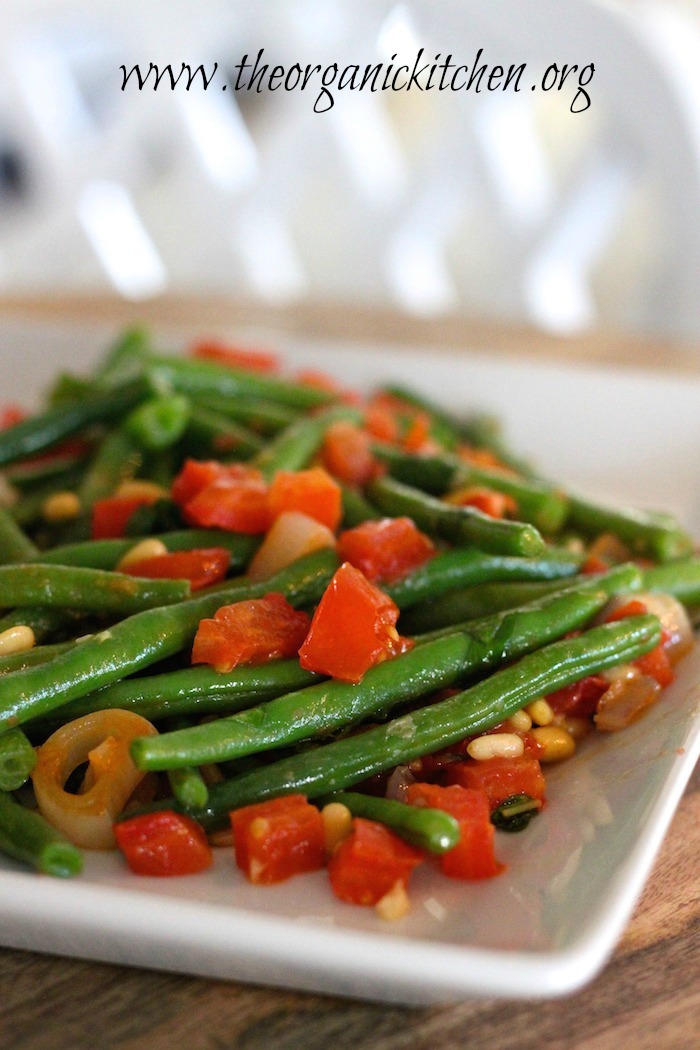 The Recipe: Grandma Julia's Green Beans
Tips and what you will need: a good knife (my favorite) and a good pan. Enjoy and keep a close eye on the kids ~ Linda Spiker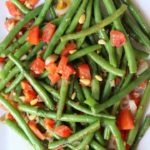 Grandma Julia's Green Beans
A beautiful recipe made with fresh green beans, shallots, tomatoes, basil and pin nuts!
Keyword:
easy side dish recipe, holiday recipe, Thanksgiving
Ingredients
1

lb.

green beans, trimmed

2

large garlic cloves, peeled and minced

3

Tablespoons

butter or olive oil

6

basil leaves, chiffonade

1

large tomato diced

2

med sized shallots, peeled and thinly sliced

sea salt

roasted pine nuts
Instructions
Prepare all ingredients while you bring a large pot of water to boil.

When water comes to a boil, place a medium sized saucepan on med-high heat. Melt butter and begin sautéeing shallots. Sauté for five minutes, stirring occasionally.

Place beans in boiling water, blanche for 3 minutes. Drain in colander then pour beans into pan with shallots.

Sauté for 3-4 minutes. Add garlic and basil, cook for 1-2 more minutes. Add diced tomato, and pine nuts, sprinkle with sea salt, toss and serve.
MAY I PLEASE ASK A LITTLE FAVOR?
We small bloggers need all the help we can get. Subscribing and sharing on social media is very appreciated!
All photos and recipes are copyrighted by Linda Spiker.
Whole 30, grain free, gluten free, dairy free option