Salmon fans you are going to be very happy, and people who aren't quite sold on salmon yet, you will be too, because The Organic Kitchen's "Tropical Salmon" is crispy on the outside, tender on the inside and topped with an amazing mango salsa, making it a favorite at Casa de Spiker. And it's just so darned pretty!
(This post contains affiliate links. I may make a commission from sales but your price remains the same.)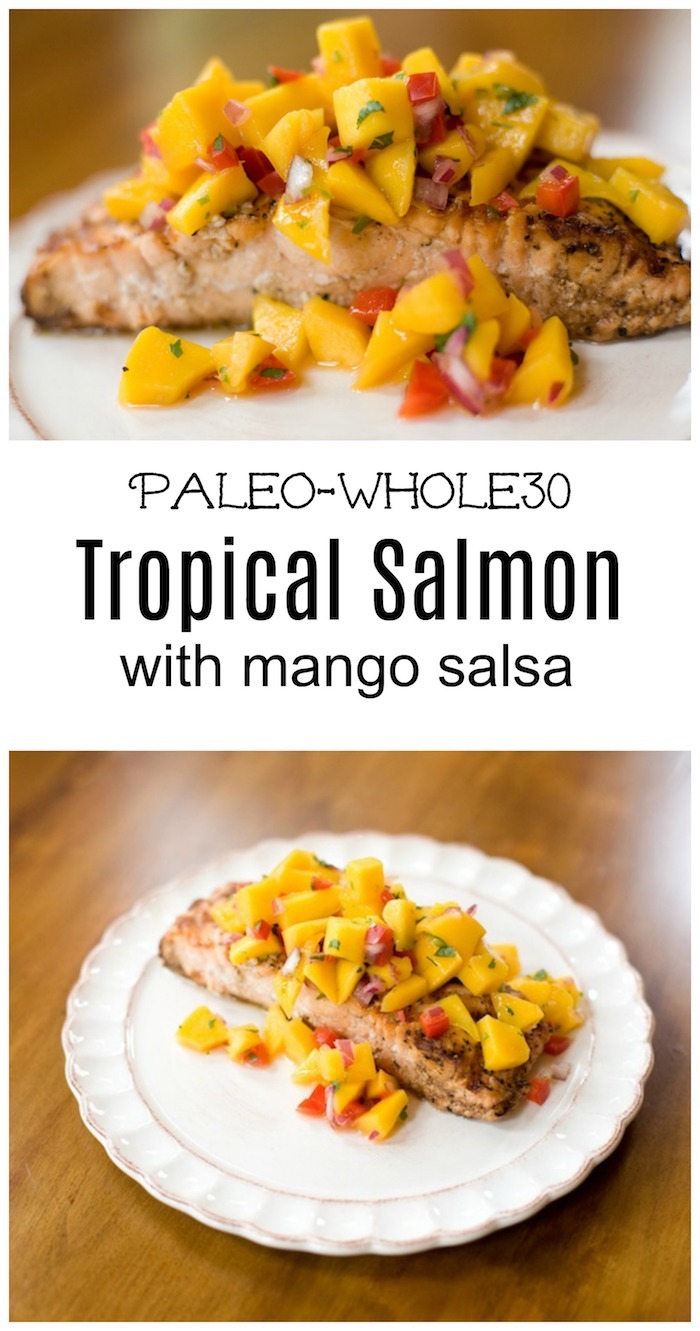 Let's Talk Salmon:
Salmon is high in protein and omega 3 fats (the good kind) and when topped with this antioxidant loaded salsa you can't find a healthier meal! But there are differences in the quality of salmon available in most stores. If it is possible to purchase wild caught salmon in your area, I highly recommend it. Wild caught salmon is higher in the healthy omega 3 fatty acids, and eats a natural diet that gives the meat that lovely salmon color. Farmed fish is grey and therefore unnaturally colored. Obviously, wild caught is best.
Tips for buying fish:
1. It's best not to buy fish wrapped in plastic. You should be able to smell the fish you are buying. I always buy mine from a fishmonger I trust. If he is handling it, cutting it etc… he will know if it's not fresh.
2. Always buy fish the day you plan on making it.
3. When selecting fish always point to the piece you want. In stores the freshest fish is placed in the front of the window, closest to you, and the fish from the day before is placed in the back, closest to the fishmonger. So when you are looking at the fish closest to you and ask for it, he pulls it from the back. It doesn't mean there is anything wrong with that fish from the day before, it's just not the freshest…and you want the freshest.
The Salsa!:
Salsa is best if made ahead, or the morning of the day you plan on serving. The flavors need a chance to meld…but when I teach this menu in class obviously we don't have time to wait and it's still delicious! So if you forget to plan ahead, no worries!
The trickiest part of making the salsa is handling hot chili peppers. Please read this post to learn how to handle Serrano chili peppers safely…these little peppers are hot! My knife is an 8″ Wusthof Ikon, I love it! (affiliate link)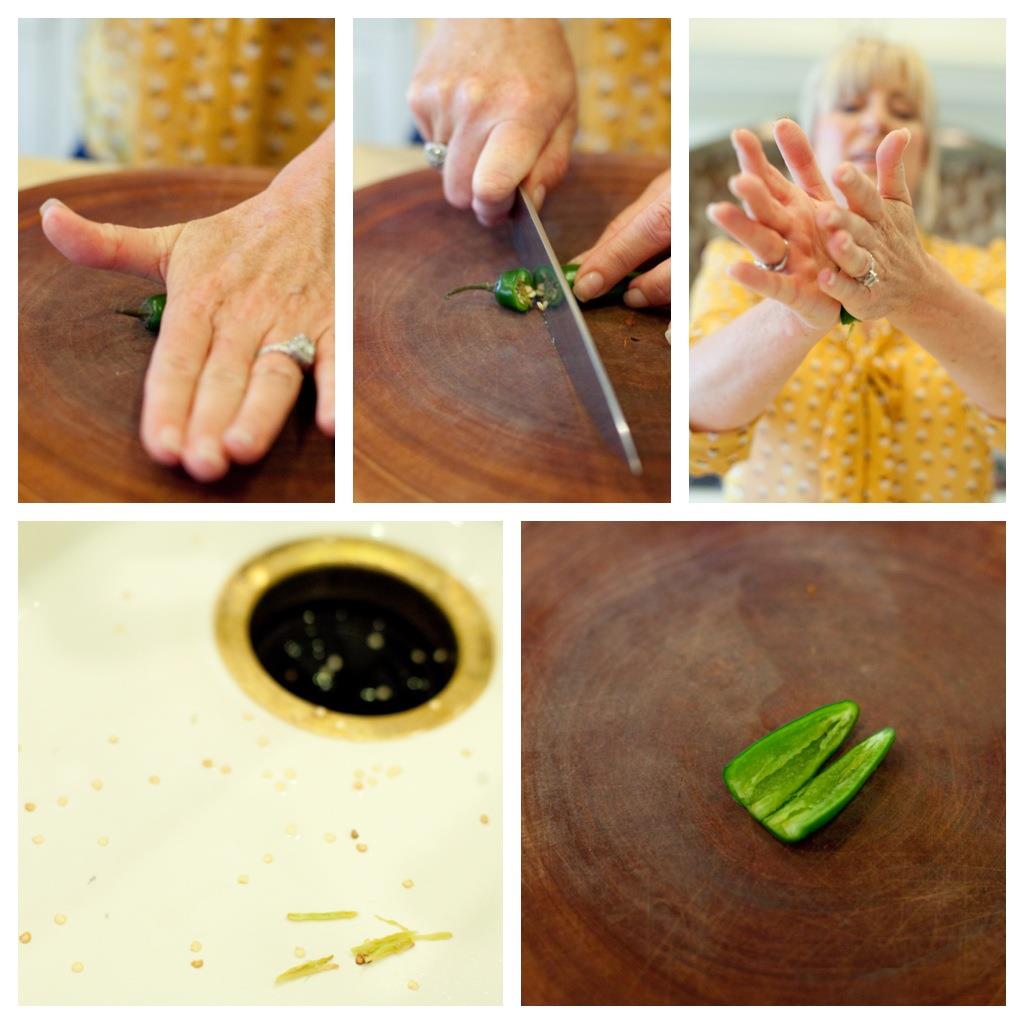 If You Want To Remove the Skin From Salmon:
Personally, I hav nothing against leaving the skin on salmon. But my husband objects. So I will show you how to easily remove the skin and leave it up to you. Whether cooking on the grill or in pan on the cooktop just slide your fish spatula between the meat of the salmon and the skin after cooking. Lift the salmon and the skin stays in the pan.
The Recipe: Tropical Salmon with Mango Salsa
What you need: use an oven safe pan and a fish spatula (affiliate links) If cooking on the grill be sure to clean grill well and spray with coconut oil to avoid sticking.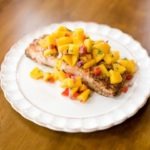 Tropical Salmon with Mango Salsa!
I offer both cooktop and grilling instructions. Enjoy!
Keyword:
easy dinner recipe, grilling recipe
Ingredients
1

large mango

peeled, cored and diced

¼

of a red onion

finely chopped

2

teaspoons

fresh cilantro

chopped

juice from half a lime

½ to 1

tsp

Serrano chili (or Jalapeno)

seeds and pith removed, finely minced (I like ¾ tsp)

½

of one red bell pepper

diced

¼

teaspoon

sea salt

4 -6

oz

salmon filets

skin on

Sea salt

Freshly ground pepper

Olive oil

Avocado oil or Coconut oil
Instructions
For Salsa:
Combine mango, onion, cilantro, lime juice, chili (see instructions in blog post) bell pepper, and sea salt, stir and set aside
For Cooktop:
Preheat oven to 350 degrees and place rack in the center position.

Sprinkle salmon with salt and pepper.

Heat oven safe pan on cooktop on med/high for 3 minutes.

Add enough oil so that bottom of pan is coated.

Allow oil to get hot.

Carefully place salmon on the pan skin side up. You want to hear the "pshhhh" sound when you place the salmon in the pan.

Cook for 3-4 minutes till salmon is golden and crispy.

Gently turn skin side down and sear for one minute.

Now transfer pan to preheated oven and bake for 8-12- minutes. Cook time depends on how thick the salmon is.

When done, remove from oven.
To serve:
If you wish to remove salmon from skin, slide your fish spatula between skin and meat from one end to the other and lift fish, skin will stay in pan.

Top with mango salsa and serve.
For Grill:
Clean grill then spray with coconut oil.

Preheat to 400 degrees.

Sprinkle salmon with salt and pepper.

Carefully place salmon skin side up onto grill.

Cook for 6 minutes, then turn and cook 6 more.

When done, remove from grill. If you wish to remove salmon from skin, slide your fish spatula between skin and meat from one end to the other and lift fish, discard skin. Top with Mango Salsa and serve.
MAY I PLEASE ASK A LITTLE FAVOR?
We small bloggers need all the help we can get. Subscribing and sharing on social media is very appreciated!
Post tags: fish, gluten free, dairy free