This is The Organic Kitchen's Chicken al Mattone~ Paleo, Whole 30! Chicken al Mattone translates to chicken under a brick. It's the Italian version of what we call spatchcock chicken. This marinated chicken has the backbone removed and lays flat and roasts while being 'pressed' beneath a brick. It is light and lemony with a hint of rosemary and garlic! Gorgeous isn't it? Leave it to the Italians to come up with something so delicious and healthy.
(This post contains affiliate links. I may make a commission from sales but your price remains the same.)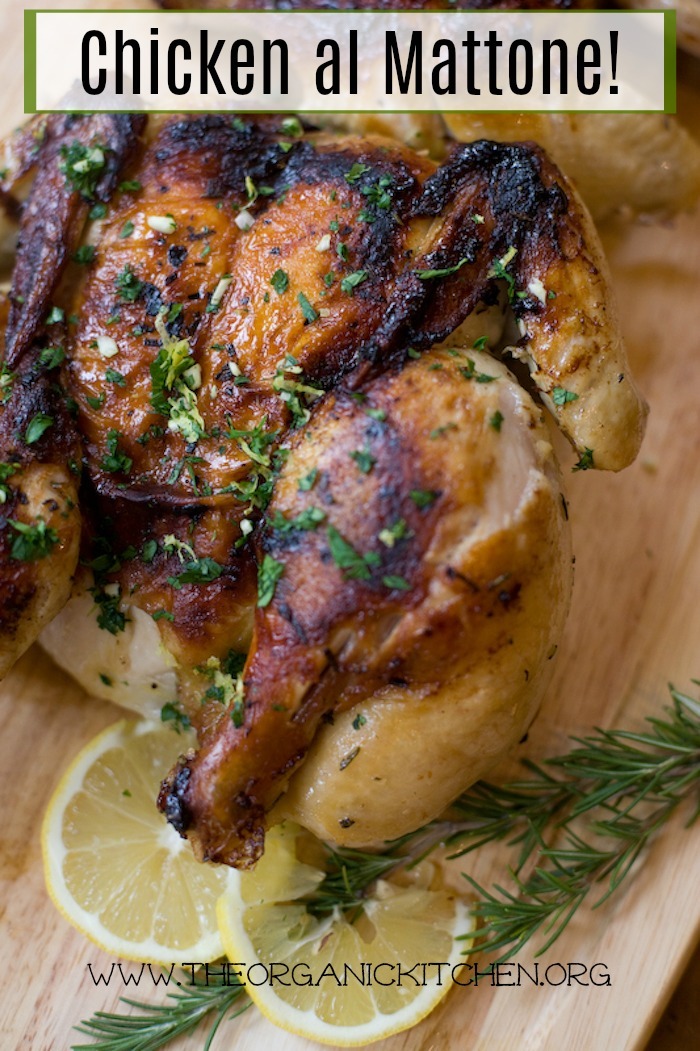 How to Make Chicken al Mattone~ Paleo, Whole 30!:
The key to Chicken Al Mattone is using a small (4 lbs) chicken and removing the back bone but keeping the chicken whole, so you can open it flat, like a book. My butcher does it for me, but I always make sure to give clear instructions or they might remove the backbone and come back with two half chickens.
After marinating overnight in herbs, lemon juice and olive, place the chicken breast side down on the cook top to brown, then put in the oven and press with a foil covered brick. The cheapest kitchen tool you will ever buy!
Three quarters of the way through cooking time you flip the birds over and behold…
…beautiful birds with perfectly crispy skin and tender, juicy meat! When I cook a single chicken I use a skillet or large cast iron pan. When I make two birds I use a turkey roasting pan.
Garnish with fresh parsley…
…and voila! Chicken al Mattone! Honestly, one of my favorite ways to eat roasted chicken!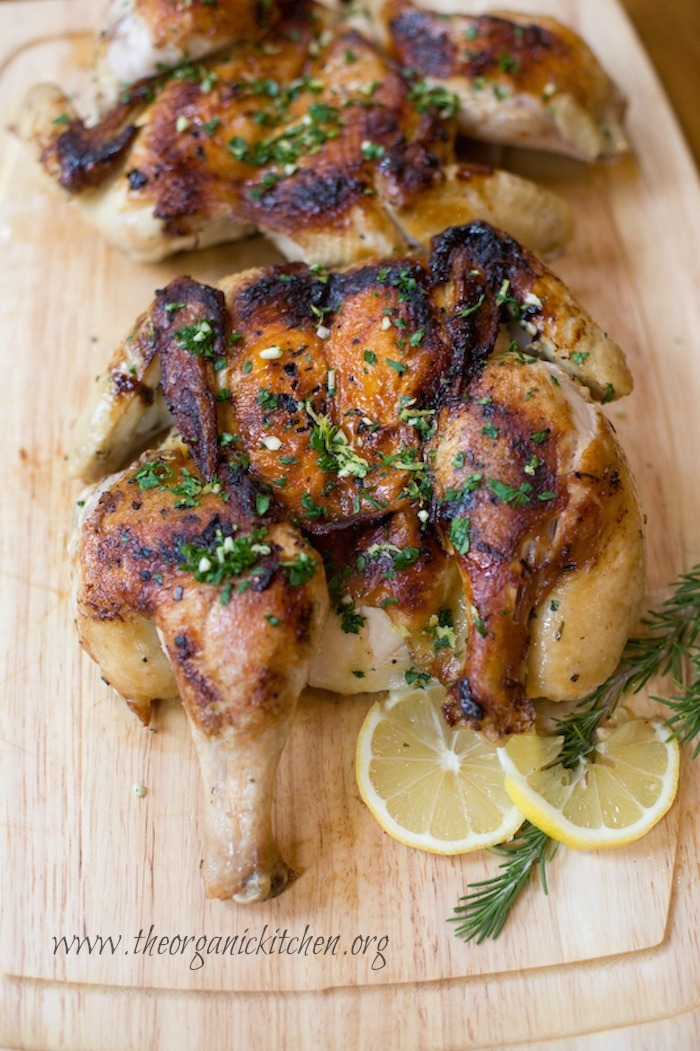 I often serve Chicken al Mattone with my Linguini and Bell Peppers. Of course I save the giblets and the bones to make homemade chicken stock.
The Recipe: Chicken Al Mattone (Roasted Chicken with a Brick)
Tips and what you will need: If you have a double oven I recommend roasting the chicken in the lower oven. The brick is heavy and becomes a little slippery, lifting it from the top oven is harder. You will need a large cast iron pan or heavy skillet for a single chicken or a turkey roasting pan for two birds. You will also needs a brick covered in foil (I got mine for 49 cents at the hardware store).
Chicken al Mattone! Chicken Under a Brick
This is a beautiful Italian style roasted chicken. 'Al mattone' actually means "with a brick". Roasting chicken with a brick accomplishes two things; it presses the chicken flat into the pan making it moist and juicy with a golden skin. It also makes it cook a little quicker. Buy a brick at any home and garden center, cover it with foil and you are ready to roll! Ask your butcher to cut the backbone out of a whole chicken leaving the chicken whole so it opens flat, like a book. Be very clear with your butcher or he will come back with two half chickens! Marinate overnight or all day. You will need: one brick per chicken, wrapped in foil. If you are making one chicken, use a large oven safe frying pan, for two chickens use a turkey roaster and double recipe. It is important chicken be as close to 4 lbs as you can get it. Bigger birds take longer to cook and won't press as flat.
Keyword:
classic recipe, easy dinner recipe
Ingredients
This recipe is for one chicken, double recipe for 2 birds

1 - 4

pound

whole chicken, backbone removed so bird can lay flat like a book

zest of one lemon

3

lemons, juiced (two for marinade, one for garnish)

1/4

cup

Olive Oil

1

Tablespoon

fresh rosemary, chopped

3

small cloves garlic, peeled and minced

Sea salt and pepper

Red pepper flakes, to taste

1

tablespoon

fresh flat leaf Italian parsley, chopped for garnish
Instructions
Prep chicken the night before or morning of:
Open chicken flat like a book and place on a rimmed cookie sheet. Mix juice of two lemons, olive oil, lemon zest, rosemary, and garlic in a small bowl. Brush all sides of chicken with mixture. Place chicken skin side down on cookie sheet, cover and chill 12-24 hours.
Cooking Chicken:
Preheat oven to 425 degrees and place oven rack in second lowest position.

Sprinkle marinated chicken with sea salt and freshly ground pepper.

Put a little olive oil in the bottom of and oven safe pan, skillet or roaster and place on cooktop at med/high heat. If using a turkey roaster to cook two birds, place roasting pan across two burners.

When pan and oil are very hot place marinated chicken on pan, skin side down and cook until skin is golden brown (about 6 minutes).

Move pan into preheated oven and place foil wrapped brick across the ribs of the chicken. Cook for 30 minutes, remove brick, flip chicken skin side up. Place the brick across the breast and continue roasting for 15 more minutes. Check thigh to make sure chicken is done, juices should run clear.

Remove brick, transfer chicken to cutting board. Squeeze juice of remaining lemon over chicken, sprinkle with red pepper flakes and parsley. Serve.
Ciao bellas! Until next time~ Linda Spiker
MAY I PLEASE ASK A LITTLE FAVOR?
We small bloggers need all the help we can get. Subscribing and sharing on social media is very appreciated!
All photos and recipes are copyrighted by Linda Spiker.
Post tags: Gluten free, grain free, dairy free