Halibut is my husband's favorite fish. I love it too. It's light and flaky and when cooked properly, is tender and moist. This Macadamia Nut Crusted Halibut with Mango Sauce is our favorite way to eat this delicious, delicate fish!
(This post contains affiliate links. I may make a commission from sales, your price remains the same)
The Fish:
Halibut is in season from late April to October. I love to buy it fresh but in the off season I use frozen wild caught Alaskan boneless/skinless Halibut and it comes out just as amazing.
Tips for Buying Fresh Fish:
1. It's best not to buy fish wrapped in plastic. You should be able to smell the fish you are buying. I always buy mine from a fishmonger I trust. If he is handling it, cutting it etc… he will know if it's not fresh.
2. Try to buy fish the day you plan on making it.
3. When selecting fish always point to the piece you want. In stores the freshest fish is placed in the front of the window, closest to you, and the fish from the day before is placed in the back, closest to the fishmonger. So when you are looking at the fish closest to you and ask for it, he pulls it from the back. It doesn't mean there is anything wrong with that fish from the day before, it's just not the freshest…and you want the freshest!
The Mango Sauce:
Made with pear juice, fresh ripe mango, lime juice and cream, this mango sauce is sweet, creamy and delicious! My dairy free friends can use coconut cream!
This sauce is the perfect compliment to the nutty salty crusted fish!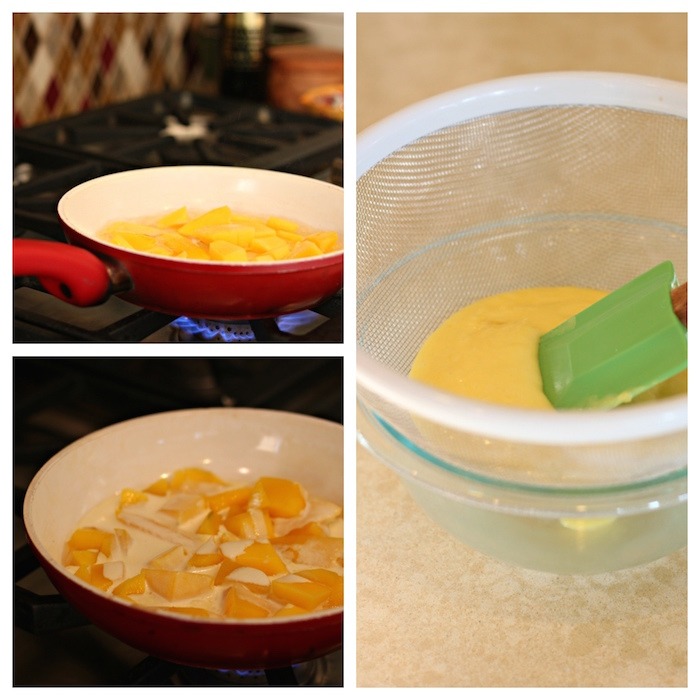 The Crust:
A simple combination of dry roasted salted macadamia nuts and panko bread crumbs gives this fish the perfect crispy coating. Searing the fish on the cook top and finishing in the oven keeps the fish tender and moist! Of course my gluten free friends can use GF bread crumbs. There are some really great brands out there now!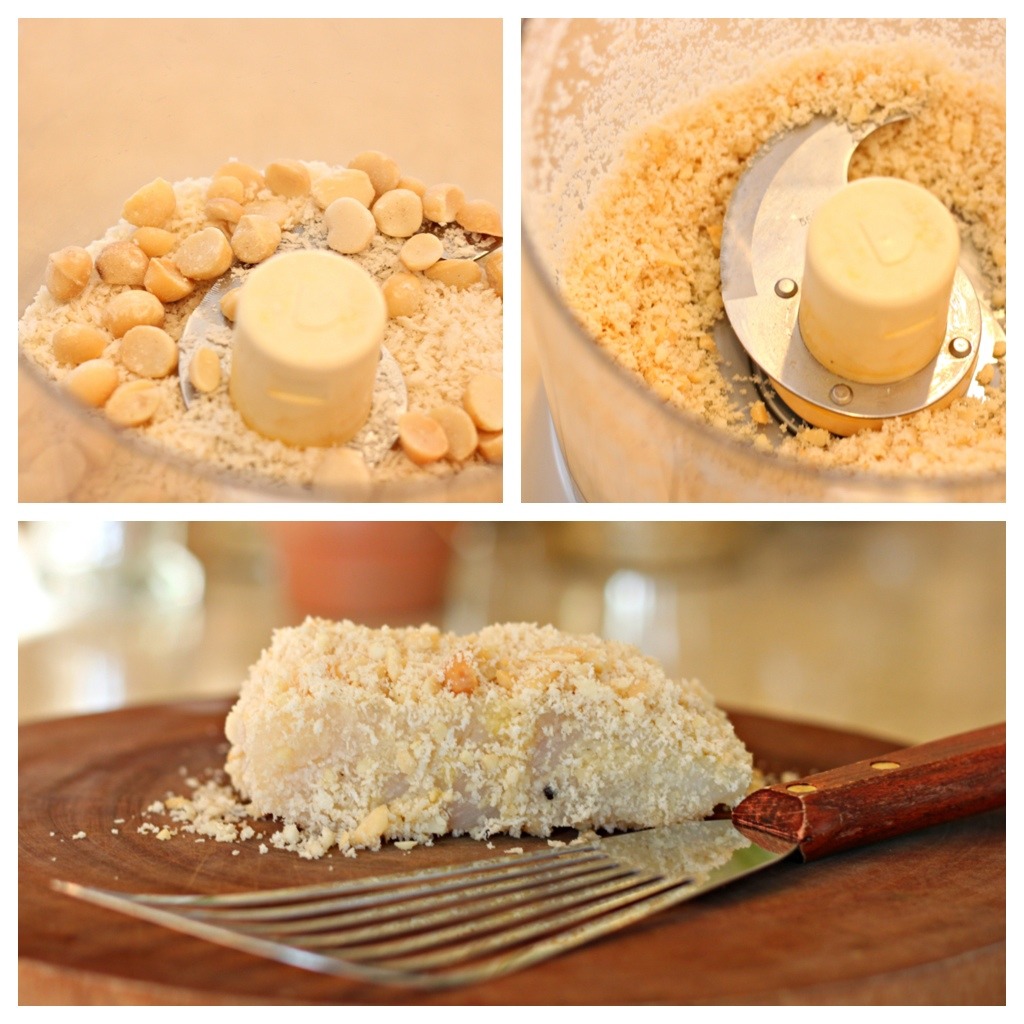 Lovely right? Make this for a dinner party and your friends will think you are a master chef!
Love Halibut and need more recipes?
Try my Pistachio Crusted Halibut with Roasted Red Pepper Salsa!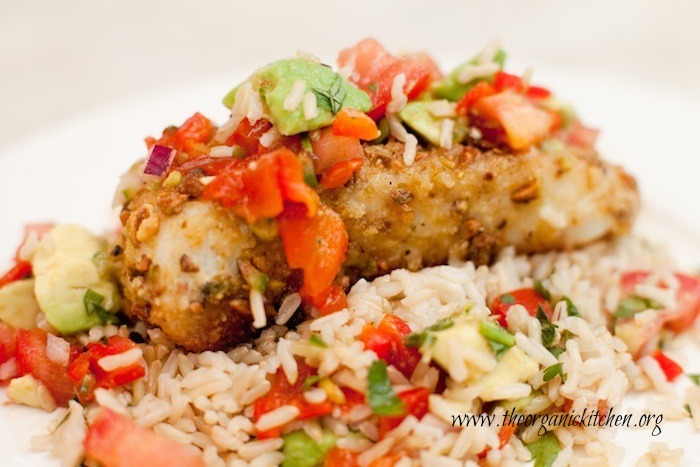 The Recipe: Macadamia Nut Crusted Halibut with Mango Sauce
Tips, what you will need and what to serve it with: Make sure the fish you buy is very fresh. Ask questions like "is this fish part of today's shipment? If not, do you have fresher fish in the back?" Don't worry about being a nudge, nudges get the fresh fish! In the off season you can use frozen wild caught Alaskan Halibut. Just thaw and follow the directions below. Serve with a side of simple white rice or roasted asparagus. You will need a mesh strainer, there really is no other way to strain the mango so don't skip it! You will also need a good oven safe pan, a fish spatula, a food processor and a blender.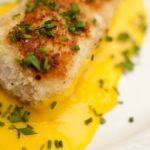 Macadamia Nut Crusted Halibut with Mango Sauce
Halibut is in season from April through October. Whole Foods has fresh halibut daily during the season and Sprouts has perfectly sized frozen portions all year long. You can make the sauce up to a day ahead. I have used frozen mango in a pinch! Just thaw ahead of time.
Keyword:
easy dinner recipe, summer recipe
Ingredients
For mango sauce:
1

cup

fresh ripe mango, peeled and diced (frozen thawed can be used in a pinch)

½

cup

pear juice or white grape juice

¼

cup

heavy cream, dairy free friends use coconut cream

1

Tablespoon

honey or sugar

Juice of one lime

sea salt, generous pinch
For fish:
4 - 6

oz

boneless/skinless Pacific halibut fillets

1/2

cup

roasted salted macadamia nuts


1/2

cup

panko bread crumbs

1

egg


Coconut or olive oil, use just enough to coat bottom of pan


2

tablespoons

Chives, chopped for garnish

Pinch

sea salt
Instructions
Mango Sauce Prep:
Peel the mango and cut into cubes.

Place the mango in a small saucepan over medium heat.

Add pear or grape juice and bring to a boil.

Reduce heat and simmer for 15 minutes of until mango is soft and liquid is reduced by half.

Add the cream, simmer for 5 minutes.

Let cool slightly, add honey or sugar, then purée in a food processor or blender.

Strain the mixture through a screen colander into a bowl, discard anything in the strainer (there shouldn't be much if you blended weil)

Add the lime juice to sauce and salt to taste . Put back in saucepan and set aside.

Warm the sauce before serving. The sauce can be made a day ahead.
For Fish:
Preheat oven to 350 degrees and place oven rack in center position.

Pulse bread crumbs and nuts in a food processor until a crumbly mixture forms.

Do not over process or you end up the macadamia nut butter.

In a shallow bowl, beat the egg and water to make an egg wash.

Salt and pepper both sides of fish.

Dredge the fish in egg wash, then coat completely in the nut-crumb mixture.

Heat the oil in a nonstick oven safe pan over medium-high heat. Whenpan and oil are very hot add fish to pan.

Sauté the fish until golden brown on both sides, about 2-3 minutes per side.

When fish is golden brown place pan in oven for 5 minutes (or until fish is done).

Ladle a generous amount of warm mango sauce onto each plate, and place a piece of halibut on the sauce. Garnish with chopped chives. Serve immediately.
More Halibut Recipes:
Thanks for stopping by my friends and if spicy halibut is more your thing try this recipe. If you like to grill it, try this carb free recipe! ~ Linda Spiker
MAY I PLEASE ASK A LITTLE FAVOR?
We small bloggers need all the help we can get. Subscribing and sharing on social media is very appreciated!
Linda Spiker owns all rights to recipes and photographs.
STANDARD FTC DISCLOSURE and Privacy Policy: In order for me to support my blogging activities, I may receive monetary compensation or other types of remuneration for my endorsement, recommendation, testimonial and/or link to any products or services from this blog. Please note that I only endorse products that are in alignment with The Organic Kitchen's ideals and that I believe would be of value to my readers.The Organic Kitchen is a participant in the Amazon Services LLC Associates Program, an affiliate advertising program designed to provide a means for sites to earn advertising fees by advertising and linking to Amazon.com. View The Organic Kitchen's Privacy Policy