I adore scallops, so when the opportunity came along to share this recipe for mouthwatering Divers Scallops with Kale and Sunchoke Chips from Ryker Brown, Executive Chef of Powder at The Waldorf Astoria Hotel in Park City, I jumped!
(Food photography by Trina Harris Photography)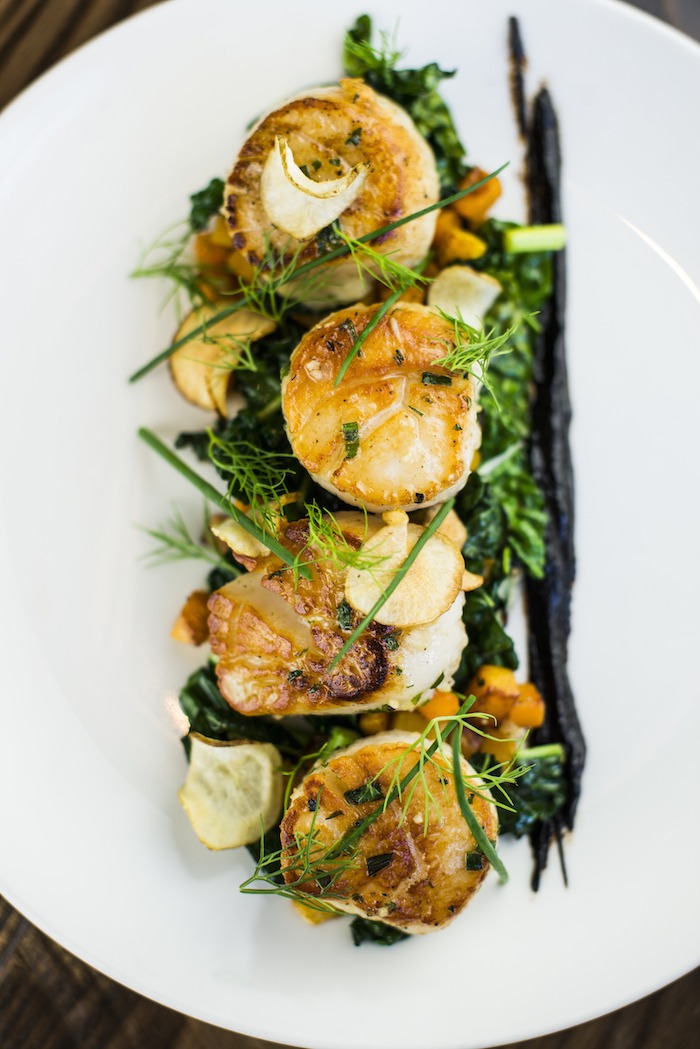 The Waldorf Astoria Park City and Powder
Almost every year we are lucky enough to visit Park City, Utah for the annual Sundance Film Festival. Park City is small and quaint, has great shopping, fantastic events, world class skiing, hiking trails, golf, art exhibits and of course, amazing food! If you ever have a chance to visit Park City I highly recommend dining at Powder located in the beautiful Waldorf Astoria Hotel Park City.
The Waldorf Astoria Park City location is the only Forbes Four Star luxury hotel to be located within the largest ski and golf resort in the United States. Surrounded by spectacular mountain views, the ambiance couldn't be more amazing!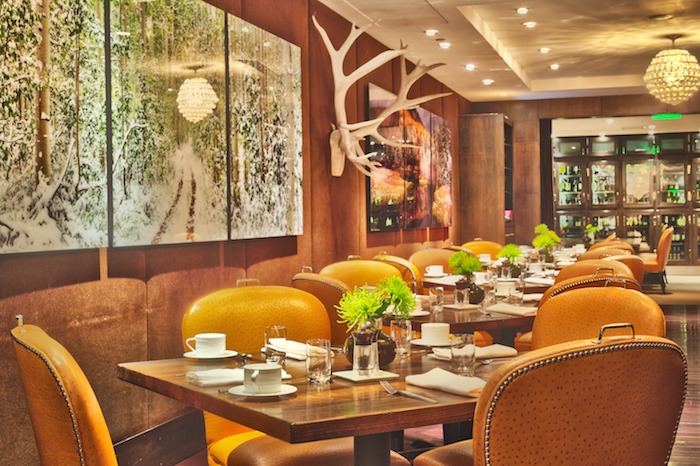 Powder serves a seasonal menu inspired by the finest local ingredients and offers indoor private dining and additional outdoor seasonal dining with views of the pool and scenic outdoor courtyard. But whether you choose to be served in the stunning Powder dining room or enjoy your meal outside, the food will be fantastic!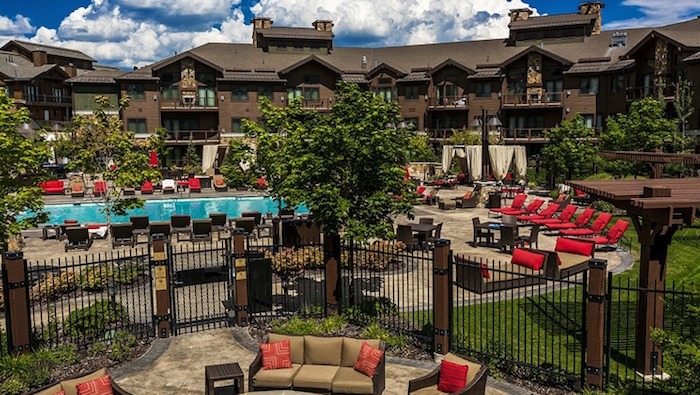 The Chef:
I am very excited to be including Powder and Chef Ryker Brown in my 'Favorite Restaurants Series' because Ryker is the son of longtime family friends! His culinary career began here in California where at the age of 15 he began working for a catering company. He later attended the Le Cordon Bleu program at the California School of Culinary Arts in Pasadena.
Ryker soon left the Golden State for the mountains of Montana and Utah eventually landing as the Executive Chef at Powder in The Waldorf Astoria Park City. His focus on natural ingredients allows for the use of products from local Utah purveyors, such as Heber Valley Cheese, Creminelli cured meats for charcuteries, and the use of herbs and honey from Waldorf Astoria Park City's backyard garden and beehive.
Today Ryker is sharing his recipe for Divers Scallops with Kale and Sunchoke Chips with us. Look at those beautiful scallops…and yes, it looks a little intimidating but it's really not. Chef Ryker makes this recipe very straight forward!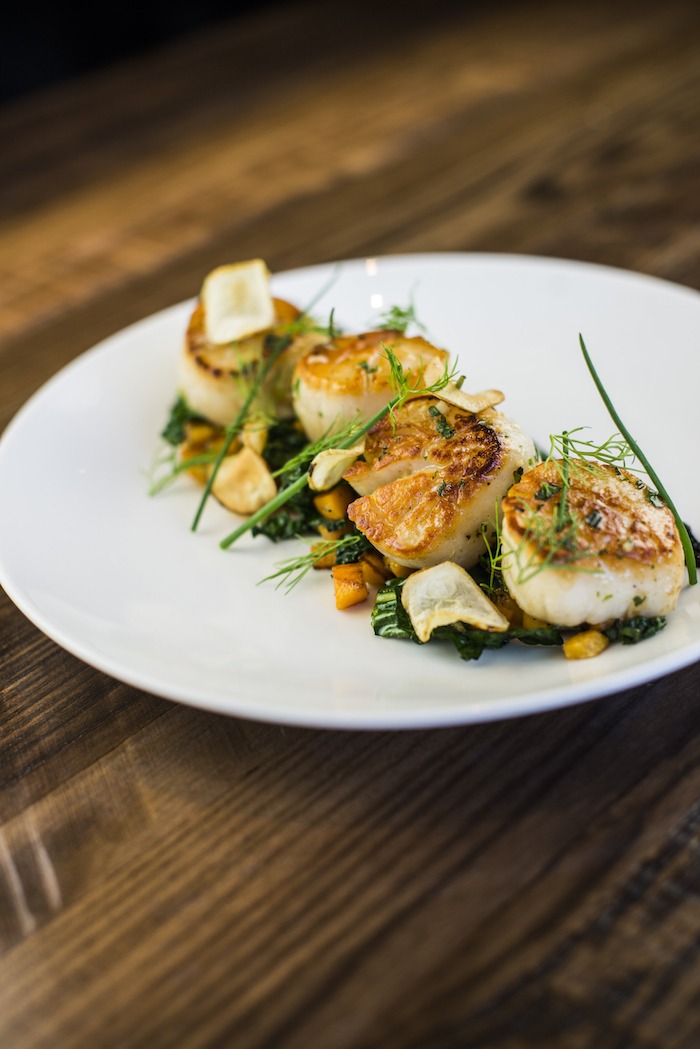 The Recipe: Divers Scallops with Kale and Sunchoke Chips
Ingredients, variations, tips: Sunchokes, otherwise known as Jerusalem Artichokes look similar to nubs of ginger and require no peeling. Unfortunately their season peaks at the end of February. I couldn't find them so I used thinly sliced parsnips for the 'chips' and it worked perfectly! Chef Brown's original recipe calls for frying the sunchokes in two cups of canola oil. Fortunately he gave me the go ahead to include a variation using a smaller amount of clarified butter or ghee which makes this recipe more accessible to home chefs. Thanks Chef Ryker! Be sure to dry your scallops well and prepare all ingredients before starting scallops. Scallops cook very quickly so you won't have to time to chop garlic and measure ingredients once you get going. This recipe is gluten free.
Divers Scallops with Kale and Sunchoke Chips
I adore scallops, so when the opportunity came along to share this recipe for mouthwatering Divers Scallops with Kale and Sunchoke Chips from Ryker Brown, Executive Chef of Powder at The Waldorf Astoria Hotel in Park City, I jumped!
Keyword:
date night, easy dinner recipe
Ingredients
1

Cup

Butternut Squash

peeled, diced and blanched

3

Sunchokes

sliced thinly (if out of season, thinly sliced parsnips work well!)

1/4

Cup

Black Garlic cloves

peeled

1/3

Cup

Balsamic Vinegar

4-6

fresh Scallops

per person patted dry with paper towels, sprinkled with sea salt and pepper

1/2

Cup

Tuscan Kale

cleaned and chopped

4

T

clarified butter or ghee

3

T

Butter

unsalted

1

T

Garlic

chopped

3

T

White wine
Instructions
For Butternut Squash:
Blanche butternut squash in boiling water for 3-4 minutes. Strain and set aside.
For Sunchoke chips:
In a medium size sauce pan, melt 2 T clarified butter or ghee. When hot add sliced sunchokes and fry till golden brown and crispy. Lay on a paper towel lined sheet pan and season with salt.
For Black Garlic Puree:
In Blender, add balsamic vinegar and black garlic. Puree on high until smooth. If mixture is too thick add a small amount of water to reach the desired consistency. Set aside.
For scallops
Heat 10 inch sauté pan to high heat and add 1 T clarified butter or ghee. Season Scallops and sear in pan. (Its important to note that the scallops should be very dry. Before cooking, lay them on a clean paper towel.)

Cook for approximately 1-2 minutes or until scallops have reached a deep golden brown.

Flip each scallop over and turn off heat.

Add butter to the pan and baste for 2 minutes. Let rest.
To finish:
Heat a different sauté pan on high heat and add 1-2 tablespoons clarified butter or ghee.

Add Butternut squash and cook for 1 minute. Add chopped garlic and kale. Add wine to pan and scrape any browned bits from pan with spatula (this is called deglazing) Add 1 T butter. Remove from heat.

Spread garlic puree on plate and place butternut squash mixture to the side of the puree. Lay scallops on top of butternut squash. Garnish with fried sunchokes. Serve and enjoy!
A big thank you to Chef Ryker Brown, Powder and The Waldorf Astoria Park City for sharing this amazing recipe. You can follow the Waldorf Astoria Park City on Twitter, Instagram and Facebook!
IF YOU WOULD LIKE TO SEE MY PAST "FAVORITE RESTAURANT POSTS" JUST CLICK!
Kale Salad with Citrus Vinaigrette from 370 Common
The Secrets to Making the Best Burger Ever from The Rustic Burger
Pasta with Pea Sauce from The Foundry Grill
Citrus Stuffed Roasted Chicken from The Communal
Chopped Chinese Chicken Salad from Katsuya by Starck
Artichoke Heart Crostini from Settobello Pizzeria Napoletana
MAY I PLEASE ASK A LITTLE FAVOR?
We small bloggers need all the help we can get. Subscribing and sharing on social media is very appreciated!