This Linguini with Chicken and Goat Cheese is always a hit. It's beautiful, filling, budget friendly and only takes about 25 minutes to make.
(This post contains affiliate links. I may make a commission from sales but your price stays the same)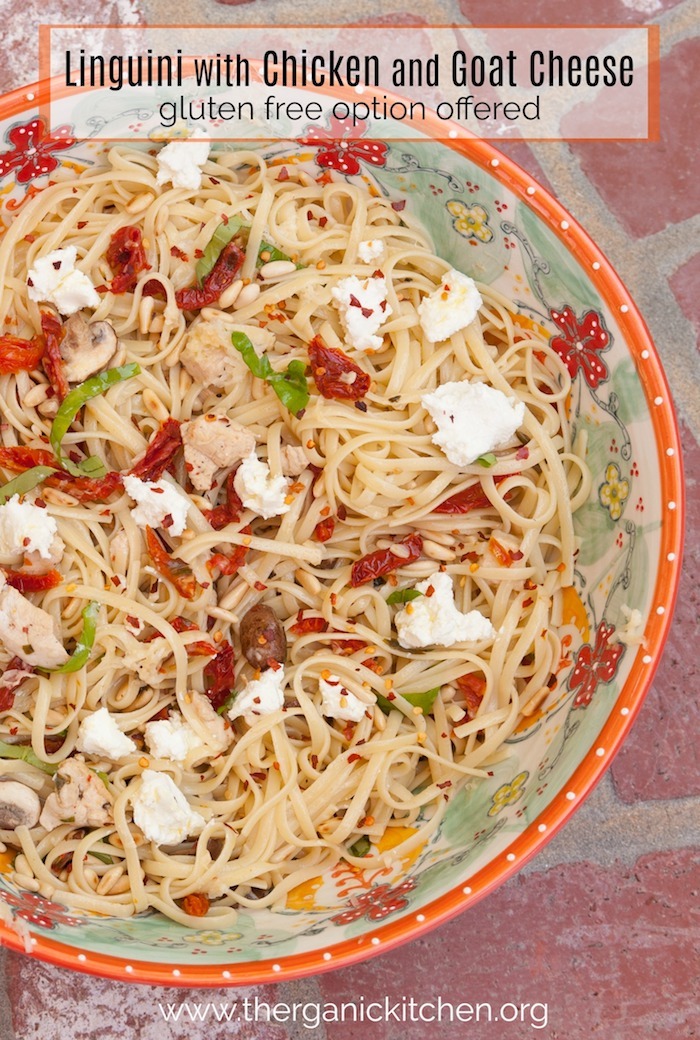 Linguini with Chicken and Goat Cheese
This meal is pretty much perfect. It's fabulous for busy weeknights or a romantic meal for two. And it certainly is easy on the eyes! Garlic, basil, sun dried tomatoes, goat cheese and red pepper flakes make for a very flavorful pasta.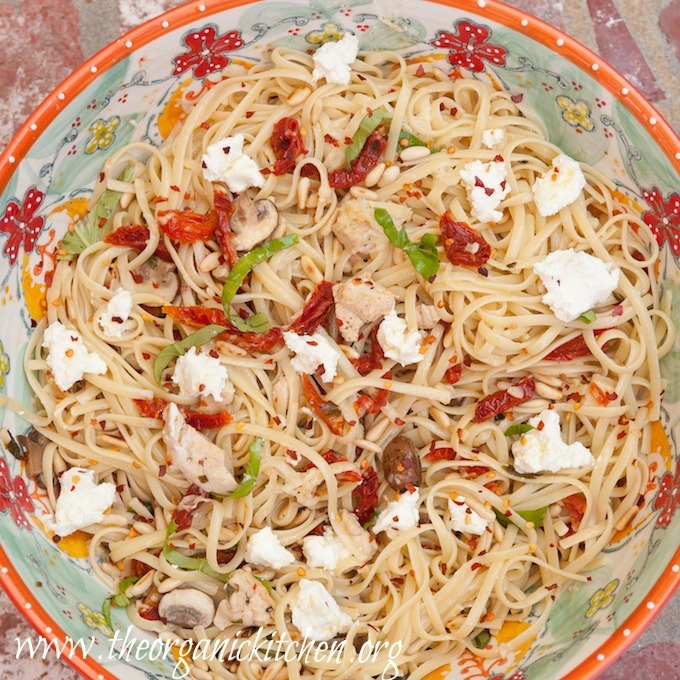 TIPS FOR COOKING PASTA:
When cooking pasta there are only a few things to remember.
1. Follow pasta box cooking instructions, they usually are right on.
2. Salt the water for flavor.
3. To keep pasta from sticking be sure to have lots of water in your pot, at least several inches above the pasta to allow room for expansion
4. stir frequently.
The Process:
Slice the mushrooms, dice the chicken and measure out everything else. If you drink wine, choose a white wine you enjoy and use it in this recipe. I don't drink so rather than open a large bottle and waste it, I buy the little four packs at the market, they are fine for cooking. You can use my homemade chicken stock or buy the four pack of stock as well. Simmer all the ingredients in one pan and then add cooked pasta and toss. That's it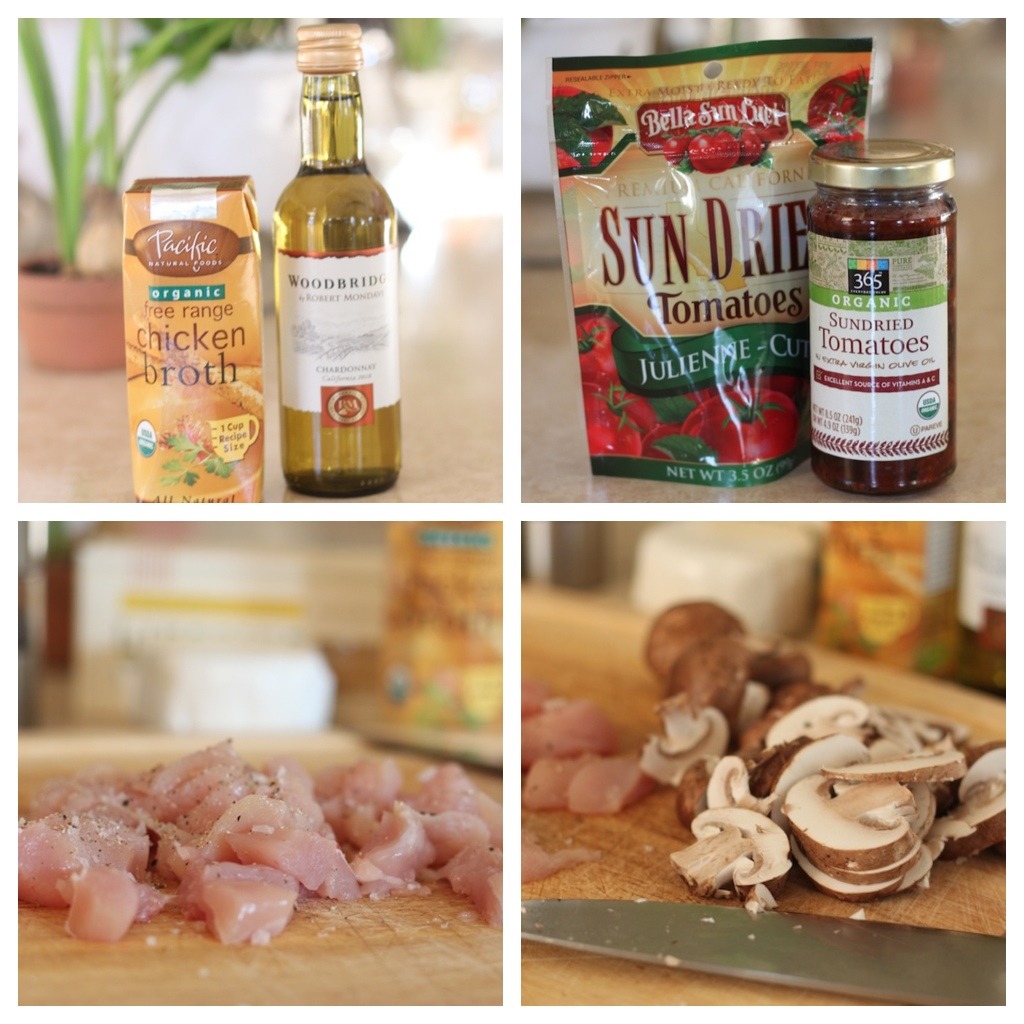 How to "Chiffonade"
We use a bsil chiffonade as a garnish for this recipe. A 'Chiffonade' is a technique to julienne large leaf herbs. To do it, simply stack basil leaves, rolling them tightly and then slice. I love my Wusthof 8″ chef's knife! (affiliate link)
MAKING THIS MEAL GLUTEN FREE AND JUST AS GOOD!
If you live without gluten you don't have to miss out on exceptional pasta! Jovial Foods makes the best gluten free pasta around. I am lucky enough to live by a store that carries it, but if you aren't you can order it here!
The Recipe: Linguini with Chicken and Goat Cheese
What you need: a stock pot, a colander and microplane for grating garlic and Parmesan. Jovial Foods makes the best gluten free pasta around. I am lucky enough to live by a store that carries it, but if you aren't you can order it here!
Linguini with Chicken and Goat Cheese
This Linguini with Chicken and Goat Cheese is one of my favorite pastas. It's beautiful, filling, easy on the budget and only takes minutes to make!
Keyword:
easy dinner recipe, easy pasta recipe, kid-friendly recipes
Ingredients
1 16

oz

package linguine, cooked to package instructions

1

chicken breast, cut into ½ inch cubes, salted and peppered

4

cloves

garlic, peeled and minced (or grated)

¾

cups

jarred sun dried tomatoes, drained of oil

½

cup

freshly grated Parmesan cheese

⅓

cup

roasted pine nuts

10

basil leaves, chopped

½

cup

white wine

1

cup

chicken broth

10

small mushrooms sliced

2

Tablespoon

butter

Sea salt and pepper

4-8

oz

soft goat cheese, crumble (it's a little sticky, but no worries

1/4

cup

extra virgin Olive oil (separated)

Red pepper flakes, to taste, optional
Instructions
Place large pot of water with 2 teaspoons sea salt on stove to boil. While water is heating, cut up chicken breast, sprinkle with salt and pepper and set aside. Mince garlic, chop basil, slice mushrooms, grate Parmesan, crumble goat cheese and toast pine nuts.

Add pasta to boiling water and cook till al dente.

While pasta is boiling:

Place 2 Tablespoons olive oil in a large skillet and heat on med/high heat. When oil is hot add chicken and sauté for a few minutes. The chicken should cook very quickly. When it is almost cooked through (3-4 minutes), add white wine and garlic to pan with chicken, scraping the bottom of the pan to loosen any chicken bits and browning that occurred while cooking chicken. Add broth and bring to a low boil then add sun dried tomatoes, mushrooms, butter and basil to pan. Cook for 3 more minutes, stirring occasionally.

When pasta is done cooking, strain in colander (do not rinse) and place in large bowl. Immediately drizzle with a couple tablespoons of olive oil, sprinkle with sea salt and toss. Pour chicken and sauce mixture over pasta and toss. Add grated Parmesan and pine nuts and toss some more. Taste and season with more salt and red pepper flakes if desired.

To plate: Put desired amount of pasta on plate and then top with as much soft goat cheese as you want. I say the more the better!
Thanks for visiting. Please subscribe and leave a comment or question!
MAY I PLEASE ASK A LITTLE FAVOR?
We small bloggers need all the help we can get. Subscribing and sharing on social media is very appreciated!
Post tags: the venetian, pasta, main dish, pastas, main dishes, sun dried tomatoes, pine nuts, goat cheese, chicken,