I am pretty darn near beside myself with giddyness right now. You all know I love a beautiful roasted chicken and all that entails…the eating, the broth making, the soup making, the eating again… but the roasted chicken I am sharing today is especially exciting because this recipe is from one of my favorite restaurants: Communal.
To say the least, this Whole Roasted Chicken with Apples, Oranges and Fresh Thyme looks exquisite.
I have eaten it many times so I can tell you it smells heavenly and tastes divine as well.
Luckily, my husband and I have good reason to travel frequently from LA to Sundance Utah. Many of our children and grandchildren live there. The landscape is breathtaking and we love the laid back vibe. We hike, we ride bikes, we take walks and we eat! We could eat anywhere but every single time we are in Sundance we make the 20 minute drive into Provo to visit Communal.
Chef John Newman and founders/owners Colton Soelberg and Joseph McRae are committed to using local farmers, purveyors and artisans to bring their loyal customers the best choices in farm to table dining. Every menu item is made from scratch, using traditional methods and seasonal produce. We are definitely in agreement when it comes to food philosophy.
The restaurant lives up to it's name. Not only does Communal support their local farming and arts community but customers share a communal table making their dining experience homey and friendly. And I always appreciate an open kitchen where I can watch the chefs work their magic!
Communal also supports the online community with an amazing blog where they share fantastic recipes with people that are not lucky enough to visit! Be sure to take a look, I know you will love it.
And in the spirit of sharing, Communal has agreed to share a perfect dish with The Organic Kitchen, just in time for the holidays! Oh and by the way, if you happen to live in the area Communal will cook your Thanksgiving dinner! I wish I lived closer…I would let them do all the work knowing it would be absolutely fantastic.
Now on to the recipe!
The Recipe: Whole Roasted Chicken with Apples, Oranges and Fresh Thyme
You will need: One large or two small cast iron skillets and trussing string. Be sure save the leftovers for homemade broth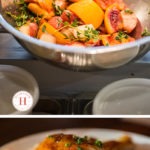 Whole Roasted Chicken with Apples, Oranges and Fresh Time
This is the perfect time of year to enjoy savory roasted meats with stored apples and fresh in-season citrus. Don't forget to save the leftovers and make a delicious stock for winter soups and stews. My recipe above.
Keyword:
comfort food, easy dinner recipe, winter recipe
Ingredients
2- 3 1/2

lb

whole chickens

2

apples

2

oranges

10

springs fresh thyme

gizzards from chickens

salt and pepper to taste

olive oil

butter

melted (clarified butter or ghee works too)
Instructions
Heat oven to 425 degrees.

Cut the apples and oranges into large chunks. Combine with gizzards, thyme, salt, pepper and olive oil in a large bowl. Crush the ingredients together with your hands.

Stuff the chickens equally with the mixture and truss the chickens with butchers twine.

Season the outside of the chickens with olive oil, salt and pepper.

Place in the roasting pan, breast facing up.

Slide pan into oven and roast for 30 minutes or until lightly browned, basting every few minutes with the melted butter. Turn the oven down to 350 degrees and continue roasting for 30 minutes or until a thermometer in the chicken reads 160 degrees (This is Linda talking now instead of The Communal Chef. I don't know if it's an altitude difference but mine took more 45-50 minutes. Also, if your chicken is bigger than the 3 1/2 lbs the recipe calls for add 15 minutes per pound cooking time).

Let the chickens rest for 10 minutes, carve and serve.
If you have missed previous "My Favorite Restaurant Series" posts, here they are! And if you like what you see, please sign up for my newsletter! (upper right sidebar)
Kale Salad with Citrus Vinaigrette from 370 Common, Laguna Beach
The Secrets to making a Perfect Burger From Rustic Burger, Valenicia
Pasta with Fresh Mint Pea Sauce from the Foundry Grill, Sundance Utah
Crostini with Artichoke Hearts from Settebello
Chinese Chicken Salad by Katsuya!
Post tags: gluten free, grain free