Whether you prefer your waffles sweet, savory, spicy or all of the above combined, there is something for you here! I have compiled 12 of The Most Beautiful and Unique Waffle Recipes You've Ever Seen right here in one post…prepare for some serious breakfast eye candy!
(This post contains affiliate links. I may make a commission off sales but your price remains the same.)
Waffles For the Chocolate Lover:
These delicious Chocolate Waffles from Cook With Me Darling are super simple to make and are offered traditional, gluten free and Paleo! To get this rustic look simply use this waffle maker using only 1/2 cup batter.
Sweet, Savory and Spicy All Rolled Into One!
When it comes to flavor you can't beat these Parmesan Chive Jalapeño Waffles with Maple Cinnamon Butter from me, The Organic Kitchen! Truly a flavor explosion. For the Paleo version of these waffles I use Birch Benders Paleo Waffle Mix, they are amazing and cook up crispy. Birch Benders also make an Organic Gluten Free Waffle Mix. For those of you that want a traditional waffle mix, I recommend Kodiak Cakes.
The Heart Wants What It Wants, and It Wants is Heart Shaped Waffles!
How gorgeous are these Overnight Sourdough Spelt Waffles from Occasionally Eggs? Made with spelt flour they are slightly nutty and the beautiful shape is made using a German Waffle Maker!
Spice Up Your Breakfast!
If Mexican food is your jam (it's totally mine!) these Savoury Mexican Waffles from My Kitchen Love are for you! Made in a Belgian Waffle Maker and filled with corn, cilantro and feta, topped with an egg and salsa verde they will satisfy all your your south of the border cravings!
Gimme All The Sweet Potato Goodness!
Make your waffles healthier by adding sweet potato! These delicious Sweet Potato Waffles from Domestic Gothess are light and crispy with a lightly spiced, sweet flavor! Top with berries and organic100% real maple syrup.
Pass The Cream Cheese Please!
Cause I'm gonna drizzle it all over these Blueberry Waffles with Cinnamon Cream Cheese Frosting from That Square Plate!
Breakfast for Dinner Ya'll!
Southern Style Chicken and Waffles from Garlic and Zest… need I say more? Well maybe a little, this incredible was made using a 3 in1 Waffle maker!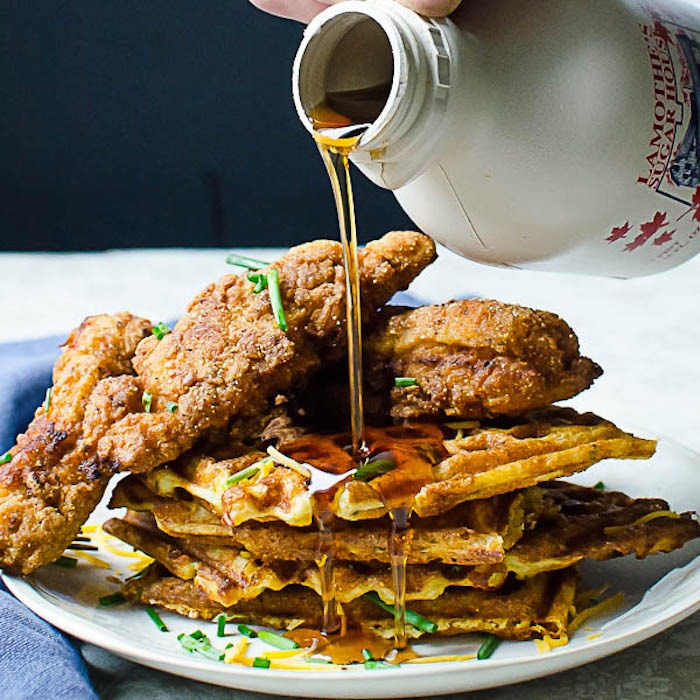 Cobbler Waffles…Dessert for Breakfast!
These Peach Cobbler Waffles with Honeyed Yogurt from The Crumby Kitchen have me all swoony! What a gorgeous stack!
Brown Butter is Better!
Thanks to Cooking on The Weekends brown butter isn't just for pasta, potatoes and brownies anymore! Brown Butter Blueberry Bacon Waffles …drooling.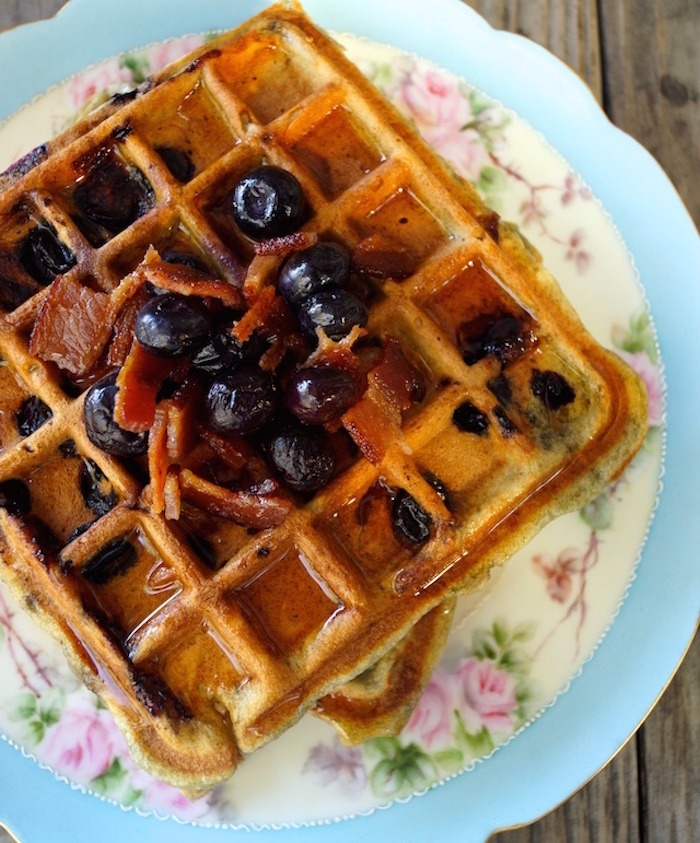 You'll go B-a-n-a-n-a-s….
….over these Waffles with Caramelized Bananas from Major Hoff Takes a Wife! A good cast iron skillet is the best way to caramelize those bananas.
The Glaze Craze!
I am all about a beautiful glaze, especially when it involves citrus! The Forked Spoon hit the nail on the head with these Crispy Waffles with Blood Orange Glaze.Share or don't…I won't judge.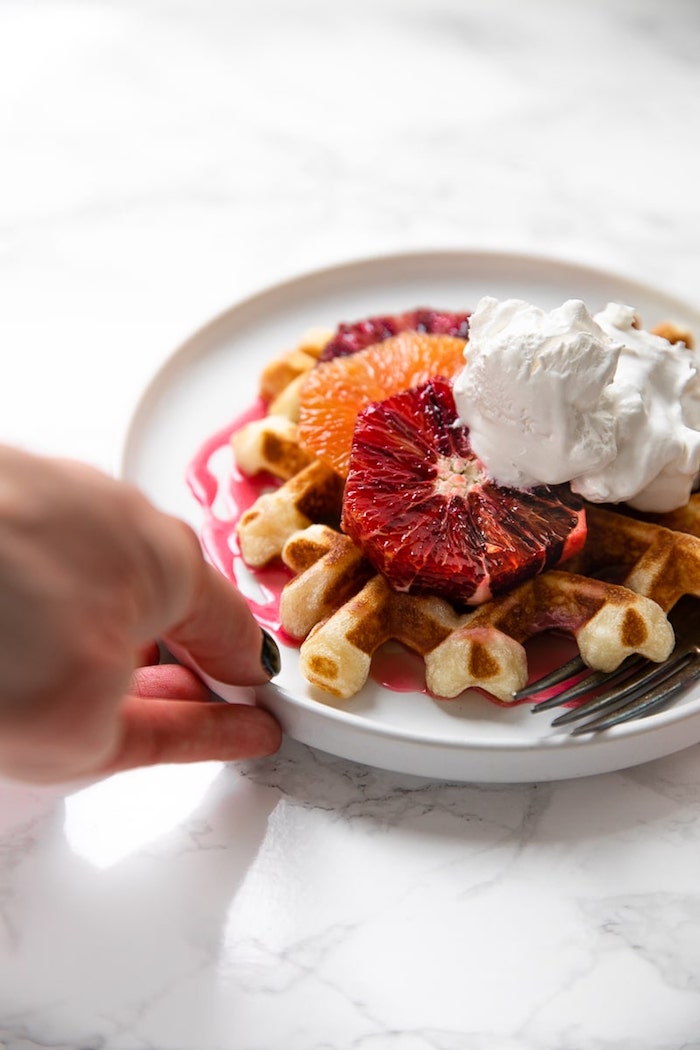 They say beauty is in the eye of the beholder…
Behold these Cheesy Green Chili Cornbread Waffles with Raspberry Preserves from The Rhubarians!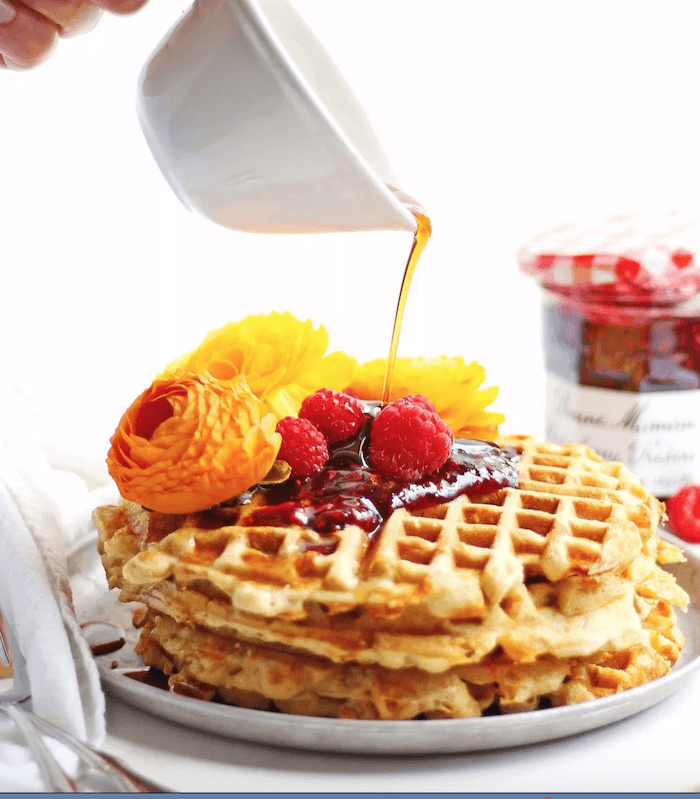 MAY I PLEASE ASK A FAVOR?
We small bloggers need all the help we can get. Subscribing and sharing on social media is very appreciated!
View The Organic Kitchen's Privacy Policy.