Who ever thought of the expression "easy as pie" must have been thinking of my "15 Minute Apple Pie a la Mode" because ordinarily pie is a bit of work. But this quick and easy version is a cinch!
(This post contains affiliate links. I may make a commission from sales but your price remains the same.)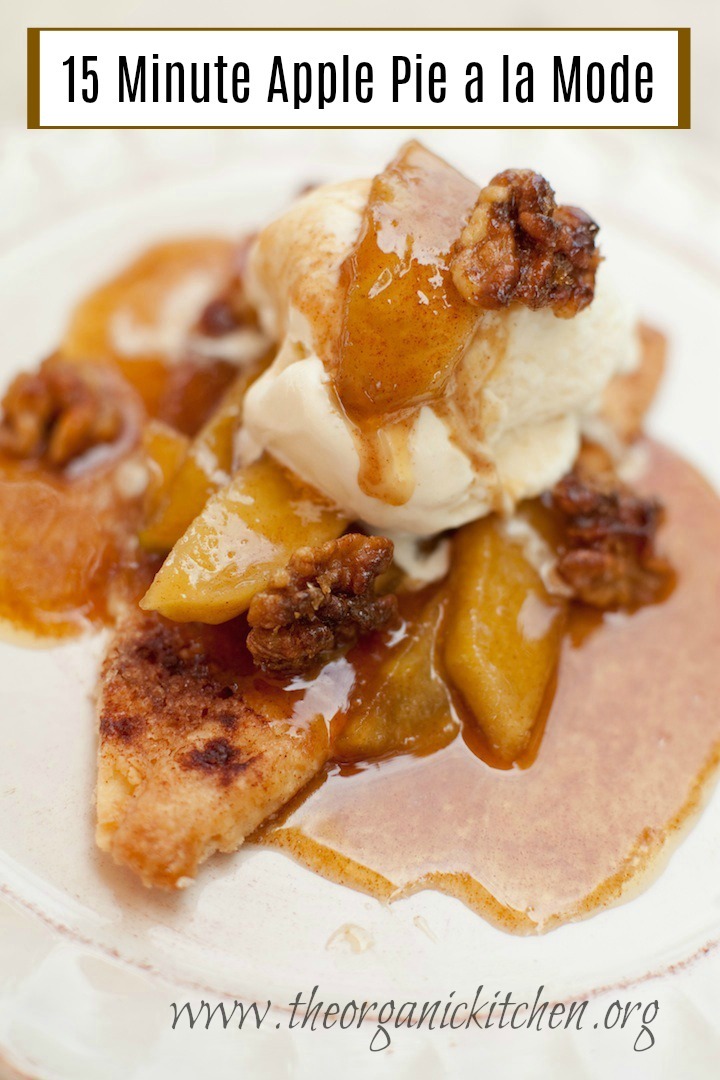 15 Minute Apple Pie a la Mode!
My quick version has everything traditional apple pie has, flakey pie crust and warm buttery caramelized apples, but then I add caramelized walnuts and Haagen Daaz ice cream. And it all comes together in just 15 minutes!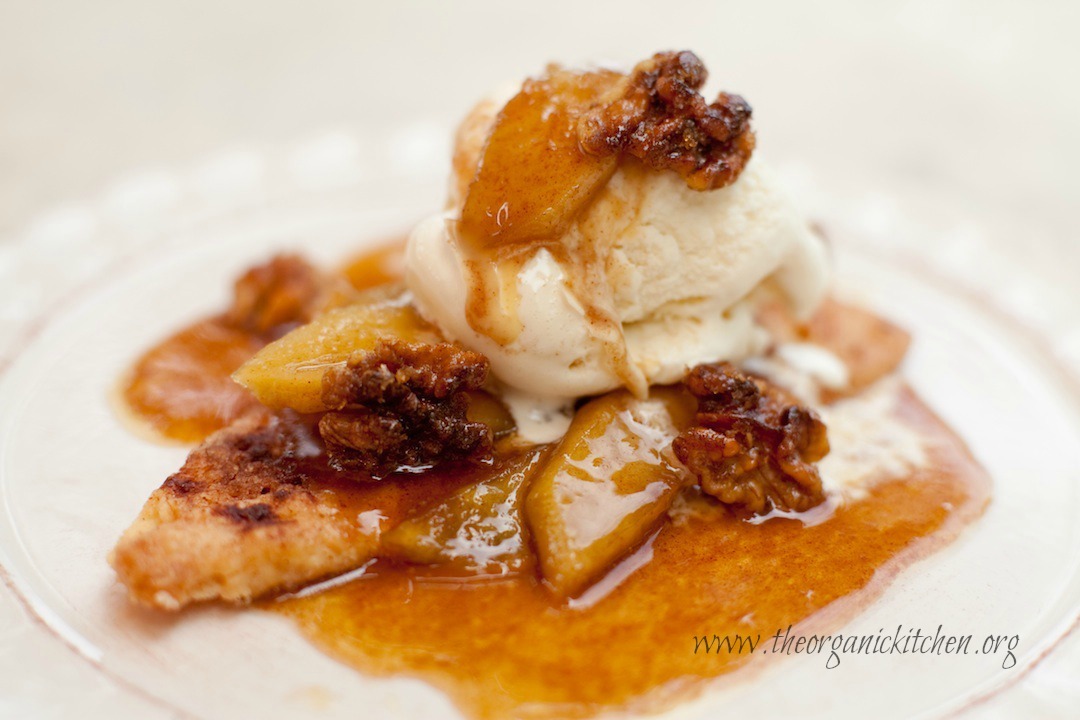 How to Make It:
To keep this recipe simple and quick, I use the organic all butter pie crust from Whole Foods Market frozen section! Trader Joe's has a good one too. Just let the crust  completely thaw, then flatten with your hands,  brush with melted butter, sprinkle with cinnamon and sugar and bake!
While Pie Crust Bakes:
While crust is baking, peel and slice apples. Granny Smith apples work best because they are nice and tart. Looking for a good knife? I love my Wusthof Chef's knife!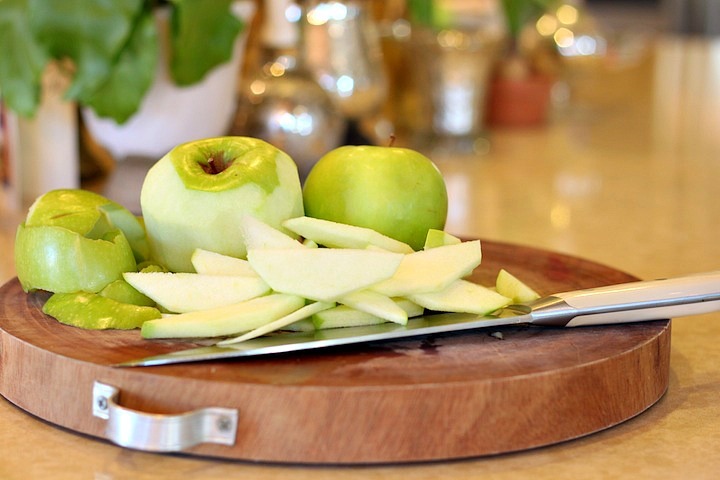 Sauté apples in butter, cinnamon and brown sugar. It should look quite a bit like this… (my pan is a non toxic, non stick ceramic pan) If you hate peeling, coring and slicing apples check this out! Apples should be soft but not overcooked. At first it may seem like there is not enough liquid but as the apples cook and soften the moisture will increase. When apples are soft take off heat. Cut crust into triangles, top with ice cream then drizzle with warm apples and top with caramelized walnuts or pecans. That's it!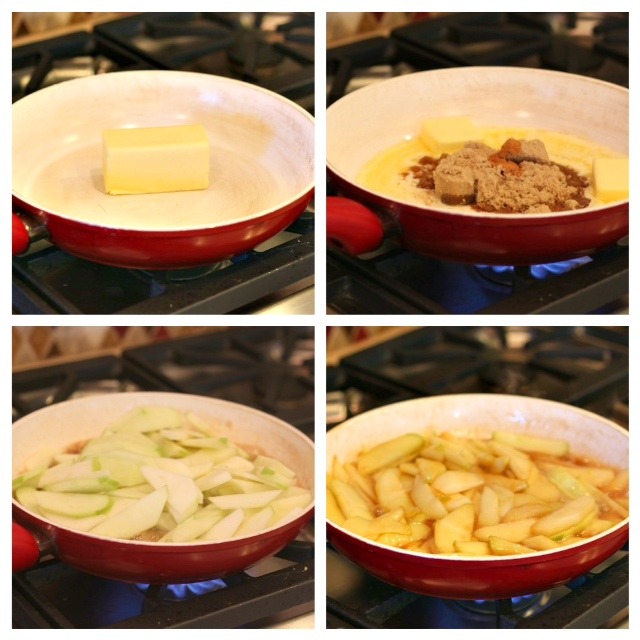 Delicious, beautiful, so little work! A perfect dessert for the holidays or anytime.
The Recipe: 15 Minute Apple Pie
15 Minute Apple Pie a la Mode!
Apple pie made on the cooktop in 15 minutes! Serve with ice cream.
Keyword:
easy dessert recipe, holiday recipe, kid-friendly recipes
Ingredients
Note: Thaw pie crust in advance
1

frozen pie crust, thawed and baked (I use an all butter free gluten free pie crust from Whole Foods Market)

1

stick

butter

2/3

cup

light brown sugar

2

tsp

cinnamon

4

green Granny Smith apples, peeled and thinly sliced

Cinnamon and sugar for sprinkling crust

2

T

melted butter

Good Quality Vanilla Ice Cream (I love me some Häagen-Daazs)

Caramelized Walnuts (store bought or see link above to learn to make your own
Instructions
Preheat oven to 400 degrees and place rack in center of oven
Crust:
Lay thawed pie crust on a cookie sheet covered with unbleached parchment paper, press flat. Brush pie crust with 2 Tablespoons melted butter. Sprinkle with cinnamon and sugar. Bake 10-12 minutes or until crust is slightly golden.
Apple topping:
While crust is baking, peel, core and slice 4 apples. Melt one stick butter in large pan on medium heat. When butter is melted add brown sugar and 2 teaspoons cinnamon, stir. Add apple slices to melted sugar and simmer on low heat, stirring occasionally until apples are soft, about 6-8 minutes. When apples are soft turn heat off
To Serve:
Cut baked pie crust into 8 triangles and place on dessert plates. Top each crust with a scoop of ice cream, drizzle cooked apples over ice cream. Top with chopped caramelized walnuts and serve immediately. Yum!
Delicious, beautiful, so little work! A perfect dessert for the holidays or anytime.
 MAY I PLEASE ASK A FAVOR?
We small bloggers need all the help we can get. Subscribing and sharing on social media is very appreciated!