The day after Thanksgiving seems like a good time to post a healthy, light salad! On the off chance you ate too much yesterday and need to lighten it up today, I present The Blueberry and  Avocado Salad with White Balsamic Vinaigrette.
(This post contains affiliate links, see full disclosure at bottom of page)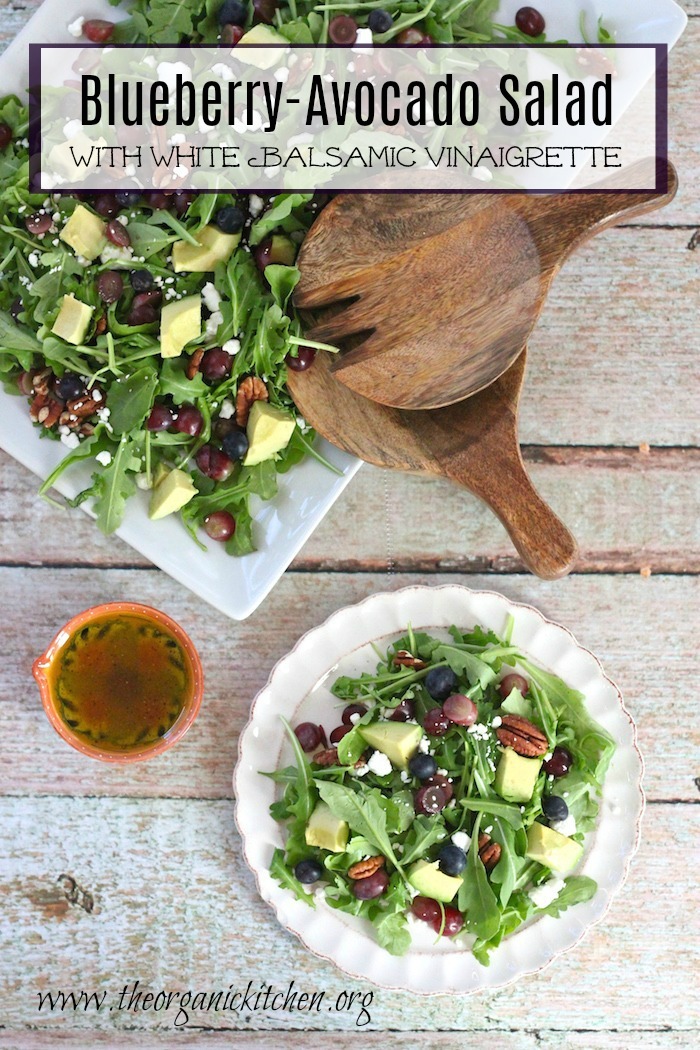 The Salad:
Organic baby arugula tossed with purple grapes, avocado, blueberries, feta and nuts all drizzled in a lovely white balsamic vinaigrette! This salad tastes as good as it looks, maybe better!

Simple or Fancy:
You can keep this salad assembly only by using raw pecans or make it a little more fancy by caramelizing them. Click here for a tutorial.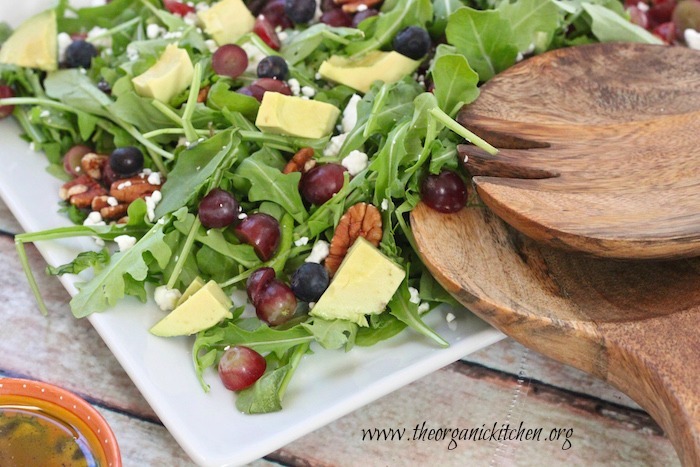 The Dressing:
You may be able to find a quality white balsamic at a store near you. I use my favorite white balsamic, Prelibato White Balsamic Vinegar, and whisk it with olive oil and raw honey. I kid you not when I say this vinegar is so smooth and creamy you could drink it straight out of the bottle!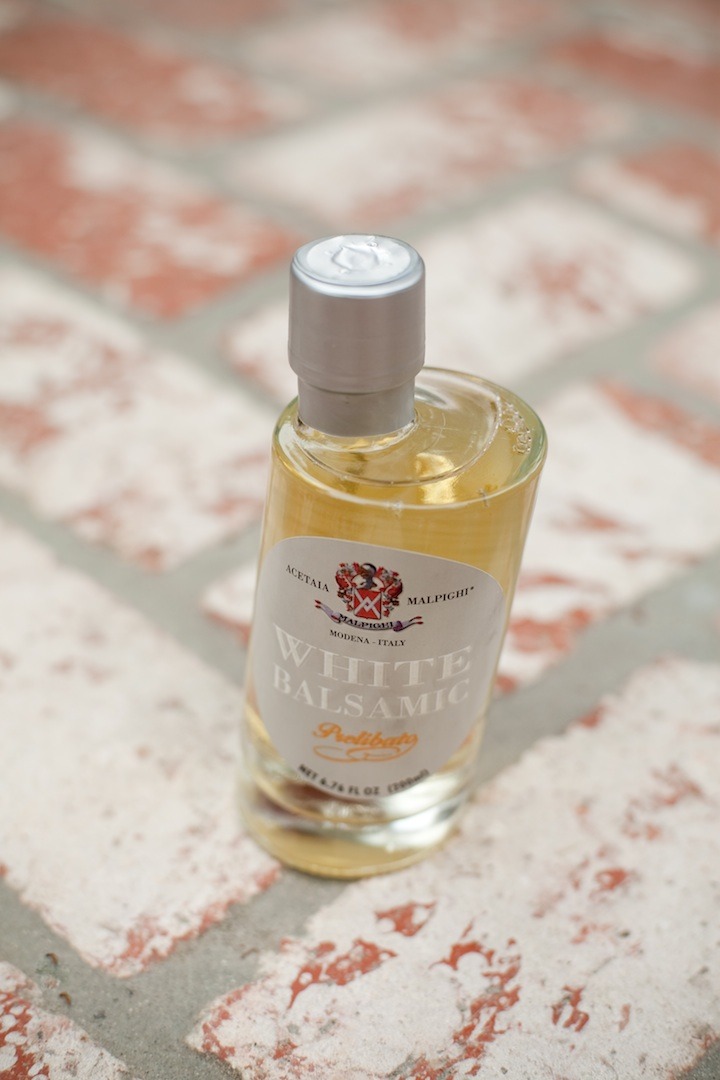 Drizzled on a bed of peppery arugula sweetened with berries and grapes this dressing is perfection. And as a Californian it is my civic duty to add avocados to everything!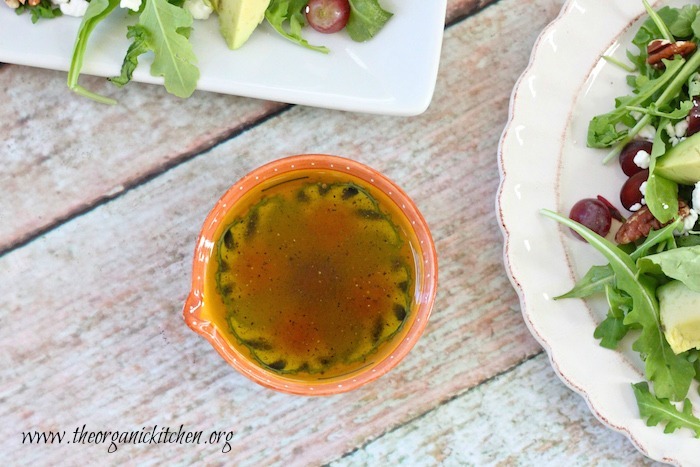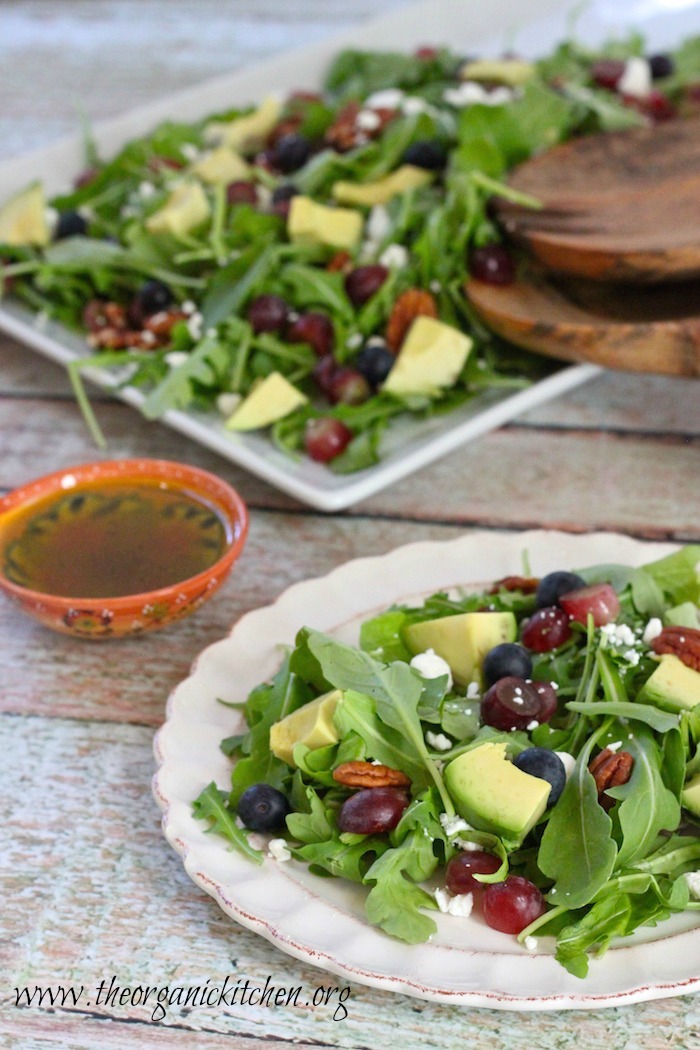 The Recipe: The Blueberry Avocado Salad
Tips and what you will need: Use the best and freshest produce. When a recipe calls for so few ingredients they all need to be top notch! I recommend Prelibato White Balsamic Vinegar from Italy! If you would like to caramelize the pecans you can see the recipe and video tutorial here. Paleo and Whole 30 friends omit the cheese and honey.
Enjoy friends! ~ Linda Spiker
 May I Please Ask A Favor?
We small bloggers need all the help we can get. Subscribing and sharing on social media is very appreciated! 
  View The Organic Kitchen's Privacy Policy.
All recipes and photographs are copyrighted and owned by Linda Spiker.
Post tags: gluten free, grain free,