As my September Whole 30 experience winds down I am feeling fabulous, and although I have not weighed myself (per the rules) I know I have dropped some pounds because my pants are literally falling off. Very good things are afoot! In fact, I am so thrilled by these improvements that I created another new Paleo/Whole 30 recipe: Chicken Tacos with Chipotle Lime Cashew Sauce!
(This post contains affiliate links. I may make a commission off sales but your price remains the same.)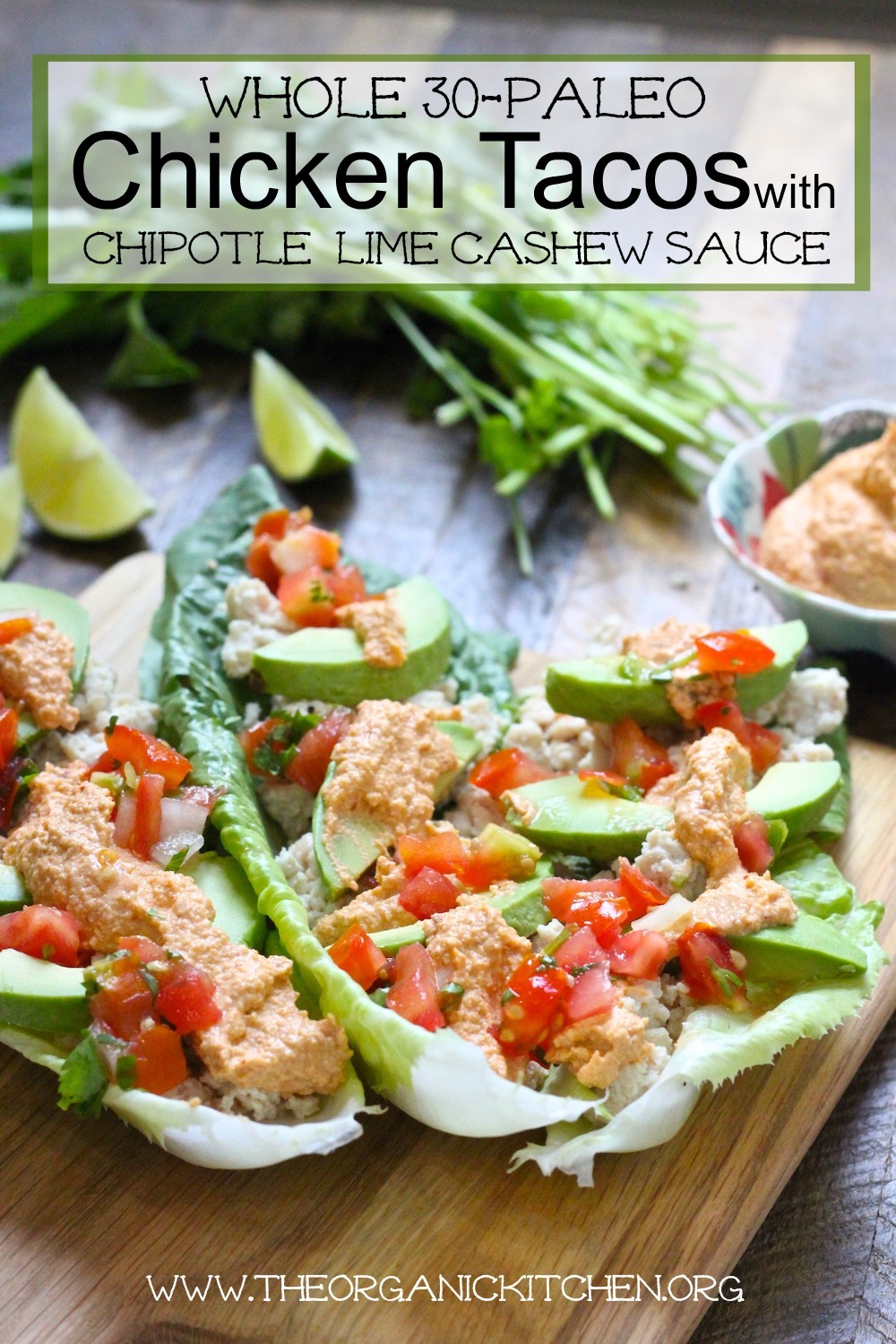 The Tacos: From Scratch or Save Some Time!
I use ground chicken cooked with onions and spices, placed in lettuce wraps and topped with pico de gallo, avocado, and my tasty chipotle lime cashew sauce! That said, I always like to offer an easier version too. So if you want to take almost all the work out of this recipe, feel free to use store bought rotisserie chicken and store bought pico de gallo!
THE CHIPOTLE CASHEW SAUCE:
Eating Whole 30 means no tortillas, which in turn means the toppings have to be creative, flavorful and delicious! This Chipotle Cashew Sauce is super easy to make but does require 'soaking' time. To get the cashews soft enough to make a smooth sauce you need to soak them for at least three hours, so allow time for that. Once the cashews have softened you can place them in a food processor (or blender) with lime juice, garlic, water,  chipotle chilis in adobo sauce, a little sea salt and black pepper and give it a whirl! Sixty seconds later you have a spicy sauce for your tacos! I have noticed one brand of chipotle chilis in adobo sauce that contained sugar, so be sure to read the label if you want to stay Whole 30/Paleo compliant. If you have leftover sauce you can make these sweet potato wedges tomorrow!
The Pico De Gallo:
If you choose to make your own Pico de Gallo but aren't sure how to handle a hot chili pepper, click! It may just save you from some burning fingers…
The Finished Product:
Flavorful, filling, budget friendly and loaded with protein and healthy fats. And those romaine leaves have plenty of crunch so you won't mis that tortilla! (much)
The Recipe: Whole 30/Paleo Chicken Tacos with Chipotle Lime Cashew Sauce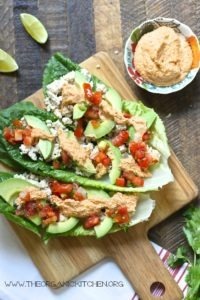 Print
Whole 30/Paleo Chicken Tacos with Chipotle Lime Cashew Sauce
Yield 4
Chicken tacos served in Romaine lettuce wraps, topped with pico de gallo, avocados and a spicy chipotle lime cashew sauce.
Ingredients
Allow 3 hours soaking time for cashews
The Chipotle Cashew Sauce:
2 cups simmering water (for soaking cashews)
1 cup raw cashews
1 Tablespoon extra virgin olive oil
Sea salt and freshly ground pepper
1 large clove garlic
1 chipotle chili pepper in adobo sauce (two if you like things really spicy!)
1/4 cup freshly squeezed lime juice
1/2 cup water (divided)
Pico De Gallo: if making fresh (otherwise use store bought)
2 medium tomatoes, diced
½ of one medium white onion, diced, see how here
¼ of one green bell pepper, diced
½ -1 tsp serrano chilis finely chopped, see how here
2 T fresh cilantro, chopped
Juice of half a lime
sea salt, to taste
The Tacos:
1 tablespoon olive oil
1/2 cup yellow onion, chopped
1 1/2 pounds ground chicken (I like to use a combination of dark and white meat)
1 teaspoon powdered garlic
1 teaspoon chipotle chili powder
sea salt and freshly ground pepper (to taste)
2 ripe avocados, sliced
8 cilantro sprigs
8 romaine lettuce leaves, rinsed and patted dry
2 limes quartered, for squeezing
Instructions
The Cashew Sauce:
Bring water to simmer in small pan, turn off heat and add raw cashews to pot, allow to sit at least three hours
Place peeled clove of garlic in food processor or blender and process until minced
Strain cashews and discard cooking water
Add soaked cashews, lime juice, olive oil, 1/4 cup water, sea salt, and 1 pepper in adobo sauce (two if you like things really spicy!)
Process for one minute, if needed add more water to thin dip
When dip is the consistency you want, and nice and smooth, stop processing. Taste and decide if it needs more sea salt or chipotle, then make adjustments accordingly.
The Pico de Gallo:
See instructions linked above for handling a hot chili pepper.Combine all ingredients except Serrano chili. Add chili 1/2 teaspoon at a time, mixing and tasting in between additions. When the heat is right, cover and refrigerate till serving. (I like 1 1/2 tsp)
The Tacos:
Place a large frying pan on medium heat. Drizzle olive oil into pan. When oil is hot but not smoking add onions and ground chicken to pan.
Use a spatula to break up meat and stir frequently while cooking.
Sprinkle chicken with chili powder, garlic powder, sea salt and pepper.
While meat cooks, slice avocados, prepare lettuce and tear off cilantro springs.
When meat is done (8-10 minutes) fill lettuce wraps with chicken, top with pico de gallo, avocado, chipotle cashew sauce and sprigs of cilantro. Squeeze with a little lime and enjoy!
Courses dinner
MAY I PLEASE ASK A FAVOR?