The Whole 30/Paleo lifestyle is a great way to feel better, tame your sugar addiction, figure out what foods trigger inflammation, hormonal disruption, emotional eating, weight gain and mood swings. No doubt about it, this lifestyle great way to find out what ails you. That said, it is a bit restrictive and can make holiday parties a little tough to take.
Luckily on Cinco de Mayo you will have lots of delicious Whole 30/Paleo compliant options! Here are a few of my favorites. In fact these are all so good, your guests won't even realize they aren't eating grains, dairy or sugar!
Paleo meals delivered to your door! Get 3 Meals Free from Sun Basket! Fresh organic ingredients and easy recipes delivered, with Paleo, Gluten-free and Vegetarian options.
Chicken:
A great way to start any Cinco de Mayo celebration is with a tender, juicy roasted chicken. I recommend roasting this Roasted Garlic lemon Chicken with Shallots, then shredding the meat and shallots for use in tacos, salads etc!
If El Pollo Loco style chicken is more your jam, then try this Spicy Lime Chicken made in the broiler! Seasoned with herbs and spices, drizzled with lime and topped with my mucho mango salsa, it's delicious. 
Beef:
Leave the corn out of this tasty Grilled Skirt Steak with Veggies and Guacamole dish and you have a complete Whole 30/paleo compliant meal!
Fish:
This Salmon with Mango Salsa is an amazingly colorful, spicy treat…honestly…who is on a restrictive food program?
Turkey:
This Mexican Meatball Soup is a simply fabulous! And totally compliant!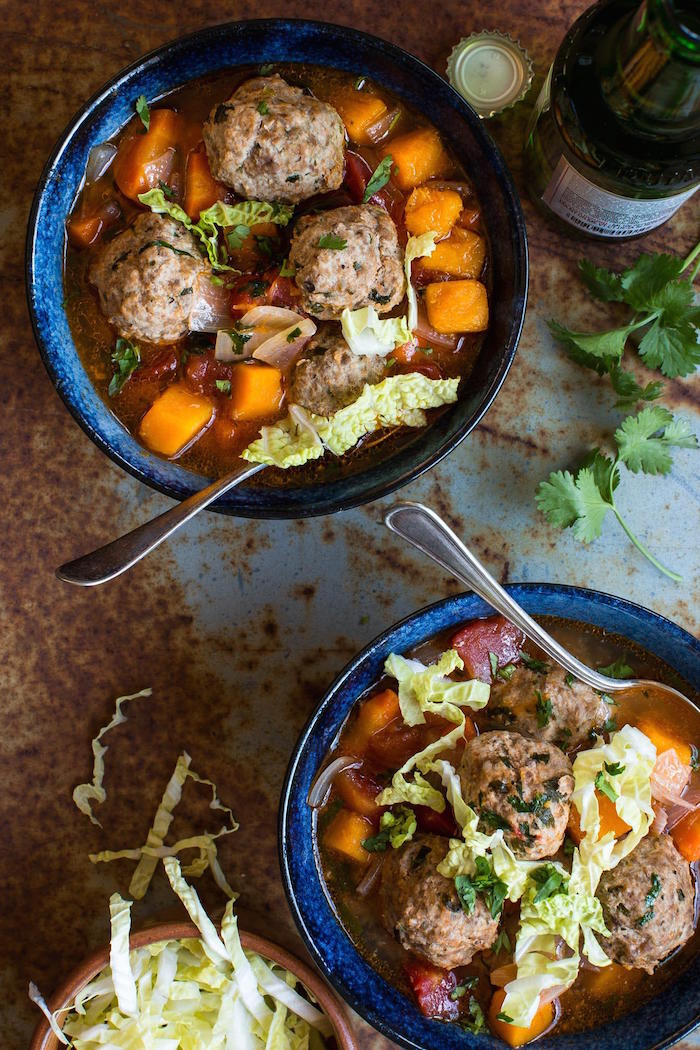 Salads and Side Dishes 
The four amazing main courses above need an equally impressive accompaniment! Greens with Mangos and Citrus Vinaigrette is a perfect go to! 
As far as side dishes go it doesn't get better then Roasted Mexican Potatoes with Cilantro Gremolata. Who is going to miss the rice and beans? No one, that's who.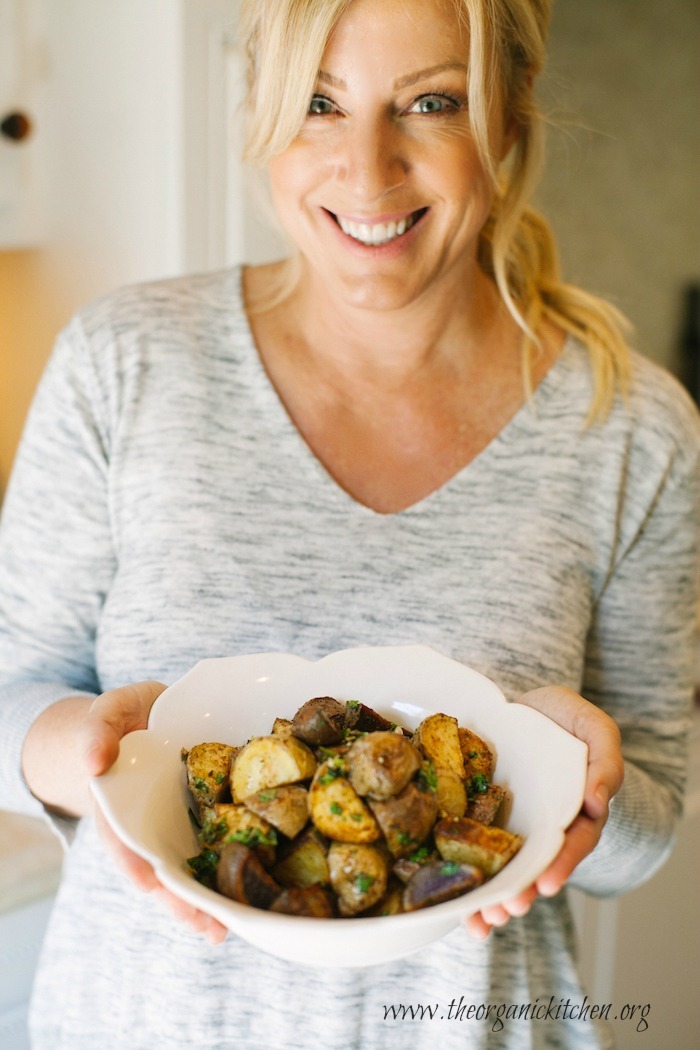 Tacos with Grain Free Tortillas! 
I have two grain free tortilla options for you, of course you can always utilize the good old fashioned lettuce wrap, but Jicama Tacos are great option because they are crispy like a corn tortilla!
And these Pulled Pork Taco Bites make a great appetizer or main course. Made with pork from the crock pot or Instant Pot that just falls apart and the 'shells' are butternut squash. Believe me, these are so flavorful you won't miss the tortilla!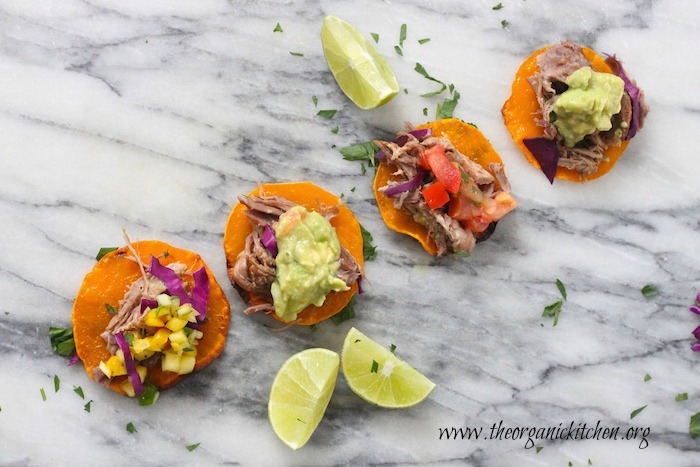 Salsas and Guacamole!
Follow this link to get my salsa and guacamole recipes…but don't get distracted by that quesadilla recipe…it's not on the plan…sowwy.
For More Healthy Whole 30 and Paleo Recipe/Support
Follow Whole 30 Pinterest board and join my Facebook Group! If you are carb lover and want your tortillas, rice and beans…click here!
MAY I PLEASE ASK A FAVOR?
We small bloggers need all the help we can get. Subscribing and sharing on social media is very appreciated!